Democratic Frustration Over the Supreme Court Finally Boils Over
Led by Cory Booker, senators are breaking the rules to protest the GOP's speedy consideration of Brett Kavanaugh. But their effort is likely too little, too late.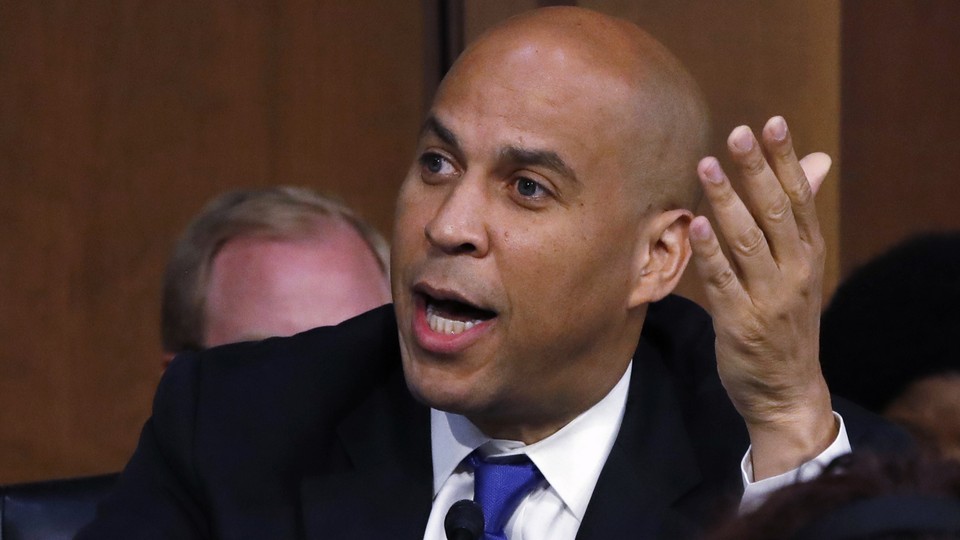 Updated on September 6 at 2:57 p.m. ET
As the Supreme Court nomination of Brett Kavanaugh sailed this summer toward a presumed confirmation in the fall, progressive activists implored Democrats in the Senate to escalate their fight—even to abandon the chamber's cherished norms, if necessary—in a bid to stop it.
On Thursday, they got their wish.
Led by Senator Cory Booker of New Jersey, Democrats on the Judiciary Committee released documents from Kavanaugh's service in the George W. Bush administration that had been labeled as "confidential" and withheld from public view as the federal appellate judge sat for his confirmation hearing. One set of emails, leaked to The New York Times, showed Kavanaugh casting doubt on the Court's precedent legalizing abortion. And in a contentious moment as the panel reconvened Thursday morning, Booker announced that he would risk expulsion by releasing emails related to Kavanaugh's views on affirmative action and racial profiling.
"I violated this rule knowingly," Booker said, describing his decision as an act of civil disobedience.
In the face of an angry response from Republicans on the committee, senior Democrats said they would stand alongside Booker if the Senate sought to punish him. "Let's jump into this pit together," said Senator Dick Durbin, the second-ranking Democrat in the chamber. "If there is going to be some retribution against the senator from New Jersey, count me in."
The support led Booker to remark: "This is probably the closest I'll ever have in my life to having an 'I am Spartacus' moment." (Republicans later said they had agreed to release the documents before Booker acted, though they protested his move at the time.)
The display was equal parts a protest against the GOP's attempt to fast-track Kavanaugh onto the Supreme Court, a last-ditch heave into the end zone for a party that lacks the votes to defeat him, and a rather transparent bit of presidential posturing by Booker in advance of a possible 2020 White House run. But ultimately, Senate Democrats are finally showing up to a battle that was lost in the wee hours of November 8, 2016.
In an alternate political universe—one in which Democratic base voters cared as much as their conservative counterparts about the composition of the federal judiciary—progressives would be on the precipice of a 6–3 majority on the Supreme Court.
The late Justice Antonin Scalia would have been replaced not by Judge Neil Gorsuch, but by Barack Obama's nominee whom Senate Republicans ignored, Merrick Garland, or an even more liberal pick from President Hillary Clinton. And the successor to the retiring Justice Anthony Kennedy would not be the conservative Kavanaugh, but a young progressive jurist selected by Clinton.
Now Republicans are poised to extend the majority they've long held on the high court for another generation. While Gorsuch replaced an arch conservative in Scalia, Kavanaugh would succeed the lone remaining GOP-appointed justice who had voted to reaffirm the Supreme Court's landmark 1973 ruling legalizing abortion in Roe v. Wade. Democrats fear his confirmation could threaten affirmative action, the Affordable Care Act, gun-control laws, and protections against voter suppression, along with a broad array of environmental, consumer-finance, and campaign-finance regulations.
The choice for Democrats was never about whether to fight Kavanaugh, but how far they would go in waging it. Republicans hold a 51–49 majority in the Senate and can confirm him with only their votes after having eliminated the 60-vote threshold for Supreme Court nominees to install Gorsuch last year. (That move extended a rules change for lower-court judicial nominees engineered by Democrats in 2014.)
To defeat Kavanaugh, Democrats must hold their ranks together—which include several red-state members in tough reelection campaigns—while flipping GOP Senators Susan Collins of Maine and Lisa Murkowski of Alaska, who support abortion rights and do not want to see Roe v. Wade overturned.
Substantively, Democrats have targeted Kavanaugh over abortion, the ACA, and how he would vote if litigation related to Special Counsel Robert Mueller's investigation of President Donald Trump wound up before the Supreme Court. But in the lead-up to this week's confirmation hearing, Democrats on the Judiciary Committee had focused largely on the GOP majority's efforts to withhold documents from Kavanaugh's time as staff secretary in the Bush White House.
That strategy unnerved some activists, who worried that Democrats would waste valuable time on a process dispute when they could be pressing Kavanaugh on abortion and other weighty topics—the kinds of issues that likely represent their only chance to sway Collins and Murkowski. "The documents argument on its own is not going to defeat this nominee," Brian Fallon, the executive director of the progressive judicial-advocacy group Demand Justice, told me on Wednesday, during the middle of the first day that Kavanaugh faced questions from the Judiciary Committee.
Fallon, along with advocates from abortion-rights groups such as Planned Parenthood and NARAL Pro-Choice America, wanted Democrats to just go ahead and release the documents they had access to, rather than bicker with Republicans over whether the public should see them. "They should either go all the way with it and cough up the emails that they think are damning for Kavanaugh, or else go on to subjects that actually register with the public," said Fallon, a former Clinton campaign spokesman and a former aide to Senate Minority Leader Chuck Schumer. "You've got to bring the receipts."
The angst over hearing strategy underscored a broader frustration among progressives that Democrats, whether in the Senate or on the campaign trail, have not prioritized judicial nominees in the same way top elected Republicans and conservative activists have to energize their voters every two years. Since Senate Majority Leader Mitch McConnell succeeded in blocking Garland's nomination for the final 11 months of Obama's term, he has worked with the Trump administration to confirm dozens of young, conservative judges who will shift the judiciary to the right, likely for decades. It has been, as my colleague David Graham has written, perhaps the single biggest success of Trump's tenure and the Republican congressional majority.
Senate Democrats have been using procedural tactics to slow down the confirmations, but they still have angered activists by occasionally cutting deals to speed things up and get out of Washington for weekends and recesses. The most recent agreement came last week, paving the way for Republicans to confirm another eight judges in the midst of the Kavanaugh hearings. "It showed a lack of urgency," Fallon said. "How can we strike a deal like that [that] helps Trump's takeover of the judiciary in the week leading into the Kavanaugh fight? How can you play nice with Republicans on judges at the same time they're railroading you on the documents for Kavanaugh?"
Part of the tension within the party is reflected in a generational divide on the Judiciary Committee. On one side are Senators Dianne Feinstein of California, the ranking Democrat, and Patrick Leahy of Vermont, the panel's former chairman, who are deferential to long-standing rules and norms of the chamber and are resistant to more dramatic protest actions. On the other are younger, more recent additions to the committee such as Booker, Senator Mazie Hirono of Hawaii, and Senator Kamala Harris of California. Like Booker, Harris is seen as a likely presidential contender in 2020.
"The consideration of Brett Kavanaugh may represent an inflection point after which progressives may start to wake up to the importance of the judiciary as a branch of government," Fallon told me. "It would just be a great tragedy if that comes only after a Kavanaugh-type judge is confirmed."
Under pressure from the left, Democrats on the Judiciary Committee reportedly considered walking out of the first day of Kavanaugh's hearing on Tuesday, which was reserved for opening statements. They stayed in the room, but mere seconds after Chairman Chuck Grassley opened the hearing, Harris interrupted to call for its postponement so Democrats could have more time to read thousands of documents that had been given to them just hours earlier. Several other Democrats joined in, creating—along with dozens of citizen protesters—a cacophony of interruptions that frustrated Republicans but did not stop the hearing.
On Wednesday, questioning of Kavanaugh proceeded largely as expected. Adhering to what he called "nominee precedent," the judge offered little inkling of how he would rule on key cases and dodged most inquiries related to Trump or his personal policy preferences. "My personal opinion is not relevant to how I decide cases," he said early on. "I have no agenda in any direction—I'm just a judge," Kavanaugh added later, adopting a tone of judicial humility made famous by Chief Justice John Roberts during his confirmation hearing, in 2005.
Kavanaugh repeatedly called Roe v. Wade "an important precedent of the Supreme Court that's been affirmed many times." But he predictably frustrated Democrats seeking an absolute commitment that he would not vote to overturn it.
By Thursday morning, that frustration—years in the making—had apparently boiled over. By the time the hearing reconvened for a second and final day of questioning, the Times had obtained one of those emails marked "committee confidential."
Staffers in the Bush White House were discussing an op-ed in 2003 from an anti-abortion writer making the case for the confirmation of two conservative judicial nominees. Kavanaugh, then the staff secretary, chimed in to dispute an assertion that Roe v. Wade was "widely understood accepted … as the settled law of the land." On the contrary, he wrote, "I am not sure that all legal scholars refer to Roe as the settled law of the land at the Supreme Court level since Court can always overrule its precedent, and three current Justices on the Court would do so."
Democrats immediately seized on the document as evidence that Kavanaugh's stated respect for the precedent of Roe belied his intention to throw it out. Within an hour, Booker and Hirono had released more emails in which Kavanaugh had criticized antidiscrimination policies in Bush's Department of Transportation as "naked racial set-asides."
"I'm knowingly violating the rules," Booker said.
In response, Senator John Cornyn of Texas, the chamber's second-ranking Republican, called his move to release confidential emails "irresponsible and conduct unbecoming a senator."
On Twitter, the same progressives who had bemoaned the Democrats' earlier deference rejoiced. They can only hope that what they fear isn't true—that their party's willingness for a bare-knuckled fight for control of the Supreme Court is two years too late.