John Hickenlooper Is the Antithesis of Trump—And Might Run Against Him in 2020
The Colorado governor has just created a political-action committee to see whether there's an appetite among Democrats for a pro-business moderate.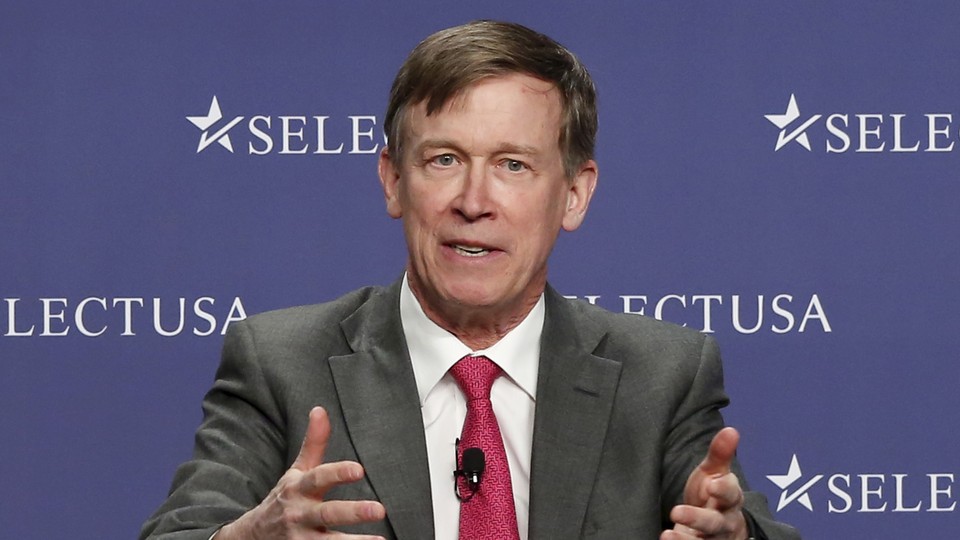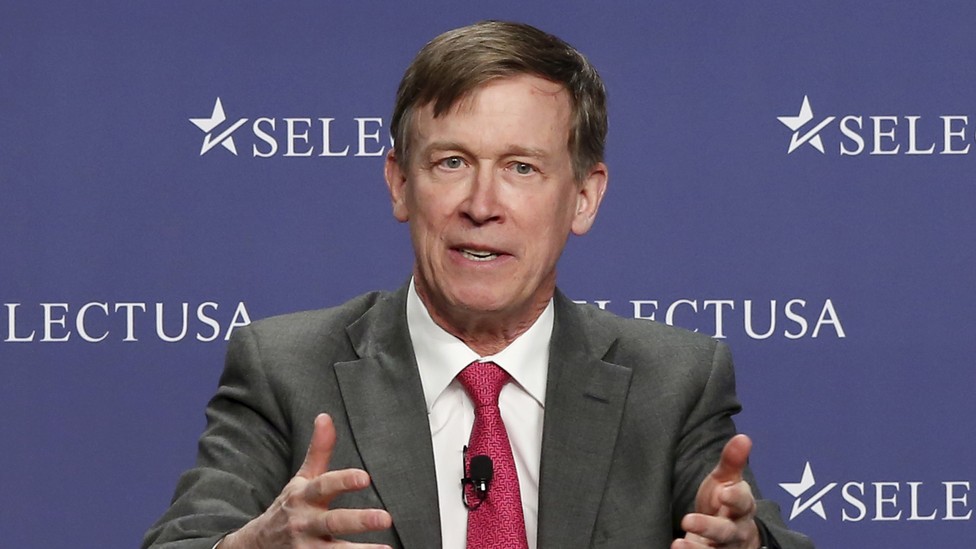 DENVER—John Hickenlooper sits in the backseat of his official SUV, poring over a speech he's about to deliver before the One Colorado Education Fund. He's slated to receive an award from the group for his leadership on LGBTQ issues.
It's a busy Saturday night in the life of Colorado's popular Democratic governor, who is dressed in a royal-blue, pin-striped zoot suit, having just left the annual Dancing With the Denver Stars fund-raiser in late August.
He shows off a few steps from his dance routine to a small group of acquaintances once he arrives at the Four Seasons hotel. By the time he has made his way to the lectern in the hotel's ballroom and the applause has died down, the governor's prepared remarks have been superseded by the narratives that fill his head. "I had a speech, but I thought I'd tell two quick stories," he says.
The first involves a bigoted customer at his Wynkoop Brewing Company in 1989, just as he'd promoted a gay employee to general manager. The second happened three weeks ago in the back of an airplane, when a woman grabbed his hand, began crying, and told him he'd saved her bipolar 16-year-old's life by publicly supporting transgender individuals.
It takes him nine minutes to tell both stories—and bring the packed ballroom to its feet.
That's the Hickenlooper his friends know and love. It's the boss his communications staff has come to expect. And it's the prospective presidential candidate that skeptics aren't sure can survive the street fight of a Democratic primary.
Hickenlooper's name never rolls off the tongue, particularly not the wagging ones of Washington's political circles. But with his launch Monday of a federal political-action committee, Giddy Up PAC, and as he hits the stump for fellow Democrats in Florida and Georgia, the unconventional second-term swing-state governor is finally ready to go national.
A pro-business social liberal with 15 years of executive experience and consistently high job-approval ratings is set to test whether his pragmatic profile has resonance beyond Colorado's peaks and prairies.
If anything, he's the antithesis of the tough-talking real-estate magnate who shocked the political world in 2016 with a simple four-word tagline and slim pluralities in key Rust Belt states. It's hard to know what primary or general-election voters will want in 2020. But after four years of Donald Trump, why not "Hick"? Stranger things have happened.
He's got a story to tell. Plenty of them, in fact.
Two days later, he is just outside the door to his office, showing off a photo of a massive trout he'd caught Sunday to a few staffers. We step inside and he tells me to sit at the head of a long conference table at the far end of the room. It's clear Hickenlooper has spent a lot of time examining his interesting life, which pre-politics included stints restoring old buildings and warehouse districts, owning a brewpub, and working as an oil-and-gas geologist, which is what originally brought him to Colorado.
His 2016 memoir, The Opposite of Woe: My Life in Beer and Politics, includes surprisingly revealing details of loves lost and the effect of his father dying when he was 8 years old while growing up on the Main Line outside Philadelphia.
With just a few months left in office, I asked him what's next, since his political ambitions are one of the worst kept secrets in Colorado. His answers are not linear.
He begins telling me how he prioritizes his time transitioning from the governor's mansion to a possible presidential bid, then segues to a scene a day earlier at a purifying, ancient "sweat lodge" with a shaman from the Cheyenne tribe and a New York hedge-fund guy he'd fly-fished with that morning who's spent millions on conservation efforts along Colorado's Blue River and Highway 9. Someone in the lodge asked Hickenlooper to list his top three accomplishments in office, but Hickenlooper never tells me what they are, saying he related the story because it reminded him how much more he wants to do in his remaining four months.
"If I'm serious about running for president—really giving it the thought it needs and talking to the right people and building up a network of people who would aggressively support a moderate, someone in the present politics that's somewhat of a long shot—I've got to do two jobs simultaneously," he said. "Plus, I've got a 16-year-old son who's not undemanding, to use a double negative."
His new political-action committee is designed to help him build financial, influential, and grassroots support. It also sends a message to the numerous Democrats he may meet one day on a debate stage that he is serious. The midterm elections are weeks away, however, and Hickenlooper is already late to the party among his fellow executives from the West.
Steve Bullock, the Montana governor who was reelected in 2016 as Trump carried the state by 20 points, launched a PAC more than a year ago. Los Angeles Mayor Eric Garcetti has been traveling the country and doling out donations for months, including cutting a $100,000 check to the state party in South Carolina.
In the Senate, Elizabeth Warren and Bernie Sanders are already crowding the left lane, and Kamala Harris and Cory Booker recently grabbed attention at the Supreme Court confirmation hearings. All have supported Democratic candidates with appearances and endorsements. Even Michael Avenatti, the attorney for a porn star who alleged an affair with the president, has already joined the parade through Iowa.
Meanwhile, Hickenlooper has navigated the past two years with Trump in office by pushing back when appropriate without waving his arms, as he said.
"There are plenty of people out there trying to get people stirred up," Hickenlooper told me when I asked about dealing with Trump. "I think there is also room for people who are trying to get stuff done and answer how we're going to move the country forward as we go through this very difficult period."
Is there room for a Democrat in 2020 who is friendly with an energy industry that is critical to Colorado's economy? Floyd Ciruli, a veteran pollster in Colorado who has conducted surveys throughout Hickenlooper's political career, said there once was. But given the party's nomination of a liberal, Representative Jared Polis, to replace him, Hickenlooper could even face a competitive 2020 Senate primary in his home state, should his presidential plans falter.
"He's something the party used to have a lot of, and that is moderate businesspeople, typically liberal on social issues but moderate on the environment, sort of pro-business but for equity and good regulations," Ciruli said. "The message is a good message. Whether there is a voting constituency, I don't know."
At a time when the liberal environmental wing of the Democratic Party has embraced a "leave it in the ground" absolutism on fossil fuels, Hickenlooper has served as an arbiter between oil-and-gas interests and conservation advocates who have sought to increase drilling regulations. In 2014, for example, he created a task force with members of both sides to remove ballot initiatives that could have severely affected the industry. He's consistently pushed for stricter environmental standards that still leave the state welcoming to oil and gas. In June, he signed an executive order putting Colorado in line with California's vehicle-emission standards, and in 2014 he brought together environmentalists and energy companies to make Colorado the first state to adopt rules to limit methane emissions from drilling.
Dick Wadhams, a veteran Republican operative who was the state party chairman when Hickenlooper won his first statewide race in 2010, said he thinks the governor would make a strong general-election foe, especially compared with some other prospective Democratic contenders who are "somersaulting over each other to be more progressive and socialist than the next."
But Wadhams isn't expecting a Republican to ever face him in the presidential race. He predicts that Hickenlooper's defense of fracking and the oil-and-gas industry "makes him virtually un-nominatable."
Until now, Hickenlooper has led a politically charmed life that hasn't required him to run a single negative ad. He handily won a nonpartisan mayoral race in 2003. In 2010, he had the gubernatorial primary field cleared for him before benefiting from a weak Republican opponent and splintered GOP vote. That's why even some allies aren't sure how he'll hold up in a nasty skirmish for the nomination. But when I asked Hickenlooper about it, he made it clear that he will "punch back" if pushed far enough.
"In a primary, I'm going to try to not fight fire with fire. I think there are other ways to approach it," he said. "But in the end, if they are playing unfairly and it's the difference between success and failure, I'm going to have to fight back."
Hickenlooper has an economic story to tell. With the fifth-lowest unemployment rate in the country, Colorado is in much better shape than he found it upon taking office in 2011, ranked toward the bottom of the pack in job creation and right in the middle in unemployment as the recession roared on. This year, U.S. News & World Report ranked it No. 1 on the economy, based on growth, employment, and business-environment metrics. WalletHub ranked it the fifth-best state economy overall, with the second-highest GDP growth and fourth-most start-up activity.
Hickenlooper sought to bring the sense of a businessman to fix Denver's budget as mayor and to kick-start the state economy as governor, in part by getting rid of cumbersome government regulations. He was an affable guy with success in the private sector, who struck voters as being into problem solving, not ramming an ideology down people's throats. But he wasn't always a businessman.
After getting laid off as a geologist for an oil-and-gas company in 1986, he was out of work for two years. It was during this time that he got the idea to start Colorado's first brewpub. He researched how to write a business proposal at the public library as he sought investors for what would become a highly profitable establishment that helped rejuvenate Denver's Lower Downtown area, called the LoDo—which was booming as usual one recent weekend, as Hickenlooper's beloved Rockies hosted the St. Louis Cardinals just down the street from the Wynkoop.
Hickenlooper's own interests in art, culture, the environment, sports, and music—he saw Jimi Hendrix and Janis Joplin as a teenager growing up outside Philadelphia, had dinner with Yoko Ono at a girlfriend's house in 1980, and spent two summers doing research for his master's degree in a wilderness area just north of Yellowstone—have influenced his governance. He set up the state's first outdoor-recreation office and brought the Outdoor Retailer ski show to Colorado as part of his efforts to diversify the economy by boosting tourism. He also used a $1 million legacy gift from the 2008 Democratic National Convention to launch the first bikesharing program in the country.
His tenure was tested by the brutal mass shooting at the Aurora theater in 2012 and the state's most destructive wildfires on record. And his push for progressive policies on guns and civil unions challenged his reputation as a consensus builder. While he didn't support the 2012 ballot initiative that legalized recreational marijuana in Colorado, the governor successfully navigated the uncharted waters of setting up the kind of infrastructure necessary to support a brand-new industry that runs afoul of federal law.
Hickenlooper's announcement Monday of his Giddy Up PAC officially surfaced what had previously been rumored as his presidential ambitions. One Democratic strategist with presidential-campaign experience who has spoken to the governor about his potential campaign said Hickenlooper is "enamored" with the idea and has already found potential financial support. But the competitive former high-school baseball pitcher and entrepreneur simultaneously lowers the bar of expectations and downplays his skills as a politician.
During our interview in his office, he noted that his one public trip to Iowa this year was at the request of GOP Governor Kim Reynolds and was for a speech on workforce issues to a group largely made up of Republicans. Two days earlier, in the backseat of his SUV, he positively glowed when describing the anonymity he had for his one stop in New Hampshire this year, which was for an annual vacation to a generations-old family cabin near Squam Lake. He did speak at a state-party field office opening in Exeter, but said: "Nobody there knows who the hell I am. It's perfect. If I did run for president, it would be less than perfect."
On his busy Saturday night, before Dancing with the Denver Stars, Hickenlooper stood just outside a pair of propped-open doors in the basement of the Hilton Denver City Center downtown, his eyes fixed on the stage he'd soon dance on as the night's festivities got underway inside a massive ballroom.
As he chatted with his dancing partner in a matching costume, a woman stopped to offer encouragement: "Run for president." Hickenlooper smiled and thanked her.
As we hopped in the SUV that shuttled us between events, Hickenlooper marveled at the Rockies' 8–1 lead. I asked him if he hears that a lot these days as he openly considers the possibility.
"Not so much outside Colorado," he said. "In Colorado, I get it." He heard the same refrain an hour later, amid an extensive standing ovation after his ad-libbed acceptance speech at the One Colorado Education Fund gala.
Now that he's unveiled his PAC, it will soon be clear how well he plays in Manchester and Des Moines.