Chuck Grassley's Jarring Presence at the Kavanaugh-Ford Hearing
Republicans hired a prosecutor to question Christine Blasey Ford. But the chairman of the Senate Judiciary Committee kept interrupting her and everyone else.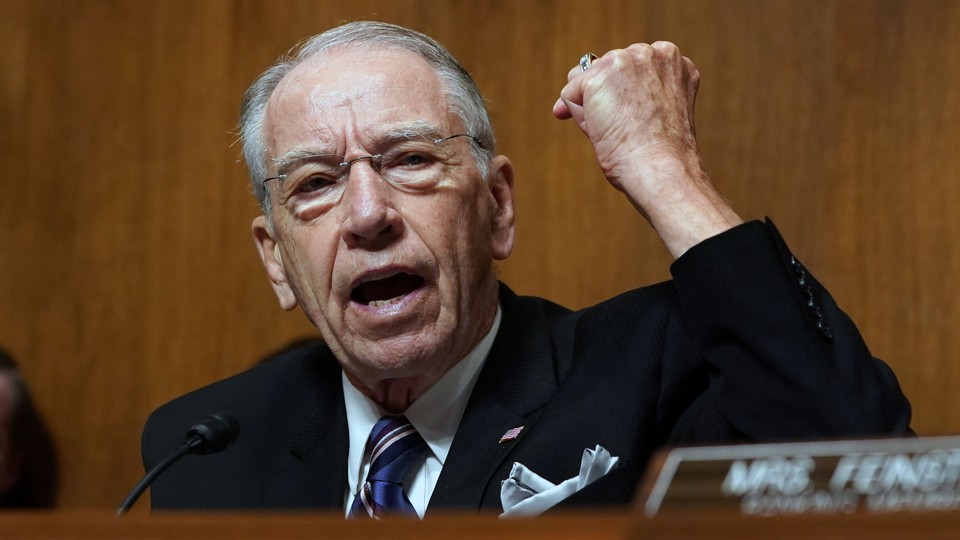 Updated on September 27 at 2:34 p.m. ET
Wary of having a group of mostly older men interrogating Christine Blasey Ford, Republicans on the Senate Judiciary Committee opted to hire Rachel Mitchell, a sex-crimes prosecutor, to question the woman who has accused the Supreme Court nominee Brett Kavanaugh of attempting to rape her in high school.
But the GOP plan had one hiccup: It still meant that one member, Chairman Chuck Grassley, would speak. Through the first few hours of the hearing Thursday, the Iowa Republican has been a prominent, and often jarring, presence. Grassley struck a combative tone in his opening statement, promptly tangled with ranking Democrat Dianne Feinstein, and has interrupted to comment on the proceedings.
Grassley kicked the hearing off with a feisty set of remarks. He began with an apology to both Kavanaugh and Ford for the treatment they and their families have received. "I intend hopefully for today's hearing to be safe, comfortable, and dignified for both of our witnesses," he said. "I hope my colleagues will join me in this effort of a show of civility."
Grassley then proceeded to criticize Feinstein for not making Ford's account public sooner ("The ranking member didn't ask Judge Kavanaugh about the allegations when she met with him privately in August"); Democrats for not speaking to Kavanaugh after the allegations first became public ("Democratic staff was invited to participate and could have asked any questions they wanted to, but they declined. Which leads me, then, to wonder, if true, why wouldn't you want to talk to the accused?"); Democrats for their behavior in a previous hearing on Kavanaugh ("This will be a stark contrast to the grandstanding and chaos that we saw from the other side during the previous four days in this hearing process"); and Ford, for her reluctance to testify ("My staff made repeated requests to interview Dr. Ford during the past 11 days, even volunteering to fly to California to take her testimony, but her attorneys refused to present her allegations to Congress. I nevertheless honored her request for a public hearing so Dr. Ford today has the opportunity to present her allegations under oath").
Then the floor came to Feinstein, who addressed Ford directly and tartly chastised Grassley.
"Good morning, Dr. Ford," she said. "Thank you for coming forward and being willing to share your story with us. I know this wasn't easy for you. But before you get to your testimony, and the chairman chose not to do this, I think it's important to make sure you're properly introduced."
Grassley immediately interrupted Feinstein, as perhaps she expected he might. "By the way, I was going to introduce her, but if you want to introduce her, I would be glad," he said. "I didn't forget to do that, because I would do that just as she was about to speak."
That clash between 85-year-olds set the tone for the hearing to come. Something that someone said—whether it was a Democratic member, Ford herself, or Mitchell—would get Grassley's goat, and he'd insist on jumping in. And when he did, he came across as crotchety and cranky, just what Mitchell's insertion was meant to prevent.
One of the problems was procedural. According to the rules of the hearing, each side gets five minutes, in turns, to question the witness. Democratic senators are doing that themselves, while each Republican is yielding to Mitchell. Mitchell, a seasoned prosecutor, is used to working without such strict limits, and has proceeded with careful, incremental questions. As Mitchell worked through her first round, Grassley had to interrupt her and cut her off to keep to time.
At another moment, Grassley cut in when Ford said she'd concluded that asking to be questioned in California was "unrealistic"; he said his staff would have been willing to question her where she lives. (Ford said she gets anxious about flying.)
As the committee prepared to take its first break, Grassley testily replied to Democratic Senator Dick Durbin, who'd just concluded his questioning.
"I can't let what Durbin, Senator Durbin said [stand]," he said. "Between July 30 and September 13, there were 45 days this committee could have been investigating this situation, and her privacy would have been protected. So something happened here in between on your side that the whole country—not the whole country should have known about it, no, not know about. We should have investigated it."
Grassley intended to criticize Democrats for not bringing the allegations forward, but his point undercut itself: His statement that the matter warranted investigation seems at odds with his haste in scheduling a vote on Kavanaugh's nomination.
As a matter of the chairman's privilege to speak, Grassley is well within his rights. But as a matter of appearance, he is not acquitting himself especially well. Grassley seems peevish, cranky, and stentorian, and keeps finding himself correcting or interrupting women. Such images were exactly what Republicans hoped to avoid in the hearing.
Yet the nature of Grassley's interruptions is perhaps telling. Consistently, he has cut in to defend the process by which he has shepherded the nomination through the Judiciary Committee. If the goal of Thursday's hearing is to vindicate Kavanaugh, the initial conventional wisdom is that the Ford session was a failure. Ford came across as credible, sincere, and earnest; Mitchell, if she was trying to do so, didn't land a blow; and Democrats played up Ford's sympathy, with Feinstein memorably declaring, "This is not a trial of Dr. Ford. It's a job interview for Judge Kavanaugh." Fox News' Chris Wallace declared it a "disaster," and people close to Trump reportedly agreed.
If the goal, however, was for Grassley to vindicate his own approach to the nomination—or to inoculate himself from blowback if Kavanaugh's nomination is pulled—then the pattern of Grassley's interruptions starts to make a great deal of sense. It may not play well with the nation as a whole, but that might not be the goal.
As Ford's testimony was closing around 2 p.m., her lawyers asked that she be dismissed. Grassley asked that she wait for a moment while he wrapped up, then told his colleagues, "Let's just be nice to her." It was an unusual statement to make after her questioning by the prosecutor, and after his hours of interjections.