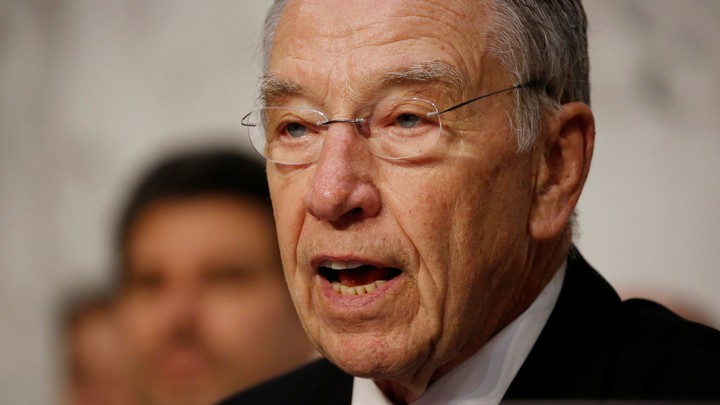 When the news broke earlier this summer that the elusive former British spy Christopher Steele had for the first time testified under oath and on camera in a deposition about his explosive and controversial dossier outlining the president's alleged ties to Russia, the chairman of the Senate Judiciary Committee wasted little time trying to obtain the videotape.
"Please produce to the Senate Committee on the Judiciary the transcript and video of Mr. Steele's deposition, as well as any exhibits used during the deposition and all other discovery materials received from Mr. Steele," the chairman, Chuck Grassley, wrote to Valentin Gurvits on July 25. Gurvits is the lead counsel representing a Russian technology executive, Aleksej Gubarev, who sued BuzzFeed and Steele in a Florida federal court in January for defamation following the news outlet's publication of the dossier, which mentioned Gubarev and his company.
Grassley's efforts, however, have been frustrated: Under the terms of the protective order that sealed the deposition in the first place, Gubarev's lawyers could not hand over its contents unilaterally. And on Wednesday, a magistrate judge in the Southern District of Florida declined to require the deposition's production to the Senate Judiciary Committee and the House Permanent Select Committee on Intelligence, which had also expressed interest in obtaining a copy of Steele's deposition.
"The Court will not issue an Order requiring the production of the depositions of Mr. Steele and Mr. Kramer," wrote Magistrate Judge John J. O'Sullivan. He was referring to David Kramer, a former confidant of Senator John McCain who met with Steele in 2016 to discuss the dossier's allegations and was deposed as part of the same lawsuit earlier this year. O'Sullivan ruled that both committees would have to move forward in formal channels and "advise the court why it would be appropriate to require the production of these depositions."
Gurvits and Grassley did not return requests for comment.
Donald Trump's relentless assault on Special Counsel Robert Mueller's investigation into possible collusion between his 2016 campaign and the Russians begins with the Steele dossier, which the president and congressional Republicans consider the probe's proximate cause.
In fact, the dossier did not trigger the probe. The investigation began before the bureau obtained the document, when George Papadopoulos, a Trump campaign adviser, told an Australian diplomat in May 2016 that Russia had dirt on Hillary Clinton in the form of thousands of emails, The New York Times has reported. The dossier concluded that Russian President Vladimir Putin himself had directed a long-standing Russian-intelligence operation aimed at compromising Trump and supporting his 2016 presidential campaign by hacking and dumping unflattering information about Clinton.
With Wednesday's order in Florida, O'Sullivan introduced an additional check on the Republicans' ability to pursue additional information about Steele and his sources. Grassley, for his part, has made examining Steele and the firm that hired him to examine Trump's Russia ties, Fusion GPS, a priority. In March 2017, the Iowa Republican and Trump ally accused Fusion of failing to register as a foreign agent due to work the firm did that benefited a Russian company. (The complaint ultimately went nowhere, since Fusion was technically working for an American law firm that represented a Russian client, and was therefore not required to register the work with the Department of Justice.)
Nearly a year later, Grassley and Republican Senator Lindsey Graham issued a criminal referral of Steele to the Justice Department, urging the DOJ to examine whether Steele had made false statements to the FBI about his interactions with the press in late 2016. The referral was broadly perceived as a political stunt—Grassley and Graham were not giving the Justice Department, which oversees the FBI, information about Steele that it did not already have—and nothing came of it.
Just last month, Devin Nunes, the chairman of the House Intelligence Committee, went to London seeking new information about Steele. But sources familiar with his trip told me that officials at MI6, MI5, and Government Communications Headquarters were wary and did not meet with him.
Now Grassley's committee could face another uphill battle if it chooses to intervene in the Gubarev case by arguing that Steele's deposition is relevant to its investigations. In his letter to Gubarev's attorney requesting a copy of the deposition, Grassley cited his committee's probe of the FBI's interactions with Steele in 2016 and Steele's "post-election dossier work." But Steele's testimony, I'm told, focused only on a brief passage of the dossier, cited in court documents in Gubarev's suit, that accuses Gubarev's company, XBT Holding, of "using botnets and porn traffic to transmit viruses, plant bugs, steal data and 'conduct altering operations' against the Democratic party leadership" in 2016. Steele also refused to elaborate on his sources and methods.
All said, it has been a fairly frustrating two weeks for Steele's critics: Late last month, a judge in Washington, D.C., dismissed a defamation lawsuit brought against Steele's firm by the founders of Russia's largest private bank. In his decision to toss the case "with prejudice"—that is, permanently— Superior Court Judge Anthony C. Epstein concluded that Steele had acted "in furtherance of the right of advocacy on issues of public interest" when he decided to brief reporters on the dossier's findings in the summer of 2016. "The Steele dossier generated so much attention and interest in the United States," Epstein wrote, "precisely because its content relates to active public debates here."
We want to hear what you think about this article. Submit a letter to the editor or write to letters@theatlantic.com.
Natasha Bertrand
is a former staff writer at
The Atlantic,
where she covered national security and the intelligence community.