Christine Blasey Ford's Testimony Is a Where-Were-You-When Moment
Outside the hearing room, ordinary men and women were glued to their phone, watching Christine Blasey Ford's testimony.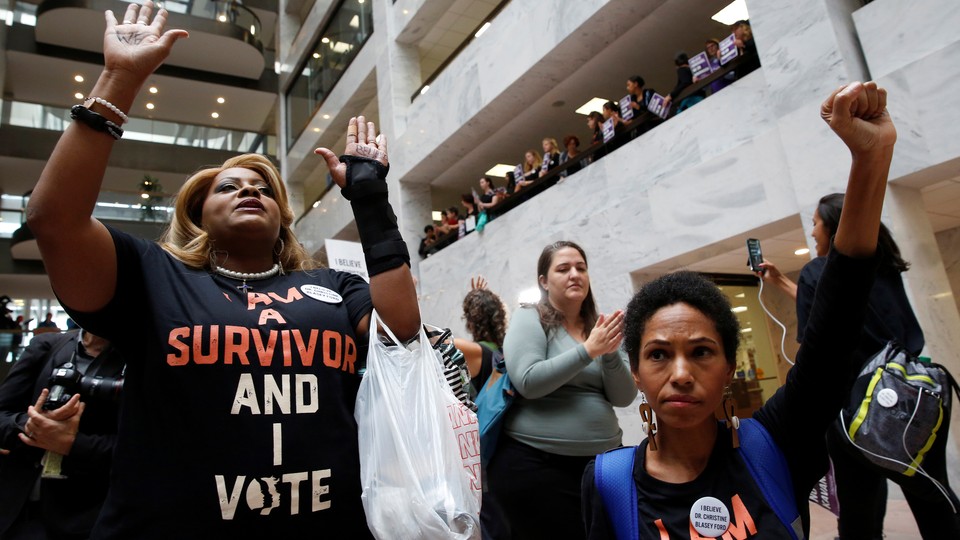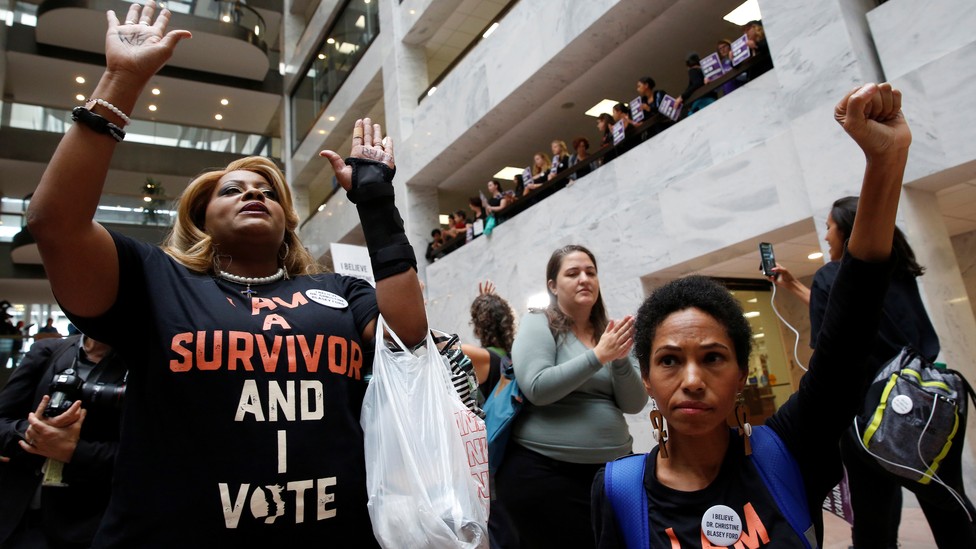 The scenes outside the Dirksen Senate Office Building on Thursday morning were as one might expect in the hours before a high-profile congressional hearing: dozens of protesters in costume, people lying next to posters on the sidewalk, a blur of T-shirts featuring political stances.
Inside the building, though, the images were closer to that of the average American living room. Two best girlfriends, middle-aged, sharing earbuds to listen to Christine Blasey Ford's testimony on an iPhone. Next to them, a group of teenage girls in denim shorts sitting against the wall. As they waited in line to enter the hearing's overflow room, they huddled, heads together, over a phone, listening to Ford. And so on down the line, women (and men) of all ages and colors, watching Ford on small square screens as she described the summer day when she alleges the Supreme Court nominee Brett Kavanaugh sexually assaulted her.
The tableau gave today's hearing the weight of history. It was hard not to look at those teenage girls with noses pressed to cellphones and imagine what their mothers may have looked like decades ago, crowded around a television as Neil Armstrong landed on the moon. Testifying about sexual assault is worlds away from summiting the moon, of course. But just as they did in July 1969, Americans are tuning into Thursday's hearing for reasons that extend far beyond the event itself. The race to the moon was not about the moon; it was about exceptionalism, the expansionist principles so crucial to our conception of ourself. And Ford's testimony is not just about an attack that may have taken place some 35 years ago; it is about how we, as a nation, decide to judge women and the stories they have to tell.
It should come as no surprise, then, if today's hearing becomes a frozen moment of sorts, a where-were-you-when discussion for the future. In the overflow room, many women cried or shook their head as Ford told her story. These were not the tutu-wearing, megaphone-wielding eccentrics of a liberal fever dream; they were elderly white women in wheelchairs and a young black woman in a blazer and a 20-something in a sundress and sweater. And when they cried during Ford's testimony, I wondered whose faces, for them, were replacing Ford's—sisters, perhaps, or daughters or friends. Maybe themselves. Whatever the answer, it was clear this hearing had taken on the shape of something much bigger than Ford, and that people in this room and across the country will long remember it as such.
How will they remember the ending? Perhaps in triumph and pride, as witnessing a nation's giant leap forward. Or maybe in disappointment, like traveling to a great destination, only to realize you've missed the turn.