Brett Kavanaugh: 'This Confirmation Process Has Become a National Disgrace'
After four hours listening to Christine Blasey Ford, the Senate heard fiery testimony from the man she's accused of sexual assault.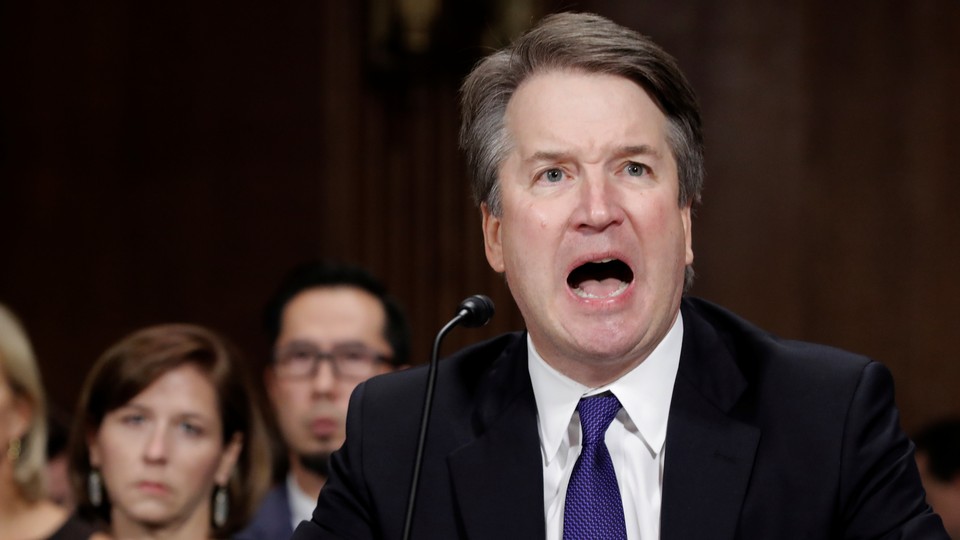 Updated on September 27 at 6:47 p.m. ET
On Thursday, the American public got to put a face to the name, and a voice to the story, of Christine Blasey Ford. And hours later, the public saw an entirely new Brett Kavanaugh.
The California university professor brought her allegation of sexual assault against Kavanaugh to a U.S. Senate hearing room, telling members of the Judiciary Committee—and a national television audience—that President Donald Trump's nominee for the Supreme Court "groped me and tried to take off my clothes" while the two were at a high-school party in the summer of 1982.
"I believed he was going to rape me," Ford said, repeating in public what she first alleged in an anonymous letter to Congress and then in an interview published 11 days ago by The Washington Post. "I tried to yell for help. When I did, Brett put his hand over my mouth to stop me from screaming. This was what terrified me the most, and has had the most lasting impact on my life. It was hard for me to breathe, and I thought that Brett was accidentally going to kill me."
Ford cautioned the committee that she could not "remember as much as I would like to." But in multiple rounds of questioning, she told the senators that she was "100 percent" certain Kavanaugh attacked her and that it was "absolutely not" possible she was mistaking the identity of her assailant. And under questioning by a prosecutor selected by Republicans, she added new details about her interactions during the summer when the incident allegedly occurred.
"The details about that night that bring me here today are ones I will never forget," Ford said in her opening statement. "They have been seared into my memory and have haunted me episodically as an adult."
As gripping as Ford's testimony was, Kavanaugh's rebuttal was just as astonishing. The veteran Republican operative and federal judge had appeared earlier this month before the Judiciary Committee in the style and tone of previous Supreme Court nominees: reserved, deferential, apolitical. But on Thursday afternoon he emerged angry and defiant, denouncing the confirmation process as "a national disgrace" and accusing the political left of "a calculated and orchestrated political hit fueled with apparent pent-up anger about President Trump and the 2016 election, fear that has been unfairly stoked about my judicial record, revenge on behalf of the Clintons and millions of dollars in money from outside left-wing opposition groups."
Kavanaugh apparently ripped up an earlier version of his testimony that the committee had released in his name on Wednesday. Breaking into tears at times, he spoke in unusually partisan tones while specifically denying each of Ford's allegations. "My family and my name have been totally and permanently destroyed," Kavanaugh said. He later impugned the senators directly: "You have replaced 'advise and consent' with 'search and destroy.'"
Ford's allegation that Kavanaugh, as a drunken 17-year-old Georgetown Prep student, tried to force himself on her while his friend Mark Judge egged him on has been the subject of fierce debate—and forceful denials from Kavanaugh—for more than a week. But the appearance of both accuser and accused before the Senate Judiciary Committee was likely to make Thursday's hearing perhaps the most consequential on Capitol Hill since 1991, when Anita Hill told the same Senate panel that Clarence Thomas had repeatedly sexually harassed her when the two worked together in the federal government.
Now, as then, at stake is the confirmation by a closely divided Senate to a lifetime appointment—one that could push the nation's highest court to the right for another generation. Yet Thursday's hearing was more pivotal still because it came less than six weeks before midterm elections that could flip control of the Senate, allowing Democrats to block the confirmation of a new Trump-appointed justice if Republicans cannot confirm one in time. Most of the Senate's 49 Democrats were expected to oppose Kavanaugh before Ford's allegation became public, but several Republicans who could cast decisive votes have said that Thursday's hearing would determine whether the federal appellate judge's nomination survives or sinks.
Ford, wearing large glasses and a navy-blue suit, appeared at the witness table flanked by her attorneys. After Senator Chuck Grassley, the Republican chairman of the committee, made clear that the committee would provide her with whatever she needed, a smiling and slightly nervous Ford said that after she delivered her opening statement, "I anticipate needing caffeine if that's available." (After the statement, Senator Cory Booker of New Jersey, a Democrat on the committee, helped bring her coffee in a plastic cup.)
She read her statement in an occasionally halting voice, looking up at the senators from time to time. "I am here today not because I want to be. I am terrified," Ford said. "I am here because I believe it is my civic duty to tell you what happened to me while Brett Kavanaugh and I were in high school."
She described in detail how she told her husband, Russell Ford, about the assault during a couples-therapy session in 2012. And Ford's voice cracked as she told the committee of her difficult decision to come forward publicly this year. "I was conflicted about whether to speak out," she said. "All sexual-assault victims should be able to decide for themselves whether their private experience is made public."
Ford explained her thinking as she watched Kavanaugh go from one of several possible nominees this summer to a man nearly certain to be confirmed to the Supreme Court. "His allies painted him as a champion of women's rights and empowerment," she said. "I believed that if I came forward, my voice would be drowned out by a chorus of powerful supporters. By the time of the confirmation hearings, I had resigned myself to remaining quiet and letting the committee and the Senate make their decision without knowing what Mr. Kavanaugh had done to me."
In the days and even hours leading up to the hearing, new allegations against Kavanaugh exploded into view, adding to a circus-like atmosphere in ways that could hurt, or potentially help, his chances. Last weekend, a Yale classmate of Kavanaugh's, Deborah Ramirez, told The New Yorker that he exposed himself to her and caused her to touch his penis at a college party when they were freshmen. And on Wednesday, the liberal attorney and Trump antagonist Michael Avenatti brought forward Julie Swetnick, who said in a sworn declaration to the Judiciary Committee that she witnessed Kavanaugh "engage in abusive and highly physically aggressive behavior toward girls" at parties in high school. The nominee denied all of the women's accusations.
Grassley said at the outset of the hearing that while the committee was aware of the other claims, attorneys for the accusers were uncooperative. "The committee can't do an investigation if attorneys are stonewalling," he said.
But the focus of Thursday's hearing remained on Ford, Kavanaugh's original accuser and the only one Senate Republicans invited to testify. In his statement, Kavanaugh did not accuse Ford of making up her story, but he adamantly and repeatedly denied that he was the boy who attacked her. "I'm not questioning that Dr. Ford may have been sexual assaulted by some person in some place at some time, but I have never done this to her or to anyone," he said. "That's not who I am. It is not who I was. I am innocent of this charge. I intend no ill will to Dr. Ford and her family."
Kavanaugh then briefly broke down as he described how, when his young daughters prayed before bed on Wednesday night, his 10-year-old daughter Liza said, apparently unprompted, "We should pray for the woman."
"That's a lot of wisdom from a 10-year-old," Kavanaugh said, fighting tears. "We mean no ill will."
It was initially unclear how the committee would react to Kavanaugh's angry and emotional defense, or indeed whether his decision to assail both the accusations and the political left was intended to save his own faltering confirmation or merely to recover his reputation and to preserve his current job as a judge on a federal appellate court for the D.C. circuit. "You may defeat me in the final vote, but you'll never get me to quit. Never," Kavanaugh said. "I'm here today to tell the truth. I've never sexually assaulted anyone, not in high school, not in college, not ever."
Yet as the afternoon wore on, Republicans who had sat quietly on the dais as Mitchell asked questions on their behalf spoke up stridently in Kavanaugh's defense. "I would never do to them what you've done to this guy!" railed Senator Lindsey Graham of South Carolina, accusing Democrats of trying to keep open a Supreme Court seat until the next presidential election—in essence, repeating what Senate Majority Leader Mitch McConnell did by denying a vote to Merrick Garland, former President Barack Obama's nominee. "This is the most unethical sham since I've been in politics."
Then Graham turned to the right: "To my Republican colleagues, if you vote no, you're legitimizing the most despicable thing in my time in politics," he said, in a statement clearly directed at undecided GOP senators like Jeff Flake of Arizona, Susan Collins of Maine, and Lisa Murkowski of Alaska. "I hope you're on the Supreme Court," he told Kavanaugh. "That's exactly where you should be."
A few minutes later, Senator John Cornyn of Texas echoed the sentiments. "Judge, I can't think of a more embarrassing scandal for the United States Senate since the McCarthy hearings," he said.
The Kavanaugh who appeared before the Judiciary Committee was almost entirely unrecognizable from the man who sat before the panel three weeks ago. Rather than present himself as a kind of choir boy, as he had before, he put himself forward as a normal teenager—someone who drank beer and went to parties but knew exactly where the line was and never crossed it. "I drank beer with my friends. Almost everyone did," he said. "Sometimes I had too many beers. Sometimes others did. I liked beer. I still like beer. But I did not drink beer to the point of blacking out, and I never sexually assaulted anyone."
He continued: "There is a bright line between drinking beer, which I gladly do and which I fully embrace, and sexually assaulting someone, which is a violent crime. If every American who drinks beer or every American who drank beer in high school is suddenly presumed guilty of sexual assault, it will be an ugly new place in this country. I never committed sexual assault."
For Ford, the hearing offered both the opportunity and the burden of stepping into the middle of a fraught political moment and allowing a panel of senators to essentially sit in judgment of her just as they are weighing whether to elevate Kavanaugh to the Supreme Court. In a shift from the Hill-Thomas hearing, Republicans hired a sex-crimes prosecutor from Arizona, Rachel Mitchell, to question the two witnesses (though in the middle of Kavanaugh's session, the lawmakers took over). Democrats interviewed both witnesses themselves. Grassley said the Republicans' decision to bring in Mitchell was made in an effort "to depoliticize" the hearing, but it was widely seen as a move to shield the all-male GOP panel from the uncomfortable position of questioning a woman about a sexual assault.
Mitchell, seated in front of the senators' dais, began her work Thursday with an apology to Ford, as well.
Noting that Ford had said she was "terrified" to appear, Mitchell told her: "I just wanted to let you know I'm very sorry. That's not right."
Mitchell proceeded to ask Ford about details in the letter she had originally submitted to Congress. Asked to read it again for accuracy, Ford took the opportunity to make a couple of "corrections." She had originally said there were four other people at the party, but she clarified to say that she could not be sure if more people weren't there as well. She said she couldn't be sure if Kavanaugh or Judge was the one who pushed her from behind into the bedroom where she was attacked. And she added a detail about Judge, saying that soon after the incident, she saw him working at a local Safeway grocery store. She told the committee that if it could ascertain when Judge worked at the store, she could be more precise about when the incident occurred.
Democrats had demanded that more witnesses be called and a subpoena be issued to Judge, the only other alleged witness to the incident. But Grassley refused, and so one after the other, Ford and Kavanaugh were to testify alone.
The format of questioning led to some awkwardness during Ford's half of the hearing. Grassley allowed each senator just five minutes with Ford, but since Republicans all deferred to Mitchell, it meant that her detailed line of inquiry was frequently interrupted. The questioning was also interrupted at times by bickering between the Democrats on the committee and Grassley over the handling of the allegations and hearing. Grassley interjected whenever a Democrat accused him of rushing the process.
Throughout Ford's appearance, Mitchell questioned her in a friendly manner, but her strategy seemed designed to poke holes in Ford's story and credibility. At one point, she questioned Ford over reports that she had a fear of flying, yet had made trips by plane across the country and to far-flung locales for vacation. Mitchell stumbled, however, when she raised the possibility that Ford had flown all the way to Australia.
"You were consulted by a statistician in Australia?" Mitchell asked.
"I have never been to Australia, but the company is based in Australia and they have an office in San Francisco, California," Ford corrected her. "I don't think I will make it to Australia."
The top Democrat on the Judiciary Committee, Senator Dianne Feinstein of California, asked her a question Republicans have raised to cast doubt on Ford's memory that it was Kavanaugh—and not another drunken teenager—who attacked her: "How are you so sure that it was he?"
"The same way that I'm talking to you right now," Ford replied. "Just basic memory functions." She then summoned her expertise in psychology to describe how traumatic events are encoded in the brain.
"So what you're telling us is this could not be a case of mistaken identity?" Feinstein asked again.

"Absolutely not," Ford replied.
Dick Durbin, the Democratic senator from Illinois, posed a similar question minutes later. "With what degree of certainty do you believe Brett Kavanaugh assaulted you?" he asked.

"One hundred percent," Ford said.
As the hearing went on, Mitchell drilled down further into the details of how and why Ford decided to come forward. She pressed her on her decision to take a polygraph test and asked her who paid for the test and for her legal fees. Democrats, meanwhile, stopped asking her substantive questions at all, using their time instead to extol her courage and thank her for testifying.
"Just so we can level set, I want you to know, you are not on trial. You are not on trial," Senator Kamala Harris of California told Ford near the end of her testimony. "I want to thank you for your courage and I want to tell you I believe you. I believe you."
Ford's testimony ended with something of a surprising admission from Mitchell, who told Ford she was "impressed" with her demonstrated knowledge of psychology and then got her and her lawyers to agree that the format of the hearing—asking a witness detailed questions in five-minute increments—was "not the best way" to interview a victim of sexual assault.
As soon as Mitchell was done, the bickering between Grassley and Democratic members of the committee resumed. At one point, Ford's attorney spoke up to ask if she could be excused. Grassley started to ask her to wait a few more minutes and then reconsidered. "Let's just be nice to her!" he exclaimed, drawing laughter from the hearing rooms.
With that, Ford was done after more than four hours of testimony, and the committee announced a break before Kavanaugh had his chance to respond.
Kavanaugh's statement lasted more than 45 minutes, and he struggled to compose himself as both Mitchell and Democratic senators began their questions. Mitchell elicited specific denials to a blow-by-blow account of Ford's allegations. "Dr. Ford described an incident where you tried to remove her clothes," she began one such query. "Have you ever tried to remove her clothes?" "No," Kavanaugh replied. In response to another question, he said he had never been in a room alone with Ford and Judge.
Kavanaugh had previously said that he had never drank to the point of being "incoherently drunk." Mitchell asked him if he had ever "passed out" from drinking.
"No," he replied, "but I've gone to sleep, but I've never blacked out."
Feinstein asked why, if Kavanaugh was insistent on his innocence, he did not support the Democrats' repeated calls for an FBI investigation, if only to clear his name. "I'll do whatever the committee wants," Kavanaugh said. "I wanted a hearing the day after the allegations came out."
When she asked him if he was saying the allegations by Ford, Ramirez, and Swetnick were wrong, he replied that "emphatically" he was. "The Swetnick thing is a farce. It's a joke."
"Would you like to say more about it?" Feinstein asked.
"No," Kavanaugh replied.
Later in the hearing, Durbin tried again to get Kavanaugh to voice support for an FBI investigation. The second-ranking Senate Democrat asked him to turn to Don McGahn, the White House counsel, and ask him directly to seek a new review into the allegations as part of Kavanaugh's background report. Kavanaugh repeatedly deferred to the committee instead, and at one point the two men simply stared silently at each other for several seconds. Grassley jumped in to remind the committee that Kavanaugh had no power over whether an FBI investigation took place.
"This committee is running this hearing," Grassley declared. "Not the White House. Not Don McGahn. Not even this nominee."
Kavanaugh sparred as well with Senator Amy Klobuchar of Minnesota, a Democrat who he initially thanked for treating him respectfully during his first round of hearings. When Klobuchar pressed him on whether he had blacked out from drinking, he turned the question around on her: "Have you?" he asked. Taken aback, she said nothing. After a 15-minute break, Kavanaugh returned with an apology.
Aside from that moment, however, the judge dropped most pretenses of deference to the Democratic senators. He scoffed at many of their questions and was combative in his responses. By his defiance and his initial partisan rhetoric, Kavanaugh cast his lot with the Republicans who ultimately have the power to confirm or reject him. Several of them offered their support on Thursday. But whether those who still control his fate will choose to believe Ford's compelling testimony or Kavanaugh's forceful denials remains to be seen. As Arizona Republican Jeff Flake put it at the day's end: "There is likely to be as much doubt as certainty going out of this room today."