Christine Blasey Ford and the Search for a Standard of Proof
The Sunday shows were filled with commentary on the 51-year-old research psychologist's expected testimony against the Supreme Court nominee Brett Kavanaugh, but no one could quite define what a fair hearing should look like.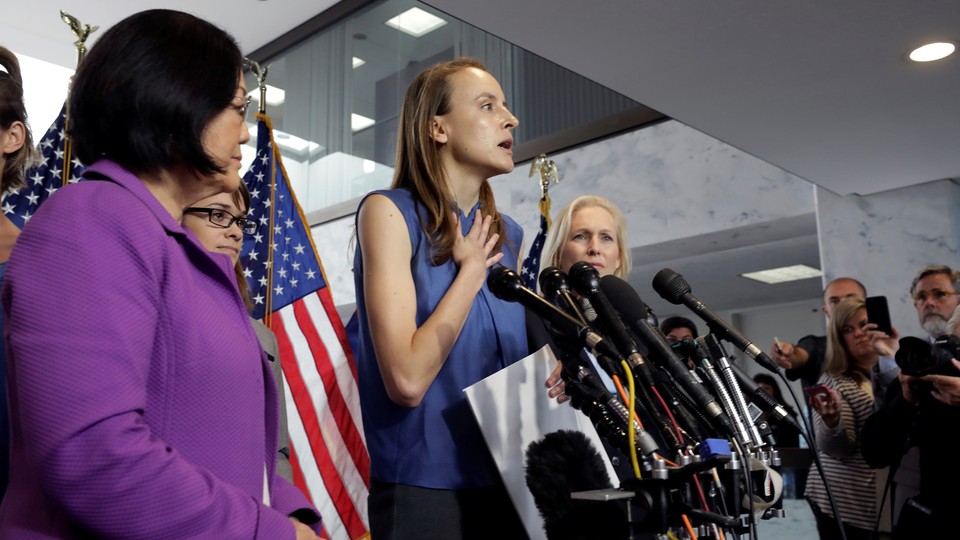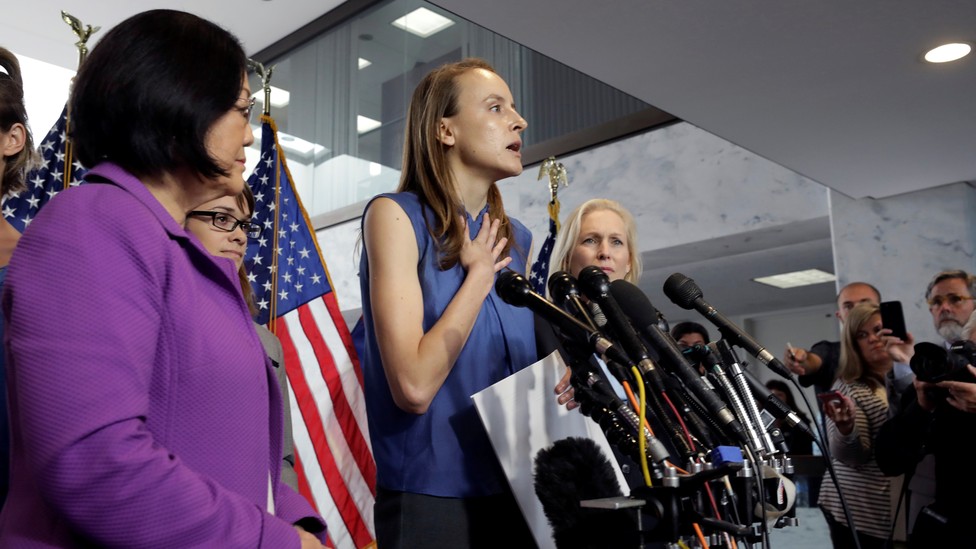 In a likely redux of the 1991 Clarence Thomas–Anita Hill hearings, Washington appears headed for dramatic public testimony by the Supreme Court nominee Brett Kavanaugh and the woman who's accused him of sexual assault when they were teens, the research psychologist Christine Blasey Ford. After negotiations over the weekend with Ford's lawyers, Judiciary Committee Republicans announced on Sunday afternoon that a hearing was set for 10 a.m. Thursday.
But what should that hearing look like? How can senators determine what happened at a high-school house party in the 1980s? How should they treat a private citizen who has come forward with allegations of sexual misconduct against a man up for a lifetime appointment to the nation's highest court? How should they treat the nominee who categorically denies assaulting anyone, ever? What should be the standard of proof?
On Sunday morning's talk shows, no one had a clear answer.
Republicans who want Kavanaugh on the bench before the Court's first arguments on October 1 also want to avoid long-term damage from the committee's 11 male GOP senators grilling a woman alleging sexual assault, a reprise of the Anita Hill hearings but in the age of #MeToo and President Donald Trump's own fraught history with female accusers and his Access Hollywood admission.
"I hope that Judge Kavanaugh and Dr. Ford both get a fair hearing," Senator David Perdue, a Georgia Republican, said on NBC's Meet the Press. He said Ford had brought forward "serious allegations" that needed to be heard. When asked how senators should assess the testimony, Perdue avoided a specific answer and described the goal as "to find the truth, just like in any courtroom in our land." Asked about a push to get Kavanaugh confirmed quickly—as Majority Leader Mitch McConnell suggested Friday at a conference for social conservatives, promising to "plow right through it"—Perdue averred that there is "absolutely no rush to judgment." But he also said he expects a hearing and a decision this week.
Senator Lindsey Graham, a South Carolina Republican on the committee, sounded less earnest about it. He seemed to suggest that Ford's testimony could not change his vote. "All the people who have been named say it didn't happen," Graham said, somewhat distorting the report of a possible partygoer saying she did not remember a party with Kavanaugh.
"I want to listen to her, but … what do you expect me to do?" Graham said, adding that "I'm not going to ruin Judge Kavanaugh's life over [an] accusation this vague, not verified in any way." Graham added a political spin, trying to blame Democrats for her accusation without blaming Ford herself: "I feel sorry for her. I think she's being used here."
Nikki Haley, the U.S. ambassador to the United Nations, briefly addressed the issue on CBS's Face the Nation. The host, John Dickerson, pointed to her previous statements that people describing sexual abuse should be heard—even when they are accusing her boss, President Trump. When Dickerson asked Haley how to assess the allegations against Kavanaugh, she responded: "I think it's very important that accusers are heard and that their story is heard. But I also think the accused needs to be heard … And they need to do it quickly, for the sake of both families." Both Ford's and Kavanaugh's family has reported a slew of threats since her allegation became public.
Meanwhile, Democrats argued that a fair hearing required more outside investigation and suggested different standards for determining what happened. On CNN's State of the Union, Senator Mazie Hirono of Hawaii staked out an aggressive position about people alleging sexual assault: "If their stories are credible, as Dr. Ford's story is, they need to be believed." She dodged Jake Tapper's question on the presumption of innocence, pivoting to blast Kavanaugh's "credibility issues" since he carries an "ideological agenda" and is "outcome driven." As she repeated those talking points about Kavanaugh's legal rulings, she added, "He's very much against women's reproductive choice."
Conservatives quickly jumped on Hirono's statements. GOP Senator Orrin Hatch's office tweeted, "Suggesting someone doesn't deserve the presumption of innocence for an accusation of attempted rape because you have concerns about their views of Roe v. Wade is a fairly stunning admission about the politics at play here." The pundit Erick Erickson chimed in, "We need Senator Hirono on TV as much as possible this week to talk about Kavanaugh. She seems to be the only honest Democrat, admitting the acccusation [sic] is irrelevant, it's his positions that matter and this just makes it easier to oppose him."
Hirono also called for more investigation and testimony by Mark Judge, Kavanaugh's friend and an alleged witness, who has said in a statement that he has "no memory of this alleged incident."
On Face the Nation, GOP Representative Trey Gowdy countered Ford's and Democrats' demand for an FBI investigation. "I'm a big fan of the FBI, but they don't investigate sex-assault cases," he said, adding that there is no crime scene or forensic evidence to analyze. And though investigators could interview possible witnesses, Gowdy argued that the FBI doesn't have any advantage over senators: "They're not human polygraphs, so they can't tell us who's telling the truth."
When asked what standard to use when assessing the allegation, the former prosecutor professed a leaning toward victims of sexual assault but said since a Supreme Court nominee was accused of "a crime that goes to the heart of your character, I think the American people expect there to be a high evidentiary burden."
Also on Face the Nation, the California Democrat who first heard Ford's account in late July called for a subpoena to bring Judge before the committee. Representative Anna Eshoo described Ford's reception as emblematic of the fears that keep most victims from reporting their assault—an implicit rebuke to Republicans standing by the accused. "This is a crime," Eshoo said. "And yet the doubt when women come forward—that's why so many do not come forward, because so many think that they will not be believed."
Senator Patty Murray, a Democrat from Washington State, said on Meet the Press that Anita Hill's treatment spurred her first run for Senate in 1992—yet even Hill's allegations saw some outside investigation. "The Senate Republicans have predetermined the outcome by taking that away," Murray said of the Ford hearing, before closing her interview with a moral argument: "What a horrible message to young girls today. What a horrible message to young men today, that they can get away with this. Let's get this right."
Senator Dick Durbin of Illinois, the Senate's No. 2 Democrat and a Judiciary Committee member, also called for further investigation, as he argued that Ford had no incentive to come forward, knowing she would likely face threats and abuse—as both her family and Kavanaugh's family have faced.
"What in the hell did she have to gain by doing this?" he asked on ABC's This Week, a sentiment that Hirono also voiced. But when asked whether it's possible to know exactly what happened to Ford, Durbin conceded that "in terms of direct evidence, probably not." And when asked about a fair standard of proof for Judge Kavanaugh: "I don't know what it is."