Where Brett Kavanaugh's Nomination Goes From Here
President Trump's nominee for the Supreme Court had been sailing toward Senate confirmation. But with Republicans wavering in light of Christine Blasey Ford's allegation of sexual assault, it's all in doubt now.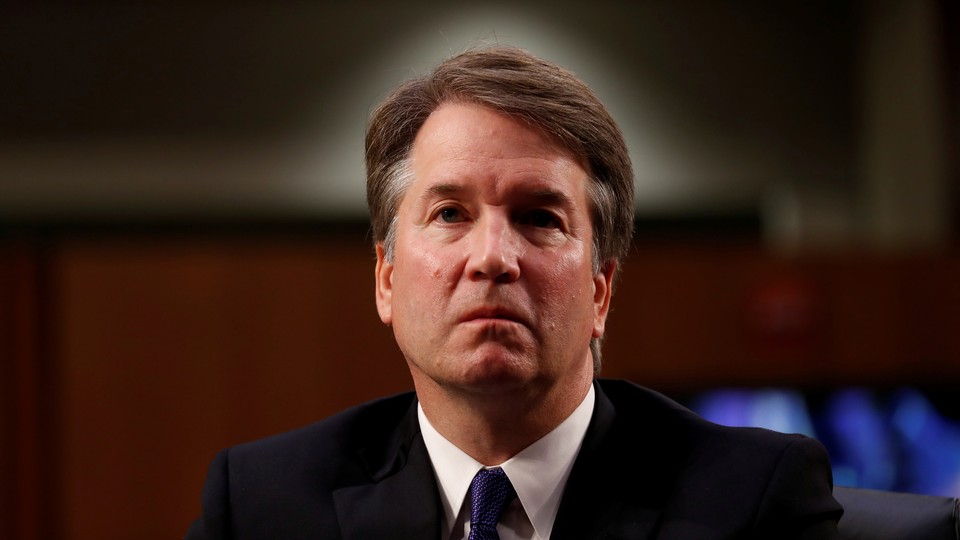 Updated on September 17 at 9:46 p.m. ET
As of late last week, Brett Kavanaugh stood on the brink of confirmation to a lifetime appointment on the Supreme Court.
The federal appellate judge nominated by President Donald Trump to replace the retiring Justice Anthony Kennedy had survived three days of confirmation hearings without alienating any of the 51 Senate Republicans whose votes he needs to serve on the nation's highest court. An aggressive Democratic campaign to stall, and ultimately thwart, his bid had failed to win over the party's most electorally vulnerable members. The Senate Judiciary Committee had scheduled a vote on Kavanaugh's nomination for this Thursday, and Republicans were confidently predicting that he would win confirmation with a bipartisan vote on the Senate floor and be seated on the Supreme Court for the beginning of its fall term in October.
All of that is in doubt now.
The public allegation by Christine Blasey Ford, a college professor in California, that Kavanaugh sexually assaulted her when they were both teenagers has thrown the nomination into serious jeopardy. Kavanaugh has repeatedly denied the claim, saying in a new statement Monday that he had "never done anything like what the accuser describes—to her or anyone."
But key Senate Republicans have joined Democrats in demanding a delay in the Judiciary Committee's planned vote this week, and Senator Susan Collins of Maine, potentially a crucial swing vote, has called for both Ford and Kavanaugh to testify under oath about the allegation. After initial reports that the Trump White House would attack Ford's credibility, a senior adviser to the president, Kellyanne Conway, insisted that Ford "should not be ignored or insulted—she should be heard." Ford's attorney, Debra Katz, said on the Today show on Monday morning that her client was willing to testify before the Senate.
And by early evening, Judiciary Committee Chairman Chuck Grassley announced that the panel would reconvene on September 24 and hear public testimony both from Ford and Kavanaugh.
Earlier in the day, Republican leaders were struggling with how to proceed. The party has pushed for Kavanaugh's confirmation by October so that the Court can have a full slate of nine justices ready to hear the next batch of cases after its annual summer break. But the GOP's real deadline is November 6, when the outcome of several close Senate races will determine which party controls the chamber come January. Democrats' likely only hope of forcing Trump to replace Kennedy with a more centrist justice is to pick up at least two seats from Republicans. If that happens, there would be intense pressure on GOP senators to not confirm a nominee in the lame-duck session of Congress, and Democrats would then have the leverage they need to demand that Trump consult with them if he wants to fill Kennedy's seat.
Republicans and Democrats agreed that the allegation merited further review, but they were at odds over how it should be handled and who should handle it. Grassley said in a statement early Monday afternoon that he was trying to schedule phone calls between committee staff and Ford and Kavanaugh—an apparent effort to investigate the matter quickly and keep Thursday's vote on track. But Democrats insisted that the FBI first be given time to conduct an investigation and then for Ford and Kavanaugh to give their accounts to the committee.
"Anyone who comes forward as Dr. Ford has deserves to be heard, so I will continue working on a way to hear her out in an appropriate, precedented and respectful manner," Grassley said in the statement. But he then pivoted to criticizing Senator Dianne Feinstein of California, the top Democrat on the committee, for withholding details of Ford's allegation when she first received a letter from the professor in July. Feinstein has said that because Ford had wanted to remain anonymous, there was little she could do with the allegation.
From here, the nomination could proceed in a number of different ways.
Had Grassley and Senate Majority Leader Mitch McConnell gone ahead with Thursday's committee vote, it would almost certainly have failed. Senator Jeff Flake of Arizona, a Republican on the panel, said he could not vote for Kavanaugh before hearing more from Ford. Republicans hold just an 11–10 advantage on the committee, and all 10 Democrats signed a letter demanding that the vote be postponed.
McConnell could try to muscle Kavanaugh across the Senate floor even if he receives an unfavorable vote in the Judiciary Committee. The Senate confirmed Justice Clarence Thomas in 1991 even though the panel split 7–7 on his nomination, after Anita Hill testified that Thomas had repeatedly sexually harassed her when they worked together at two different federal jobs. But that vote, too, would be unlikely to succeed without a fuller airing of Ford's accusations. In addition to Flake and Collins, Republican Senators Bob Corker of Tennessee, Lisa Murkowski of Alaska, and Roy Blunt of Missouri all said they want to hear more from Ford and Kavanaugh before voting. The GOP can lose no more than two of its senators if all Democrats vote against the nominee in a full-floor vote.
Ultimately, McConnell and Grassley decided to give in to demands for a public hearing, allowing Ford to tell her story directly and giving Kavanaugh an opportunity to respond. A short delay could satisfy the GOP senators' demand for more time while still giving the party a chance to confirm Kavanaugh before the election.
"If it takes a little delay, it'll take a little delay," Trump told reporters Monday in his first public comments on the allegation. "It shouldn't certainly be very much."
Yet the public airing—including the nationally televised spectacle of a second round of hearings—will put all 100 senators in the position of choosing whom to believe: Kavanaugh or Ford. Kavanaugh's blanket denial—he reportedly told Senator Orrin Hatch that he wasn't even at the party in question—could make it difficult for Republicans or Democrats to excuse the incident as a drunken but forgivable excess of youth outweighed by a lifetime of personal and professional integrity, as some of the judge's defenders rushed to suggest. At the same time, by testifying publicly, Ford is subjecting herself to cross-examination by Senate Republicans, who will undoubtedly press her on how well she remembers the alleged assault and whether she's absolutely sure it was Kavanaugh who did it.
Trump scoffed at the possibility that Kavanaugh, who was seen visiting the White House on Monday, would be forced to withdraw. "What a ridiculous question," he said when a reporter asked if the nominee had offered to do so.
A withdrawal would be a huge and galvanizing victory for Democrats, who before Ford's allegation had tried to disqualify Kavanaugh on the grounds that he could be a deciding vote to overturn Roe v. Wade, dismantle the Affordable Care Act, protect Trump from consequences resulting from Special Counsel Robert Mueller's investigation, and more. But it would not necessarily get them a more palatable nominee.
Trump could move quickly to nominate one of the other conservatives on his list of finalists, reported at the time of Kavanaugh's nomination to be Judges Amy Coney Barrett, Raymond Kethledge, and Thomas Hardiman. Or he could wait until after the election, betting that conservative voters would be likely to turn out for Republicans in key Senate battlegrounds if a seat on the Supreme Court were on the line. With Democrats defending more seats in deep-red states, political forecasters expect Republicans to retain their majority and possibly expand it. Under that outcome, Trump could be emboldened to nominate someone like Coney Barrett, who was seen as a more conservative pick than Kavanaugh.
In predictable fashion, Ford's allegation against Kavanaugh has quickly overshadowed the policy issues and the knotty procedural fight that dominated his initial hearings. But the debate over the alleged assault won't merely call into question the personal reputation of a single nominee, or even decide which middle-aged conservative takes Kennedy's seat. At a tumultuous political moment weeks before a national election, the public litigation of a disputed 36-year-old attack could alter the direction of the Supreme Court for decades.