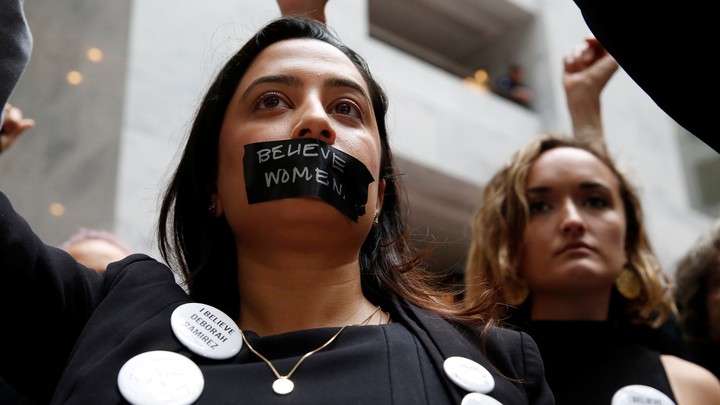 Autumn is for school supplies. It's for crunchy leaves, and pumpkin pie, and digging the cozy fleece sweater out from the bottom of the drawer. It is also, apparently, for messy public reckonings with sexual assault.
For the past three years, around the time the trees turn yellow on the East Coast, an old assault allegation—or three, or 19, or 219—has surfaced in the news and commanded national attention. Each time, in the ensuing weeks, the country has agonized over whether to believe the victim, and how severely to punish the accused, or whether to punish him at all. This year, it's Brett Kavanaugh. Last year, it was Harvey Weinstein. The year before that, it was Donald Trump. In between, there have been too many men, accused of too many horrible things, to count.
This annual reckoning has been virtually impossible to ignore. The Access Hollywood tape—"I don't even wait … Grab 'em by the pussy"—was broadcast on loop for weeks. The next fall, millions of survivors shared #MeToo stories on social media. And yesterday, one woman, alone before an overwhelmingly male Senate Judiciary Committee, recounted the time she was "underneath one of them while the two laughed."
"Brett put his hand over my mouth to stop me from screaming," Ford said in her opening testimony. "It was hard for me to breathe, and I thought that Brett was accidentally going to kill me."
This is awful stuff, with unimaginable resonance for many women. And the echoes of last fall, and the fall before, don't make it any easier. In an ABC News poll released a few weeks after the Access Hollywood tape, 51 percent of American women said they were experiencing "election-related stress," as opposed to just 39 percent of men. "Once the videotape of Donald Trump and Billy Bush came out, it had great impact," Joanna Ford, a licensed counselor in Denver, told Time in 2016. "For women who are not feeling safe to begin with, this can trigger serious feelings of insecurity and fear." Particularly after the tape was released, therapists said, their female clients started sharing more and more physical and sexual trauma from their past.
Trump's comments about sexual abuse, and the momentum of the #MeToo movement the following fall, prompted women to speak out publicly about their own experiences. After the actress Alyssa Milano shared the first #MeToo hashtag on Twitter, borrowing the slogan from the longtime activist Tarana Burke, the mantra was tweeted more than half a million times in 24 hours, often accompanied by deeply personal stories of harassment and assault. Over the next few weeks, millions of women decided that sharing the hashtag was worth the ensuing sense of vulnerability, the inevitable skepticism, and, for many, the emotional and physical risk. That so much of this sharing occurred online is both a sign of the times and a reason the movement perpetuated itself. Without democratized publishing made easy by platforms like Twitter, the voices of so many women—and the staggering scope of the abuse they described—could never have been seen or amplified by the masses.
Throughout Thursday's hearings—the third annual moment of reckoning—there was, once again, an outpouring of female emotion. Women everywhere, it seemed, were crying: inside the hearing room, outside the hearing room, on airplanes, in retirement homes, on Twitter. After Ford left the Senate floor, People took stock with this headline: "Women Across U.S. Weep Hearing Christine Blasey Ford Testimony." Women called into C-span to tell emotional stories of their own rape experiences. On Thursday evening, the Rape, Abuse and Incest National Network, a leading nonprofit for victims of sexual abuse, was experiencing "unprecedented wait times" for its online chat service. "Remember to take care of yourself in these times," the organization said in a public message.
There isn't much in life as dependable as the seasons: the inevitable cycle of winter, spring, summer, and then fall. The leaves will turn. School will start. And women will keep reliving their most painful moments, and be questioned for what they share, again and again, until the reckoning becomes a resolution.
We want to hear what you think about this article. Submit a letter to the editor or write to letters@theatlantic.com.