Big Spenders Come Out in Anticipation of the 2018 Midterms
Jeff Bezos, Michael Bloomberg, Lin-Manuel Miranda, Richard Uihlein, George Soros, and Bill Maher all made political contributions in August.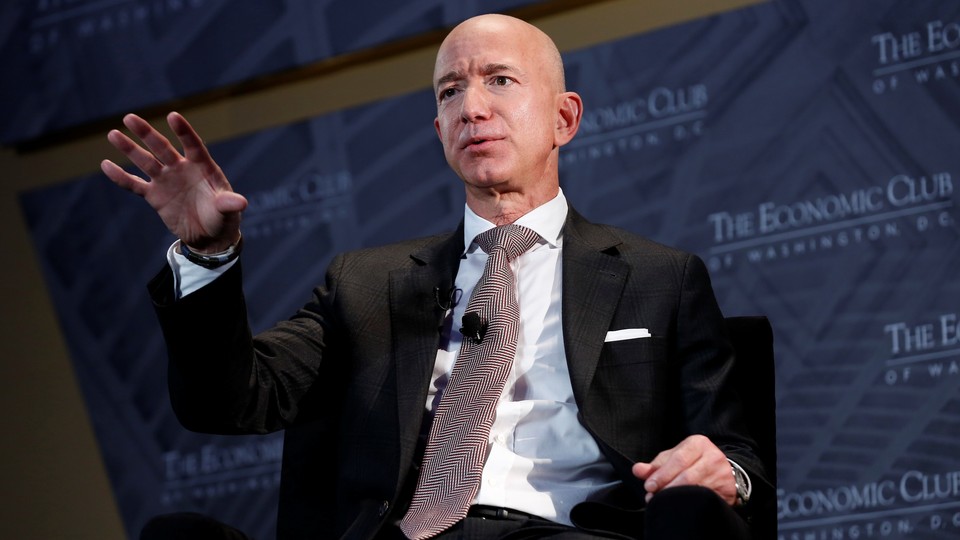 With fewer than 50 days remaining before the 2018 midterms, political-action committees and super PACs are raising and spending huge amounts of money with Democrats surging in their quest to seize control of the House, which would put them in the position to begin nonstop investigations of the Trump administration and, depending upon the findings of Special Counsel Robert Mueller, possibly commence impeachment proceedings against President Donald Trump. The Democrats need to win 23 seats to flip the House, and think they're at least competitive in almost four times that number, if their spending is any indication. And Democratic money is pouring into Representative Kyrsten Sinema's Senate race in Arizona against Republican Representative Martha McSally.
Here are some notable numbers the Center for Public Integrity found Thursday in a new round of monthly campaign-finance disclosures filed with the Federal Election Commission:
$5,000: How much the political-action committee of Geo Group, a private-prison company that operates immigrant-detention facilities in Texas and elsewhere, gave in August to the reelection campaign of Republican Senator Ted Cruz of Texas. The private-prison company CoreCivic's PAC, meanwhile, gave $15,000 to the Republican Party's House campaign arm in August. The companies are pursuing additional federal contracts to hold detainees fighting potential deportation.
Almost 8:1: The ratio of money Facebook's PAC gave to Republican interests versus Democratic interests during August. The PAC's biggest contribution, $15,000, went to the National Republican Congressional Committee, which supports GOP candidates for the House.
$10,129,170: The official amount the Amazon CEO and founder, Jeff Bezos, contributed in August to the With Honor Fund, a bipartisan PAC that works to elect military veterans. The contribution by Bezos, who also owns The Washington Post, was about 97 percent of the money the PAC received in August.
$900,000: The amount the conservative megadonor and Illinois resident Richard Uihlein plowed into Solutions for Wisconsin, a super PAC, in his unsuccessful bid to propel the businessman and Marine Corps veteran Kevin Nicholson into Wisconsin's Republican Senate nomination. Nicholson lost to State Senator Leah Vukmir last month. Uihlein has previously given $3.5 million to Solutions for Wisconsin, according to FEC records. All told, he's donated more than $31 million during the 2017–18 election cycle to various political committees.
84: The number of Democratic congressional candidates now on the Democratic Congressional Campaign Committee's "Red to Blue" roster—such a designation "arms top-tier candidates with organizational and fundraising support to help them continue to run strong campaigns" while providing "strategic guidance, staff resources, candidate trainings and more," according to the DCCC. Notable is who's not on the list: The Democrat Nate McMurray, who's running in New York's Twenty-Seventh District race against Republican Representative Chris Collins. Democratic super PACs also have yet to spend big in support of McMurray. Collins, who represents one of New York State's most conservative districts, is under federal indictment for alleged insider trading and faces a House ethics inquiry that could result in sanctions, including his removal from office. Collins, who suspended his reelection campaign in August and then restarted it this week, also hasn't committed to serving if he wins reelection.
$1.6 million: How much former New York City Mayor Michael Bloomberg gave to the Independence USA PAC, a super PAC focused on "gun laws, the environment and education policy." Bloomberg spent the $1.6 million on in-kind polling and research services, according to the super PAC's latest filing. Bloomberg, who is actively considering running for president, committed to spending $80 million on the 2018 midterms to swing control back to the Democratic Party— although he's recently said he's "not with the Democratic Party on everything."
136: The number of state-level political candidates to whom the federal PAC of the oil giant ExxonMobil contributed money from August 13 through 15. The PAC especially targeted politicos in North Dakota, Ohio, Pennsylvania, West Virginia, and Wyoming. It's not unheard of for a federal PAC to make contributions to state-level politicians, but rarely will one make so many contributions in such a brief period of time. An ExxonMobil representative did not respond to a request for comment.
$2.1 million: The amount the super PAC League of Conservation Voters Victory Fund received from Bloomberg and the Democratic megadonor Michael D. Bills—they gave $2 million and $100,000, respectively. LCV Victory Fund spends money to defeat federal candidates who oppose "clean energy" policies and to elect candidates who support them.
$100,000: What Lin-Manuel Miranda's company, 5000 Broadway Productions, gave to the Latino Victory Fund, a PAC that supports Latino candidates running for office. The Latino Victory Fund recently launched a recruiting effort to encourage Democratic Representative Ruben Gallego to run for the late Senator John McCain's seat in Arizona's 2020 special Senate election, according to Politico.
1: The number of political contributions Twitter's PAC made in August. The recipient: Republican Senator Roger Wicker of Mississippi, who got $2,700. At nearly 70,000 followers, Wicker's official Twitter account ranks in the bottom half among senators. (On the low end, Democratic Senator Doug Jones of Alabama has fewer than 15,000 followers, while independent Senator Bernie Sanders of Vermont has more than 7.9 million followers.)
$4,177: Income labeled "refund media," the only money that came into the John Bolton Super PAC in August. The super PAC did, however, spend more than $45,400 on legal fees last month—watchdog groups have filed multiple complaints against it—and still had more than $2.6 million in the bank as of August 30, federal records show. Bolton's political arm went dormant when he joined the administration as the national-security adviser earlier this year.
$99,937.34: The difference between what the Democratic super PAC Duty and Country raised and spent in August. The secretive group, which which formed in April, received one contribution last month: $100,000 from the retired Illinois resident Robert Burt. It spent $62.66 in bank fees last month. Duty and Country took advantage of loopholes in disclosure law to delay disclosing its funders until after West Virginia conducted its Senate primary on May 8.
$1.1 million: The amount of cash Planned Parenthood Votes spent supporting Democratic Senate candidate Kyrsten Sinema in Arizona and opposing Republican Representative Martha McSally. The super PAC shelled out more than $850,000 on Sinema alone, who received a score of 100 percent from the Planned Parenthood Action Fund's scorecard that tracks congressional-member voting records on legislation related to abortion and health insurance, among other issues.
$10,000: How much money Ed Rollins, a co-chairman of the pro-Trump Great America PAC, earned in August from his PAC work. Rollins has weathered criticism this month for his comments about how many Puerto Ricans Hurricane Maria killed and about assault accusations in connection with the Supreme Court nominee Brett Kavanaugh.
10: The number of Republican candidates for federal office who each received a $1 contribution in August from Club for Growth on behalf of Jerald Smith, a part-time substitute teacher in Fort Worth, Texas.
$600,000: What the billionaire businessman George Soros gave in August to the new—and until now, financially secretive—liberal super PAC Red and Gold. The hedge funder James Simons and Austin W. Marxe of AWM Investment Company also gave $500,000 and $100,000, respectively, in August, according to recent filings. Red and Gold's latest filing also revealed the Senate Majority PAC, a major Democratic super PAC, to be its largest donor so far with $1.7 million. Red and Gold last month spent significant money attacking McSally, who ultimately won the Republican nomination for Arizona's Senate seat. But it wasn't fully known until Thursday who funded Red and Gold.
$7.4 million: The total amount given by just four megadonors to the liberal Senate Majority PAC in August: Newsweb Corporation CEO Fred Eychaner ($4 million), Soros ($1.4 million), the real-estate broker George Marcus ($1 million,) and the comedian Bill Maher ($1 million). Those four together accounted for about 40 percent of the super PAC's receipts in August.
183: The number of contributions to Trump's reelection campaign made in April, May, or June that the FEC flagged as exceeding federal contribution limits. The Trump campaign treasurer Bradley Crate explained in a letter Thursday to the FEC that the campaign has refunded, redesignated, or otherwise addressed the contributions to comply with federal rules.
$0: The amount of money the National Football League's PAC gave in August to federal politicians. Trump, along with some congressional Republicans, has been highly critical of the league's policies regarding players protesting during the playing of "The Star-Spangled Banner" before games begin.