There's No Precedent for What's Going On With Brett Kavanaugh
A third accusation of sexual misconduct against the Supreme Court nominee comes the day before a climactic Senate Judiciary Committee hearing.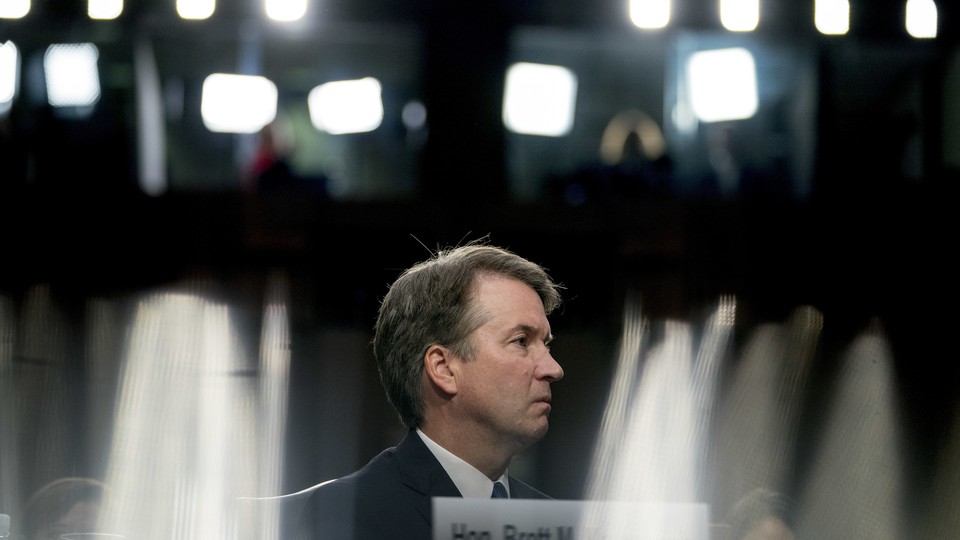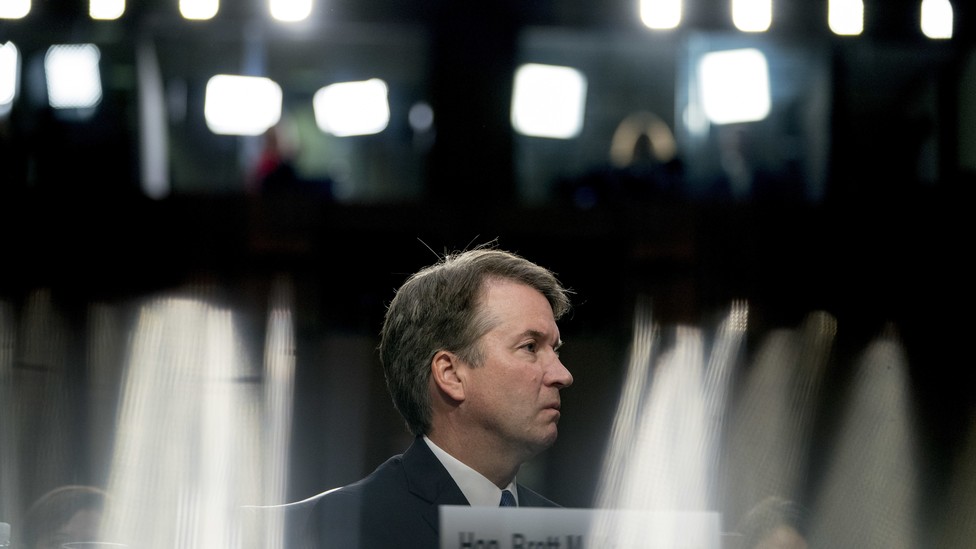 Brett Kavanaugh's already troubled Supreme Court nomination was shaken further on Wednesday, as a third woman accused the federal judge of sexual misconduct on the eve of a pivotal Senate Judiciary Committee hearing on Thursday. Courts revere precedent, but there is no model for Kavanaugh's future. Seldom does a nomination reach this point without a clearer expectation of the result.
Kavanaugh's fate was already in doubt, following two other allegations in recent weeks. The new claim, more lurid than the others, was revealed on Twitter by Michael Avenatti, the attorney who has become a high-profile presence for his brash statements in representing Stormy Daniels, the porn actor and director who says she had an affair with President Donald Trump.
The new allegations scrambled Washington, as senators and other observers wrestled with how to handle them and wondered whether they might sink Kavanaugh's nomination. But the judge and the White House both immediately took an aggressive stance, saying Kavanaugh would not withdraw. At Thursday's hearing, the nominee is expected to testify, as is Christine Blasey Ford, who says that Kavanaugh attempted to rape her at a party in high school.
In a sworn affidavit, Avenatti's client Julie Swetnick says she knew Brett Kavanaugh and his friend Mark Judge between about 1980 and 1982, and that she witnessed the two of them participating in getting girls drunk so that they could be gang-raped by boys at parties.
"In approximately 1982, I became the victim of one of these 'gang' or 'train' rapes where Mark Judge and Brett Kavanaugh were present. Shortly after the incident, I shared what had transpired with at least two other people. During the incident, I was incapacitated without my consent and unable to fight off the boys raping me. I believe I was drugged using Quaaludes or something similar placed in what I was drinking," Swetnick wrote.
What Swetnick is alleging is more elaborate and sensational than the previous claims, which could raise questions. The affidavit is legally binding—lying would constitute perjury. Swetnick holds or has held several federal-government security clearances. In a statement released by the White House, Kavanaugh said, "This is ridiculous and from the Twilight Zone. I don't know who this is and this never happened."
The new affidavit, which Avenatti had hinted was coming for days, was just one of several major developments in the Kavanaugh case on Wednesday. The Judiciary Committee also released facsimiles of Kavanaugh's calendar from the summer of 1982, which Kavanaugh hopes will help vindicate him because it doesn't list the party that Ford has described. The committee also released Kavanaugh's prepared testimony, in which he blasted "false and uncorroborated accusations" and "last-minute smears" aimed at finding "something—anything, no matter how far-fetched or odious—that will block a vote on my nomination." He argued: "Such grotesque and obvious character assassination—if allowed to succeed—will dissuade competent and good people of all political persuasions from serving our country."
The committee also released affidavits from four people, including Ford's husband, who testified that she had described the alleged assault prior to Kavanaugh's Supreme Court nomination. Meanwhile, stories in multiple publications focused on Kavanaugh's reported history of heavy drinking, which seemed to be at odds with the portrait of wholesomeness he painted during a Fox News interview on Monday.
Republicans on the Judiciary Committee on Tuesday announced that they had hired Rachel Mitchell, a sex-crimes prosecutor in Maricopa County, Arizona, to conduct questioning on their behalf. The GOP had blanched at the prospect of a panel of men questioning Ford. Ford, meanwhile, had requested that senators, rather than staff, do the questioning.
Perhaps inevitably, the confirmation battle risked spinning off into a war of words between Avenatti, an attention-grabbing showman who has discussed running for president in 2020 despite no elected experience, and Trump, an attention-grabbing showman who ran for president in 2016 despite no elected experience. Avenatti has become one of Trump's most prominent public critics. Trump tweeted:
Avenatti is a third rate lawyer who is good at making false accusations, like he did on me and like he is now doing on Judge Brett Kavanaugh. He is just looking for attention and doesn't want people to look at his past record and relationships - a total low-life!

— Donald J. Trump (@realDonaldTrump) September 26, 2018
The problem for Trump is that Avenatti has repeatedly been correct in his run-ins with the president and his aides, forcing repeated concessions in their account of a payment made to Daniels, Avenatti's client.
Prior to Avenatti's revelation on Wednesday morning, Republicans had already decided on a strategy of attempting to force Kavanaugh's nomination—which had already been fast-tracked—through at top speed, in order to avoid any further weakening. After Thursday's hearing, the Judiciary Committee is scheduled to vote on Kavanaugh's nomination on Friday, and the full Senate could begin to vote as soon as this weekend.
But the growing scope and number of claims could make it harder for the Senate to push forward and for the White House to continue to resist calls for the FBI to conduct an investigation into the allegations. As I have written, that was the procedure when sexual-harassment claims emerged against Clarence Thomas during his 1991 confirmation hearings. Avenatti and a lawyer for Deborah Ramirez, who alleges that Kavanaugh exposed himself to her when they were students at Yale University, have both said that their clients are willing to testify.
The White House's aggressive strategy is premised on the idea that delay will only allow more allegations against Kavanaugh—including potentially spurious ones—and give Republican senators a chance to lose their nerve. But the vote in the Senate will be very close, and it's possible that driving forward could also alienate GOP fence-sitters.
"We are now in a place where it's not about whether or not Judge Kavanaugh is qualified," Senator Lisa Murkowski of Alaska, one of those swing voters, told The New York Times on Monday. "It is about whether or not a woman who has been a victim at some point in her life is to be believed."
Senator Susan Collins of Maine, another pivotal vote, said on Wednesday that she took the new allegations "very seriously" and was unsure whether the Senate should vote on the existing timetable.
And Senator Jeff Flake of Arizona, a frequent critic of the president whose vote is also in play, gave an anguished but ambivalent speech on the Senate floor on Wednesday in which he said he's undecided.
"I will have to listen to the testimony before I make up my mind about the testimony," he said. "What I do know is, I do not believe Dr. Ford is part of some vast conspiracy from start to finish to smear Judge Kavanaugh as has been alleged by some on the right, and I do know that I do not believe that Judge Kavanaugh is some kind of serial sexual predator as some have alleged on the left."
Kavanaugh is not the first Supreme Court nominee to be accused of sexual misconduct, nor the first to face trouble with his confirmation. But in the past, it has been easier to guess what might happen. Some troubled nominees, like Thomas, end up with enough votes to pass. Others, like Harriet Miers, decide to withdraw rather than be defeated. In a rare move, Robert Bork opted for a confirmation vote he knew he would lose.
Kavanaugh's nomination, by contrast, could go in any direction. Thursday's hearing promises a climax that could provide some clarity—if some other new piece of information doesn't do so first.