Andrew Cuomo Sealed His Victory With One Last Power Move
The New York governor got the blowout he wanted against Cynthia Nixon. And when the results came in, neither he nor his campaign said a word about them.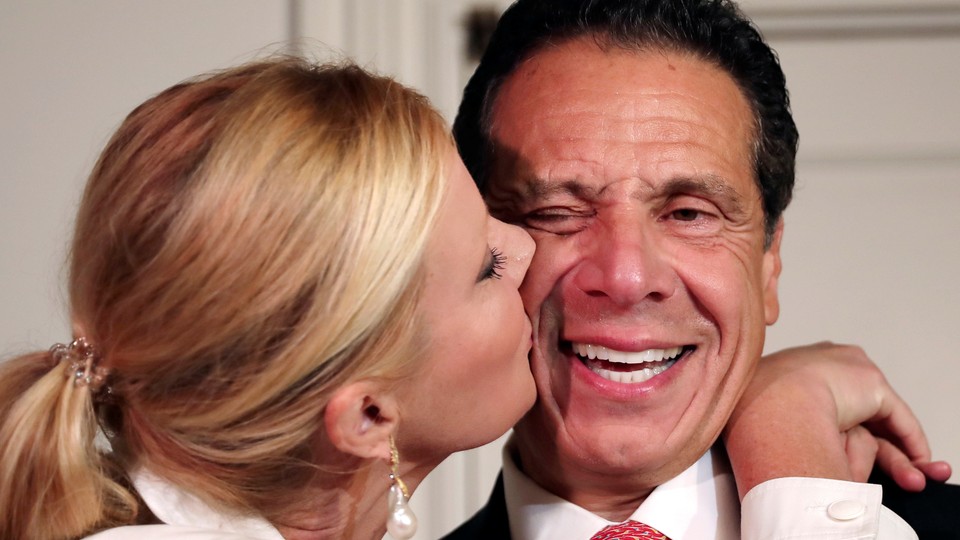 NEW YORK—The progressive insurgency that has toppled Democratic Party favorites in New York City's outer boroughs, Boston, and Florida could not lay a finger on Andrew Cuomo.
The two-term New York governor easily dispatched an energetic challenge from the actress and activist Cynthia Nixon on Thursday night to win renomination to a third term. With more than three-quarters of the ballots counted, Cuomo had swamped Nixon by a nearly two-to-one margin. He was poised to win with an even larger percentage of the Democratic vote than he secured four years ago against a much lesser-known liberal rival, Zephyr Teachout.
Polls had shown Cuomo leading throughout the race, but the upset primary victories by Alexandria Ocasio-Cortez against longtime Representative Joseph Crowley in Queens, Ayanna Pressley over Representative Michael Capuano in Massachusetts, and Andrew Gillum in Florida's gubernatorial race had injected uncertainty into the New York contest.
In the end, there wasn't much drama at all. The first sign of an early night came the moment the polls closed, when the Nixon campaign emailed reporters a memo listing all the reasons she never stood a chance. And when a cheer went up among the governor's supporters as Cuomo's win was called a half hour later, the victor was nowhere to be found. Skipping his own election-night party inside a cramped Manhattan bar, Cuomo spent the evening 150 miles away, at the governor's mansion in Albany. His campaign didn't even bother to release a statement. It was one final power move in a campaign that was filled with them. The message was clear: Why celebrate a victory that, to the governor's mind, was never in doubt?
"The results speak for themselves," declared one campaign aide amid the muted revelry.
Yet while Cuomo may have notched the same landslide win he had secured against Teachout, he had to work much harder—and spend much more money—to achieve it against Nixon. The governor brought the full weight of his incumbency to bear, pressuring allies, unions, and top elected Democrats to stick by him. He flooded the airwaves with ads in the closing weeks of the race, calling in former Vice President Joseph Biden to vouch for him. He may have gotten away with a lighter touch: By the end of the night, he was leading Nixon by roughly 30 points. Cuomo is heavily favored to defeat the Republican Marc Molinaro in November.
"He fought hard and he took nothing for granted in this race," Nixon said in congratulating a governor she assailed bitterly on the campaign trail. "When others were underestimating us, he did not—and he spent accordingly."
Cuomo's aggressive campaign succeeded in pulling along the entire establishment ticket on Thursday night. Letitia James, the New York City public advocate, defeated Teachout and Representative Sean Patrick Maloney to win the Democratic nomination for attorney general—a key post that all three candidates vowed to use to take on President Donald Trump and his administration. If she prevails as expected in November, James is poised to become the first black woman to win statewide office in New York.
Cuomo's running mate, Lieutenant Governor Kathy Hochul, survived a tighter race against Jumaane Williams, a New York City councilman who linked arms with Nixon and Teachout to form a progressive ticket. Progressives scored victories down the ballot in New York, as challengers from the left ousted incumbent Democrats who had broken with the party and helped Republicans lead a coalition government in the state Senate.
Turnout across the state was much higher than during the primaries in 2014, buoying Democratic hopes to pick up U.S. House seats and flip the narrow GOP majority in the state Senate in November. But it seemed to have little overall impact on the governor's race.
Throughout the campaign, Nixon accused Cuomo of "governing like a Republican" and evading responsibility for the deterioration of the New York City subways and corruption in his administration. And she promised a progressive program that included single-payer health care in New York and increased spending on education financed by tax hikes on the wealthy and on corporations.
Yet Cuomo was able to run on progressive achievements of his own, including one of the nation's first laws legalizing same-sex marriage, tighter gun control, an increased minimum wage, and mandated paid family leave.
Not that the candidates spent the final days of the campaign debating high-minded policies. The focus instead was on a smear and a schmear: a mailer sent by the state Democratic committee accusing Nixon of being "soft on anti-Semitism," and Nixon's odd preference for cinnamon-raisin bagels topped with lox and capers.
Cuomo allies quickly seized on his victory as a validation of both his progressive achievements and his move in recent months to more resolutely take on Trump as a defender of New York. They argued that while progressives may want change in their representation in legislative districts, the Trump threat made Cuomo's experience stand out all the more against Nixon, a first-time candidate.
"It's important to see women running, but at the end of the day, this was about leadership and delivering for the people of New York," Andrea Miller, the president of the National Institute for Reproductive Health Action Fund, told me at the party. "And at this moment in time, in this nation's history, we can't take a chance on that." Miller had backed Pressley in her race against Capuano, but stood by Cuomo in New York. "You had a lot of places in districts where there was a real need for change," she told me. "This is a state that must have a proven leader."
Indeed, Cuomo may have Trump partially to thank for his comfortable victory on Thursday night. The president's conservative administration—including policies that are seen by progressives as affronts to women, minorities, and immigrants—allowed Cuomo to position himself as the state's protector. And Trump's rocky management of the government sowed doubts in the minds of voters about Nixon's own inexperience. That seemed to be enough for a Democratic incumbent who engenders little love, but who left equally little to chance.
"In Governor Cuomo you have a true progressive who has delivered," said Christine Quinn, the former New York City mayoral hopeful and the speaker of the city council, on Thursday night. "I don't think New Yorkers wanted to walk away from that," she added, "particularly when Donald Trump is in the White House."