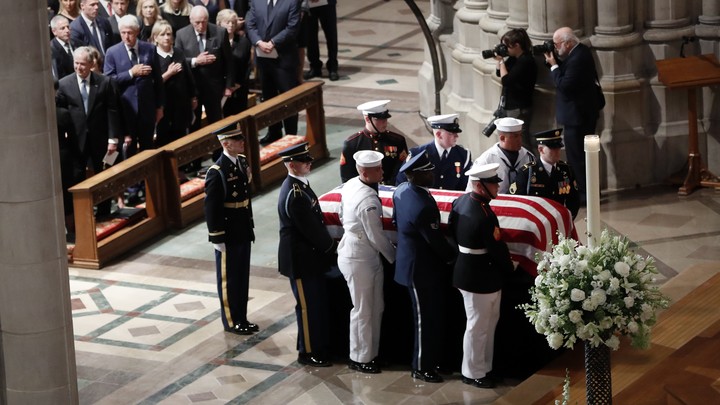 When George Washington commissioned Pierre L'Enfant to design a new capital city on the Potomac River, the French architect's 1791 plan called for a nonsectarian church "intended for national purposes … equally open to all." American revolutionaries had rejected a state religion when they won freedom from the British monarch, who also led the Church of England. John Dickinson warned that mixing religion and government would beget feuding and persecution. Thomas Jefferson famously described "a wall of separation between Church & State."
The idea of a national church stalled for a century, until lawmakers granted a charter to an Episcopalian group in 1893—making the cathedral the only church established by an act of Congress. The charter, like that of the American Red Cross, gave recognition but no funding. It took nearly another century to finish construction. Like the man whose funeral unfolds there today, Senator John McCain of Arizona, the Washington National Cathedral is a maverick.
This 4,000-seat space mingles church and state like nowhere else in Washington. State flags hang over the sanctuary's pews. Stained-glass windows tell stories from the Bible as well as national history, such as the striking Space Window, which holds a seven-gram chunk of the moon delivered by Apollo 11 astronauts. In a side chapel, the carvings depict Jesus's crucifixion while the kneeler cushions pay homage to U.S. presidents and famous citizens such as Herman Melville and Susan B. Anthony. As Americans debate history and monuments, the cathedral is not immune; The Washington Post reported that church leaders decided to remove the Confederate battle flag from two stained glass windows honoring secessionist generals. A dean said the windows were installed in 1953 to "foster reconciliation between parts of the nation that had been divided by the Civil War," nearly 90 years after that war's end.
John McCain's final letter to America
Memorial services here have become more public since 1924, when President Woodrow Wilson's family gathered for private burial rites in the cathedral's tiny Bethlehem Chapel, whose carvings and windows tell the Christmas story—and whose walls contain the tomb of a Spanish-American War hero. Memorial services for William Howard Taft and Calvin Coolidge were broadcast nationwide on the radio. Franklin D. Roosevelt opted for a small service in the White House's East Room. The state funeral for John F. Kennedy—the first Catholic president, whose assassination gripped the nation—was held in Washington's Catholic cathedral. The send-off for the first president of the television era was beamed worldwide, leaving powerful images like his young son saluting his casket.
Three presidents have had their funerals at the twin-spired, neo-Gothic cathedral at Wisconsin and Massachusetts Avenues: Dwight Eisenhower, the 34th president, in 1969; Gerald Ford, the 38th president, in 2007; and Ronald Reagan, the 40th president, in 2004.
Another senator, Daniel Inouye of Hawaii, had his funeral service at the cathedral, in 2012, as did the former Washington Post publisher Katharine Graham, in 2001, and the civil-rights leader Dorothy Height, in 2010, among other notable Americans to have been memorialized there.
John McCain's body will come to the cathedral after lying in state Friday at the Capitol Rotunda, joining the shortlist of Americans so honored by Congress. (Former government officials lie in state, while others "lie in honor.") Since 1852, about 30 people have lain there: 11 presidents, about 10 members of Congress, FBI Director J. Edgar Hoover, Generals John Pershing and Douglas MacArthur, the civil-rights icon Rosa Parks, and, earlier this year, the Reverend Billy Graham.
President Donald Trump was reportedly not invited to any services. He has yet to speak at a funeral in his 18 months in office, according to the American Presidency Project at the University of California at Santa Barbara. Public presidential eulogies for notable figures started in 1967, when Lyndon B. Johnson spoke about the poet and historian Carl Sandburg. Bill Clinton was by far the most prolific memorial speaker, reprising that role Friday at services in Detroit for the singer Aretha Franklin. Speakers at the Saturday funeral service for McCain will include former Presidents George W. Bush and Barack Obama, each of whom had to fight off McCain to reach the Oval Office.
McCain's funeral begins Saturday at 10 a.m. ET. The cathedral will live-stream the service here.
We want to hear what you think about this article. Submit a letter to the editor or write to letters@theatlantic.com.