A Conservative Judge Takes Aim at Roe v. Wade in Face of a Shifting Supreme Court
Judge Bobby Shepherd of the Eighth Circuit has upheld, for now, two Missouri laws restricting abortion that are virtually identical to those struck down in 2016 by the Supreme Court.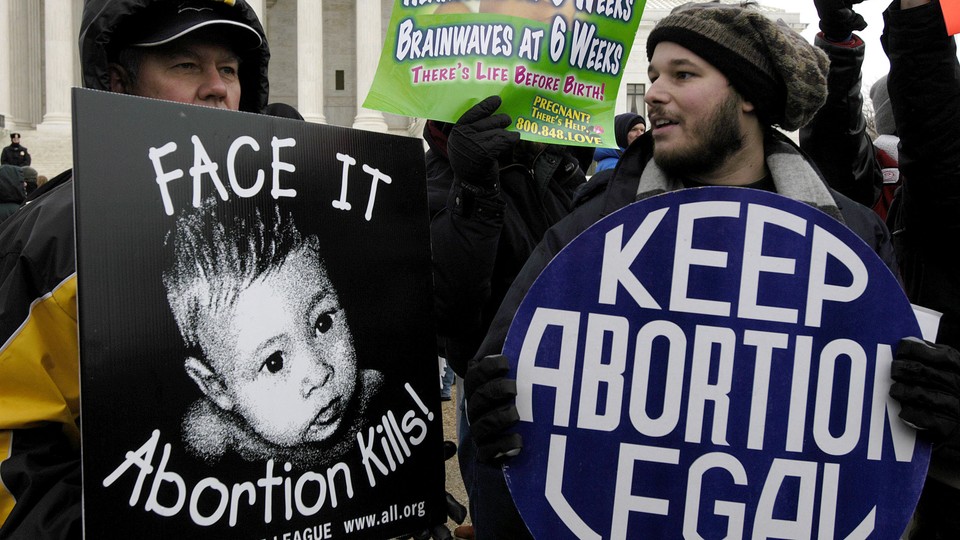 Three years ago, Judge Bobby Shepherd of the Eighth U.S. Circuit Court of Appeals struck down a North Dakota law banning abortions after six weeks. But he made clear that he was not happy about it.
"We have no choice" but to follow Supreme Court precedent, he wrote, but there are "good reasons" for the high court "to reevaluate." Among them: "protecting unborn children" and a "connection between abortion and breast cancer," which has been thoroughly debunked.
The Supreme Court declined to "reevaluate." Shepherd generated some clicks online—"The Eighth Circuit Court Embarrasses Itself" was The Economist's take—but his arguments won no favor. Justice Anthony Kennedy, after all, still sat at the fulcrum of the Supreme Court, and he wasn't about to rewrite the abortion law he had helped craft.
This year, Shepherd's chances for consideration have improved. Kennedy has retired from the court, and his replacement—whether it's Brett Kavanaugh or someone else—is almost certain to be more hostile toward abortion rights. Liberals have begun to fret about what a recalibrated Supreme Court means for a woman's right to choose. But for the high court to change that right, it needs a case. And the most common path is through federal appeals courts like Shepherd's.
Case in point: Last week, Shepherd wrote a decision that, according to Planned Parenthood, ignores established abortion rights entirely. He strained to distinguish between two Texas abortion restrictions the Supreme Court killed in 2016 and the pair of Missouri laws he was upholding, though the statutes are nearly identical. Advocates say the decision may shutter one of just two clinics in the state of 6 million.
Shepherd's decision was "incorrect," one expert told me. "Unpersuasive," several others said. But its tension with abortion precedent may be by design: Now, after all, there will be a different Supreme Court grading Shepherd's papers, and it's likely to be friendlier to his views. In Kavanaugh's one major abortion decision, a dissent in a Texas case from this past term, he argues against allowing an undocumented teenager to immediately undergo an abortion and repeats the phrase abortion on demand three times. Advocates consider that phrase a dog whistle and the opinion a rejection of precedent. Thus, for the first time in decades, the Supreme Court is poised to narrow abortion rights — and the influential appeals judges one step below the high court smell an opening.
The Missouri case isn't over yet, but it has already broadcast an important strategy for killing Roe v. Wade without acknowledging its death: Narrow existing Supreme Court precedent until it's all but meaningless. That is, judges don't have to say they're revoking abortion rights if they can just rule them widely inapplicable.
Shepherd is trying to "distinguish something that's indistinguishable," because he sees a personnel change on the high court, said Heather Shumaker, the senior counsel at the National Women's Law Center. "That threat is not hypothetical. We see a real road map."
There have been Roe opponents, of course, ever since there was Roe. And there have long been federal judges who count themselves among that group. But this year, with Kennedy's retirement, those lifetime-appointed judges have perhaps their best chance yet at reversing or undercutting the landmark abortion precedent. Many are taking that chance, even if it puts them out on a legal limb. A number of experts said abortion opponents—even theoretically impartial federal judges—feel "emboldened" by the shifting membership of the Supreme Court.
"There was really no point doing anything like that when Anthony Kennedy was on the bench," said Mary Ziegler, a Florida State University law professor who has authored two books on abortion rights. "Now that he's gone, the conversation you see unfolding in many of these decisions is very different. Judges are giving the Supreme Court the signal that they want to see Roe overturned."
Those threats, advocates say, are surfacing all over the country. The Atlanta-based Eleventh Circuit was perhaps the least subtle.
Last month, that court reluctantly struck down an Alabama law that would have criminalized dilation-and-evacuation abortions, the most common second-trimester procedure. But in the very first sentence of the ruling, the court's chief judge complained that the Supreme Court precedent he'd been forced to follow was an "aberration." Another judge joined him in striking the law—but lamented that "the Court's abortion jurisprudence … has no basis in the Constitution," a line borrowed from Justice Clarence Thomas, one of the high court's most conservative members.
Meanwhile, in the Fifth Circuit, a Donald Trump–appointed judge went out of his way in July to call out "the moral tragedy of abortion" in a decision about whether to quash a subpoena in a Texas case over the disposal of fetal remains.
That's legal pandering through a megaphone, and it's unusual language from a federal judge. Don't reverse Roe in a sneaky way, the Supreme Court is being told; do it at a shout. Most legal experts consider an outright reversal unlikely; the justices don't like to be perceived as explicitly political, and such a drastic shift so soon after a change in membership would smack of partisanship. But federal judges—the gatekeepers, for the most part, of the abortion cases that would allow the high court to make a change—want to offer up options, experts said.
Federal judges are hardly the only people in the country agitating for a shift on abortion rights. But that agitation is more influential when it comes from those who stand between activist litigators and the Supreme Court. In many cases, lower-court judges can effectively decide which cases make it up above their pay grade. And Supreme Court judges often borrow from their reasoning in the decisions that become the law of the land.
This spring, with speculation rife over whether Kennedy might retire, an abortion bill signed into law by then–Indiana Governor Mike Pence came before the Seventh Circuit. The law, which would have prohibited abortion based on certain fetal characteristics, was ultimately upheld; but one judge in the majority called the Supreme Court's abortion precedents "an insurmountable obstacle" to those fighting for "unborn children."
"More than anything, this case illustrates the extent to which abortion has become the most favored right in American law," Judge Daniel Manion wrote solemnly. He added something of a call to action: "This court is powerless to change that state of affairs. Only the Supreme Court or a constitutional amendment can do that."