Why the FBI Fired an Agent Who Wrote Anti-Trump Texts
The FBI's disciplinary office had recommended Peter Strzok be suspended for two months but was overruled by the bureau's deputy director.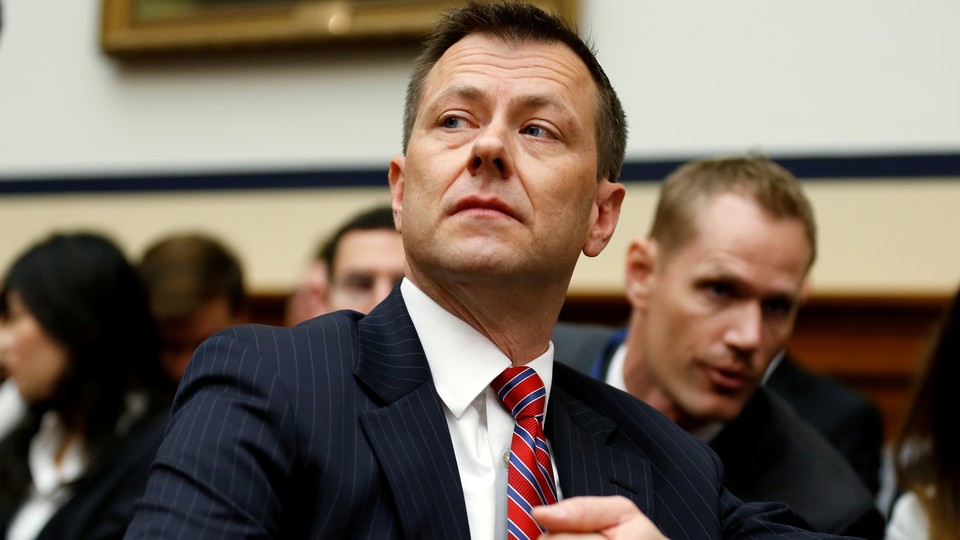 The paperwork was signed. The former FBI agent Peter Strzok, who had become a lightning rod for efforts to undermine the Russia investigation, was set to receive a two-month suspension and a demotion as punishment for his alleged misconduct during the 2016 election. Then the FBI's deputy director, David Bowdich, stepped in and fired him, saying he had undermined "the credibility of the FBI."
Strzok came under fire late last year after the Justice Department released text messages that he sent using an FBI-issued device that were critical of Donald Trump. But questions have been raised about what specific bureau policies Strzok violated in sending those texts.
Candice Will, the longtime deputy director of the FBI's Office of Professional Responsibility (OPR), had cited three ways in which Strzok had allegedly violated FBI policies during the election, according to a person with direct knowledge of the matter. The first, "unprofessional conduct off duty," directly related to his use of an FBI-issued cell phone to send the private texts. The second, "investigative deficiency"—later reduced to "dereliction of supervisory duty"— related to Strzok's perceived delay in searching a laptop that belonged to Anthony Weiner, the husband of a top Hillary Clinton aide, as part of the probe of Clinton's emails in the fall of 2016. Finally, Will told Strzok that he had committed a "security violation" for forwarding certain sensitive law-enforcement documents to his personal Gmail account. Bowdich's decision to overrule her and fire Strzok on August 10 was considered highly unusual.
Strzok headed the FBI's counterespionage division during the election and was one of the top officials overseeing the criminal investigation into whether Clinton mishandled classified information while she was secretary of state. The 48-year-old, who had helped conduct a multiyear FBI investigation that in 2010 exposed a Russian spy ring being run out of Boston, was asked to join Special Counsel Robert Mueller's investigation into Russia's election interference last year. Mueller pulled him off the team after the texts were discovered by the inspector general, and the bureau parked him in its human-resources department, far removed from the probe that Trump has relentlessly attacked. But that didn't stop the president from assailing Strzok in tweets nearly two dozen times before he was fired—a fact that has left many former agents, some of whom worked with Strzok directly, concerned that his dismissal was the result of political pressure from the White House.
Trump's allies in Congress have also sought to portray Strzok as a symbol of an agency hopelessly tainted by bias against Trump. In a public hearing last month, House Judiciary Committee Republicans threatened Strzok with contempt for not revealing details related to the ongoing investigation into Russia's election interference, accused him of lying under oath, and disparaged his relationship with his wife. The hearing quickly descended into a partisan spectacle that Strzok warned in his opening statement would play into Russian President Vladimir Putin's hands. "I have the utmost respect for Congress' oversight role. But I strongly believe today's hearing is just another victory notch in Putin's belt and another milestone in our enemy's campaign to tear America apart," he said.
In thousands of text messages exchanged with the former FBI lawyer Lisa Page, with whom Strzok was having an affair, he expressed disdain for several political figures including Trump, Clinton, Bernie Sanders, and former Attorney General Eric Holder. Some of the texts referred to Trump as an "idiot." At the time, both Strzok and Page were working on the investigation into Russia's election interference, and Strzok would later join Mueller's team. Both had also worked on the Clinton email probe. "I am deeply regretful for those texts. I wrote them, I know it, I know what has been done with them," Strzok testified. "There is an expectation that those are not going to be made public. I had no idea that this was going to happen and, darn, if I knew it, I never would have done it for sure."
Trump's allies have seized on one exchange in particular, in which Strzok said "we'll stop" Trump from becoming president. Trump's "not ever going to become president, right? Right?!" Page wrote to Strzok in August 2016, according to copies of their texts that were included in the IG's report. "No. No he won't. We'll stop it," Strzok replied.
Strzok told investigators that he did "not mean to suggest that he would do something to impact the investigation," and the IG itself concluded that no such impact had been found. He testified at last month's House Judiciary Committee hearing that he had written the text "late at night" in response to Trump's "horrible, disgusting" attacks on Khizr and Ghazala Khan, the parents of the fallen Army Captain Humayun Khan. Trump had attacked the gold-star parents, who are Muslim, after they had appeared at the Democratic National Convention and denounced Trump for his call to ban Muslims from the United States.
Strzok also made the fundamental point at the hearing that had he wanted to derail Trump's presidency, he could have leaked the existence of the Russia investigation. "There is … one extraordinarily important piece of evidence supporting my integrity, the integrity of the FBI, and our lack of bias," he said in his statement at the start of what became an 11-hour hearing, defending himself like a man who had nothing left to lose. "In the summer of 2016, I was one of a handful of people who knew the details of Russian election interference and its possible connections with members of the Trump campaign. This information had the potential to derail and quite possibly defeat Mr. Trump, but the thought of expressing that or exposing that information never crossed my mind."
Later, Strzok reiterated that the information the bureau had "which was alleging a Russian offer of assistance to a member of the Trump campaign was of extraordinary significance. It was credible. It was from an extraordinarily sensitive and credible source."
The Former FBI special agent Frank Montoya Jr., who served as the director of the Office of the National Counterintelligence Executive until 2016, acknowledged that Strzok "made a serious mistake" in exchanging those highly opinionated texts with Page. "But it wasn't a fireable mistake," he said. "Guys in the bureau get DUI's and they get 30 days on the bricks. This is a case of the senior leadership in the bureau bending the knee and kissing the ring, while kowtowing to the wishes of the president." If the decision was meant to appease Trump, it hasn't worked—Trump continued to characterize the DOJ and the FBI as "corrupt" into Thursday.
Montoya also questioned why there haven't been similar calls to investigate the concerns expressed by various high-ranking Justice Department and FBI officials in the run-up to the election that employees in the FBI's New York field office, who opposed Clinton, would leak new information about her emails to the press. These concerns were outlined in the inspector general's report, and confirmed by Strzok during his hearing. "I was aware of some people expressing that concern," Strzok said. One of those people, he said, was former FBI Director James Comey, who publicly reopened the Clinton email probe just days before the election, while keeping the counterintelligence investigation into the Trump campaign quiet.
James Gagliano, a retired FBI supervisory special agent who worked at the bureau for 25 years, acknowledged that Bowdich's decision to overrule OPR was unusual. But "this was an unprecedented offense," he argued. "OPR came up with what they thought was the most appropriate punishment, but Bowdich made a decision to have Strzok summarily dismissed instead, because he broke the cardinal rule that every agent is taught: Never embarrass the bureau." Gagliano also pointed to Strzok's high-level position as an aggravating factor. "When you're a senior official, a few heartbeats away from the director's office, you have to be held to a different standard."
Still, Strzok's dismissal has been met with heightened scrutiny because of how rare it is for a reviewing officer—in this case, Bowdich—to overturn an OPR decision. One former Justice Department official told me that OPR determinations are rarely, if ever, rescinded because the office is expected to bring "perspective, balance, and consistency" to personnel decisions.
Will, who has served as OPR's assistant director for more than a decade, is known to "call it as she sees it," this former official said. Mark Zaid, a Washington, D.C.–based attorney who focuses on national-security law, called the practice "beyond rare," and said that "the fact that Will decided to merely suspend and demote Strzok would indicate FBI careerists did not believe what he did deserved termination."
David Kris, a former assistant attorney general for the DOJ's National Security Division and the founder of Culper Partners consulting firm, cautioned against "glossing over" the damage the texts caused to the FBI's reputation and the perception that the Clinton and Russia probes had been compromised. But he called the move by Bowdich to overrule the OPR "extraordinary," and noted that the president's "many outrageous statements" about the FBI broadly and Strzok in particular make it difficult "to have confidence that this was a straight judgment on the merits." He emphasized that that was not a reflection on Bowdich—rather, "it's the phenomenology of Trump," Kris said. "Bowdich may have acted exactly as he thought was right. But we on the outside have no way of knowing that."
In recommending Strzok for a two-month suspension, Will used language that closely mirrors that of the IG report released earlier this summer, which concluded that Strzok had exhibited a "biased state of mind" and a "willingness to take official action to impact the presidential candidate's electoral prospects." But the IG "did not find documentary or testimonial evidence" that Strzok had acted on that bias. The report also criticized Strzok for allegedly slow rolling the probe into emails found on Weiner's laptop that may have been relevant to the Clinton investigation—a delay that Strzok's lawyer has attributed to a "bureaucratic screwup." (The emails turned out to be duplicates of ones the FBI had already examined.)
Bowdich told Strzok in a letter that he had no basis to appeal his dismissal, since it was made at a level above OPR, and it is still unclear whether Strzok plans to take legal action against the bureau for wrongful termination. "We're considering our options," his lawyer, Aitan Goelman, told me. For now, Strzok is fielding calls from book publishers and media outlets eager for a tell-all, according to a person familiar with his situation. But it's a far cry from where he had hoped to be at this point. "He wanted to stay at the bureau," this person said. "Obviously, now that's no longer in the cards."