Why So Many Democratic Candidates Are Dissing Corporate PACs
Their pledge not to accept money from business entities is mostly symbolic. But voters can expect to hear it a lot more often in elections to come.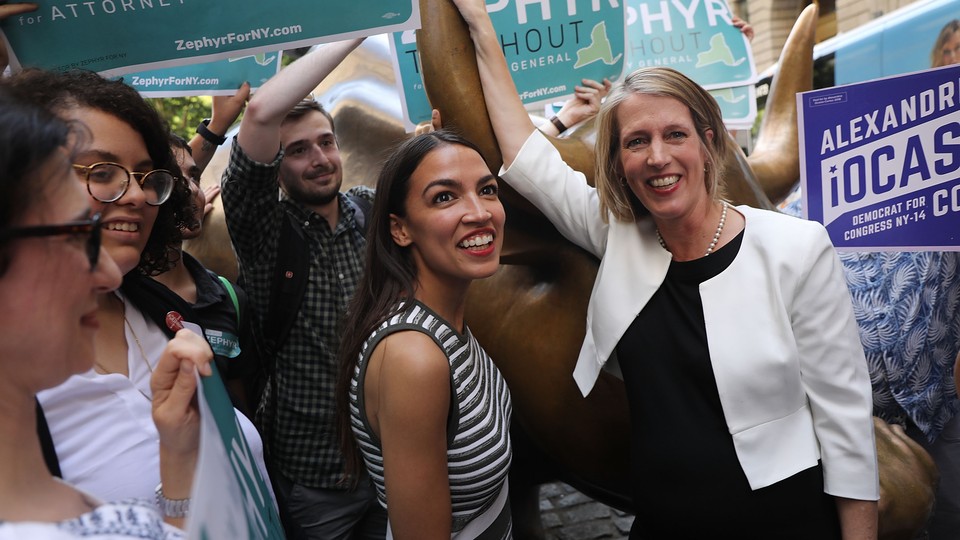 Updated at 5:06 p.m. ET on August 23
Across the country, dozens of Democratic candidates, from the democratic socialist Alexandria Ocasio-Cortez to the more moderate Conor Lamb, have proclaimed that they won't accept campaign donations from corporate political-action committees. The promise, which is becoming a sort of progressive litmus test, is designed to excite the base and allows candidates to brag that they aren't beholden to corporate interests. "We've got people; they've got money," Ocasio-Cortez says in her now-famous campaign video.
But that pledge, for many candidates, is mostly symbolic. Most nonincumbents don't receive any corporate-PAC donations, and they generally constitute only a small percentage of total contributions for those running for reelection. Still, voters can expect to hear these promises a lot more often, especially as Democrats begin angling themselves toward 2020.
"I feel like we are at a turning point in people understanding the anger that voters have with the status quo, the donor class, special interests," said Representative Ro Khanna of California, who declined to accept contributions from any PACs during his 2016 campaign and co-founded the No PAC Caucus in the House. "Especially given [that] our last two presidents both ran against special interests, in their own way."
In the 2018 cycle, 185 Democratic candidates have promised not to accept money from corporate PACs, according to End Citizens United, a Washington, D.C.–based group working to reverse the eponymous Supreme Court decision. Eighty-five of them have won their primaries so far. Many are national names: The pledge was one of Lamb's claims to fame in Pennsylvania's 18th District, where he won in an upset election in March. Same with Ocasio-Cortez, who defeated the PAC-backed incumbent Joe Crowley in New York in June, and Randy Bryce, the mustachioed ironworker hoping to replace Speaker Paul Ryan in Wisconsin. It's happening on the Senate side, too: Kirsten Gillibrand, Cory Booker, Kamala Harris, and Sheldon Whitehouse have all taken the pledge this year, joining several colleagues who'd previously made the vow. (Two Republican representatives, Phil Roe of Tennessee and Francis Rooney of Florida, have also eschewed corporate-PAC funds.)
The pledge has roots in earlier election cycles where the rejection of PAC money fueled candidates' grassroots support. The then-candidate Barack Obama pioneered the trend in 2008 by refusing contributions from all kinds of PACs, not just corporate ones, during his presidential run. So did Bernie Sanders, who eschewed large donations from corporations in 2016 but did accept cash from some PACs. While he broke his promise to self-fund his presidential campaign, Donald Trump accepted fewer PAC contributions than almost all of his Republican primary opponents.
In this way, the 2018 contenders refusing corporate-PAC money are part of a larger trend in politics, but one that's never been seen with quite these numbers. "I think it's smart for [the 2018 candidates] to have figured it out," said Saikat Chakrabarti, a co-founder and the president of Justice Democrats, a PAC that formed after the 2016 election to support progressive candidates who pledge not to take money from corporate PACs or lobbyists. This year, the group has endorsed, among others, Ocasio-Cortez, Bryce, and Cynthia Nixon, who's running for governor in New York. "People are realizing that the winning message is the progressive message," Chakrabarti said. "Not taking corporate money is a core part of the progressive message."
But while the pledge might help attract voters, it isn't otherwise consequential—at least not yet. Corporate-PAC donations don't constitute a significant amount of any Democratic candidate's funding, and nothing precludes candidates from accepting individual donations from corporate executives. But progressives say the symbolism still matters, and that it's a step in the right direction for reforming America's campaign-finance system.
"There's an intuitive sense in voters that most of the dysfunction in Washington is a result of a broken system," said Steve Israel, a former representative from New York and a former chairman of the Democratic Congressional Campaign Committee. "I think it's essential for Democrats to tap into that intuition, and one way is to boldly proclaim you're not going to accept those corporate funds."
One important distinction to make is what kind of money the candidates are actually rejecting. Many have cited the Supreme Court's 2010 Citizens United v. Federal Election Commission ruling, which paved the way for the creation of super PACs, as their motivation for ditching corporate contributions. But not accepting corporate-PAC money has little to do with super PACs.
Here's how it works: PACs are typically broken down into three categories—labor, ideological, and corporate. These groups can donate $5,000 per candidate per race. Corporate PACs are composed of funds gathered from individuals who work for a company and are given directly to a candidate in the name of that company. These three PAC categories are not to be confused with super PACs, which can spend unlimited amounts of money but cannot give directly to candidates. Instead, super PACs (think Club for Growth Action or NextGen Climate Action) typically make ads for or against certain candidates or issues.
When candidates reject corporate PACs specifically, they aren't actually rejecting corporations' resources: The money isn't coming from company bank accounts—it's coming from employees. For this reason, critics of the no-corporate-PAC pledge see it as more of a political maneuver than anything else. "Every dime that goes into a PAC is an individual dime, it's just pooled resources," said Cleta Mitchell, a conservative campaign-finance and election-law attorney. "Why is their money tainted just because they work for a company?"
Candidates can still accept donations from individual employees or owners of corporations, and those contributions can add up. A corporate PAC can only give $5,000 to an individual candidate an election, but two of the same company's executives could individually donate a total of $5,400 an election. Ocasio-Cortez wouldn't accept money from a PAC associated with J. P. Morgan, but a J. P. Morgan employee recently maxed out an individual contribution to her, giving her campaign $2,700.
Beto O'Rourke's Senate campaign offers another example of how messy this PAC business can get. O'Rourke, who's challenging the Republican Ted Cruz, has vowed not to accept "a penny from PACs" of any kind. But the JStreetPAC, which supports Democrats favoring a two-state solution to the Israeli-Palestinian conflict, has collected more than $170,000 from its members to be donated to O'Rourke's campaign individually. In other words, the contributions were facilitated by a PAC, but didn't come from it.
Out of the 3,059 nonincumbent candidates running this cycle, only 397 have raised any money from business-related PACs, according to the Center for Responsive Politics (CRP), a nonpartisan research group that tracks money in politics. Incumbents typically receive more corporate-PAC donations, but they're usually a small percentage of their total funds. For example, Gillibrand has received $4,955,153 from business-related PACs over her political career, amounting to 9 percent of her total contributions, according to the CRP. Harris has received roughly $353,265 from business-related PACs—slightly less than 2 percent of her total contributions. For Booker, business-related-PAC donations made up almost 8 percent. (According to CRP, "business related" PACs count as corporate PACs, corporate-affiliated PACs, and trade associations.)
With such relatively small figures, the pledge is "an easy, cheap thing to do," said Brad Smith, a former FEC commissioner and the current chairman of the Institute for Free Speech, a nonprofit that advocates for loosening campaign-finance regulations. "If you're not getting that much, you're not really giving much up."
Still, it sends a clear message, suggests Adam Bozzi, the communications director for End Citizens United. "It's not the bulk of [candidates'] money, but when you're in a race like this, every penny matters," Bozzi said. "You're gonna tell voters, 'Look, I'm not going to take this money, and that means that when I go to Congress, I'm putting your interests first.'"
The choice to not take corporate-PAC money, candidates' representatives explained, is about emphasizing the importance of individual donations. "Kirsten is aware this action alone will not create the sea changes of campaign-finance reforms we need, like publicly funded elections and ending dark money from being spent in campaigns without disclosure," said Gillibrand's spokesperson, Glen Caplin. "But she views this as an important step toward personal responsibility to effect change." Caplin noted that the average contribution to Gillibrand's 2018 campaign has been $48.67.
Chakrabarti acknowledged the complicated nature of the growing trend. "I see this whole movement as the first step in the direction of getting rid of big money overall," he said. "Similar to how 'Abolish ICE' rang the bell on this huge crisis on immigration, unifying around not taking corporate-PAC money gets everybody to pay attention to big money in politics."
Because some of the most likely 2020 presidential contenders—Elizabeth Warren, Gillibrand, Harris, Booker—have already taken the pledge, progressive activists and leaders say Americans should expect the next round of Democratic candidates to refuse corporate-PAC cash. "I think it's gonna be one of many litmus tests for Democrats in 2020," Chakrabarti says. At this point already, he says, "running on corporate-PAC money is a huge liability."