What Rick Gates's Testimony Means for Manafort—And Trump
In federal court on Monday, the political operative said he had helped his mentor conceal his earnings and falsify his tax returns.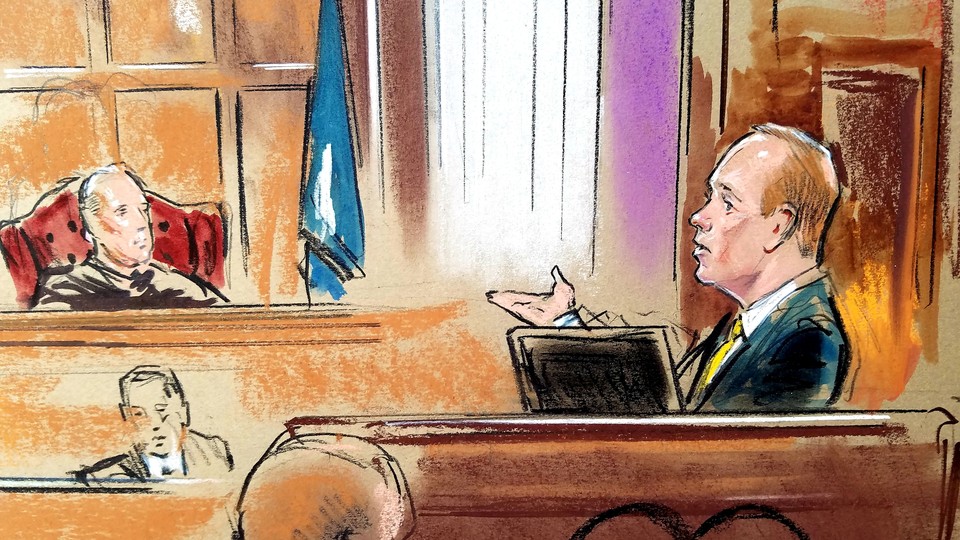 Robert Mueller cultivates a reputation as a staid, even dour, man of the law, but the special counsel's team isn't above a bit of courtroom showmanship.
Last week, prosecutors trying Paul Manafort in federal court in northern Virginia suggested they might not call Rick Gates, Manafort's former partner and protégé, to testify against him. That raised eyebrows: Gates, who pleaded guilty after being pressured by Mueller's team, had been expected to be a star witness in the trial. And in fact, Gates took the stand Monday, and his testimony was as dramatic as expected.
"Were you involved in any criminal activity with Mr. Manafort?" a prosecutor asked.
"Did you commit any crimes with Mr. Manafort?"
Manafort, who served as the chairman of Donald Trump's campaign during the summer of 2016, is charged with laundering tens of millions of dollars. Gates said he had conspired to file falsified tax returns on Manafort's behalf. He also said that he and Manafort had 15 foreign bank accounts they did not report to federal authorities, in violation of federal law but at Manafort's behest.
Gates's testimony wasn't just accusations. "He's probably one of the most politically brilliant strategists I've ever worked with," Gates said. He also acknowledged stealing hundreds of thousands of dollars from his former boss by filing inflated expense reimbursements.
Even though Gates had been expected to testify against Manafort, his testimony is stunning and a blow to Manafort, though the defendant has always faced an uphill battle in court. In filings before the trial, prosecutors had already tipped their hand, showing copious documentary evidence suggesting violation of laws. Manafort's attorneys have said he was innocent, and that any problems with his tax returns were inadvertent, the result of an excessively complicated system.
But Gates's account undermines that, as does testimony last week from Manafort's accountant that she had helped falsify tax and bank documents, along with a bookkeeper's statement that Manafort was intimately involved in tracking "every penny" of his finances.
Both Gates and the accountant, Cynthia Laporta, are vulnerable to attacks from defense lawyers. Laporta was granted immunity in return for testifying to committing crimes. Gates pleaded guilty and will receive a lesser sentence if he cooperates fully with prosecutors, which Manafort's attorneys will likely argue gives him an incentive to attack his former boss. In addition, he has already acknowledged lying to the FBI. By having him testify about his own bad behavior, including the theft, prosecutors likely hoped to rip off the Band-Aid and mitigate any damage to his credibility that defense attorneys might hope to deal.
Yet whatever damage Gates does to Manafort is a bit of a sideshow or warm-up act. Monday's testimony alone would be just another notable anecdote in a run-of-the-mill white-collar trial if not for the case's connection to Trump and the presidential campaign. It's impossible to know yet what Gates's testimony means about Mueller's investigations into Trump campaign collusion with Russia or allegations that the president obstructed justice by trying to stifle inquiries about it.
But Gates's intimate knowledge of Manafort's finances, and his hand in Manafort's alleged crimes, could portend trouble for Trump. As my colleague Franklin Foer has reported, Manafort stands accused of using his volunteer role on the Trump campaign to try to repair his broken finances and settle up debts to a Russian oligarch—in effect, selling out the U.S. electoral process for his own financial gain. Such a quid pro quo would also reflect poorly on the president, who hired Manafort despite ample warning signs. Manafort was also present for the controversial June 2016 meeting at Trump Tower where, along with the president's son and son-in-law, he expected to receive damaging information about Hillary Clinton via the Russian government.
Gates served as Manafort's deputy campaign manager on the Trump team, then stayed on after his mentor departed. He was then the deputy chair of the president's inaugural committee, and later helped found an outside nonprofit designed to boost the president's policies. Manafort refused to cooperate with prosecutors even as they delivered more and more detailed indictments, but Gates's detailed knowledge of Manafort's work suggests he can testify in detail about Manafort's work during the campaign. And under the terms of his plea deal, Gates has to deliver that information if he wants to receive a reduced sentence.
Over the past two weeks, Trump has been increasingly angry and frequent in his rhetorical attacks on the Mueller probe, deriding it as a witch hunt, calling on Attorney General Jeff Sessions to end it, and assailing Mueller's character. Although the president's anger about the Mueller probe has flared periodically, it hasn't been entirely clear what the proximate inspiration for the latest flare-up has been, though it has coincided roughly with the Manafort trial. Perhaps the president was agitated because he was worried about Gates's testimony. If not, perhaps he should have been.