How Sanders and Warren Will Decide Which One Runs for President
The two senators are natural allies. But when it comes to 2020, each side's camp believes the Democratic primary is only big enough for one of them.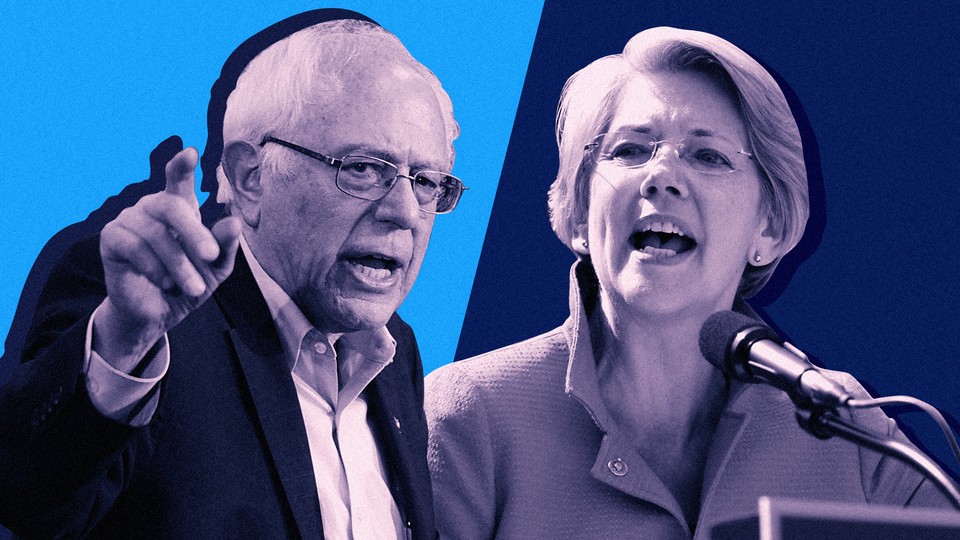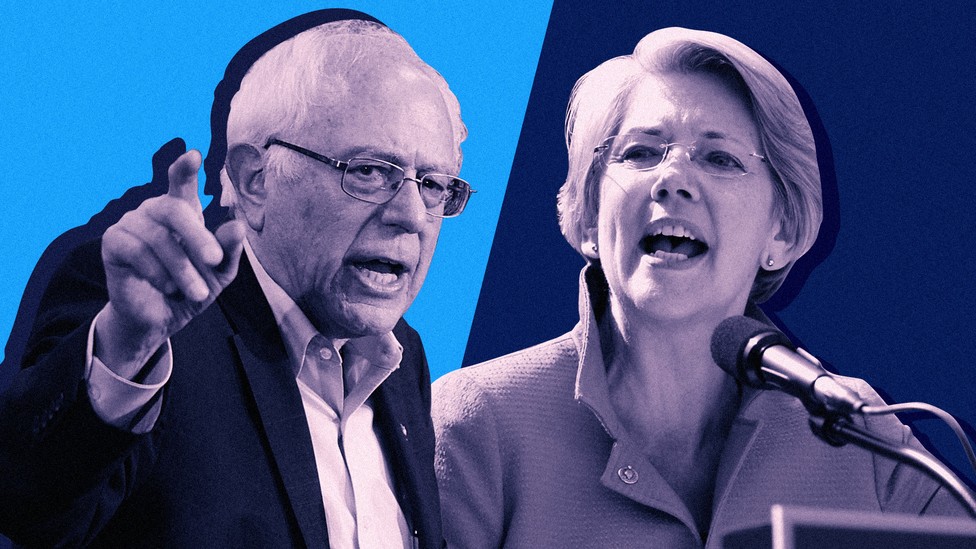 It was April 2014 and Bernie Sanders was seriously pondering the notion of diving into the 2016 presidential race. But as the senator from Vermont huddled with his advisers inside a Capitol Hill townhouse one balmy Wednesday evening, he wondered if he could compete against a political heavyweight on the ascent.
The woman he dreaded running against was being recruited by liberals across the country. Petitions were being drafted and signed en masse. Professional progressive leaders were prodding, coaxing, and tempting her. The country was "ready" for her candidacy, they pleaded.
But Elizabeth Warren was repeatedly adamant in her public professions: She wasn't interested.
Still, Sanders watched the organic campaign warily, wondering if the enthusiasm for Warren forestalled his own opportunity for an insurgency. "He kind of hesitated," recalls a Sanders adviser, who, like other sources in this story, spoke on the condition of anonymity to discuss private conversations. "He was worried about it."
New to the national limelight as a first-term senator from Massachusetts, Warren was averse to an inevitably bloody battle with the front-running Hillary Clinton. She never opened the door to 2016, giving Sanders the chance to seize the moment and inspire a movement.
Now, four years later, as the 76-year-old Sanders positions himself toward a second run for president, it's Warren who again looms largest over his designs. At a January strategy meeting at the Washington, D.C., apartment of the aide Ari Rabin-Havt, Sanders acknowledged to confidantes in the room that the biggest threat to his pursuit of the 2020 nomination would be the 69-year-old former Harvard Law professor, according to a person familiar with the discussion.
As the two most recognizable faces of the progressive movement, Sanders and Warren are natural allies on a host of liberal causes, none more so than the economic inequalities that strain the nation. And yet each side's camp believes that when it comes to the next presidential contest, the Democratic primary is only big enough for one of them.
Advisers to both senators tell me they strongly doubt the two ideological allies would run against each other, given their genuine mutual fondness and the sober realization that their support bases vastly overlap. To do so would likely mean mutually assured destruction.
So which one goes? And how will they decide?
The ultimate resolution of this progressive predicament will be one of the most crucial factors in the fast-approaching battle on the left to topple President Donald Trump. The gathering threat of Sanders and Warren doesn't seem lost on the president. In an echo of his approach to his competitors in 2016, he's rebranded them with the disparaging monikers "Crazy Bernie" and "Pocahontas." Recently, Trump has openly fantasized about debating Warren and presenting her with a genetic-testing kit to prove her claimed Native American heritage.
At the same time, allies of Warren and Sanders are beginning to privately pick apart their would-be competitor's political pedigree, casting their favorite as the far superior choice to go up against the president. At this early stage of the race, their comments could be seen as mere posturing. But they are nevertheless revealing, exposing fault lines between the two lawmakers that could soon spill into public view.
Sanders advisers and allies believe he's earned the right of first refusal: He was the runner-up to Clinton, galvanized a fresh flock of young voters, and fundamentally reframed the issue matrix for a hyper-progressive party going forward. He would start with a leg up: a nationally tested organization with the hardened experience of one presidential run already under its belt, an email list of 7 million proven donors, and the ability to raise hundreds of millions of dollars. (Tim Tagaris, Sanders's digital–fund-raising guru, has privately floated a range of between $275 million and $300 million for a primary campaign, one aide recalls.) A common refrain bandied about in Bernieland is that Sanders won at least 40 percent of the primary vote in 37 states.
"When you look at the Democratic Party—even Joe Biden and Elizabeth Warren—they don't have a 50-state organization, as large a fund-raising base, and they don't have as fully formed an agenda like Bernie's," says Mark Longabaugh, a Sanders adviser and part of the campaign's 2016 advertising team.
Meanwhile, those in Warren's world, including outside activists who are encouraging a 2020 bid, note that she'd be the natural person to whom the older Sanders could pass the torch. They say she'd enjoy a higher ceiling of support with a broader constituency, due to her fortified relationships with both the progressive and more establishment wings of the party. (Warren's team declined to comment on the record about Sanders, though her spokeswoman, Kristen Orthman, told me that "Elizabeth has great respect for Bernie, his leadership, and the grassroots organization he has built.")
The senator from Massachusetts is also more strategic in her fights, her allies say, adding that many Clintonites still hold a bitter grudge against Sanders. "Warren has achieved the remarkable feat of increasing her cred with the base over the years while also increasing her power inside the Beltway," says Adam Green, a co-founder of the Progressive Change Campaign Committee who has all but endorsed a Warren White House bid. And Warren's careful nourishment of her relationships—with fellow senators, state and federal regulators, and watchdog groups—gives her "by far the largest national network of any presidential candidate," Green added.
There's also a grudge on the Sanders side that Warren may have to contend with, over her past support for Clinton. "Her refusal to support Bernie spoke loudly," says Cornel West, the philosopher and political activist who backed Sanders in 2016. He was referring to her largely neutral position during the Democratic primary; she's previously explained that she didn't want to tip the race in either candidate's direction. "People can see the discrepancy between principle and practice there," West says. "I don't think she hardly gave Bernie a chance and Bernie was saying exactly what she stood for … She's not the same kind of progressive that Bernie is."
While both Sanders and Warren embody a similar populist ideology, there are degrees of difference in their approach, style, and tactics. For starters, Sanders is a democratic socialist who is not a formal member of the Democratic Party, even though he's used the party banner to run for president. "The biggest difference is the relationship with the party. His relationship is much more tense," says George Goehl, the director of the liberal group People's Action who worked with Warren on financial reforms after the 2008 crisis. People's Action members were largely Sanders's delegates to the last national convention. "Warren has a base that's beyond—that is different than Bernie's," Goehl added.
On the Hill, their reputations diverge. Unlike Sanders, Warren has made a concerted effort to co-sponsor legislation with Republicans. In recent months, she's partnered with Senator Cory Gardner of Colorado on marijuana, Senator Thom Tillis of North Carolina on predatory lending, and Senator Steve Daines of Montana on National Guard pay.
"In general, I have found [Sanders's] legislative proposals to be more prophetic than pragmatic, and I see Senator Warren trying hard to sort of dig into details and learn how to do blocking and tackling and advancing things," says Senator Chris Coons, a moderate Democrat from Delaware. "She's done bills with Senator [John] Cornyn for example," referring to the conservative majority whip. "I'd be surprised if Senator Sanders has done bills with Senator Cornyn."
Even on economic policy—their bread and butter—Warren and Sanders disagree on some of the fundamentals. Sanders has famously decried capitalism, describing it in a 2016 primary debate as "a process by which so few have so much and so many have so little." Despite her fiery anti-corporate rhetoric, Warren remains a capitalist; in a recent MSNBC appearance, she said, "I believe in markets right down to my toes."
Overall, those close to Warren see a somewhat subtle, but meaningful, distinction between her core brand and Sanders's. They tag him as primarily an advocate for bigger, more activist government, while arguing that her emphasis has been oversight and accountability for powerful people. That's a delicate way of framing Warren as the more salable contender to a national audience: Sanders wants more government in your lives, but Warren just wants it to be more efficient and transparent.
Those in Sanders's world have an inverse interpretation: Warren is a technocratic academic who revels in arcane regulatory and personnel fights, while Sanders is a folk hero who pounds the pavement and rouses the masses to big-ticket causes. The favored example of the moment: transforming "Medicare for all" into a mainstream position for Democratic candidates across the country. At a June book party for his campaign manager, the senator cited this as an example of how he "won" in 2016.
"Her message is very similar on Wall Street, financial regulation, inequality, etcetera. But on education, health care, climate change, immigration, foreign policy—Bernie has either developed detailed proposals and policies or outlined a worldview that Warren has not," Longabaugh says. Of course, Warren hasn't run a presidential campaign before.
Gender and race will almost certainly be important factors in the next Democratic primary, influencing not only which candidates gain steam, but how they approach different voter groups, too.
While she's never fashioned herself a natural champion of identity politics, Warren likely understands that being a woman would be an asset in a party deeply scarred by its inability to elect the first female president and reinvigorated by woman voters' vehement opposition to Trump.
Still, gender inevitably creeps into assessments of Warren's vulnerabilities, too, with anxious operatives quietly pondering the risks of putting up another woman against Trump's machismo.
"They'll try to do what they did to [Nancy] Pelosi … Make her radioactive," admits an activist aligned with Warren. Jay Nixon, the moderate former Democratic governor of Missouri, told me he considers Warren a stronger candidate than Sanders over the long term, but thinks it's "very difficult for a Massachusetts woman to be seen as anything else than a liberal woman here in the heartland."
One challenge that both Sanders and Warren seem to be dashing to address is incorporating a racial equality and justice component more prominently into their messages. Sanders famously struggled with black voters in 2016, with Clinton dominating in key contests throughout the South.
Since then, he's fostered closer relationships with high-profile African American leaders, such as Reverend William Barber, the North Carolina pastor who has become a key figure in the modern civil-rights battle, and Chokwe Antar Lumumba, the 35-year-old Millennial mayor who has promised to make Jackson, Mississippi, "the most radical city on the planet" through "economic democracy." In April, Sanders crisscrossed the South, marching with Reverend Al Sharpton in Memphis and participating in a predominantly black town hall in Jackson. In June, Sanders protested California's incarceration rates in Los Angeles with leaders of Black Lives Matter.
Yet even as Sanders courted black voters this spring, he stepped on a land mine by appearing to diminish Barack Obama during one appearance. "The business model, if you like, of the Democratic Party [over] the last 15 years or so has been a failure," he said. "People sometimes don't see that because there was a charismatic individual named Barack Obama." That agitated some African American activists and observers who were already skeptical of Sanders's commitment to their cause.
Jennifer Epps-Addison, the network president of the Center for Popular Democracy Action, says both senators have ample room to grow their appeal with black voters, but that Sanders has further to go in proving himself. "One of the challenges I've had with Bernie Sanders is … we've heard from him at times speak of the rejection of identity politics. Women of color have shown this is not a moment where we want to abandon naming the various ways communities are excluded," Epps-Addison says. "For him to pick up votes in the South and gain support among black women—we need to see him really make an effort to engage the leaders in our communities and really have an openness to hearing them.
"The challenge of Bernie Sanders is, how does he not just repeat or use the same playbook as he used in 2016?" she added. "How does he evolve and grow?"
Warren doesn't have "that same barrier to overcome," Epps-Addison adds. The senator from Massachusetts has gradually, but pointedly, made nods to racial strife in public appearances. Most notably, in rising to oppose the nomination of Attorney General Jeff Sessions on the Senate floor last year, she read a letter from Coretta Scott King protesting Sessions's tenure as a U.S. attorney in Alabama. After Republican leaders interrupted her, the moment spawned the hashtag #ShePersisted.
More recently, at the liberal Netroots Nation conference in New Orleans earlier this month, Warren decried the criminal-justice system as "racist … front to back," and pinpointed African Americans and Latinos as targets of predatory mortgage sellers. She's also elevated the concerns of the Black Lives Matter movement to equal importance of those of the white working class, decrying the deaths of Eric Garner and Freddie Gray. "When you're treated like a suspect every minute of your life, yeah, the system is rigged," she said in a speech last year, reappropriating her Wall Street–centered slogan to address racial inequities.
"She's not a white male, and doesn't have the racial blind spots of Sanders," says the activist close to Warren. And her womanhood matters, Epps-Addison says. "Elizabeth Warren represents an opportunity to support a woman, but also one who is really fully embedded in our core values, without having to hold our nose when we go to the polls," she says. "I think she'll benefit from that."
The challenge for both would-be candidates to win over black voters—among others—would get trickier if Senator Kamala Harris of California or Senator Cory Booker of New Jersey also enters the race.
Sanders's team sees Booker as an especially potent threat. According to two sources familiar with the senator's thinking, Sanders himself sees Booker as more naturally talented than Harris and someone who's shown he can dazzle an audience with soaring, Obamalike rhetoric. "Booker could cut through in Iowa because he's a good speaker and the base likes that," says the Sanders adviser. "If he can score early and get to the South, then he's off to the races."
Sanders has mused aloud privately with aides about what they can do to recapture the magic of his 2016 experience. Having accumulated significant power inside the party since the election, neither he nor Warren is a completely new face and won't be seen as an insurgent—an advantage that Sanders had when he went up against Clinton.
That may help explain why Team Bernie isn't shy about wanting a big field—to them, the more folks fighting over the so-called establishment flank, the merrier. It could help distinguish Sanders from the rest of the Democratic pack. "I think a big primary would be helpful," says Jeff Weaver, Sanders's 2016 campaign manager. "It's important for a party to have a vigorous and civilized primary debate because it excites people."
At this moment in the dead of summer, Sanders and Warren have nothing but effusive praise for each other in public, and their aides say the admiration is real. Sanders has called Warren his "favorite senator" and one Sanders aide I spoke with went as far as to say "he loves her" and finds her "brilliant and inspiring."
Both senators have reelection races at home this year, against largely nominal opponents, but they both appear to be laying the groundwork for future campaigns. Sanders is largely ignoring his challenger, and instead sticking to a bracing national schedule to stump for a fleet of progressive candidates and causes. Warren, on the other hand, is building a Massachusetts-based machine—hiring upwards of 70 staffers, attracting more than 1 million donors, and holding more than $15 million in cash on hand. The campaign seems designed to test-drive tactics, crowd building, and voter modeling, giving Warren the political muscle for a national run.
Sometime after the midterms, allies of both senators expect the duo to sit down together and chat about their next moves. They'll do the appropriate mulling and participate in the time-honored tradition of consulting family members over the holidays.
But, "his decision is an audience of one: Elizabeth Warren," the Sanders adviser says bluntly. No matter his appetite for running, he's conscious of her potency. "They have to sit down and figure out who's going," the adviser added.
Don't expect either of them to wait very long to make the decision.
Last time around, Sanders's team instructed him that the quicker he moved, the faster he would stomp out the Draft Warren movement. Now they are urging an even earlier entry, "to cut off the lure to get her in." The message to Sanders from one aide, "Be in the race by early 2019."
For Warren, it's not about money—she'll have it. It's not a question of core beliefs or message—she's got them both. The women's vote has never been hungrier. She's positioned to swoop it up.
As her team strategizes about the future, the single greatest question they'll confront is actually quite simple: How badly does she want to be president?