'Unite the Right' Fizzles Amid a Boisterous Counterprotest
Only two dozen white supremacists turned up for a much-anticipated rally in Washington, D.C., where thousands of angry demonstrators shouted them down.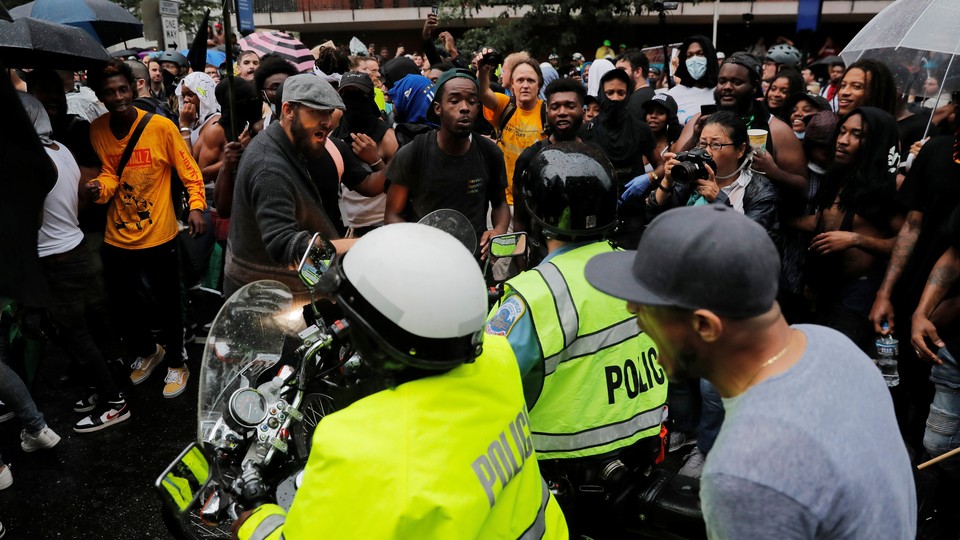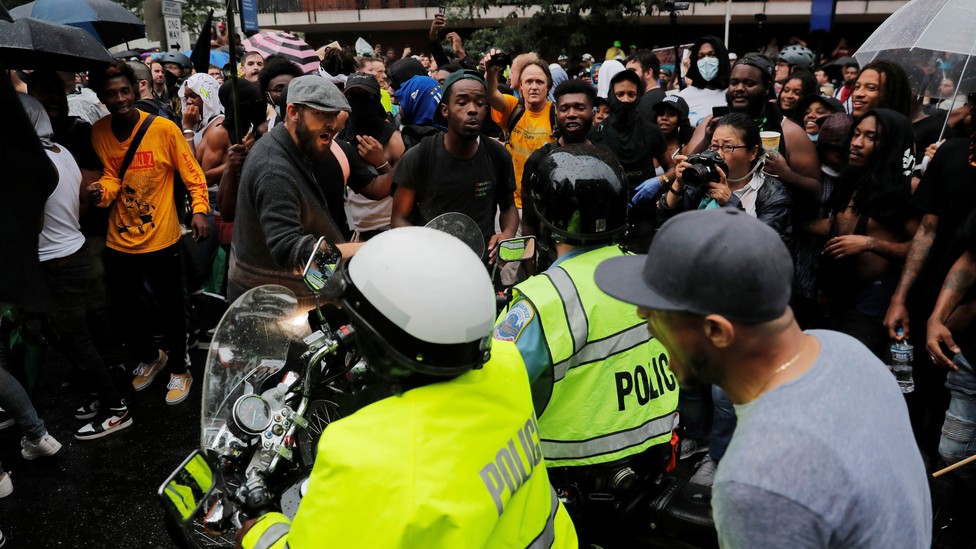 WASHINGTON, D.C.—Last year's "Unite the Right" rally in Charlottesville, Virginia, ended in the brutal murder of a 32-year-old counterprotester, Heather Heyer. This year's event ended with a tiny turnout, two and a half hours ahead of schedule.
The city had been preparing for the rally's sequel for weeks, and the anticipation was palpable. Several downtown streets were cordoned off early Sunday morning, and police—hundreds of them—were everywhere, on horseback, on bikes, on motorcycles, in vans. There was talk of a confrontation with Antifa, the militant leftist group that has become a regular presence at rallies like these. Counterprotesters gathered at the top of the Foggy Bottom metro station at 2 p.m., waiting for the white-nationalist rallygoers to arrive from Vienna, Virginia. "Can we tase them when they get to the top?" one shirtless and sunburned man asked a police officer.
In the end, though, only about two dozen Unite the Right marchers ascended the escalator from the metro platform—all men, except for one bandana-clad woman. It was a dismal showing for a group that, only a few days before, had been expected to turn out in the hundreds. Both the 2017 Unite the Right rally and this year's were organized by Jason Kessler, a 34-year-old who identifies not as a white nationalist but as a "white civil rights" leader. Kessler had set up Sunday's event to keep the momentum going for the movement—but after last year's tragedy, and the ensuing bad publicity, most alt-right groups chose to stay away.
When the tiny crew of rallygoers reached the top of the escalator, the hot bubble of suspense encompassing the nation's capital finally popped. Everyone assumed their roles: The white supremacists held up their flags and walked, surrounded by police, down 23rd Street. Counterprotesters, fazed only slightly by the small numbers of their opposition, chased after them, chanting and screaming, all the way to Lafayette Square across from the White House. "Fuck you, Nazis!" they shouted. "Justice for Heather!"
"This is my community, and I think it's important, when Nazis come to town, you have to show them they're not welcome," said Bridget Todd, a 33-year-old African American woman from D.C., and one of the hosts of the Stuff Mom Never Told You podcast. She was walking quickly down 23rd Street, shouting at the small group of white supremacists. "They're terrible at organizing," Todd said, laughing. "I had more people at my niece's baby shower than this."
Christine Roberts, a 55-year-old white woman who came three and a half hours from New Jersey to protest the rally, was surprised by the turnout. "I thought there would be more of the protesters," Roberts said. "I didn't realize there would be so many counterprotesters, so I'm really kind of thrilled."
At Lafayette Square, the Unite the Right rally was separated from the counterprotesters by a large expanse of grass, dozens of police officers, and a fence. Al Stankard, a dark-haired man in khaki pants and a gray fedora, was standing on a raised platform and speaking about "antiwhite scapegoating," but hardly anyone was listening. The press outnumbered the white nationalists three to one, and the rallygoers were dispersed across the lawn, talking to reporters and posing for pictures with their MAGA hats, flags, and bandanas. Across the grass, the hordes of counterprotesters pushed against the fence holding them back, screaming, "Shame! Shame! Shame!" Thunder boomed, and rain started to fall.
"I've been gettin' this my whole life," said David, a 66-year-old who describes himself as a "pro-white" activist and drove from Texas to attend the rally. David, who declined to give his last name, said he believes there are too many nonwhite people living in the United States. What does he want to do about it? "The way you do it is like Trump's doin' it," he explained, matter-of-factly. "You don't actually kick people out … You steer the policy in a way that people think, 'Maybe it's time for me to go on back.'"
It was on this idea that many on Lafayette Square were able to agree: Donald Trump is helping further the cause of white supremacists. As examples, counterprotesters pointed to the administration's implementation of a ban on visitors from several Muslim countries, its "zero tolerance" immigration policy that resulted in family separations, and its push to limit citizenship for legal immigrants. Both groups say they were proven right last year, when Trump told a group of reporters that there were "some very fine people on both sides" of the violence in Charlottesville.
The day's events, in other words, weren't just about the Unite the Right marchers and their white civil rights. They were about Trump, too.
"We're out here to stand against that, against the Trump administration, against white supremacy," said J. B. Barney, a 39-year-old D.C. native. Barney, a tall black man wearing a Wakanda Forever t-shirt, was standing in the middle of Lafayette Square with his arms crossed, glaring at the rally across the park. "It's like two Americas right now. There's white America, and there's the rest of America, and I'm standing on the side of the rest of America."
It began to rain in earnest at 5 p.m., and the Unite the Right protesters were ushered away quietly by their police escort. They paused to wait for one of their members, who had gotten caught, bewildered, in the throng of reporters. Across the square, behind the fence and the line of police horses, the counterprotesters didn't even notice they had left.