'Unite the Right' and the Politics of Silence
This weekend's white-nationalist rally, held on the anniversary of the bloodshed in Charlottesville, Virginia, will be a test for the Republican Party.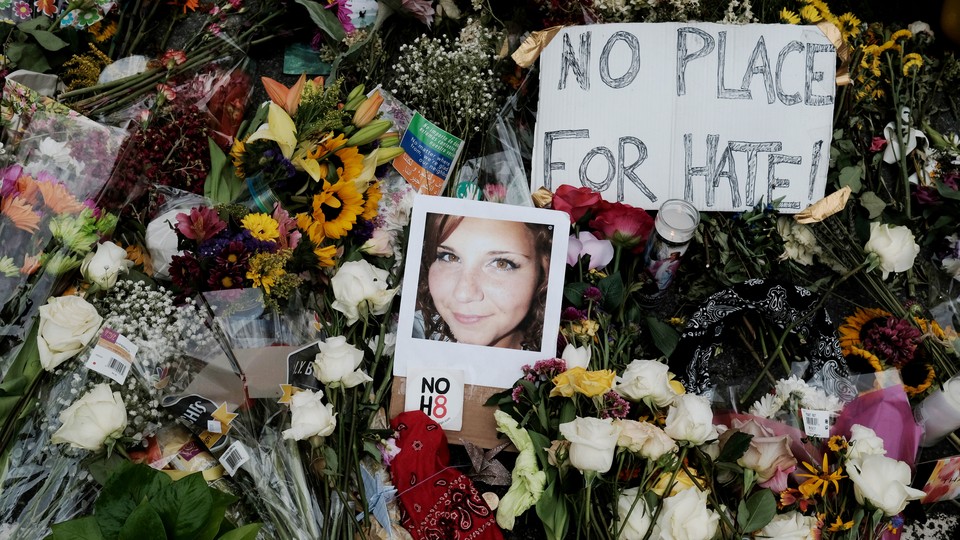 This weekend, an untold number of white nationalists and their sympathizers will gather in Washington, D.C., to rally against, in their words, the "civil-rights abuses" they endured in Charlottesville, Virginia, exactly one year ago. The "Unite the Right" gathering will take place in Lafayette Park, just across from the White House. It will mark the anniversary of not only the group's march through Charlottesville, tiki torches ablaze, but also the horrors that resulted from it, including the murder of 32-year-old Heather Heyer.
It also potentially marks a paradigmatic shift for the Republican Party. President Donald Trump responded in the dark aftermath of last year's march not by emphatically denouncing the bigotry that sparked it, but by reminding Americans of the "very fine people on both sides." Chief of Staff John Kelly may have hung his head as Trump delivered those remarks, but, like most officials in this administration, he never spoke out against them.
It is this fact and its consequences that bear considering throughout the demonstrations this weekend. In today's GOP, has racism been relegated to gaffe-like status—a political pitfall to navigate against, rather than a moral failing to wholly condemn?
I happened to be with an administration official this time last year, interviewing him for a story unrelated to Charlottesville. But the violent march naturally crept into our discussion, as both of our phones trilled with news of Trump's press conference. I remember the official sighing deeply, shaking his head as he scanned the reports. Yet I'd learn moments later that this was not in opposition to the president's comments themselves; rather, it was anxiety about how to contain the fallout. "Great, yet another distraction," the official said. "The media will never let this one go."
It was as though Trump had mistakenly defined his proposed corporate tax rate—not equivocated on the actions of white nationalists.
Republican leaders were careful to denounce the demonstrations in no uncertain terms. But they were also careful to avoid any mention of Trump, and to avoid criticizing him directly. "We must be clear. White supremacy is repulsive," House Speaker Paul Ryan tweeted. "This bigotry is counter to all this country stands for. There can be no moral ambiguity." Echoed House Majority Leader Kevin McCarthy: "Saturday's violence and tragic loss of life was a direct consequence of the hateful rhetoric & action from white supremacists demonstrating."

"We have to unequivocally say that the KKK and the white supremacists were wrong," Republican National Committee Chairwoman Ronna Romney McDaniel told ABC's David Muir at the time. She tried to spin Trump's words: "The president was saying that people brought violence from both sides."
My conversation with the administration official, and the response from GOP leaders, brought Trump's immunity from reproach into sharp relief. There's been a lot of talk about "red lines" in the past two years, which is to say musings about what, if anything, could cause the GOP to turn on Trump. This weekend's Unite the Right rally offers occasion to consider many things, about where this country is and where it is going. But crucially, it offers a potent reminder of Trump's seeming infallibility in all corners of his party.
Depending on Trump's reaction to the rally this weekend, should he have one at all, Republican leaders may have a chance to rewrite the script. At the very least, perhaps they will take issue with the group's namesake, and make clear that white supremacy does not, in fact, fit into their definition of "the right." Or perhaps they will stay silent, and take comfort in the fact that, in the Trump era, political consequences seem to last only for so long.