John McCain's Death Brought Out the Worst in the Trump Administration
A skirmish over whether to fly the White House flag at half-staff showcases its pettiness, divisiveness, disorganization, and lack of backbone.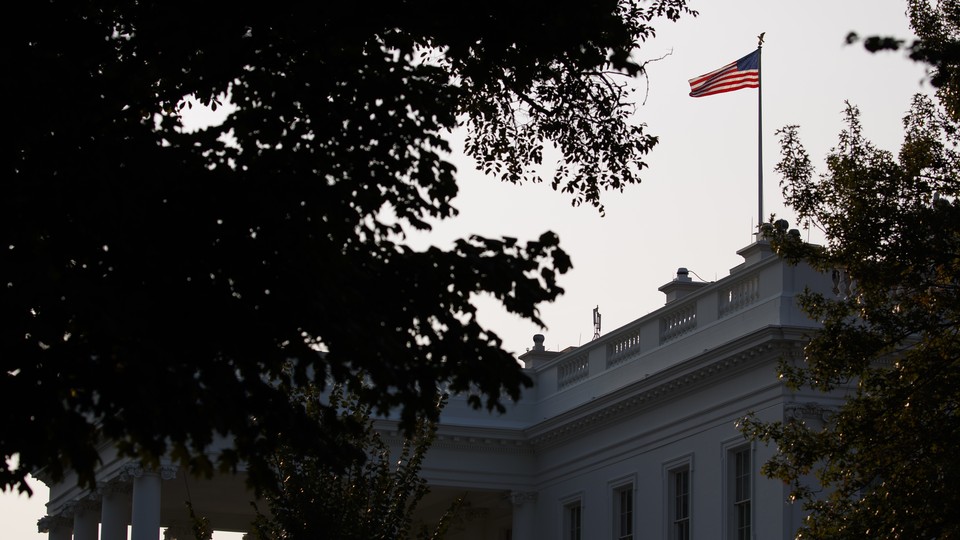 You can tell a lot about a person, and a presidential administration, by the way they handle small, symbolic things. The White House's handling of the American flag in the aftermath of Senator John McCain's death is providing a good test of the Trump team.
The episode has managed to combine most of the worst aspects of Donald Trump's presidency: pettiness as a major motivating force for administration policy, a preference for sowing division over unity, disdain for tradition and norms, chaotic decision making, and an ultimate tendency to surrender.
As my colleague Russell Berman has written, McCain and Trump had a contentious relationship, and that spilled into the president's reaction to the Arizona senator's death. After McCain, a fellow Republican, died on Saturday, the president tweeted a terse condolence to his family, with nothing about the man himself. The Washington Post then reported that Trump had nixed an official White House statement about McCain.
On Monday, matters reached peak pettiness, as the White House raised its American flag to full-staff, while other flags around Washington remained at half-staff. This follows strict protocol—which mandates the flag be lowered the day of a senator's death and the day after—but was widely viewed as a snub, since a president can, and often does, override rules in moments like this. During a brief White House appearance, Trump folded his arms, glowered, and remained silent as reporters asked him about McCain.
Finally, late Monday afternoon, the White House's flag was lowered back to half-staff. Trump also issued a proclamation calling for flags to remain lowered until the day McCain is buried. He said in a statement that he had asked Vice President Mike Pence to speak at a Capitol ceremony honoring McCain, and would dispatch his chief of staff, John Kelly; defense secretary, James Mattis; and national-security adviser, John Bolton, to attend McCain's funeral at the Washington National Cathedral. (Left unsaid was the fact that the president was conspicuously not invited to the funeral.)
Yet even there, Trump couldn't resist a dig at McCain. His statement began, "Despite our differences on policy and politics, I respect Senator John McCain's service to our country." This kind of thing is so typical for Trump that it's becoming difficult to remember that such injections of raw partisanship into solemn occasions used to be unthinkable. Consider the statements that Barack Obama made after two prominent Republican senators, Ted Stevens and Howard Baker, died while he was in office; neither mentioned political disagreements. Now consider that those men were each of a different party than Obama—unlike McCain and Trump, who nominally shared a GOP affiliation.
The impulse to foreground division is typical of Trump. So is the chaotic path that led to Monday's long-awaited statement. The discarded White House comment, the icy tweet, the yo-yoing of the flag—these all suggest an administration that is proceeding without a clear vision, and that is caught in a tug-of-war between the president's bad attitude and his advisers' better judgment. And, of course, the impulse to snub McCain, even at the moment of his death and in the face of presidential tradition, speaks to Trump's vast pettiness; this is the rare occasion when nearly all of the political world is united in mourning.
The lionization of McCain is a little much for some observers, especially on the left. Trump would not be wrong to believe that the praise for McCain is, at least in part, targeted at him, meant both to draw a contrast with the president and to pour some salt into the wounds left by McCain torpedoing the Obamacare repeal. Trump craves elite approval, and so elites weeping and gnashing their teeth is designed, and succeeds, as a way to enrage him.
This is especially true for the press, which loved McCain (who was always ready with a good quote) and has a fractious relationship with Trump. Reporters who otherwise consider themselves objective, non-opinionated journalists have been willing to speak in gushingly reverent terms about McCain. Yet it appears the unremitting criticism from the press Monday on the flag issue finally forced the White House to react.
That Trump gave in should not come as a surprise. Although he cultivates an image of immovability, as I have written, the president nearly always folds when faced with a tough situation, whether pushing gun control or labeling China a currency manipulator. It might seem counterintuitive that it was the media that helped force Trump's hand, given his frequent bashing of "fake news," but the president craves the press's approval, just like that of other elites.
While press criticism of Trump is exceedingly typical these days, it's been rare for the media to turn the full force of its disapproval and attention on any single issue during his presidency. The two exceptions are the separations of immigrant families at the border, and the lowering of the flag for McCain. In both cases, Trump has surrendered under pressure.
Where flags fly after a senator dies is hardly the most important issue—in fact, it's almost entirely symbolic. But just as the flag episode epitomizes so many of the Trump administration's worst tendencies, it also offers a hint of how much power the press can marshal when united.