Trump's Implicit Defense of Alex Jones Is an Echo of Birtherism
In a Saturday tweetstorm, the president complained that "too many voices are being destroyed" by social media, amid an ongoing controversy about the conspiracy theorist Alex Jones's use of Twitter.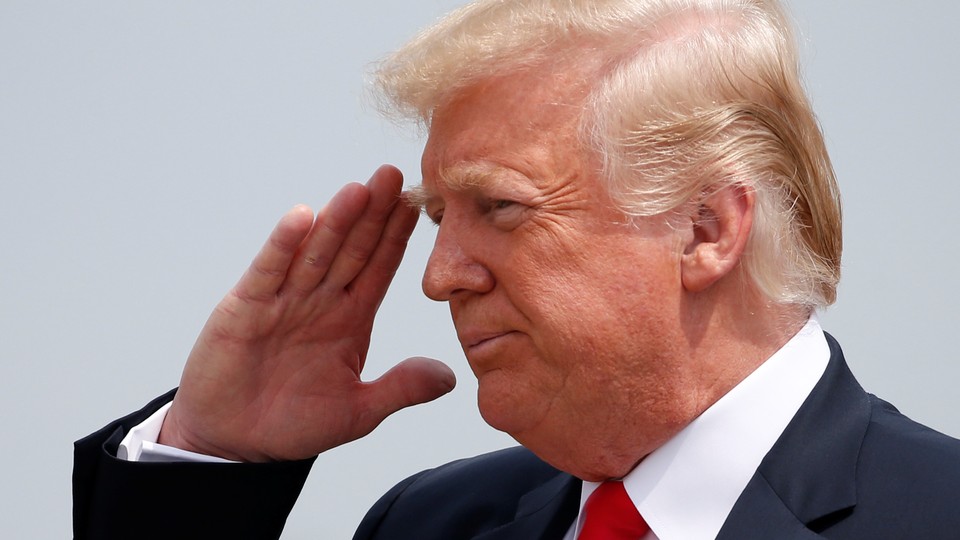 The news cameras showed up, like they always do, and Donald Trump was ready for them. He emerged from a helicopter with TRUMP stamped across the side. He grinned. Then he took one of the most absurd victory laps in modern American politics.
With every tweetstorm of his presidency, this is the moment—April 27, 2011, on a tarmac in New Hampshire—that should flicker across the national memory.
Trump's story that day was about the birth certificate of the man who was president at the time, the man whom Trump would eventually replace in the Oval Office. After years of badgering Barack Obama about his birthplace, after relentless attempts to discredit the legitimacy of Obama's presidency by falsely claiming Obama wasn't really born in the United States, Trump had succeeded in getting the White House to release the president's long-form birth certificate. And there in Portsmouth, Trump took credit for settling the matter—a frenzy of his own creation.
"I'm very proud of myself because I've accomplished something that nobody else has been able to accomplish," Trump said at the time. "I am really honored, frankly, to have played such a big role in hopefully, hopefully, getting rid of this issue." And then, leaving open the possibility of additional drama, as always: "I want to look at [the birth certificate], but I hope it's true."
I hope it's true! There may be no utterance more quintessential in understanding Trump's relationship with the truth. His penchant for repeating exaggerations and fabrications is explained away with self-affirmation and hope. ("An 'extremely credible source' has called my office and told me that Barack Obama's birth certificate is a fraud," Trump tweeted in August 2012, more than a year after that fateful New Hampshire press conference.)
Politicians are infamously casual with facts, but Trump is prolific in his sharing of misinformation. As of August 1, Trump had made 4,229 false or misleading claims since he took office, according to The Washington Post's ongoing tally. That's more than seven false claims a day. The rate of these claims is going up, and quickly, almost double what it was at the start of his presidency, according to the newspaper's analysis. The repeated sharing of bad information is one of the ways Trump commands attention.
There are others.
In another millennium, the American president used radio broadcasting to spread his message, and cutely called it a fireside chat. Today's president self-publishes to Twitter, where his Saturday-morning tweets have become something of a ritual. This morning's iteration of the genre implicitly concerned Twitter itself, and the social-publishing platform's recent decision to protect—and then temporarily suspend—the publishing power of one of its most controversial users, the conspiracy theorist Alex Jones.
Jones and Trump are like fraternal twins in the media world. Both men are provocative and bombastic. Jones, like Trump, captivates his audiences with conspiracies—and repeats such claims ad nauseam despite evidence to the contrary. Both men rail against the media using violent rhetoric—which is particularly dangerous coming from the president of the United States, and particularly rich coming from Jones, who is himself a radio host and media personality. Jones is arguably more extreme than Trump in his peddling of misinformation—Jones leaves far less room for plausible deniability in the dubious claims he makes—but the similarities between the two men are undeniable. Echoing Trump's mantra that journalists are the "enemy of the people," Jones said in a recent video that his supporters should get their "battle rifles" ready because "the mainstream media is the enemy" and "now it's time to act."
Though the president of the United States mentioned neither Twitter nor Jones by name in his three-part tweet Saturday morning, the context was clear.
Social media is "discriminating against Republican/Conservative voices," he said. "Too many voices are being destroyed," he continued. And finally: "Let everybody participate, good & bad, and we will all just have to figure it out!" Instead of mentioning Jones, the president made an ambiguous reference to "some good" and "some bad" people who publish ideas and information on social platforms—an echo of his Charlottesville "both sides" remark. (Trump still took a swipe at CNN and MSNBC, characterizing their work as "sick behavior.")
Here are Trump's tweets in full:
1.
Social Media is totally discriminating against Republican/Conservative voices. Speaking loudly and clearly for the Trump Administration, we won't let that happen. They are closing down the opinions of many people on the RIGHT, while at the same time doing nothing to others.......

— Donald J. Trump (@realDonaldTrump) August 18, 2018

2.
.....Censorship is a very dangerous thing & absolutely impossible to police. If you are weeding out Fake News, there is nothing so Fake as CNN & MSNBC, & yet I do not ask that their sick behavior be removed. I get used to it and watch with a grain of salt, or don't watch at all..

— Donald J. Trump (@realDonaldTrump) August 18, 2018

3.
....Too many voices are being destroyed, some good & some bad, and that cannot be allowed to happen. Who is making the choices, because I can already tell you that too many mistakes are being made. Let everybody participate, good & bad, and we will all just have to figure it out!

— Donald J. Trump (@realDonaldTrump) August 18, 2018
Just figuring it out isn't so easy. The CEOs of social-publishing platforms have repeatedly demonstrated ambivalence about their responsibility for the misinformation and propaganda that their companies enable, and the harm that results. It wasn't until U.S. intelligence officials concluded that Russia had used Facebook and other social platforms in its attempts to sway the 2016 presidential election that Facebook seemed to accept it has at least some obligation to mind the quality of information published to the site. Facebook's actual commitment to curbing misinformation on its platform is debatable. And, to be fair, the challenge Facebook and its peers like Twitter and Google face is a problem of unprecedented complexity and scale.
Still, Trump's tweets echo the attitude that social-publishing platforms have long used to justify ignoring this responsibility—that unfettered publishing power is a democratic principle that must be upheld on the internet. "Let everybody participate" is indeed democratic in flavor, but the First Amendment was written to protect citizens from legislative imposition on this idea. (Or, in the language of the amendment itself: "Congress shall make no law respecting an establishment of religion, or prohibiting the free exercise thereof; or abridging the freedom of speech, or of the press; or the right of the people peaceably to assemble, and to petition the government for a redress of grievances.") The right to free speech and free press does not promise a person can use any platform to exercise it. It does not force businesses to let anyone freely use the services they created. And it does not guarantee that what a person says or publishes can be said or published without consequence.
These are the sorts of distinctions that are swept away routinely by those attempting to make politically convenient arguments about free expression. Yet Trump takes common imprecisions a step further with the implication that he is somehow a defender of the right to free press—"I do not ask that their sick behavior be removed"—which is a striking echo of the notion that he was the one who put an end to the birther madness.
Maybe Trump realizes that the publishing platforms that are grappling with their own values will continue to confront the question of what to do about Trump himself. After all, Twitter finally issued Jones a week-long suspension from publishing to the platform for inciting violence. In a television interview, Twitter's CEO, Jack Dorsey, called it a "time out."
The president routinely uses Twitter to share misinformation, then criticizes legitimate news organizations for stories he doesn't like. He incites violence against the citizens of the country he leads with his repeated attacks against them, then promises to carefully guard the First Amendment rights he rails against—just like he promoted a conspiracy theory, then took credit when the person he attacked proved him wrong.
You can find contradictions of this nature throughout Trump's decades in the public eye, in tweetstorms and at campaign rallies, from the earliest days of his Page Six stardom, to all the times he'd secretly call newspapers pretending to be his own publicist, to his wild success as a television-game-show host, to that moment standing before the cameras in New Hampshire in 2011. When he reached the group that gathered there on the tarmac, he waited before speaking, making certain that the cameras were trained on him.
"You ready?" he asked. He was smiling, savoring the moment. "Is everybody ready?" All eyes were on Trump. He had their attention.