The Double Damage of the President's Trump Tower Admission
His tweet about the purpose of the June 2016 meeting contradicts his earlier denials and could spell trouble for his son and him.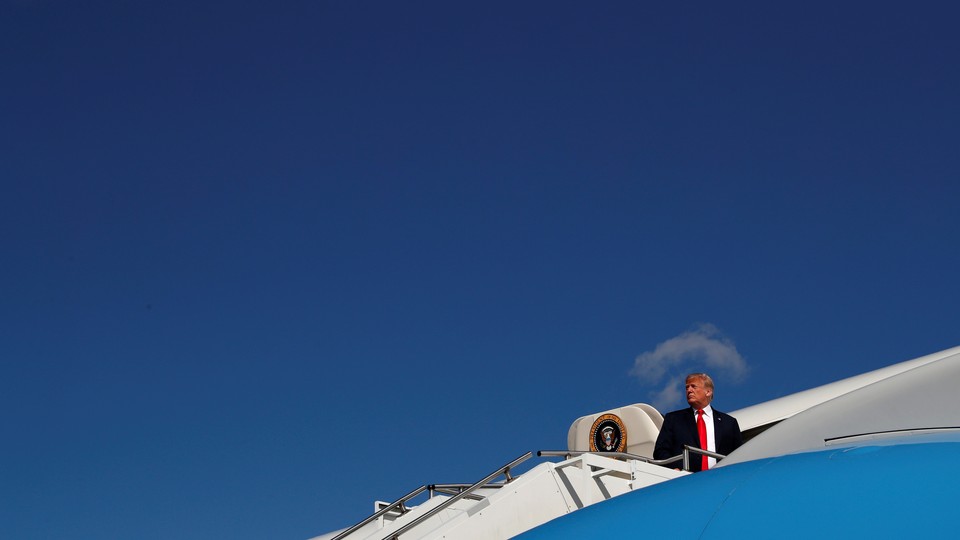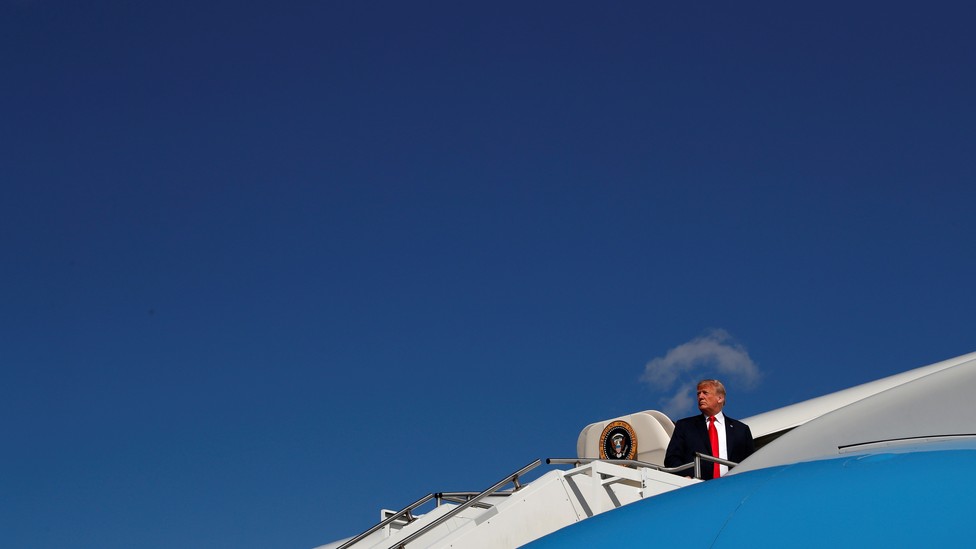 In an attempt to defend his son Donald Trump Jr. on Sunday, President Donald Trump may instead have incriminated him—and himself.
Responding to a Washington Post report that he is increasingly concerned about his eldest son's legal exposure, the president denied that claim in a tweet Sunday morning:
Fake News reporting, a complete fabrication, that I am concerned about the meeting my wonderful son, Donald, had in Trump Tower. This was a meeting to get information on an opponent, totally legal and done all the time in politics - and it went nowhere. I did not know about it!

— Donald J. Trump (@realDonaldTrump) August 5, 2018
Both Trump and Trump Jr. have at times in the past denied that the purpose of the June 9, 2016, meeting was to get damaging information about Hillary Clinton, but the president has now flatly acknowledged it. Despite the limitations of the medium, the president packed a great deal of potential trouble into less than 280 characters. First, he seems to proceed from the assumption that by declaring the purpose legal, that makes it so, when in fact the acknowledgement points to the ways the meeting may have broken federal laws.
Second, by contradicting his earlier claims, the president again underscores his prior dishonesty. This is not just a matter of public trust: The changing accounts also get at accusations that the president obstructed justice.
Finally, the tweet is riddled with internal contradictions. If the president is unconcerned about his son, why is he tweeting angrily about the story? And if what happened was entirely legal, why is he so quick to deny that he knew about the meeting?
When The New York Times first reported on the existence of the 2016 Trump Tower meeting, in July of last year, Trump Jr. issued a statement insisting it had been focused only on Russian adoptions. Faced with emails that showed Trump Jr. had been told to expect dirt on Clinton, he was forced to concede that that was not true.
The president scrambled to adjust. On July 13, during a press conference with French President Emmanuel Macron, he said, "I think from a practical standpoint, most people would have taken that meeting. It's called opposition research, or even research into your opponent." Four days later, he tweeted, "Most politicians would have gone to a meeting like the one Don jr attended in order to get info on an opponent. That's politics!"
Sunday's tweet is the most direct statement yet that the purpose of the June 2016 meeting was to get damaging information from Natalia Veselnitskaya, a Russian lawyer who has deep ties to the Kremlin. Trump Jr. had also been told in an email ahead of the meeting that the government of President Vladimir Putin supported his father's candidacy. But declaring the meeting legal does not make it so. Over the last week, the president and his lawyer Rudy Giuliani have focused on the claim that "collusion" with the Russians, or anyone else, is not a crime per se.
That may be true, but as Bob Bauer explains in Lawfare, accepting anything of value from Russians could easily fall afoul of laws that ban accepting electoral assistance from foreign nationals. Trump Jr. and Veselnitskaya have both insisted that there was no actual "dirt" exchanged, but the president has tweeted out an apparent admission that his son intended to break campaign-finance laws.
Sunday's tweet connects with Special Counsel Robert Mueller's investigation into whether Trump obstructed justice, too. Roughly three weeks after the Times initially revealed the June 2016 meeting, the Post reported that the president had dictated his son's initial, false denial while flying home from Europe on Air Force One. That lie has created a cascading series of problems. At the time, the Trump attorney Jay Sekulow denied that Trump had any role in the statement. Speaking Sunday on ABC's This Week, he acknowledged that that was not true. "I had bad information at that time and made a mistake in my statement," Sekulow said. His flip-flop raises further questions about whether he intended to misdirect investigators.
More broadly, the president's repeated dishonesty about the June 2016 meeting undermines the credibility of every statement he makes about the meeting. Although the president and his son—the latter under penalty of perjury—have both said that Trump Sr. only learned of the June 2016 meeting last year, Trump's former fixer Michael Cohen last week claimed that the president was aware of the meeting before it happened. Why should anyone give Trump the benefit of the doubt now?
It's not just that he has misled the public. Sekulow's lament about "bad information" is a euphemism: The implication is that the president wasn't even honest with his attorneys about his role in dictating the statement. Has Trump withheld any other damaging information from his attorneys? Meanwhile, even as Mueller is reportedly poring over Trump's Twitter feed as part of the obstruction inquiry, the president continues to provide new fodder. Tweets like Sunday's seem intended to dig out of a hole, but in practice they threaten to dig deeper.
The president's admission about the Trump Tower meeting comes at a moment of high tension, even by the standards of this administration. As he spends much of August away from Washington, at his golf club in Bedminster, New Jersey, Trump has been tweeting prolifically and angrily, especially about the Mueller investigation. He has also held several campaign rallies, and although the ostensible purpose of these rallies is to boost Republican candidates ahead of November's midterm elections, the president tends to speak more about himself, and his feeling of persecution by the press, than about any GOP hopefuls.
Trump's public appearances and utterances give an impression of a man who is increasingly agitated and concerned about the Mueller inquiry. And for good reason: Several of Trump's legal troubles are converging at the moment. The trial of Paul Manafort continues this week in northern Virginia. Mueller has charged Manafort, Trump's former campaign chairman, with laundering tens of million of dollars, although the alleged crimes mostly occurred outside the auspices of the presidential campaign.
Cohen's legal troubles threaten Trump as well. The former aide has not been charged with any crimes, but he's embroiled in controversy over payments to two women who allegedly had affairs with Trump. Not only has Cohen signaled a willingness to offer damaging information about Trump, but prosecutors in New York have also subpoenaed the longtime Trump Organization moneyman Allen Weisselberg. Trump has proven extremely combative whenever questions are raised about his business empire. In the midst of all this came Trump's disastrous meeting with Putin in Helsinki.
For Trump to even address the threat to his "wonderful son" is an unusual show of vulnerability for a man who tries to project unstinting strength. Yet whenever he has tried to shield Trump Jr., it has only caused grief. The statement the president dictated aboard Air Force One has become a piece of the obstruction investigation, while Sunday's tweet could incriminate Trump Jr. It's said that a man who represents himself has a fool for a client. A son who allows Donald Trump to be his advocate may be in even worse shape.