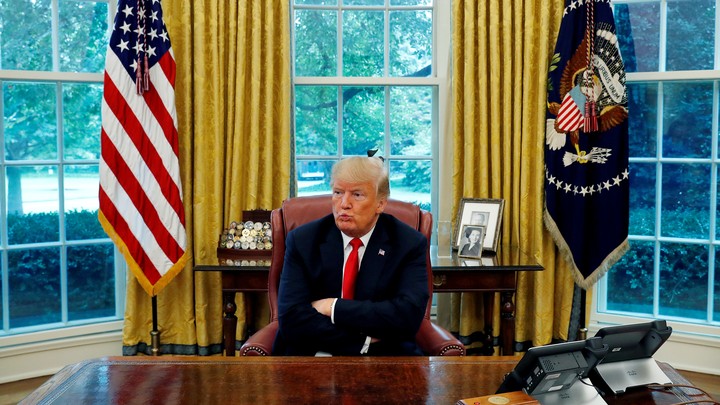 In the waning days of the 2016 election, as Donald Trump alleged that Hillary Clinton was concealing corrupt behavior in her famously deleted emails, the Republican candidate was hiding a bombshell of his own.
Her name was Stormy Daniels. And unlike Trump's tax returns, which the public still hasn't seen, she could speak. She had long ago described having unprotected sex with the serially philandering celebrity shortly after his marriage to his third wife, Melania. In Touch magazine planned to publish a detailed account in 2011. But Trump's personal attorney Michael Cohen threatened to sue. The article was held.
The Michael Cohen case: a definitive guide to key players
Flash forward to October 7, 2016: Trump already stood accused of sexual misconduct by multiple women when The Washington Post published a video in which he was recorded bragging that when he sees a beautiful woman, "I don't even wait. And when you're a star, they let you do it. You can do anything. Grab them by the pussy. You can do anything."
Many believed that the tape would cement his defeat. But Trump persevered. In fact, at a moment when another scandal would've further damaged his chances, Daniels received $130,000 in hush money. She was paid that amount 11 days before the election. And Trump voters went to the polls unaware that a sum exceeding most of their annual salaries was expended to keep that information from them.  
Even if the payment had been totally legal, it would've constituted a deliberate, immoral, classically politician-like effort to mislead voters about the choice before them. But the payment was not legal. It violated campaign-finance laws—and it was not a merely accidental and technical violation of an overly complicated or controversial provision. The most defensible campaign-finance laws are rooted in the widely agreed upon proposition that the major expenditures of federal campaigns should be visible to voters as they decide whom to support. With his willful machinations to conceal the truth about a six-figure outlay, Cohen robbed voters of relevant information they were owed.
On Tuesday, he admitted his crime. He specifically admitted that he had committed a felony to prevent voters from hearing information that would damage Trump's chances of becoming president. As the U.S. attorney put it, "Cohen, the defendant, caused and made the payments described herein in order to influence the 2016 presidential election. In so doing, he coordinated with one or more members of the campaign, including through meetings and phone calls, about the fact, nature, and timing of the payments." As a result of the payment, prosecutors added, Daniels did not speak "to the press prior to the election." What's more, Cohen had made a similarly illegal payment of hush money involving another woman, the former Playboy model Karen McDougal.
What did President Trump know about this costly, successful scheme to commit a felony in order to hide the truth from the voters? A series of lies long muddied the answer.
On January 12, 2018, The Wall Street Journal broke news of the $130,000 payment. A month later, Cohen said he had paid the hush money out of his own funds and was not reimbursed by Trump or his campaign.
On February 18, 2018, Raj Shah, the deputy White House press secretary, was asked by reporters if Trump knew that his personal attorney had paid a porn star hush money to keep quite before Election Day. He noted that Trump denied Daniels's claims.
On March 15, NBC News reported that "a top lawyer for the Trump Organization was involved in trying to enforce a secrecy agreement that adult film star Stormy Daniels signed in exchange for $130,000."
On March 29, Megyn Kelly of NBC News had this exchange with Cohen's attorney David Schwartz:
Kelly: And you are claiming that Michael Cohen, the president's lawyer and fixer, the Ray Donovan character––

Schwartz: Right.

Kelly: ––never, ever told Donald Trump about it.

Schwartz: Never. Never, never, never told him.

Kelly: And Michael Cohen dispensed $130,000 of his own money and never sought reimbursement from Donald Trump?

Schwartz: Hundred percent.

Kelly: Come on.

Schwartz: So … so the … but you have …

Kelly: No one believes that, David.
On April 5, Trump himself addressed the matter. Asked on Air Force One whether he knew about the payment to Daniels, he said, "No."
Days later, the FBI seized documents from Cohen's office.
Then, during an April 26 interview on Fox News, Trump said that Cohen "represented me" with "this crazy Stormy Daniels deal." And on May 2, Rudy Giuliani, acting as Trump's attorney, told Fox News that Trump had repaid Cohen for the outlay of $130,000 in hush money, and that he knew the "general arrangement" with Daniels but not "the specifics."
Trump confused matters further the next day, tweeting (ellipses in originals):
Mr. Cohen, an attorney, received a monthly retainer, not from the campaign and having nothing to do with the campaign, from which he entered into, through reimbursement, a private contract between two parties, known as a non-disclosure agreement, or NDA. These agreements are …

… very common among celebrities and people of wealth. In this case it is in full force and effect and will be used in Arbitration for damages against Ms. Clifford (Daniels). The agreement was used to stop the false and extortionist accusations made by her about an affair, …

… despite already having signed a detailed letter admitting that there was no affair. Prior to its violation by Ms. Clifford and her attorney, this was a private agreement. Money from the campaign, or campaign contributions, played no roll in this transaction.
The next day, Trump said this to reporters about Giuliani's Fox News appearance: "I will tell you this, when Rudy made the statement, Rudy's great, but Rudy had just started, and he wasn't totally familiar with everything."
All told, Trump and his associates expended a lot of time, money, and effort on their series of implausible, repeatedly contradictory public evasions. But none of it prevented yesterday's news from outing:
Michael D. Cohen, President Trump's former fixer, made the extraordinary admission in court on Tuesday that Mr. Trump had directed him to arrange payments to two women during the 2016 campaign to keep them from speaking publicly about affairs they said they had with Mr. Trump. Mr. Cohen acknowledged the illegal payments while pleading guilty to breaking campaign finance laws and other charges, a litany of crimes that revealed both his shadowy involvement in Mr. Trump's circle and his own corrupt business dealings.

He told a judge in U.S. District Court that the payments to the women were made "in coordination with and at the direction of a candidate for federal office."
Cohen's attorney then took to Twitter and made this statement:
Today he stood up and testified under oath that Donald Trump directed him to commit a crime by making payments to two women for the principal purpose of influencing an election. If those payments were a crime for Michael Cohen, then why wouldn't they be a crime for Donald Trump?
Said Bob Bauer, a former White House counsel, at Lawfare:
This episode, assuming in the instance the form of campaign finance law violations, is about the most powerful man in the country—whom prosecutors have observed displaying contempt for legal considerations and constraints, and lying consistently about his actions.

While the Daniels matter is fairly straightforward—hush money to conceal an affair—the McDougal case is a still more elaborate subterfuge entailing a "catch and kill" arrangement by a friendly media company to buy McDougal's public silence with cash and a disingenuous promise of space for her own writing. As the plea agreement makes clear, this is a count involving third-party corporate contributions, not just the candidate's personal resources. Cohen may have much to say about how this scheme was hatched, but he stated that it took place at the president's direction. The criminal information filed today in the Cohen matters lays out the steps taken by the Trump Organization and Cohen to falsify documentation to cover the reimbursements he received for his hush money expenses.

The degree to which Donald Trump also directed these activities, or took other actions behind the scenes to encourage Cohen and other witnesses in a course of dishonesty and fraudulent conduct, remains to be seen.
Trump's legal peril may increase further if he is forced to testify under oath in an ongoing civil lawsuit brought by Daniels earlier this year.
And already, Tuesday's revelations have prompted new calls for Trump's forced ouster. "I've been skeptical about the wisdom and merit of impeachment," Bret Stephens declared. "Cohen's guilty plea changes that. The president is clearly guilty of high crimes and misdemeanors. He should resign his office or be impeached and removed from office."
Whatever legal and political consequences ensue, Trump voters should know that they cast their ballot for a man who has lied to them all along, even about a felony that would help him win the 2016 election. A nickname that pithily distilled his behavior would be "Crooked Donald." America cannot be great again so long as he corrupts its presidency, poisons its discourse with lies, shows disregard for the authority of its laws, and sets an example of mendacious debasement for its children.
We want to hear what you think about this article. Submit a letter to the editor or write to letters@theatlantic.com.
Conor Friedersdorf
is a California-based staff writer at
The Atlantic,
where he focuses on politics and national affairs. He is the founding editor of
The Best of Journalism
, a newsletter devoted to exceptional nonfiction.