Trump's Attacks on Omarosa Are Getting Even More Vicious
In recent days, the president has used disparaging and racially charged language to go after his former aide.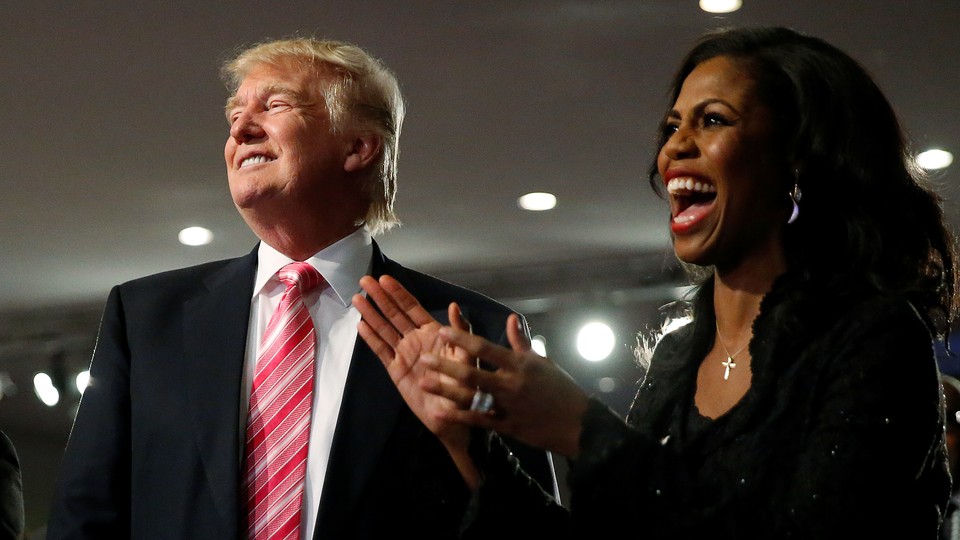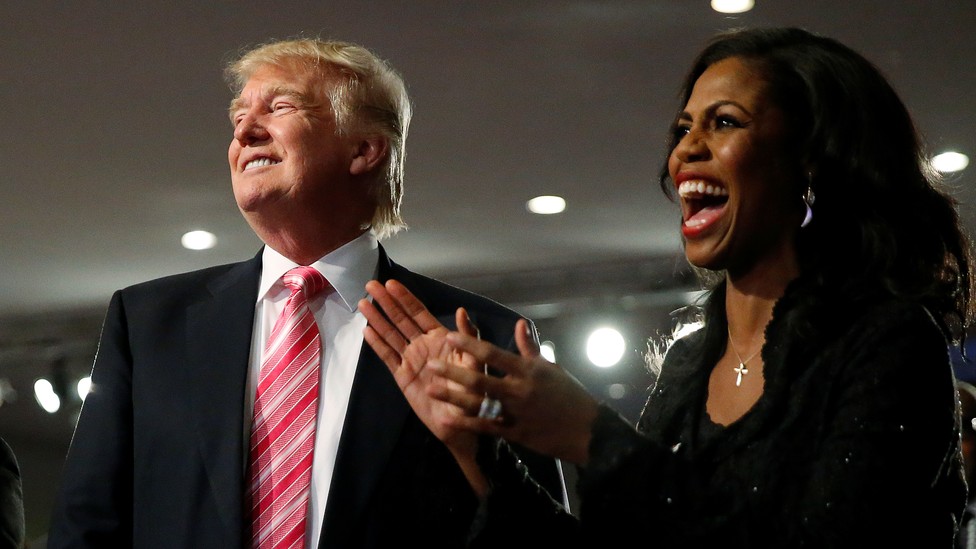 Much about the Trump administration has been unpredictable, surprising, even shocking. The president's falling-out with Omarosa Manigault-Newman is not one of those things.
On Tuesday morning, the day Manigault-Newman's new book was published, Donald Trump escalated his attacks on her, using the most vicious and dehumanizing language yet:
Over the weekend, he'd debuted the "lowlife" insult, and on Monday called her "not smart," lazy, and nasty.
The acrimonious end to their relationship was predictable to anyone with even a passing acquaintance with Manigault-Newman's stints on The Apprentice. So, too, is the intensely personal way the president has conducted his side of the feud—and the racially charged language he's employed.
In the past few days, Manigault-Newman has been all over the media, boosting her allegedly tell-all memoir about her short, sour stint in the Trump administration. (Whether the book lives up to its billing is a different matter—NPR noted that within the first days of the publicity blitz, she was already contradicting her own text.) She has attacked the president personally, calling him "truly a racist." The strategy of the book launch seems to have been to get the president to respond, multiplying the publicity.
Mission accomplished! Trump has unloaded on Manigault-Newman in his public comments since Saturday:
Contrary to Trump's claim, the press isn't making much effort to make Manigault-Newman seem legitimate. In interviews, she has faced tough questions about her past statements in defense of Trump and how she could have missed his racist rhetoric before. (In an interview shortly after her firing, she said he was "racial, but he is not a racist," a brutal act of torture against the English language.) Many of the claims in her book have been met with deserved skepticism. The press has also expressed horror that she apparently surreptitiously recorded her own firing in the White House Situation Room, as my colleague Vernon Loeb reported.
The most damning knock on Trump is not that he fired Manigault-Newman. It's that he hired her in the first place. On The Apprentice, Manigault-Newman's role was that of the scheming, duplicitous villain. Years ago, he told the journalist Tim O'Brien, "We didn't know she was the Wicked Witch until the audience found she was the Wicked Witch." As the president himself tweeted, he fired her three times. Meanwhile, a tape that Manigault-Newman played on Meet the Press, allegedly of the president, captured him expressing sadness about her December ouster.
The president has no reason to be surprised that she was as prone to drama in his White House as she had been in the Apprentice boardroom. Trump seemed to have had two reasons to add her to his administration, despite ample forewarnings. One was that, as he pointed out in his tweet, she was willing to praise him bombastically. The other was that she's African American. Trump had been accused of racist rhetoric throughout the campaign; at the very least, his outreach to black voters had been awkward, as when he asked them, "What do you have to lose?" by supporting him. It's no surprise that Kellyanne Conway, asked to name a high-profile black adviser to the president since Manigault-Newman's departure, could not.
There weren't many high-profile African Americans who were willing to sign up to work in the administration. Of Trump's high-profile black surrogates on the campaign trail, Ben Carson was appointed secretary of housing and urban development, while Don King, an octogenarian convicted of manslaughter, wasn't really a contender. Manigault-Newman was available and willing to serve as an emissary to the black community, and Trump gave her a plush salary and title to do so.
If Manigault-Newman's hiring was shadowed by Trump's difficulties with race, her firing places them in the foreground. He is calling his former employee a "dog," "not smart," "lazy," and a "lowlife." Individually, none of these terms is necessarily racially tinged. But accusing her of missing work and meetings fits in with the old, incorrect racist stereotype of African Americans as lazy. Since the election, as Philip Bump has demonstrated, Trump has disparaged the intelligence of black people on his Twitter account.
Taken together, and placed in the context of Trump's past remarks, these comments congeal into a disturbing picture. The president has repeatedly gotten himself into feuds with famous African Americans. The most recent was NBA star LeBron James, who has criticized Trump's presidency. The president has repeatedly fought with black athletes in both the NBA and the NFL, and he uninvited the Super Bowl champion Philadelphia Eagles to the White House after many members of the team said they would not attend the event. Trump sniped at LaVar Ball, the father of the NBA's Lonzo Ball.
The list goes on: CNN's Don Lemon said Trump once told him he couldn't report on race fairly because he is black (as though being white puts one outside of race). The White House called for the firing of the ESPN personality Jemele Hill.
The president has also fiercely criticized black members of Congress, from the civil-rights icon John Lewis to Florida's Frederica Wilson—against whom Chief of Staff John Kelly launched a (debunked) attack—to California's Maxine Waters. He even managed to get into a back-and-forth with the wife of a Green Beret killed in action in Niger.
Trump built his rise to the presidency on the twin, race-based planks of warning of massive Hispanic immigration and furthering the bogus theory that Barack Obama, the first African American president, was not an American citizen or born in the United States. His earlier forays into politics were similarly racially fueled, including taking out advertisements calling for the execution of the Central Park Five, young men arrested for a 1989 rape. Even after DNA evidence exonerated them, he stood by his prior position.
Manigault-Newman herself implied that Trump's use of the term lowlife was racist. "In fact, yesterday, on this moment before Charlottesville, the anniversary of Charlottesville, instead of talking about how to unify the nation, he actually insulted me by calling me a 'lowlife,'" she said on Meet the Press.
Indeed, as I wrote on Saturday, his statement about the anniversary of the white-supremacist-ignited violence in Charlottesville, Virginia, last year was distinguished by his decision not to name white supremacy, and his apparent dog whistle about antiwhite racism.
"That is a man who is inclined to start racially charged engagement, and use race to kind of stir up his base," Manigault-Newman said Sunday. Her claim that she was hoodwinked into overlooking Trump's history on race is dubious and self-serving. Trump was not shy about his racial rhetoric before taking office, and she had even more intimate exposure to it than most Americans. Still, that doesn't mean she's wrong about him now.