The Ohio Results Point to Democratic Strength in 2018—And a Showdown in 2020
The party has a clear formula for victory in November: sweep America's suburbs, and pick off a few other Republicans for good measure.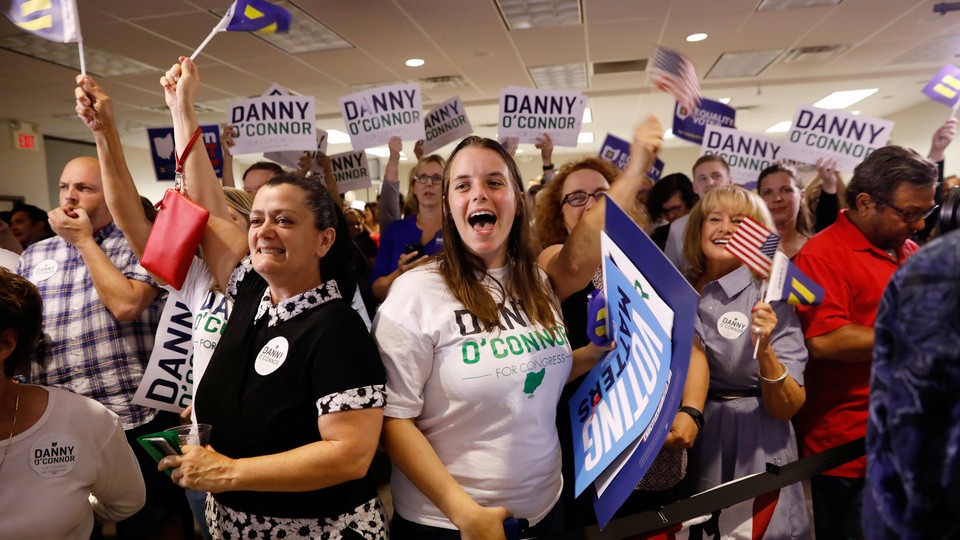 The results in Ohio's special House election Tuesday night reinforced the electoral trends that have driven American politics since Donald Trump's election—and underscored the precarious political trade the president is imposing on his party.
The Republican Troy Balderson's slim advantage over the Democrat Danny O'Connor in a district Republicans have held without much drama since the 1980s reaffirms the core geographic and demographic divides that have defined almost all major elections since Trump's victory in 2016. Pending the count of absentee and provisional ballots, Balderson maintained huge leads in the 12th district's blue-collar, small-town, and rural areas, but faced a Democratic surge in the white-collar suburbs, particularly those closest to Columbus. Balderson arrested that surge just enough in the reliably Republican outer suburbs and exurbs of Delaware County to emerge with a 1,754 vote advantage.
Whoever ultimately prevails, the Ohio contest, like last year's big Democratic wins in Virginia and Alabama, again suggested that the Trump era is producing a "new normal" in American politics defined by greater polarization along almost every possible front.
On balance, these sharpening divisions leave Democrats in a strong, but not guaranteed, position to win back the House by maximizing their gains in well-educated suburbs and picking off even a few Republicans outside of the major metropolitan areas. By the count of David Wasserman, the House race analyst for The Cook Political Report, there are 68 House Republican districts whose voting history leans less reliably toward the GOP than Ohio-12. "We won a district where we can nominate a bag of cement … and we won by [about] 1,000 votes," says the longtime GOP strategist Mike Murphy, a Trump critic. "That means … they are playing 50 seats deep in our infield and almost winning. What does that tell you about our midterms?"
But Democrats will be operating with very little margin for error if they must win back the House almost solely by capturing white-collar suburban seats. Their path would be much easier if they could also win a respectable number of the Republican seats they are targeting outside of the major metro areas, including districts in upstate New York, northeastern and southwestern Iowa, downstate Illinois, California's Central Valley, and Washington State, where Republican Representatives Cathy McMorris Rodgers and Jaime Herrera Beutler both showed weakness in Tuesday night's primary.
Democrats, and outside election handicappers, like their odds in several of those races (especially given the agricultural community's unease over Trump's ongoing trade wars). But Balderson's big margins in such blue-collar and small-town counties as Marion, Morrow, and Muskingum are reminders of how strong a headwind Democrats must overcome in those places.
It was a measure of the difficult environment confronting Republicans that Democrats effectively competed for this district at all. Since the seat was reconfigured in 2010 to make it more safely Republican, former Representative Pat Tiberi never carried less than 64 percent of the vote. Trump carried the district by 11 percentage points four years after Mitt Romney won it by 10. Moreover, the seat is preponderantly white (86 percent) and contains substantial numbers of the small-town and rural voters who have flocked to Trump. But it also houses a large contingent of college-educated white voters (about 40 percent), who have conspicuously provided Trump much less support than a Republican president typically enjoys.
Strategists in both parties agree that the recoil from the president among those voters, particularly women, was the principal reason the race became competitive. And despite Balderson's lead, the results from the Ohio district's suburban areas is sure to compound the anxiety of House Republicans defending seats in white-collar communities in and around Philadelphia, Minneapolis, Chicago, Denver, Detroit, Charlotte, Miami, Los Angeles, Seattle, and New York—and perhaps even Dallas, Houston, and Kansas City. Many of those seats are both less monolithically white and less rural than Ohio-12, which increases the Republican risk.
Balderson was roundly rejected Tuesday in the parts of the district located in the affluent, well-educated, and diverse Franklin County. In 2012, Barack Obama carried those areas by three percentage points; in 2016, Hillary Clinton expanded that margin to 18 points over Trump, according to calculations by Ryan Matsumoto, an analyst for the independent publication Inside Elections. On Tuesday, O'Connor beat Balderson in those Franklin County areas by fully 30 points. Moreover, the county turned out at a relatively high level.
O'Connor also made gains in Delaware County, another well-educated, but more distant, Columbus suburb that has strongly backed Republicans for decades. But he faltered ever so slightly. Balderson beat O'Connor there by about eight percentage points, only about half of Trump's margin, but still slightly more than Democrats had hoped for.
That result hints at the work Democrats still face in many districts to convince enough ordinarily Republican-leaning suburbanites dubious of Trump to abandon their party in congressional races. Preelection polling from Monmouth University, which accurately predicted the final result, showed that while O'Connor led comfortably among college-educated white women, their male counterparts still gave Balderson a nearly 20-point advantage, even though about half of them disapproved of Trump's job performance. "It remains clear that the House is in play and Democrats hold an enthusiasm edge," said Tom Davis, a former Republican representative who served as the chair of the National Republican Congressional Committee. "Yet this is the kind of open seat that should be in play in a wave. Democrats could not close the deal here where Trump was front and center."
The district's five more heavily blue-collar counties did not turn out at the level of the suburban behemoths, Franklin and Delaware. (That disparity also continued the pattern evident in Alabama and Virginia). But Balderson still carried around two-thirds of the vote in three of those counties and about 60 percent in the other two.*
That essentially matched Trump's vote share in those small-town areas, which had significantly improved on Mitt Romney's performance just four years earlier. On the other hand, Balderson also essentially replicated Trump's decline from Romney in the suburbs—he fell just short of the president's 2016 vote share in Franklin and Delaware. On both the urban and suburban battlefields, the results in Ohio showed how Trump's turbulent presidency is reconfiguring the landscape for the GOP: While Balderson largely re-created Trump's percentages, O'Connor combined Clinton's support with the vote cast for third-party candidates in 2016.
Trump seems determined to widen the suburban-rural gulf with his midterm strategy, which has focused overwhelmingly on energizing the blue-collar and nonurban Republican base by provoking cultural and racially infused fights. That might generate more pressure on the Democratic senators seeking reelection in the preponderantly white heartland states Trump carried—such as North Dakota, Indiana, and Missouri—but it imposes a burden on GOP candidates in suburban areas. "We are going to run a national campaign to beat [the Democratic U.S. senator from North Dakota] Heidi Heitkamp—great," Murphy said. "What about the rest of the map? We are betting the store on a shrinking demography because Trump is running the general election like a Republican primary."
The consistency of the voting patterns in the major elections since 2016 suggests the divisions around Trump are both hardening and nationalizing. That points toward a 2018 election in which Democrats are likely to solidify their control of the major metropolitan areas, but may struggle to establish widespread beachheads in the Republican strongholds beyond them. (If anything, Democrats have better odds of making gains on the latter battlefields than Republicans do of avoiding losses on the former.) That stark divergence promises intense conflict in Washington, D.C., after November. It also foreshadows a Trump reelection campaign in 2020 that could look like a Battle of the Bulge between what America has been and what it is becoming.
---
* This story originally misstated Balderson's vote share in several blue-collar counties. We regret the error.