Why Republicans Aren't Planning for the Coming Mueller Report
Congressional lawmakers and their aides say there's been no discussion about what to say or how to react, whatever the findings may be.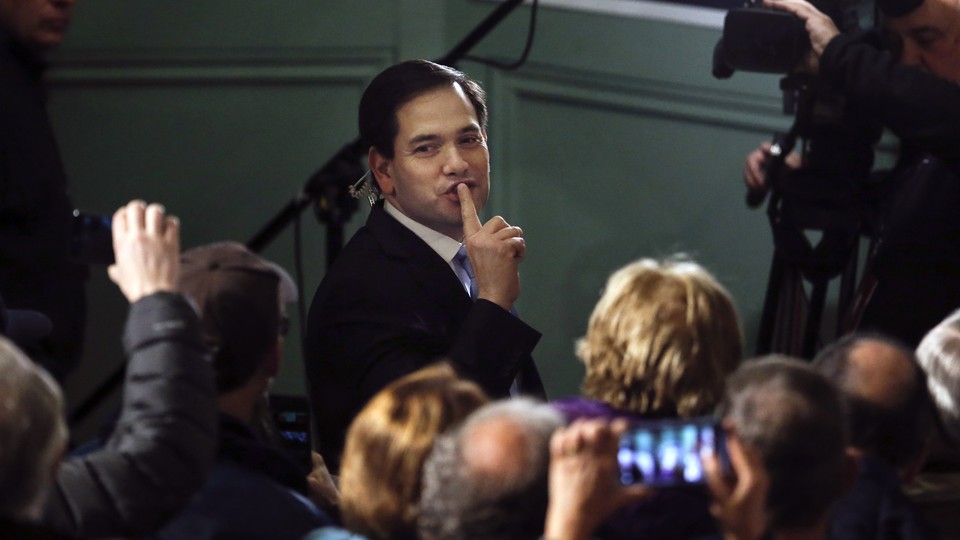 Rumors continue to build in Washington that a report from Special Counsel Robert Mueller is set to drop soon. But on and off Capitol Hill, Republican lawmakers say there have been no formal discussions on how to respond—no matter what the report's findings may be.
"We're aware that it might drop soon," Representative Mark Walker, the chairman of the Republican Study Committee, told me this week, citing "secondhand" chatter among members. "But nothing has been said. Or, at least, no one has reached out to me."
The lack of discussion about the Russia investigation stands in sharp contrast to the ever-flowing comments coming from the White House, where President Donald Trump and his attorney Rudy Giuliani seem eager to keep the issue alive, whether on Twitter or in cable-news appearances. It's not the first time GOP lawmakers have shied from the spotlight cast by, say, a Trump tweet. But Mueller's investigation represents the rare issue lawmakers seem unwilling to discuss (or to admit discussing) even among themselves.
The main reason for their silence, they say? Their constituents don't seem to really care.
According to interviews with 10 GOP lawmakers and senior aides, August recess, when most members head back home, has illuminated how few of their own voters feel concerned about Mueller's potential findings, if they think about them at all. As one House chief of staff put it, of the hundreds of voters he speaks to in his boss's state, "maybe one" considers Russia a "top 10" issue.
"I can tell you here, in middle America, the majority of people I know aren't talking about it," Illinois Representative Rodney Davis echoed.
For many Republican lawmakers, that's reason enough to ignore the national conversation over Russia, and try to forge ahead on policy matters like immigration, another round of tax reform, and health care. They'd prefer that to devoting conference meetings and calls to talking about the special-counsel inquiry. "We've got enough issues to deal with before the end of the year," Davis said. "If we were talking about this in conference," it would mean "we would have solved the immigration issue [already], or carved a path forward on tax reform 2.0."
"Plus," he added, "what is there to say that's not being said on social media?"
Republicans' lack of discussion about Mueller may be reflective of what their constituents want, but it could make them vulnerable in the event that the special counsel's report uncovers damaging information about Trump's campaign. For lawmakers up for reelection in November, a damning report would almost certainly become a go-to cudgel for their Democratic opponents. Republicans in purple districts, especially, would face yet another challenge trying to maintain their allegiance to this president while assuring more moderate voters of their independence.
Multiple leadership aides told me that there are no serious preparations under way for how to coordinate a unified response when the report becomes public. The only effect, one member mused, could be a scheduling change for a conference call. "If this is legit going to drop in the next week or two," the member said, "I wouldn't be surprised if our end-of-August conference call gets moved up."
The lawmakers I spoke to agreed that Republicans will have to issue some sort of response. But they seemed to hint that Giuliani has helped give them cover should Mueller reveal concrete evidence of collusion between Trump-campaign officials and Russia.
"So far, all indication is that the Trump campaign was not working with the Russians to win this," Walker told me. "But Giuliani is saying, 'Even if there was collusion, it's not necessarily a crime.'"
He was referring to Giuliani's line of defense on Monday. In a CNN appearance, Giuliani said he didn't "even know if that was a crime, colluding about Russians." I asked Walker if he agreed.
"I think you can cross some lines working with foreign entities," he said after a pause. "I would be uncomfortable with that."
Many in Washington see Giuliani's goalpost-shifting as gaffe-like, but Walker's response suggests it could be a lifeline for Republicans looking for an excuse to ignore the report and shore up their bases going into the midterms. All signs suggest that it's a spin Trump voters would readily swallow. Some Trump supporters are even beginning to suggest that Russian interference was a positive thing, as my colleague McKay Coppins noted recently. Randy Johnson, a coal miner and die-hard Trump supporter from Cullman, Alabama, told me recently that Russia's interference allowed "the real story" about Hillary Clinton, among other things, to reach public view. "Russia plays their games," he added, "but keep in mind, we play ours, too."

Ultimately, as with most things related to the Trump White House, the Republican response to Mueller's report could very well be decided on the spot. That's because—as with most things related to the Trump White House—lawmakers won't address it until they absolutely must.