Republican Candidates Can't Keep Trump Out of Their Districts
Ego may be driving the president's campaign itinerary more than anything else.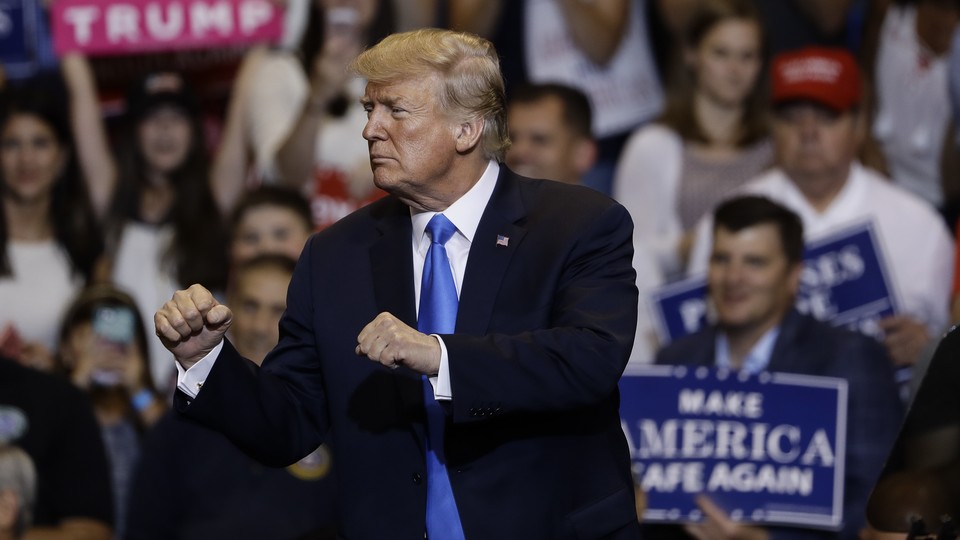 When Donald Trump told Sean Hannity not long ago that he was tanned, rested, and ready for the midterm-campaign trail—"I'll go six or seven days a week when we're 60 days out, and I will be campaigning for all of these great people that do have a difficult race"—the response from virtually all those candidates was silence.
And who can blame them? A president saddled with a 39 percent approval rating is not a guaranteed asset, especially in the dozens of competitive House districts where Republicans risk being drowned in a blue wave. Party strategists worry that Trump will do more harm than good, ginning up his foes more than his friends, and that his presence or endorsement may well have negligible value even in reliably red enclaves—as most recently evidenced in Ohio's special House election and the Kansas GOP gubernatorial primary.
But Trump may not care, because, as the nonpartisan political analyst Stuart Rothenberg points out, "he is simply incapable of receding into the background or allowing the midterms to be about anyone other than himself." Indeed, Trump brings to mind a character that John Belushi played on Saturday Night Live. He'd show up for a party, create a mess, eat all the food in sight, overstay his welcome, and spurn every hint from his exhausted hosts that it was time for him to go. The character's name was The Thing That Wouldn't Leave.
With diplomatic delicacy, the Republican strategist Matt Mackowiak told me that Trump's "highest and best use over the next 80 days should be fund-raising," especially "in the 10 red-state Senate races with vulnerable Democratic incumbents," and maybe in the 15 or 20 House districts where the Trump base is more sizable than the opposition. That's the standard formula for presidents with lousy poll numbers: George W. Bush didn't stump extensively in the 2006 midterms, nor did Barack Obama in 2010 or 2014. But Trump doesn't hew to tradition. As Ohio Governor John Kasich told ABC News last week, "Donald Trump decides where he wants to go."
Tradition also dictates that scandal-plagued presidents stay off the midterm stump. In 2004, two scholars wrote in Political Research Quarterly that presidents "have less time to spend on the campaign trail if they are preoccupied with fending off their accusers." But while they noted that their analysis was "consistent with the conventional wisdom," Trump doesn't do conventional wisdom.
Tweeting attacks at Robert Mueller and the FBI, and assailing the Russia probe as a "hoax"—as he did again while riling his base at a recent rally—are the new normal. He doesn't view scandal as an impediment, even if House Republican candidates fear otherwise. Dan David, the GOP nominee in a difficult suburban Philadelphia race, told the Associated Press back in May that he "would like the president to do his job and I'll do mine … I think that the president has a very, very full plate with foreign affairs and special-prosecutor investigations."
David is campaigning in Pennsylvania's new Fourth District, which is packed with college-educated voters—precisely the demographic that has bailed on the GOP since Trump took office. Republican candidates in similar districts, incumbents and challengers alike, would prefer that Trump stay far away. Sympathetic commentators say it, too. Rich Galen, a former House strategist and spokesman, told me: "If I were in the White House politics shop, I wouldn't send him to either Pennsylvania or Ohio. He's not going to be able to stop the blue wave if it exists."
What happened in Ohio last week is proof that Trump's presence may not help even in a reliably red region. The special House election should've been a cinch win for the Republican candidate, Troy Balderson—his predecessor routinely won the GOP-gerrymandered district by double-digit percentages—but the race was tight thanks to a grassroots backlash against Trump. So Trump flew in to help at the 11th hour, regaling an arena of fans with his greatest rhetorical hits. The result: Balderson appears to have eked out a victory, but provisional and absentee ballots are still being counted. Certification is weeks away. And it appears, in a master stroke of irony, that one of Trump's most vocal critics, Governor Kasich himself, was the key player who pulled Balderson across the finish line.
Kasich, an ex-congressman from the same district, blessed Balderson with a last-minute endorsement, and pivotal Delaware County, a former Kasich stronghold, buoyed Balderson on Election Day. Delaware County had robust turnout, whereas Trump country—rural counties—had flat turnout. But Trump's interpretation, via a tweet, was that Balderson would've won bigger if Kasich hadn't screwed things up: "The very unpopular Governor of Ohio … hurt Troy Balderson's recent win by tamping down enthusiasm for an otherwise great candidate … Credit to Troy on the BIG WIN!"
The big problem with Trump's tweet is that it contradicts a crucial fact: Kasich is not "very unpopular" in Ohio. According to a Cincinnati Enquirer-Suffolk University poll from earlier this summer, it's quite the opposite.* Kasich is viewed unfavorably by only 35 percent of the state's citizenry; Trump, on the other hand, is viewed unfavorably by 59 percent.** As Kasich told ABC News, "Suburban women in particular here are the ones that are really turned off."
Kasich then twisted the knife. He said he'd asked Balderson if the candidate had requested that Trump join him on the stump. According to Kasich, Balderson replied, "No, I didn't." Ohio reporters duly requested comment from the Balderson camp, and word came back that Balderson was "honored" that Trump pitched in.
It's worth noting that the conditions in Ohio were more favorable for Trump than elsewhere in the country. The seat's demographics are far less daunting than the 23 Republican-held districts where Hillary Clinton beat Trump in 2016, or the roughly 70 Republican districts that are statistically more competitive than Ohio's 12th. The candidates in those races would surely prefer that Trump confine himself to the reddest turf possible—as Bush did in 2006, when he spent the final days in the safest regions of Georgia and Texas.
A state like Kansas should be safe Trump turf, at least on paper, but even there his magic touch is questionable. He waded into the August gubernatorial primary, endorsing Kris Kobach—the polarizing Kansas secretary of state who helmed Trump's now-defunct (and debunked) voter-fraud commission—over the sitting governor, Jeff Colyer. The result: It took a full week of ballot counting for Kobach to notch a slim victory. Meanwhile, two House seats in Kansas are now rated as toss-up opportunities for the Democrats, who last won a Kansas seat a decade ago. There's no evidence yet that Republican candidates in those districts have pleaded for Trump to stump.
One solution for campaigns is to send Vice President Mike Pence all over the map (he's doing two events this week in Ohio, and his rally rhetoric is anodyne), or to send family surrogates like Donald Trump Jr. (unless his Russia probe exposure gets worse). As for the president, the best solution, Mackowiak told me, is to keep him in "red states and midwestern districts" where turnout from his small-town and rural base will likely trump the opposition's. The president "is probably less helpful in districts that are disproportionately diverse and/or disproportionately high in college education," he said. "Suburban districts pose the most significant challenges."
There's only one problem: As Kasich suggested, it seems Trump alone will decide where he deems his presence most helpful.
Terry Holt, a Republican party operative, recently praised Bush for heeding staff advice and steering clear of midterm races in which his unpopularity would hurt the mission. In Holt's words, "There was really no ego involved in his decision making." But this year, ego may be the prime factor that drives the presidential itinerary.
---
*This article originally stated that the Cincinnati Enquirer partnered with Quinnipiac University on a poll.

**It also stated that the poll's findings applied to Ohio's 12th district specifically. We regret the errors.