Are Trump's Lawyers an Asset or a Liability?
The testimony of the attorneys Michael Cohen and Don McGahn could pose major problems for the president—a risk exacerbated by the chaos on his defense team.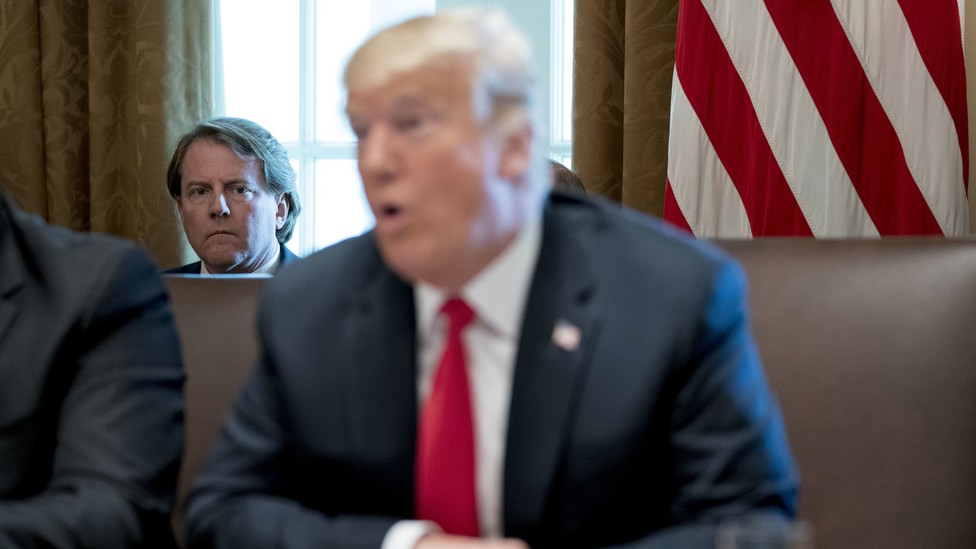 It was like clockwork: On Sunday morning, Rudy Giuliani appeared on Meet the Press and, as he seems to do every time he gives a televised interview, delivered a head-slapping remark.
"Truth isn't truth," President Donald Trump's attorney told Chuck Todd in the midst of a heated back-and-forth. As Giuliani later explained, he wasn't making a metaphysical point but simply saying that sometimes the law hinges on he-said, she-said problems. One flaw is that in the example Giuliani cited, the president either spoke with former FBI Director James Comey about Michael Flynn, or he didn't. There is a reality, and if Trump is confident his is true, it remains unclear why Giuliani doesn't want his client to say so in an interview with the special counsel.
Yet as problems with attorneys go, Giuliani's cringeworthy sound bite is the least of the president's troubles at the moment. Trump faces serious threats from testimony that two lawyers, Michael Cohen and Don McGahn, have given or might offer. The risks have been exacerbated or created by the haphazard maneuvering of the president's own mercurial and often changing legal defense team. For a man with nearly unparalleled experience in dealing with attorneys, it's a strange predicament: Lawyers have long defended and aided Trump, but now they pose a potentially existential threat to his presidency.
In New York, prosecutors are reportedly investigating Cohen, Trump's former attorney and fixer, for tax and bank fraud in connection with $20 million in loans. According to The New York Times, charges could come as soon as this month. The fraud in question appears to deal with Cohen's taxicab business, but it's a big problem for Trump anyway because Cohen has been all but shouting from Manhattan rooftops that he's willing to testify against Trump in order to mitigate his own legal troubles. In the latest such signal, Cohen's attorney Lanny Davis told Politico that he'd been talking to John Dean, the Nixon White House counsel who testified against his former boss.
It's unclear what, if anything, Cohen might be able to offer prosecutors in exchange for leniency. But he was closely involved in Trump's business affairs from 2006 on, including everything from questionable real-estate deals to hush-money payments to alleged mistresses. Prosecutors have also reportedly considered subpoenaing Allen Weisselberg, an even longer-serving Trump Organization officer, in connection with Cohen's case. Trump and Cohen are perhaps the only people who know what Cohen knows, but the president has consistently shown his greatest agitation when there are suggestions that the law might be poking around his personal businesses.
Meanwhile, the Times delivered another bombshell over the weekend, reporting that McGahn, the White House counsel, has been cooperating extensively with Special Counsel Robert Mueller's investigation. To the surprise of legal observers, the president had decided to waive executive privilege and allow Mueller to question McGahn, who serves as the chief lawyer for the presidency (as opposed to personally to Trump). That stands in stark contrast to Presidents Richard Nixon and Bill Clinton, who waged fierce battles to defend executive privilege. ("Oh my God, it would have been phenomenally helpful to us," the Whitewater prosecutor Solomon Wisenberg said, referring to the beneficial aspects of testimony from the White House counsel. "It would have been like having the keys to the kingdom.")
McGahn and his lawyer, concerned that Trump might be setting him up as a fall guy for any legal problems, opted to talk a great length to Mueller's team, speaking for at least 30 hours. McGahn has firsthand knowledge of multiple pivotal incidents under Mueller's scrutiny, from the ouster of Flynn, the former national-security adviser, in February 2017 to the president's attempts to fire Mueller in June and December 2017.
The president raged at the story on Twitter, invoking John Dean by name, but his tweets confirmed the thrust of the story: that he had waived executive privilege. And though Trump attacked the Times coverage as fanciful, the paper responded with its reporting, saying in a second article that Trump's lawyers had only learned of the extent of McGahn's testimony from the newspaper, and that they had only a vague awareness of what the White House counsel had said.
As with Cohen, Trump and McGahn may be the only two people who can fully know what McGahn could say and how damaging it would be. The Wall Street Journal editorial board, which is mostly Trump-friendly, downplayed the importance of McGahn's testimony, saying it should in fact build confidence of Trump's innocence. "Could it be that Mr. Trump let Mr. McGahn cooperate with Mr. Mueller because he felt he had nothing to cover up?" the board wrote. (This argument does not account for why Trump is simultaneously ramping up his attacks on Mueller and publicly demanding that Attorney General Jeff Sessions fire him.)
But Trump's legal moves so far hardly instill confidence that he's proceeding deliberately and with circumspection. Even though the president faces what is by most accounts serious legal troubles, his defense team has been a raucous, frequently rotating group, and he has gone through at least as many different legal strategies as he has lawyers.
First, Trump hired Marc Kasowitz, who had worked for him in divorce and bankruptcy cases. Kasowitz delivered several unusual or provably false comments, threatened a stranger via email, and then exited. The president then added John Dowd, an experienced white-collar defender, and Jay Sekulow, a conservative activist most experienced in First Amendment issues. He also hired Ty Cobb as a special White House counsel.
Cobb and Dowd proceeded from the presumption that Trump was innocent, and since he had nothing to hide, he should cooperate as much with Mueller as possible. Cobb argued in favor of Trump speaking with Mueller, and became infamous for vainly promising impending ends to the Mueller investigation—first Thanksgiving 2017, then Christmas.
It was under Cobb and Dowd's stewardship that Trump decided not to assert executive privilege over McGahn. (Relations between Cobb, Dowd, and McGahn were tense: A Times reporter also overheard Cobb complaining to Dowd about McGahn at a restaurant in Washington, D.C., while McGahn reportedly worried that the other two were weakening the presidency with their cooperative stance.)
Whether Cobb and Dowd were right, they are gone now. Dowd left Trump's team in March, and Cobb in May. In March, Sekulow announced the hiring of Joe DiGenova, a former U.S. attorney and current peddler of conspiracy theories, then just as quickly announced the hire had fallen through due to conflicts of interest. Meanwhile, a series of the most qualified and respected lawyers in Washington turned down the opportunity to defend Trump, perhaps noting Trump's tendency to contradict his lawyers and to undermine his defense in his public statements. The president is also reportedly receiving advice from lawyers outside his team.
Trump has since hired Giuliani, Emmet Flood, and Martin and Jane Raskin. The current team has taken a much more defensive, combative approach, pulling back on cooperation. Despite the president's professions of wanting to speak with Mueller, his lawyers have fought back against the idea.
Flood and the Raskins have remained largely behind the scenes, but Giuliani has taken on a prominent, and bumpy, role as a spokesman. He has repeatedly lied, acknowledged the Trump campaign's willingness to collude with Russia, possibly implicated Trump in campaign-finance violations, earned a public rebuke from the president, and even made the implicit case for impeachment. Giuliani has also chosen to embrace the schism with Cohen, pushing him further from the president and attacking his credibility.
None of this suggests a defense team that is proceeding carefully and intentionally. Instead, it suggests improvisation and chaos. Speaking on This Week on Sunday, Chris Christie, the former New Jersey governor and Trump adviser, called Cobb and Dowd a "C-level legal team" for waiving the executive privilege.
"You never waive that, absolutely not, and it put Don McGahn in an impossible situation because once you waive that privilege and you turn over all those documents, Don McGahn has no choice then but to go in and … answer everything, every question they … could ask him," said Christie, a former federal prosecutor who remains supportive of the president but has often criticized his advisers and aides. "It's bad legal advice, bad lawyering, and this is a result of it."
Even if Cobb and Dowd were right, Trump has moved on to a new legal strategy now—but has to work around the consequences of the decisions he made under the previous one. That epitomizes the president's problem. Because he can't settle on a set of lawyers or a consistent strategy to defend himself, the danger to Trump from testimony by McGahn and Cohen is much greater.