The Women Who Gave Trump the White House Could Tip the Midterms to Democrats
The fate of the House majority may depend on whether working-class white women turn on the GOP this fall—or simply sit out the election.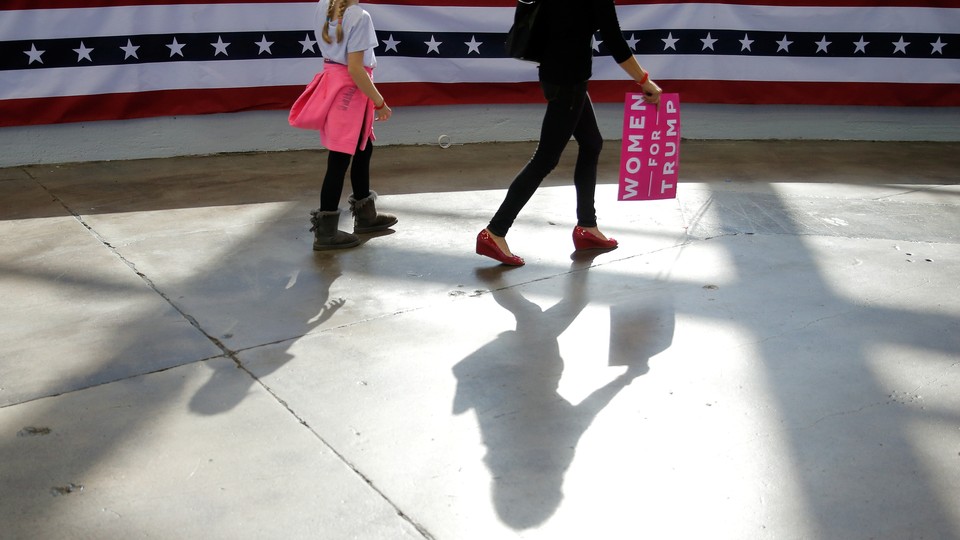 When Donald Trump this week publicly disparaged his former aide Omarosa Manigault-Newman as a "dog," he crystallized again the belligerent style and volatile behavior that has exposed Republican candidates in November to the risk of a crushing backlash among women. The most important unanswered question for the midterm election may be how far that backlash extends among the women whose preponderant support keyed his victory in the first place.
Trump's tempestuous presidency has widened every divide in American politics: race, religion, generation, geography, gender, and education. All of these contrasts loom large over the November elections. Democrats see their best House opportunities in white-collar suburban communities around the major metropolitan areas, which are typically younger and more racially and religiously diverse. Republicans hope to build a firewall in districts well beyond the urban centers that are predominantly white, older, more blue-collar, and more uniformly Christian in religious preference.
Gender is a big wild card on that playing field. Women and men have diverged in their reactions to Trump across virtually all of those other categories, like education and race. Over the past month in Gallup's daily tracking poll, Trump drew much higher approval ratings from men than women. That was true among whites with a college degree, whites without a college degree, Hispanics, African Americans, and members of other racial groups, according to figures Gallup provided to The Atlantic. In this week's national Quinnipiac University poll, college-educated and non–college-educated white men, as well as minority men, were considerably more likely than women in the same groups to say they like Trump's policies. Likewise, in an NPR/PBS NewsHour/Marist University poll last month, men in all three categories were much more likely than women to say they were proud of Trump's behavior as president; women were more likely than men to say they were embarrassed.
Yet this common trend, often simplified into the idea that Republicans are threatened by a gender gap, can obscure as much as it reveals. "You can't just look at women as a homogeneous group," says the Pennsylvania-based GOP strategist John Brabender.
He's right. Trump is exposing the GOP this fall to the danger of unusually high mobilization and margins among African American women. Trump also risks consolidating a historic realignment toward the Democrats among college-educated white women, many of whom have viscerally recoiled from his behavior and language—such as his tweet Monday about Manigault-Newman.
Yet polling continues to send mixed signals on whether Democrats can expect substantial inroads among the third large group of female voters: white women without a college degree. Gains among those women could be the critical final piece to creating a secure path to a Democratic House majority—opening opportunities in districts beyond the urban and suburban areas where Republicans are most vulnerable.
One key reason for the Republican vulnerability in metropolitan areas is the sharp reaction to Trump among both African American and college-educated white women. Exit polls showed Democrats carried 91 percent of black women in the Virginia governor's race won by Ralph Northam, and an astounding 98 percent in the Alabama Senate race won by Doug Jones. Recent NBC/Marist polls in Michigan and Wisconsin placed Trump's approval rating among nonwhite women at only around 10 percent, half the level among minority men. (Most minorities in both states are African American.)
If anything, college-educated white women may shift even more dramatically from prior patterns. They typically lean Democratic, but usually by modest margins. Hillary Clinton carried 51 percent of them against Trump in 2016, and Democratic House candidates have not carried more than 52 percent of them in any election since 1992, according to exit polls; they only split them evenly with Republicans in 2016.
But polling points to the possibility of unprecedented advantages for Democrats with those women this year. In Quinnipiac polling from March, about three-fourths of college-educated white women said Trump did not respect women as much as men, and in July, nearly three-fifths said he's racist. In the NPR/PBS NewsHour/Marist poll, exactly three-fourths said his behavior as president "embarrassed" them. Likewise, in this week's Quinnipiac survey, two-thirds said they didn't like Trump as a person, and more than three-fifths said they didn't like his policies or approve of his job performance.
Those attitudes suggest these women may tilt sharply toward Democrats in November; for months, many public polls have shown that about 60 percent—sometimes slightly more, sometimes slightly less—prefer Democrats for Congress. Such a movement could lastingly shift many white-collar suburban districts away from Republicans, particularly since the traditional GOP advantage among college-educated white men is also narrowing in most surveys.
Compounding that risk for Republicans is that Democrats are nominating a historic number of female candidates precisely as Trump is pushing so many white-collar women away from the GOP. Democrats have chosen women in more than 40 percent of the 367 districts where they have already selected nominees this year, according to the Center for American Women and Politics at Rutgers University. (Women represent only about 13 percent of Republican nominees so far.)
"There may be a permanent partisan shift among those college-educated women," says the Democratic pollster Anna Greenberg. "In 2006 and 2008, we picked up [House] seats we shouldn't have and they later reverted back [to Republicans]. I think some of the seats we pick up [this year] are going to stay, because the margins among women are going to stay."
The prospects for Democrats with blue-collar white women are much more uncertain, though. Those women were crucial to Trump's victory in 2016, particularly in the pivotal states across the Rust Belt. Trump significantly expanded on Mitt Romney's margins in 2012 among those women in Iowa, Ohio, Michigan, Wisconsin, and Pennsylvania. In the latter three states, which effectively decided the race, Trump ran at least 13 points better among white women without a college degree than those with one. It's no exaggeration to say the principal reason the first female major-party nominee failed to win the presidency is because so many working-class white women in the Rust Belt rejected her.
Trump has suffered some erosion with these non–college-educated white women, but they don't display nearly as much resistance to him as their college-educated counterparts. On a wide variety of questions, they divide closely over Trump. About half of them say they consider him a racist or are embarrassed by his behavior, and slightly more than half say they don't believe he respects women as much as men. In this week's Quinnipiac poll, they split exactly in half on whether they like Trump's policies and broke closely over his job performance (51 percent positive to 44 percent negative).
Some surveys have shown these women souring on Trump in greater numbers across the big midwestern battlegrounds, such as Michigan, Wisconsin, and Minnesota. But overall, most polls still mostly show them leaning solidly toward the GOP in the congressional contest—though generally by smaller margins than in House elections since 2010. Quinnipiac's latest survey gave the GOP a nine-point edge among them.
Brabender says that while some blue-collar white women have grown uneasy over Trump's confrontational style, that's outweighed by their satisfaction with his results. Greenberg agrees it remains a heavy lift to move large numbers of blue-collar white women, especially older ones resistant to demographic and cultural change, toward Democrats. But she says their unease over Trump's behavior may cause many of them to simply sit out November. "It is so offensive, and they just don't understand why he thinks he needs to do that," she says. "It is less of a conversion to Democrats, and, for better or worse, it turns them off about politics more generally and it leads them to lower participation."
Brabender sees the same risk of lower turnout among blue-collar men and women who don't feel as connected to typical Republican candidates as they do to Trump. The best chance of avoiding that slump, he says, is for Republicans to stress the possibility that Democratic majorities in Congress will try to impeach and remove the president. From the other direction, Democrats almost universally believe their best chance to peel away blue-collar women is to convince them that the GOP agenda threatens the affordability and availability of health care. In Quinnipiac's new poll, a surprisingly large 55 percent of them also said they did not believe Trump was doing enough to help the middle class.
Working-class white women are so pivotal to shaping Democratic opportunities largely because blue-collar white men appear so immovably behind Trump and the GOP. To expand beyond purely urban/suburban districts, Democrats believe they must replicate the winning equation demonstrated by Conor Lamb in his March special-election victory for a House seat near Pittsburgh. His model was to max out his advantage in white-collar suburbs recoiling from Trump while narrowing his deficit in blue-collar and rural communities, almost entirely by improving among working-class white women. Those blue-collar women helped put Trump in office. The midterm election may turn heavily on how many of them ultimately share the revulsion about his behavior common among other women since he arrived there.