Collusion Isn't Trump's Biggest Problem Anymore
The president and his allies are grappling with an escalating existential threat: With Tuesday's revelations, he was implicated in a crime.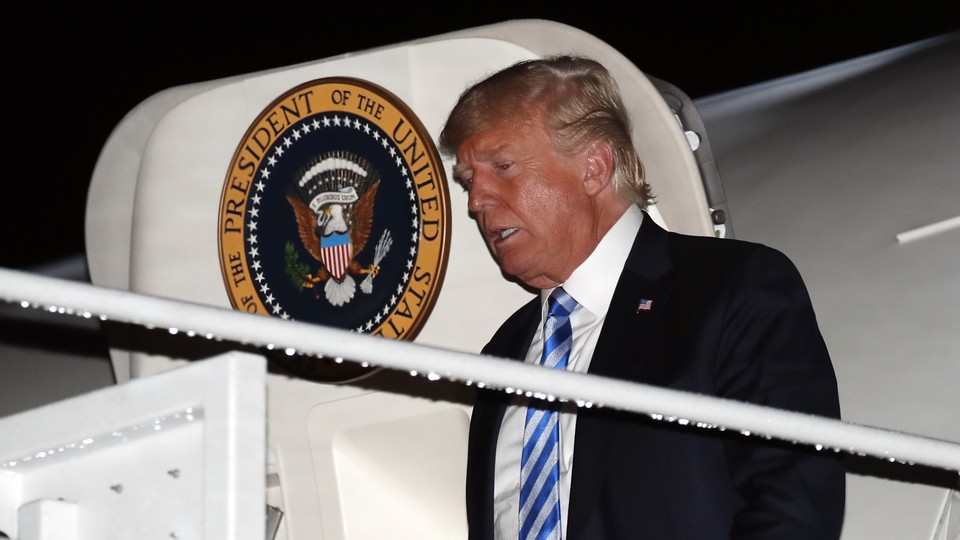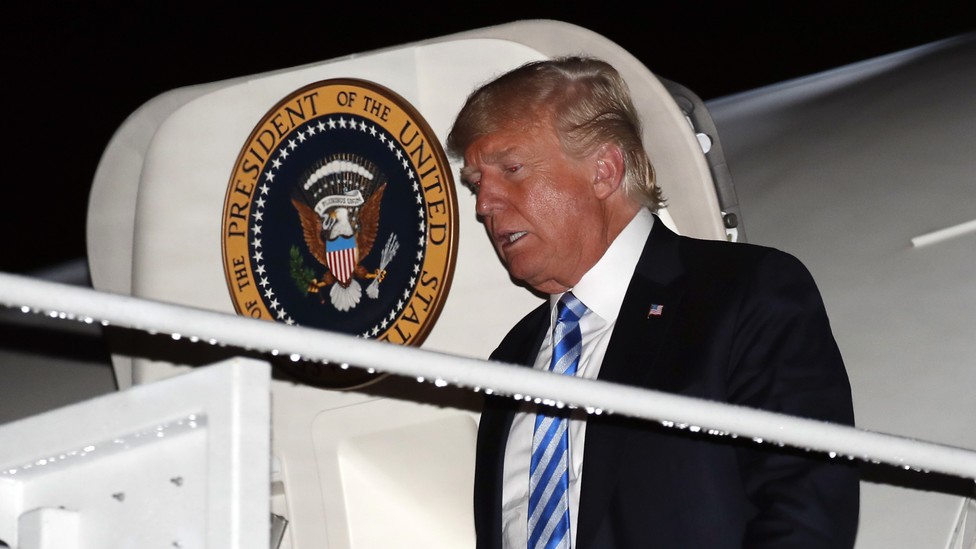 What has been the worst day of the Trump administration? It could have been January 21, 2017, when Press Secretary Sean Spicer started the presidency off with a pointless and futile fight over inauguration attendance. Or May 17, 2017, when Special Counsel Robert Mueller was appointed. Perhaps July 16, 2018, the day of President Donald Trump's disastrous meeting in Helsinki with Vladimir Putin.
Grasping the historical import of a moment in real time is tough, but it seems possible that, in retrospect, August 21, 2018, will prove to be a new nadir, and a turning point for the Trump presidency. Just after 4 p.m. ET, a jury in Alexandria, Virginia, returned eight guilty verdicts against Paul Manafort, Trump's former campaign chairman. At the same hour, in Manhattan, Michael Cohen, a former attorney and aide to Trump, pleaded guilty to eight felony counts of his own.
Taken together, these two developments ratchet up the existential threat to the president. The Manafort verdict, even with a hung jury on another 10 counts, is the latest debunking of Trump's frequent claim that Mueller's investigation is a "witch hunt." While Mueller has extracted a series of guilty pleas, Manafort's conviction is different in two ways. First, it was obtained through a jury trial, rather than via a plea agreement. Second, it centers around serious violations of the law, not just offenses like lying to federal agents, which can be more easily dismissed by partisans. This leaves Mueller far stronger than he was at the start of Tuesday.
The Cohen result is likely even more damaging to the president, because he has directly implicated Trump in a crime. Cohen's plea seemed, at first, to be a lucky break for Trump—the former fixer wasn't cooperating with prosecutors. His statements in open court turned out to be highly damaging anyway. In pleading guilty to violations of campaign-finance laws, Cohen said that the then-candidate Trump had directed him to do so, arranging payments to two women who alleged affairs with Trump in order to hush them up and affect the result of the 2016 election.
Throughout his presidency, the specter of criminality has stalked the halls of the White House. It has been clear that the president was surrounded by a coterie of corrupt and sometimes criminal aides, bereft of scruples. There has also been ample evidence to suggest collusion between the Trump campaign and Russia. Yet the president has often managed to stay just out of direct contact with any of these problems. Before Cohen, he himself hadn't been directly implicated in a crime, and he said he wasn't aware of the June 2016 Trump Tower meeting, or any number of other contacts with Russians. By wholly abandoning Harry Truman's credo that the buck stops with him, the president has sought to sidestep any accountability for his many aides' many bad behaviors.
Meanwhile, Democrats, the White House, and the media have all put the most emphasis on accusations of collusion, rather than more mundane crimes like Cohen's. For the press, the le Carré-esque international intrigue of Russian interference in elections is too much to resist. Democrats have picked up on it to question Trump's patriotism. Retired intelligence officers have frantically sounded the alarm about Russia, while no similar group of wise men exists to hype financial crimes à la Cohen. The White House, apparently confident that there was no criminal collusion—or that Mueller won't find any evidence of it—has been happy to fight on this battlefield rather than another.
Cohen's plea changes that. While he is not the most trustworthy narrator—he is now a convicted fraudster, of course—his account of working with Trump to pay off Stormy Daniels and Karen McDougal and to cover up the payments rings true with all of the available evidence about the hush money. Besides that, prosecutors would not have accepted Cohen's plea if they didn't have high confidence that he was being truthful.
Reports from within the White House by Politico and The New York Times show the depth of fear that Tuesday instilled in the president's aides. But it doesn't require talking to West Wing staffers to understand the trouble facing the president. The administration's lines of defense demonstrate it just as clearly. Trump's allies have long acted like he is guilty, and now they're becoming more explicit about it.
During a rally Tuesday night in West Virginia, the president barely made mention of the day's tribulations—with one exception. "Where is the collusion? Find some collusion," he said. A set of GOP talking points, obtained by The Washington Post's Josh Dawsey, emphasizes that neither the Cohen nor Manafort convictions involve collusion.
This defense misses the forest for the trees. Trump and his allies, so accustomed to playing defense on the collusion front, are ignoring the bigger problem: The president has been implicated in a crime. Perhaps there will still emerge more evidence of Trump-campaign collusion with Russia; perhaps there isn't any more. But as the White House has been only too eager to point out, collusion isn't a crime. This argument boils down to saying the president committed a different crime from the one that many people expected. That's not much of a defense.
A second line of argument is that what Cohen did isn't really a big deal. "Michael Cohen plead [sic] guilty to two counts of campaign finance violations that are not a crime," Trump tweeted Wednesday. What he appears to mean is that violations of campaign-finance laws are typically treated as regulatory matters and met with a fine. The president also invoked a $375,000 fine that the Federal Election Commission levied on the 2008 Obama campaign. Alan Dershowitz, the Harvard law professor who has become one of Trump's most prominent defenders, argued on Fox News Tuesday that "every candidate violates the election laws when they run for president."
Dershowitz is right that minor violations of the law are common. From there, the analogies fall apart. The FEC determined that the Obama campaign had failed to disclose in accordance with the law, but it did not find an intentional conspiracy to break the law with a large contribution from a single donor, which is what Cohen pleaded guilty to. There also wasn't any evidence that Barack Obama himself was involved in the problems—whereas Cohen has said in court that Trump directed him to commit violations.
It is unclear whether Cohen could still deal more damage. His attorney Lanny Davis said Wednesday that Cohen not only does not want a pardon from the president, but he would also not accept one. Davis also said Cohen would be willing to talk to Mueller, and suggested that Trump knew about Russian hacking of emails from the Democratic National Committee and the Clinton campaign chair John Podesta before they occurred. (Caution is merited here. Cohen has made big promises and underdelivered in the past.)
The best news for Trump is that he likely cannot be indicted. Long-standing Justice Department guidance holds that sitting presidents cannot be criminally charged. That doesn't mean that being implicated in a crime can't have repercussions. The Constitution provides impeachment as a political alternative to the criminal-justice process, and all of a sudden, murmurs about impeachment got louder Tuesday afternoon. Many Democrats have long wanted to impeach Trump, but they've had little concrete to work with. Cohen's plea may still not be enough to pull off an impeachment vote, but it's a leap forward for their quest.
Of course, we've been here before. Back in May 2017, Senator John McCain said that allegations against Trump at that early stage had reached "Watergate size and scale." He later softened those comments, but the nation now knows much more about Trump's behavior than it did 15 months ago.
Meanwhile, there's a midterm election soon, and it could hand control of the House back to Democrats, which would make impeachment far more likely. Republicans already face a difficult map, and later Tuesday afternoon, federal prosecutors dropped a detailed, damning indictment of Representative Duncan Hunter, a Republican from California, for misusing campaign funds. The charges give Democrats a better shot at taking his seat, and with it, control of the House. As if Trump's day wasn't already going poorly enough.