The Sunday Shows Set the Agenda in Trump's Washington
Millions of elite viewers still tune into the Sunday-morning talk shows, watching top Trump administration officials spin and spar.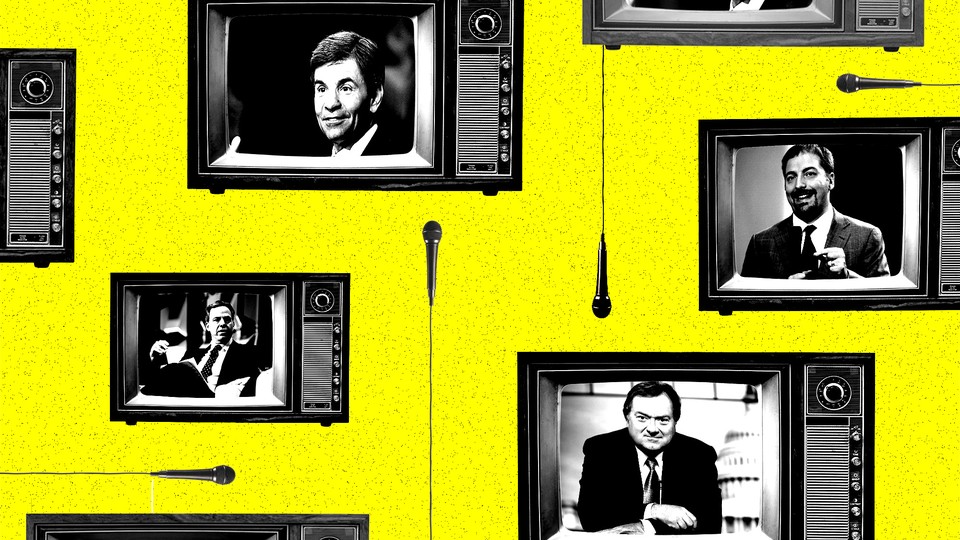 "I think, without any question, this is the biggest moment of the Trump presidency."
It was the day in June when Anthony Kennedy announced his retirement from the Supreme Court, and Chris Wallace was on Fox News explaining to viewers the gravity of the Court's swing vote stepping down.
I'd been interviewing Wallace when the Kennedy news broke, and he'd politely excused himself from our call and hopped on the air. Within a few moments after he finished up his five-minute spot, he called me back.
Moments like this are what Wallace credits for reinforcing the importance of his primary news format: the political talk show broadcast from Washington, D.C., every Sunday morning. A stalwart of network television since the late 1970s, Wallace has hosted Fox News Sunday since 2003 and is the face of Fox's hard-news division. "I think that the Sunday shows are more relevant and more important than ever in the Trump era," Wallace explained during our interview. "And the reason I say that is because the velocity of news and the amount of news in a week is so much greater than we've ever seen before, and I've been doing Sunday talk shows since Reagan was president." (Wallace also hosted Meet the Press from 1987 to 1988.)
Wallace's superlatives are the subject of much debate among the chattering class in Washington. While there's no question that Sunday morning retains an important place in the spin cycle, these iconic shows are fast evolving—as is just about everything else—in Donald Trump's Washington. An important new focus: helping viewers fight through the partisan noise and tell truth from lies.
The Sunday shows also often now help define the news of the week—and set the next week's agenda—when the velocity of breaking events and controversy threatens to spin out of control. Part of this relates to Trump's communications strategy. It might be best defined as having administration talking heads appear everywhere, all the time. Their presence on the air makes the shows even more essential for insiders and political junkies. While the more reserved Obama administration typically used the shows to reinforce message discipline, with officials across multiple shows mouthing the same talking points, Trump's surrogates have been known to contradict one another, sometimes within minutes. They're also frequently combative and don't shy away from arguing with moderators—witness Rudy Giuliani, the president's lawyer and primary media mouthpiece, mixing it up with Meet the Press's Chuck Todd on Sunday over Trump's possible testimony before the special prosecutor and fear of a "perjury trap."
"Truth is truth," Todd said.
"No, it isn't truth," Giuliani replied. "Truth isn't truth."
Critics say it's often unclear whether administration officials even speak for the president. The New York University journalism professor Jay Rosen, for one, thinks the shows possess a corrosive new quality, because their administration guests may only be speaking to the president. In any event,  the nation's newspaper editors still look to the Sunday shows for Monday-morning headlines. And beyond newspapers, the shows themselves have become multimedia juggernauts, spanning broadcast, cable, online, and social media—an evolution that's helped them compete as ubiquitous brands that stretch far beyond the Sunday-morning airwaves.
Even as he talked on air, mere minutes after Kennedy's announcement, Wallace was already thinking ahead to Sunday morning. The announcement was "seismic," Wallace said, walking me through his initial coverage plans for the breaking news. It was Wednesday, and if Wallace had had any conception of what news would lead his show on Sunday, it had just been uprooted.
The programs have long been staples of Washington discourse; for decades, politicians grilled on Sunday-morning TV consistently led the Monday-morning newspapers, and the shows have remained must-see TV for those interested in politics. But their relevance overall deflated in conjunction with the rise of new media over the past 20 years. Now not only do Sunday shows have to compete with one another and prime-time cable news for top bookings, but they also have to compete with digital-only outlets, non-news programs, and social media to break the news of the week.
Politicians in recent years have been incentivized to avoid them, too. Sunday shows can be tough interviews, making it difficult to control one's messaging. If you're a politician looking for publicity, why promote a policy on Meet the Press when you could do so on Between Two Ferns With Zach Galifianakis or Comedians in Cars Getting Coffee? Why face a televised grilling from George Stephanopoulos when you could tweet to millions of followers and bypass the media entirely? This seemed to be the prevailing logic of the Obama administration. The Sunday shows were seen as just one fragment in a constellation of mediated and unmediated options for reaching Americans. (For his part, Todd, the Meet the Press moderator, says he doesn't "accept [the premise] that somehow [the Sunday shows] were declining. In the Obama administration, you just had a West Wing that just didn't want to do them.")
Compared to the Obama years, the Sunday shows play an outsize role in the way Trump communicates, with guests such as Giuliani and the budget director Mick Mulvaney, who appeared Sunday with Wallace on Fox, often helping to interpret the president's early-morning tweets (there were six on Sunday morning), triaging the latest controversy, or offering a new line of talking points. Just last week, the former White House aide Omarosa Manigault-Newman released on Meet the Press a recording she'd secretly made of Chief of Staff John Kelly firing her in the White House Situation Room, the senior adviser Kellyanne Conway refuted Manigault-Newman's accusations about the president on This Week, and Giuliani attacked the personal finances of Stormy Daniels's lawyer, Michael Avenatti, on State of the Union.
The partisan, sneering jibes by Giuliani and Avenatti about Trump's hush-money payments to a porn star belie the shows' illustrious history. Meet the Press is the longest-running show on television; it's now in its 70th season, having debuted in 1947. Face the Nation, hosted by Margaret Brennan, is in its 63rd season, starting just a few years after Meet the Press, in 1954. President John F. Kennedy referred to Meet the Press as the "51st state."
The format for Meet the Press and Face the Nation was a product of the mass-media era, when journalists leveraged outsized influence over what news the nation saw. They typically feature one-on-one interviews with government officials or political leaders, along with a panel interview with reporters and other experts. ABC joined the fray with Issues and Answers in 1960, before replacing it with This Week in 1981. Fox launched Fox News Sunday in 1996. And on the cable front, CNN debuted Late Edition in 1993, which was succeeded by State of the Union in 2009.
Over time, the shows' gatekeeping function and their agenda-setting effect have both diminished. But as cable TV, online news, and social media react to the news instantaneously, the Sunday shows stand out because they still exercise a certain amount of discretion. They can only cover so much in 60 minutes, and who and what they ignore is as crucial a decision as who they interview and what they cover.
"I think people feel overwhelmed by the onslaught not just of how the news cycle is in hyperdrive, [but] the topics that happened during the week alone are massive," said Brennan, the Face the Nation moderator, in a sit-down interview.
With a palpable uptick in news, and the constant threat of late-in-the-week developments disrupting an entire coverage plan, Brennan and her executive producer Mary Hager place a premium on being prepared to hold officials to account in real time. The Sunday shows' fact-checking function has always been paramount, but the Trump administration's record of falsehoods has put additional public pressure on journalists to call out lies in the moment.
"I think what's changed is that there is more focus on our ability to fact-check," said Hager, who's run the show behind the scenes since 2011. "Not in the form of 'Okay, Trump said 16 things that turned out not to be true,' but just to make sure that our viewers know, you know, this is what the actual reality is."
Hager's counterpart at This Week, Jonathan Greenberger, told me that viewers are looking for trusted journalists to help them sort through the noise. "The news you're bombarded with over the course of the week on social media and everything else is even more partisan than it used to be," said Greenberger, who has been the program's executive producer since 2013. "It's even more suspect. People aren't sure what to believe, who to listen to. I feel like the mission that we have of, 'Give us that hour and we'll help sort things through'—I think that that is even more valuable today. There's tons to make sense of."
Though the Sunday shows see their mission as holding officials accountable, that's difficult to do when administration officials aren't often on the same page. "No one really speaks for the president other than the president," said Brennan, who's hosted Face the Nation since February and also serves as CBS's senior foreign-affairs correspondent. "They can explain what they believe his policy should be and what they're advising the president to do." But "whether that voice that's speaking to you is speaking reflective of where the president is … is something you're also trying to kind of pick apart in the interview," Brennan added. George Stephanopoulos, the longtime host of ABC's This Week, concurs: "You can have guests come on delivering an administration line which isn't necessarily the president's line, which can be demonstrated even in the course of a broadcast by a tweet," he told me.

Oftentimes, these instances when administration officials contradict one another are when the Sunday shows break the most news.
When United Nations Ambassador Nikki Haley announced new sanctions on Russia on Face the Nation in April, the White House quickly made clear that she was on her own, exposing a rift in the administration's message on one of its pressure points: Russia policy. The economic adviser Larry Kudlow said Haley might have experienced "momentary confusion," to which Haley responded, with a forceful and telling statement: "With all due respect, I don't get confused."
In a similar fashion, the White House walked back comments National-Security Adviser John Bolton made on Face the Nation and Fox News Sunday in April, when he advocated using the "Libya model" of denuclearization in negotiations with North Korea.
Not even Vice President Mike Pence has been immune. "Pence did the same thing on Face the Nation," Hager explained. "He told John [Dickerson] that 'No, you know, [Michael] Flynn told me he didn't talk to the Russians about [expelling Russian diplomats]' and it turned out that Flynn had lied to Pence."
It's the Sunday shows' format—which allows them to dig deeper than other programs on policy, and includes longer-form interviews—that makes it easier to expose internal dissonance.

The Sunday-morning shows "have reasserted their relevance in part because they get the sustained opportunities with big-name administration officials," said Nikki Usher, an associate professor at George Washington University's School of Media & Public Affairs. "If you work in Washington, it is your job to turn on the Sunday talk shows and see what Kellyanne Conway has to say, and if you're not doing that, you're neglecting your responsibility—whereas in the past there were … lots of different ways to get people's positions confirmed."
The Sunday shows' leadership largely agrees that the Trump administration deserves some credit for consistently putting administration officials on the air. "They see the value at putting different administration officials on different shows," Hager said.
A common critique of the Sunday shows is that they are by Washington insiders, for Washington insiders. But Wallace said a highly informed, self-selecting audience is part of the reason politicians go on his show and its Sunday-morning rivals. "It's not the biggest audience in television, but it's one of the most influential," Wallace said. The audience numbers may be small by sitcom standards, but they are far from insignificant.
The year-to-year ratings for Sunday shows are down in the president's second year, although they've remained fairly steady for the past 25 years, far below the most popular sitcoms but respectable, with about 9 to 10 million elite viewers combined. No doubt, Meet the Press, Face the Nation, This Week, Fox News Sunday, and State of the Union can still generate news at a moment's notice. In the second quarter of 2018, Meet the Press averaged 3.21 million viewers. Face the Nation, whose performance is measured only by its first half hour, trailed at 3.01 million. This Week raked in 2.86 million viewers and Fox News Sunday nabbed 1.31 million. (CNN's State of the Union is not included because it's a cable show.)
Those numbers shouldn't be confused with the shows' broader effects on thought leaders and other media organizations. "I think [what] the Sunday shows make clear is that the Beltway continues to be an extremely insular place with personalities that only matter to a small number of people but whose voices and whose power [are] felt by all," Usher said. "There's such a tiny minority of people who are watching, but what happens on [Sunday shows] has massive global implications."
Hager said there are also viewers "who really, really follow politics and want to understand better who these guys are in the city who are making the decisions that affect their lives."
One viewer the Sunday shows have grown to count on is Trump. Todd told me that, at one point, the president would record and watch all five Sunday shows, though he's not sure how much that happens anymore. "I remember Corey [Lewandowski] telling me a story about how it took up half his Sunday," Todd said, referring to Trump's former campaign manager. The president "fast forwards, but he watches all five." Press Secretary Sarah Huckabee Sanders didn't respond to an email about how the president's Sunday-morning viewing habits have evolved.
Jay Rosen, the NYU journalism professor who has previously called himself a "disgusted viewer and longtime critic of the Sunday shows," is wary of what he calls the "audience of one" problem with administration officials appearing on TV.
"It seems like they're not actually even trying to explain the Trump government to the public," said Rosen in an interview. "They're trying to fight with the show in a dramatic enough fashion to prove to the president that they're on his side." Perhaps no appearance better captures this dynamic than Conway's spot on Meet the Press in January 2017, when she famously told Todd that then–White House Press Secretary Sean Spicer was deploying "alternative facts."
Given that wrinkle, the Sunday shows have drawn criticism for giving administration officials so much airtime. Rosen pointed to a recent appearance from Kudlow on State of the Union, when he called Canadian Prime Minister Justin Trudeau's G7 criticisms of Trump's steel and aluminum tariffs a "diplomatic betrayal."
"He seemed to be unhinged in a way, but if you look at it as he's just trying to persuade Trump that he's a strong [ally], then it kinda makes sense," Rosen said. "But then why would you give a platform to that? How does that serve your viewers?"
Jake Tapper says his tough reputation sends a strong message that his show cannot be used as a platform for administration grandstanding.
"My experience with this White House is not really all that dissimilar, believe it or not, from my experience with the last White House, which is, I think they regard me as somebody who's going to ask them questions that they don't necessarily want to be asked," Tapper told The Atlantic in a phone interview. "And I am not necessarily their first choice when it comes to putting people on to get the administration message out."
Tapper once tried to combat this problem on the fly during a bizarre performance from the senior adviser Stephen Miller in January, when he yelled over Tapper about Michael Wolff's controversial book Fire and Fury. "There's one viewer that you care about right now and you're being obsequious. You're being a factotum in order to please him," said Tapper, whose producers cut Miller's mic as the host moved onto his next segment. "I think I've wasted enough of my viewers' time," he concluded.
Margaret Sullivan of The Washington Post has also grappled with the airtime question. "Should proven liars continue to be given these platforms, especially on the Sunday-morning talk circuit?" she asked in a February column. "At what point are some administration officials no longer welcome in these influential national forums?"
Todd, for his part, told me he's "not going to … say that anybody is unbookable." He books administration guests "where I think that person actually offers something on the topic that we're dealing with, or truly has the president's ear on the issues that we're dealing with."
It "doesn't matter what you think of them," he continued. "If you know they have pertinent information that makes the viewer smarter, then I'm not gonna be a snob."