The Government's Revealing Case Against Paul Manafort
The trial of President Trump's former campaign chairman offered a striking microcosm of the questions at the heart of the Russia probe.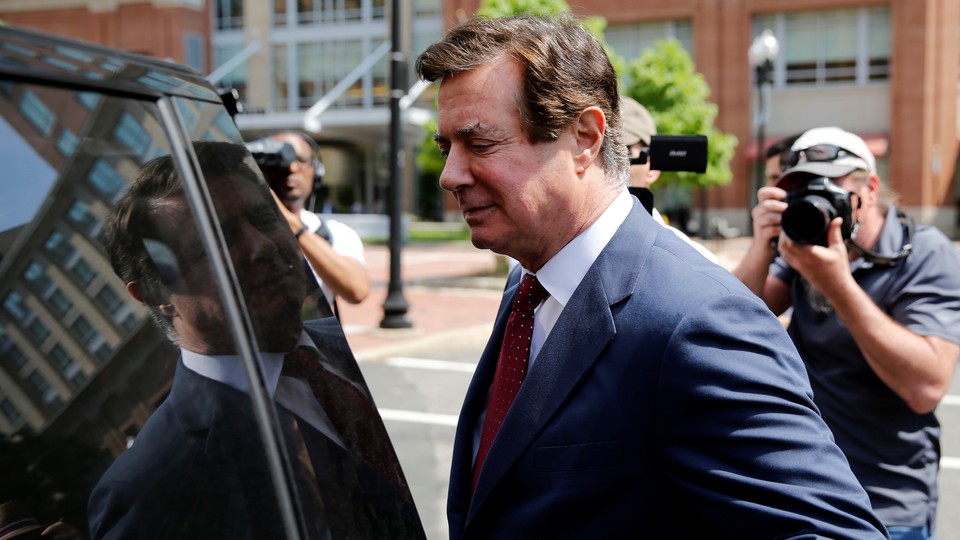 ALEXANDRIA, Va.—The trial of President Donald Trump's former campaign chairman Paul Manafort has been anything but sexy. A document-heavy, jargon-laden slog, the tax-and-bank-fraud case has disappointed many who expected bombshell testimony and allusions to a grand Trump-Russia conspiracy—but left the courthouse gossiping about $15,000 ostrich jackets and the extramarital affairs of Manafort's ex–business partner instead.
In U.S. District Court on Wednesday, the lead prosecutor, Greg Andres, acknowledged the case's complexity and thanked the jurors for their patience, while leaving unsaid perhaps the most significant nexus to the broader Russia investigation: With every new foreign bank account, fraudulent loan application, and falsified tax return the government presented, we learned more about the lengths the president's campaign chairman was willing to go to hide his financial relationships with Russian or pro-Russian oligarchs (at least one of whom he continued to leverage while working on the Trump campaign).
The resulting portrait is of an operative who blithely defrauded his own government while working for pro-Russian entities—a striking microcosm of the question at the heart of the sprawling Russia investigation: namely, whether the Trump campaign compromised the 2016 election while working with Moscow to undermine their shared foe, Hillary Clinton.
"Mr. Manafort lied to keep more money when he had it," Andres said in the government's closing statement. "And when he didn't have any money, he lied to make more." Manafort "lied," Andres said, to his bookkeeper and his tax preparer—both of whom testified against him in the case—and failed to report $15 million in income to the IRS from 2010 to 2014. That year, Manafort's "cash spigot" and "golden goose"—the pro-Russian president of Ukraine, Viktor Yanukovych, whom Manafort advised for more than a decade—was ousted and fled to Russia. Manafort's funds dried up, and that's when he began committing bank fraud to secure loans, according to prosecutors. "Manafort's scheme was not that complicated," Andres said on Wednesday. "But it was hidden for sure."
Manafort had a co-conspirator, too, Andres alleged: his longtime business partner, Rick Gates. "Manafort chose somebody to lie with and engage in criminal activity with," Andres said. "When you follow the trail of Mr. Manafort's money, it is littered with lies." He was referring to the alleged tax-and-bank-fraud scheme. But the government's repeated characterization of Manafort as a liar brought other, more recent episodes to mind. From July 2016 until Trump's inauguration, Manafort denied any contacts between the Trump campaign and Russia at least five times—denials that, in hindsight, seem brazen.
In March 2016, as his firm, Davis Manafort Partners, was losing hundreds of thousands of dollars a month—it reported a $1.2 million loss in 2016—and while he was reportedly in debt to pro-Russian interests by as much as $17 million, Manafort took on a pro bono role with the Trump campaign. A month later, he appeared to offer the Kremlin-linked Russian oligarch Oleg Deripaska access to the campaign in exchange for debt relief, and in May, he was told by the campaign's foreign-policy adviser, George Papadopoulos, that "Russia has been eager to meet Mr. Trump for quite some time and have been reaching out to me to discuss." In June, Manafort attended a meeting at Trump Tower with Russian nationals offering dirt on Clinton. In August, Manafort was forced to formally step down as campaign chairman after reports surfaced that he was allocated millions in off-the-books payments by Ukraine's pro-Russian Party of Regions. And throughout the campaign, Manafort remained in touch with with his longtime associate Konstantin Kilimnik—a Russian Ukrainian operative with ongoing ties to Russian intelligence services, according to Special Counsel Robert Mueller.
Manafort's lawyers have argued throughout the trial that Gates, who testified against Manafort last week, is the one with the credibility problem. "To the very end, he lied to you," Manafort's lawyer, Kevin Downing, told jurors in his closing statement on Wednesday. The 46-year-old protégé was the real mastermind behind the alleged financial crimes, Downing alleged, as he stole from "the cookie jar" and embezzled hundreds of thousands of dollars from Manafort's firm.
Prosecutors begged to differ. "This was not a cookie jar," Andres said. "This was a huge dumpster of foreign money" that Manafort helped to collect and then conceal. "Manafort knew the law but violated it anyway."
Trump and his allies have sought to downplay the trial, claiming that it has nothing to do with either the president or a conspiracy with Russia to win the election. But Manafort didn't suddenly change his lifetime m.o.—trading and leveraging influence for cash—when he joined the campaign. The Deripaska episode I described above, in which Manafort dangled access to the campaign in an attempt to "get whole" with the Russian oligarch, is just one example. According to the government, Manafort also offered a banking executive at Chicago's Federal Savings Bank a position on the Trump campaign in exchange for help in obtaining approximately $16 million in loans, even though other Federal Savings Bank employees "identified serious issues" with Manafort's loan application.
The president, for his part, may already be laying the groundwork for a pardon. Earlier this month, he called Manafort a "Reagan/Dole darling" and claimed he was being treated worse than "legendary mob boss, killer, 'Public Enemy Number One,'" Al Capone. "Now serving solitary confinement—although convicted of nothing?" Trump wrote. "Where is the Russian Collusion?" Manafort's trial, as dull and tedious and disappointing as it was to many, answered that question again and again.