The GOP Is in Triage Mode in Ohio
President Trump is trying to keep a very red House seat in Republican hands in a special election on Tuesday.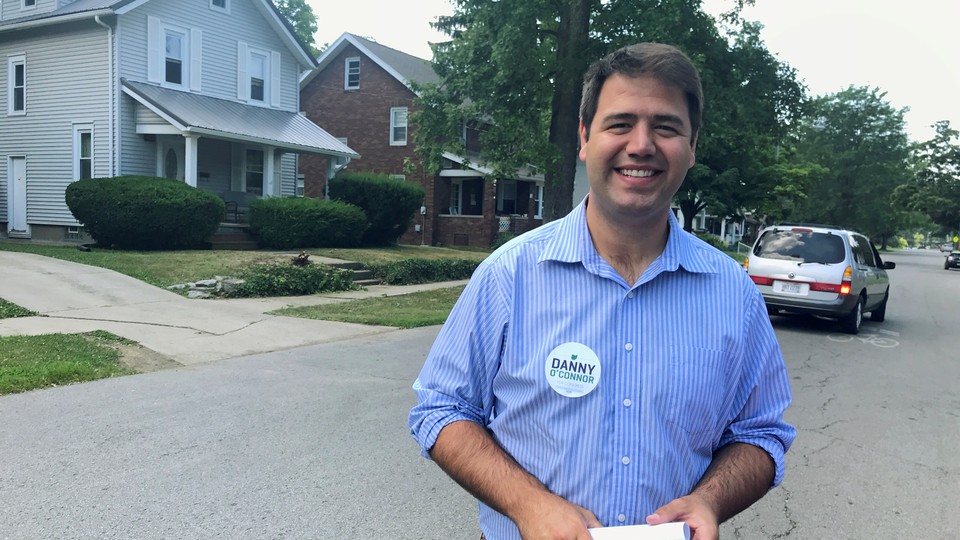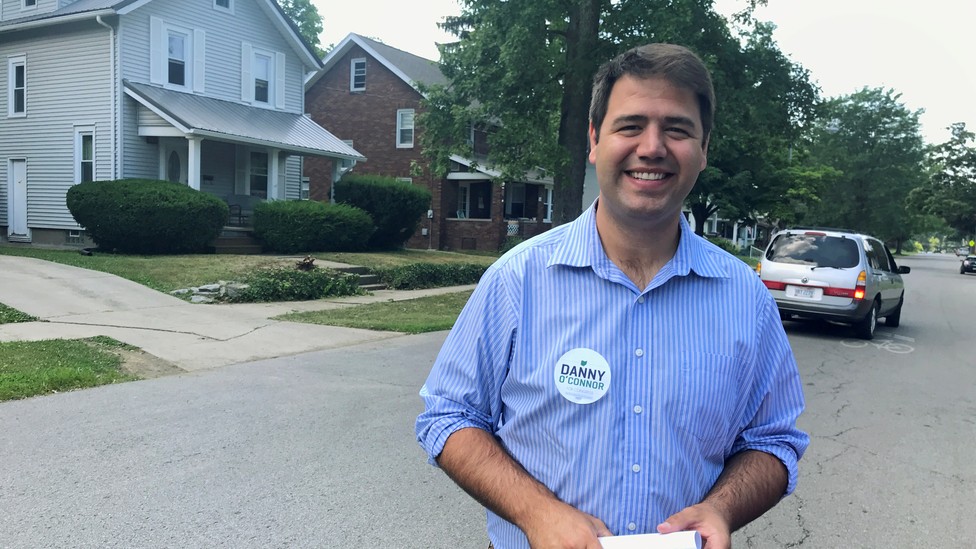 In a normal political year, the kind that was once routine in America, a Republican president would not feel compelled to parachute into a heavily Republican congressional district to help drag a Republican candidate across the finish line. A Republican vice president would feel no need to stump there. The National Republican Congressional Committee would feel no need to advertise there. The Congressional Leadership Fund, an arm of the Republican House speaker, would feel no need to send canvassers there.
Yet on the eve of a special House election, the GOP is frantically performing emergency triage in an Ohio district that normally would be in the bloom of health. The party is justifiably terrified of suffering another electoral humiliation—a nail-biting win, or an upset loss that mirrors what happened in a red Pennsylvania district five months ago—because bad news on Tuesday night would fuel Republican fears of a blue wave in the November midterms. It's already a symbolic triumph for the Democrats that the GOP is spending so much political capital on a region that has been red since 1983.
Donald Trump is slated to stump Saturday for the Republican candidate Troy Balderson—in a Thursday tweet, Trump mistakenly lauded the "fantastic" candidate Steve Stivers, a different Ohioan who's already in Congress. It's a potentially high-risk move because unlike in 2016, when Trump won Ohio's 12th congressional district by 11 percentage points, he's toting baggage. His local approval rating has sagged to 46 percent (with 49 percent dissenting) in a district where Republican registrants outnumber Democrats by roughly two to one. Indeed, Trump's presence could further stoke turnout for the Democrat Danny O'Connor, who has raised more money than Balderson and is virtually tied in the polls, having surged from 10 points behind over the past month. The demographics suggest that Balderson should prevail, but a tight win would bring Republicans no relief. If this seat is so imperiled, what does that portend for the swing districts elsewhere in the fall?
These developments—in the suburbs and farmland north and east of Columbus, a House district gerrymandered by state Republicans in 2011 to help ensure double-digit victories—are eerily reminiscent of the recent Pennsylvania special election that flipped a district from red to blue. Trump flew in to boost the imperiled Republican candidate, banking on the fact that he'd won that district by a landslide in 2016, apparently not knowing or caring that his local approval rating had plunged to 44 percent. Then, as now, Mike Pence showed up in a district where he normally need not have bothered. Then, as now, Paul Ryan's campaign group flooded the district with foot soldiers.
Then, as now, the seat had been vacated by a Republican incumbent. In Pennsylvania, the longtime congressman Tim Murphy had quit after he was outed for allegedly telling his extramarital mistress that if she was pregnant, she should get an abortion; in Ohio, the longtime congressman Pat Tiberi quit last fall for a more mundane reason, to take a business job. Then, as now, the Republican seeking the open seat was a state legislator. Then, as now, the Republican candidate dodged the issue that the GOP had originally planned to tout as its marquee talking point of 2018: the new tax-cut law. Balderson hasn't stumped for the law in Ohio, because the district's voters don't believe they'll reap its bounty; in the latest Monmouth University poll, only 23 percent said they expect their taxes to drop.
Perhaps most importantly, then, as now, the Democratic candidate was a newbie who sought to fit the district. In Pennsylvania, the ex-Marine Conor Lamb (ridiculed by Trump as "Lamb the Sham") hewed to moderate positions. He wanted to keep Obamacare but opposed single-payer universal care, he supported the Second Amendment, and he distanced himself from the GOP's favorite bogeyperson, Nancy Pelosi. And in Ohio, O'Connor—the elected recorder of Franklin County—has opposed single-payer, supported the Second Amendment, distanced himself from Pelosi (calling for "new leadership in both parties"), and opposed the abolition of the U.S. Immigration and Customs Enforcement agency (abolishing ICE is de rigueur in liberal circles). In addition, Lamb and O'Connor pledged to protect Medicare and Social Security from Republican cuts—in O'Connor's words, "every dime."
This is the 2018 Democratic template for competing in red districts: Ignore Trump (because base Democrats and Democrat-leaving independents already dislike him), and stick to issues that could draw converts from the other side. Lamb needed crossovers to pull off his narrow upset; O'Connor, in order to beat Balderson, will need to score heavily with college-educated suburbanites (especially women) in populous Franklin County who normally vote GOP. He may have reason to hope. In Franklin County, the early voting, tallied near the end of July, was overwhelmingly Democratic. That's his backyard, home to one-third of the district's electorate—including a large pool of what's known locally as "Kasich Democrats."
Those are the folks—typically affluent, educated moderate Republicans—who voted for Ohio Governor John Kasich in the state's GOP presidential primary. Kasich rallied anti-Trump Republican voters and won on his home turf. It's possible that O'Connor can persuade some of those voters to reject Trump for a second time, to essentially send a message by voting blue in the special election.
But there's one complicating factor, a classic case of strange political bedfellows: Kasich, who continues to assail Trump (most recently for Trump's behavior in Helsinki), decided in the campaign's final week to endorse Balderson in a TV ad. Kasich's pitch for tribal loyalty could be pivotal in a close Tuesday tally. As Paul Beck, a political science professor emeritus at Ohio State University, told the conservative Washington Times on Wednesday, "The common enemy in the Democrats are going to bring people together who ordinarily don't agree on much of anything."
Still, nobody expects Kasich to join Trump on the Balderson stump. Given O'Connor's grassroots surge, it's clear that this race—in a district rated seven points more Republican than the national average—would not be remotely competitive if not for Trump. Oblivious to the dangers of a backlash, he put himself front and center in the losing Pennsylvania race, and now he's doing it again. It's risky politics, but as the presidential scholar James David Barber pointed out five decades ago, character is destiny. And this particular president seems determined to make every race a referendum on himself.