The Dramatic Conclusion to Paul Manafort's Trial
After four days of deliberations, the jury came back with a split verdict, convicting President Trump's former campaign manager on eight of 18 felony charges.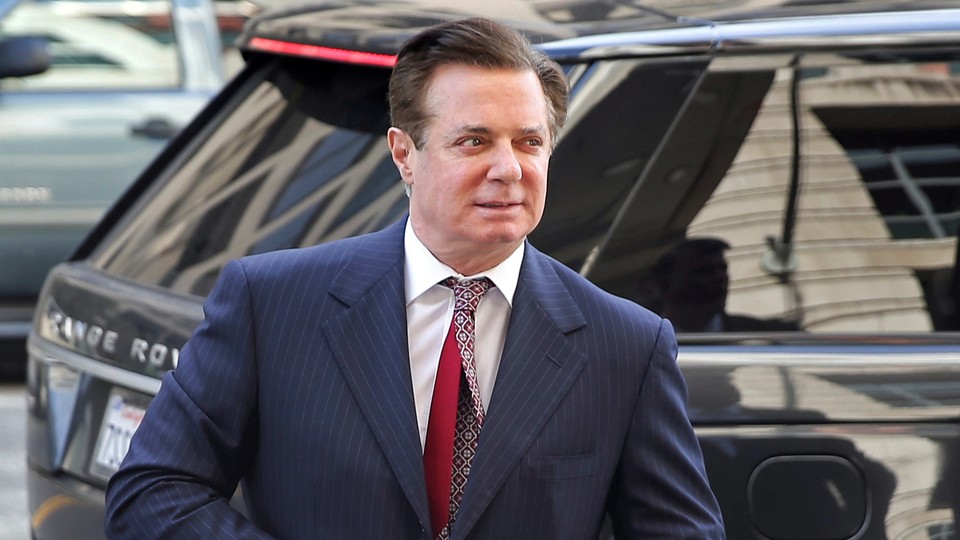 ALEXANDRIA, Va.—When Paul Manafort's trial on tax and bank fraud charges began over two weeks ago, it seemed like a slam-dunk case built on a straightforward paper trail that was unlikely to divide a jury. It was the first, and presumably the surest, prosecution to date by Special Counsel Robert Mueller's team. On Tuesday afternoon, just over halfway into their fourth day of deliberations, the jurors issued a stunning verdict that provoked audible gasps in the courtroom: They could not reach consensus on a majority of the charges, convicting Manafort on just eight of 18 felony counts against him.
The split verdict was perhaps foreshadowed by the jurors' request last week, in their first note to Judge T.S. Ellis III, for the court to redefine "beyond a reasonable doubt." Still, the eight guilty counts could put Manafort in prison for up to 80 years, in a vindication for the special prosecutor and a setback for President Trump, who has for months been loudly denouncing the probe as a "witch hunt."
Ultimately, the trial did not address allegations that Manafort helped the Trump campaign conspire with Russia during the election. But it demonstrated how far Manafort was willing to go to hide the financial relationships he built with Russian or pro-Russian oligarchs while working in Ukraine for over a decade. As prosecutors repeatedly characterized Manafort as a "liar," they painted a portrait of a dishonest and ruthless political operative and cast new light on Manafort's repeated denials that the Trump campaign had any contact with Russia—denials that turned out to be false.
As I've previously written, in March 2016, as his firm, Davis Manafort Partners, was losing hundreds of thousands of dollars a month—it reported a $1.2 million loss in 2016—and while he was reportedly in debt to pro-Russian interests by as much as $17 million, Manafort took on a pro bono role with the Trump campaign. A month later, he appeared to offer the Kremlin-linked Russian oligarch Oleg Deripaska access to the campaign in exchange for debt relief, and in May, he was told by the campaign's foreign-policy adviser, George Papadopoulos, that "Russia has been eager to meet Mr. Trump for quite some time and have been reaching out to me to discuss." In June, Manafort attended a meeting at Trump Tower with Russian nationals offering dirt on Clinton. In August, Manafort was forced to formally step down as campaign chairman after reports surfaced that he was allocated millions in off-the-books payments by Ukraine's pro-Russian Party of Regions. And throughout the campaign, Manafort remained in touch with his longtime associate Konstantin Kilimnik, a Russian Ukrainian operative with ongoing ties to Russian intelligence services.
His trial in U.S. District Court here across the Potomac from Trump's White House had its high points of testimony and moments of drama. The government accused Manafort of spending over $900,000 on clothing, including a $15,000 ostrich suit. And Manafort's attorneys forced his trusted right-hand man, Rick Gates, to admit that he stole money from Manafort and carried on an extramarital affair with an unnamed woman for years in London. Manafort peered at Gates with an icy stare during the hours he spent on the stand. But most of the testimony came from various financial professionals and was dry and technical, dealing with the intricacies of tax law and banking procedures.
Manafort was found guilty on five tax-fraud charges for filing false returns in 2010, 2011, 2012, 2013, and 2014. He was convicted on one count of failing to file a Foreign Bank and Financial Records document for 2012. And he was convicted of bank-fraud charges pertaining to the Federal Deposit Insurance Corporation and two loans between 2015 and 2016.
The judge declared a mistrial on 10 of the counts on which the jury declared it was unable to reach a consensus.
The jury took longer to deliberate than many expected, prompting Manafort's defense lawyers to tell reporters on Friday that they were feeling "good" about the trial's outcome. On Tuesday morning, the jury sent a note to Judge T.S. Ellis III asking what they should do if they could not "come to a consensus on a single count," raising questions about the possibility of a hung jury. But the judge allowed for a partial verdict, which has now made Manafort the only American charged by Mueller who's chosen to go to trial rather than cooperate.  He is still set to stand trial in Washington, D.C., in September on charges related to his work for Ukraine. The government's evidence list in the case is even more voluminous than that for the proceedings here in Alexandria.
The two-week trial in Virginia's Eastern District centered around allegations that Manafort had committed tax fraud while attempting to conceal his income from the IRS—and, when he went broke in 2015, fabricated income and assets to pad out fraudulent bank-loan applications. Prosecutors on Mueller's team painted Manafort throughout the trial as a liar who didn't pay his taxes. The former Trump campaign chairman stood accused of laundering millions of dollars through a complex network of offshore shell companies and of hiding more than $60 million in foreign bank accounts, all in an elaborate attempt to defraud his own government while working for pro-Russian entities in Ukraine.
"Mr. Manafort lied to keep more money when he had it," Andres said in the government's closing statement. "And when he didn't have any money, he lied to make more." Manafort "lied," Andres said, to his bookkeeper and his tax preparer—both of whom testified against him in the case—and failed to report $15 million in income to the IRS from 2010 to 2014. That year, Manafort's "cash spigot" and "golden goose"—the pro-Russian president of Ukraine, Viktor Yanukovych, whom Manafort advised for more than a decade—was ousted and fled to Russia. Manafort's funds dried up, and that's when he began committing bank fraud to secure loans, according to prosecutors. "Manafort's scheme was not that complicated," Andres said on Wednesday. "But it was hidden for sure."
The defense, meanwhile, cast Gates, Manafort's longtime business partner, as the real villain. "To the very end, he lied to you," Manafort's lawyer, Kevin Downing, told jurors in his closing statement last week. Manafort's 46-year-old protégé was the real mastermind behind the alleged financial crimes, Downing claimed, as he stole from "the cookie jar" and embezzled hundreds of thousands of dollars from Manafort's firm. Manafort and Gates were indicted in October 2017 on charges including conspiracy to launder money and failure to file reports of foreign bank and financial accounts. Gates struck a deal with Mueller earlier this year.
Trump told reporters last week that his former campaign chairman was a "good guy" who'd been treated unfairly by Mueller. Deputy Attorney General Rod Rosenstein, a Trump appointee, had given Mueller the authority to investigate whether Manafort "committed a crime or crimes arising out of payments he received from the Ukrainian government." Trump's comments raised questions about a potential presidential pardon, which he declined to rule out.
Prosecutors and court observers held their collective breath last Thursday when jurors submitted a note to the court following several hours of deliberation. But jurors hadn't recached a verdict—they were asking the judge to clarify what "beyond a reasonable doubt" meant, and to explain the requirements for reporting a foreign bank account to the U.S. government. On Friday afternoon, reporters who jostled their way into the courthouse after receiving an email from the special counsel's office alerting them to another jury note were similarly disappointed: The jurors were just asking if they could leave early.
After a weekend off, during which jurors had been admonished to avoid all media and any conversation related to the trial, deliberations resumed on Monday and continued throughout the day, giving defense attorneys—and presumably Trump as well—some reasons for hope. But that was dashed by Tuesday's dramatic conclusion in a probe that has hung over much of Trump's presidency and made everything to follow a matter of fraught conjecture.