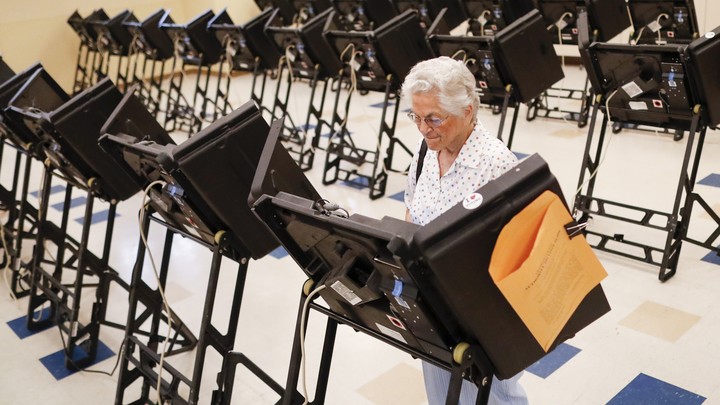 Written by Elaine Godfrey (@elainejgodfrey)
---
Today in 5 Lines
---
The Races We're Watching
Keep an eye on the special election in Ohio's 12th district, where President Trump won comfortably in 2016. The race has come down to Trump-backed Troy Balderson and Democrat Danny O'Connor, and recent polling shows it as a tossup. If O'Connor wins, it'll be a good sign of things to come for Democrats in November.
In Kansas, the Republican gubernatorial primary is one to watch. Against the recommendations of senior party officials, Trump endorsed Kris Kobach over current Republican Governor Jeff Colyer in a tweet on Monday.
Finally, in a test of progressive momentum, Michigan's Abdul El-Sayed, who has been endorsed by the Bernie Sanders wing of the party, is challenging Democratic establishment-backed candidate Gretchen Whitmer. While he's the clear underdog in the race, El-Sayed is hoping to become the nation's first Muslim governor.
---
Today on The Atlantic
---
Snapshot
---
What We're Reading
What Paul Ryan Leaves Behind: The House speaker has spent years fashioning himself as a top Republican thought leader; now he's leaving office with his party in the hands of a troll. (Mark Leibovich, The New York Times Magazine)
'Our Politics Is Fashion': Welcome to House of Bijan, the luxury men's clothing store where former Trump campaign manager Paul Manafort spent more than $500,000 in five years—using wire transfers from a foreign bank. (Yasmin Khorram, CNN)
Who's Next?: Apple, Facebook, and YouTube all removed content from the conspiracy site Infowars on Monday for violating their hate speech policies. That's a problem, writes Ben Shapiro, because what constitutes "hate speech" is extraordinarily vague. (Daily Wire)
The Tip of the Iceberg: The prosecution of Paul Manafort highlights a much broader issue: "The U.S. government has been massively underinvesting in enforcement and prosecution of white-collar crime." (Catherine Rampell, The Washington Post)
---
Visualized
So...What Happened?: Here's how the administration's accounts of the 2016 Trump Tower meeting have shifted over time. (Larry Buchanan and Karen Yourish, The New York Times)
We want to hear what you think about this article. Submit a letter to the editor or write to letters@theatlantic.com.
Elaine Godfrey
is a staff writer at
The Atlantic
, where she covers politics.