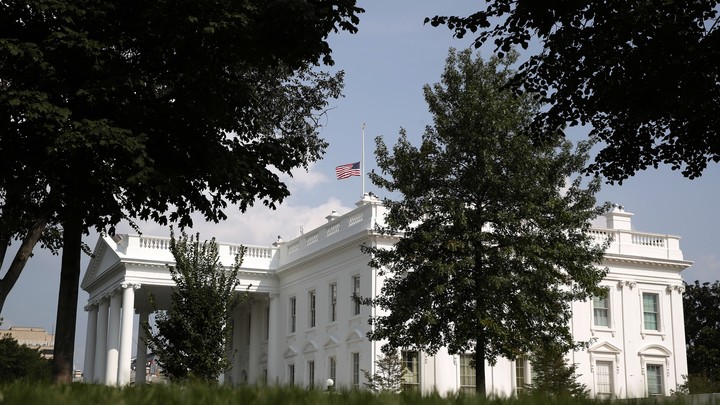 ---
Remembering John McCain
The Road Not Taken: McCain's run for the presidency in 2000 showcased a reform-oriented, Roosevelt-style conservatism that's since been lost, writes Ronald Brownstein.

He Would Ask Us To Do Better: McCain was an imperfect leader, a committed public servant, and a brave man who attempted to make the world a better place, reflects Kori Schake, senior policy adviser for McCain's 2008 campaign.

Defending the Powerless: Because McCain despised men who abused their power, Jeffrey Goldberg writes that he'd pass the Anne Frank test.
---
Snapshot
---
What We're Reading
Child Abuse in a Catholic Orphanage: Former residents of St. Joseph's Catholic Orphanage say they were abused by the nuns over four decades—an accusation that has been leveled against many Catholic orphanages. (Christine Kenneally, BuzzFeed News)
Preparing for the Worst: Leaked internal documents show Republicans compiling an extensive list of probes the Democrats might launch if they flip the House. (Jonathan Swan, Axios)
What's Happening with Bill? Democrats worry that Florida Senator Bill Nelson's fundraising deficit and relaxed attitude will hand the seat over to Republican Rick Scott, and cost them any chance of winning back the Senate. (Burgess Everett and Marc Caputo, Politico)
#ByeBob: St. Louis progressives used brunches and a hashtag to campaign against Bob McCulloch, the prosecutor who declined to charge the Ferguson police officer who shot Michael Brown in 2014. It worked. (Jacqui Germain, The Nation)
---
Visualized
'The System Is Broken': In many U.S. jails, having a mental illness can be a death sentence. (Gary A. Harki, The Virginian-Pilot)
We want to hear what you think about this article. Submit a letter to the editor or write to letters@theatlantic.com.
Elaine Godfrey
is a staff writer at
The Atlantic
, where she covers politics.