Ted Cruz's Basketball Charm Offensive
The much-maligned Texas senator is using the game to remake his image in the middle of his reelection campaign. For real?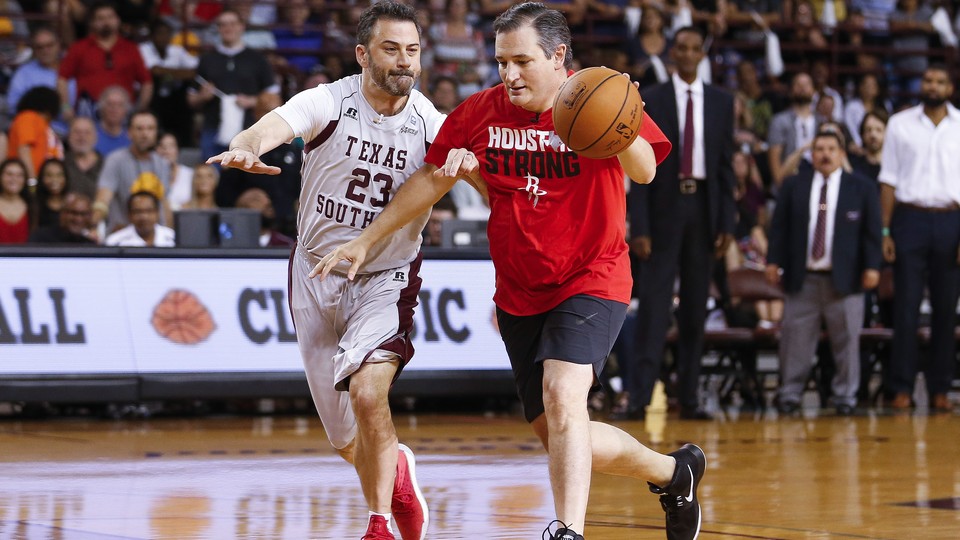 Ted Cruz drains three 15-foot jumpers in a row. Swishes them all from the top of the key—and with a hand in his face, no less. He's feelin' it, and looks over at me. I'm sort of stunned. We're playing two-on-two on a secret, members-only court deep inside the Dirksen Senate Office Building. It's all part of an improbable, choreographed charm offensive to humanize the much-maligned junior senator from Texas. Through basketball. I know, it sounds ridiculous. The guy's got none of Barack's moves, or cool, and if he ever gets to be president, the NBA champs probably aren't coming for the White House visit. Still, here we are, me and Ted playing two of his staffers to 11, and the senator wants the ball. Again.
There is an urgency to all this.
Cruz is running this year to hold onto his Senate seat against the three-term congressman from El Paso, Beto O'Rourke. A flurry of flattering profiles has labeled O'Rourke as charismatic, full of youthful energy—handsome, too. He holds running town halls where he jogs three miles and chats with voters. Politico called the buzz around his campaign "Beto-mania."
It's also personal.
Cruz is still pissed at Jimmy Kimmel for ragging on him so mercilessly after one of the great gaffes of the 2016 election season. It was April, and Cruz had punted on a slew of primaries in the Northeast, betting his flagging presidential hopes on Indiana and its heartland sensibilities. He was visiting the famous gym from Hoosiers in Knightstown for a campaign event. In the movie, Gene Hackman plays the coach of the tiny Hickory High's basketball team that makes the state finals. They travel to Indianapolis and its massive arena, and he pulls out a tape measure to check the height of the basket. Ten feet, he says to his team, just like in their home gym.
Cruz had a staffer at the hoop ready with a tape measure to make the same point—the height of the hoops in Indiana and New York City are the same, and their citizens have the same say. Instead, Cruz did the unthinkable: He called the hoop a basketball ring, something nobody who has ever played basketball, much less seen a basketball hoop, has ever called it. Kimmel devoted an entire man-on-the-street segment to ridiculing Cruz. Stephen Colbert gave him a sarcastic pep talk: "There's no crying in sportsball."
Cruz hates the way the late-night TV hosts fawn over liberals and skewer conservative Republicans. "Watch any Republican go on a late-night TV show," he says. "With a Democrat they laugh, talk about fun topics, they have a great time. When a Republican goes on, these late-night hosts suddenly want to be Tim Russert, questioning you on all the issues. That's not hard, we do that all day, it's not complicated. But the whole point of those shows is to not talk about the latest bill in the Senate." There are two basic caricatures of Republicans by the liberal media, he tells me: "We're either stupid or evil."
The genesis of this counterintuitive basketball image makeover was Game Seven of the Western Conference Finals between the Houston Rockets and the Golden State Warriors in May, when Cruz, no crowd favorite in his hometown, tweeted a picture from his seats before the game. It reeked of classic political theater. Hillary Clinton wears a Yankees hat, then a Cubs hat; John McCain tells a story of how the Green Bay Packers helped get him through his time as a POW, then changes it to the Steelers when he's in Pittsburgh.
Cruz promises me that's not him. He played basketball in high school (he was a benchwarmer) and he's been a Rockets fan his whole life. In 1994, he was at Game Seven of the NBA Finals when the Rockets beat the Knicks. "John Starks was 0-for-11," Cruz says with a grin (actually, he was 2-for-18, but close enough). Ask him about his hard-luck Rockets, and he says he wants a third scorer next year. "There's been a lot of chatter about Carmelo Anthony, which I like. That would take a lot of pressure off Harden and Chris Paul." (Anthony agreed to sign with the Rockets this week.) LeBron James signing with the Lakers? "LeBron going to L.A. is so LeBron. Hollywood." (The last word—Hollywood—drips with disdain.) Whether the Golden State Warriors' dynasty is good for the NBA? "From the Celtics to the Lakers to the Bulls, the NBA has often had dominant teams. You hope it pushes other teams to get better." (That was a yes.)
But back to Cruz's Game Seven tweet. Kimmel started in on him again, joking on TV that the Rockets lost the series because he was at the game. Then he played the "basketball ring" footage for good measure. It stung. Cruz had had enough. On Twitter, he challenged Kimmel to a game of one-on-one, a chance to finally punch back at a liberal gadfly who'd been skewering him for years. "My wife's got the lights off, telling me to come to bed," Cruz says. "I tell her I can't. I'm in the middle of a Twitter war with Jimmy Kimmel!"
Before they played at Texas Southern University in Houston in June, Cruz spent weeks practicing with members of his staff. They played one-on-one and held three-point shooting contests. I ask Cruz's coach in the game, the former University of Houston star Lynden Rose, how badly Cruz wanted to win. His answer: "We got a saying in the good old Baptist Church, 'Vengeance is mine,' said the Lord."
Something akin to that impulse has created no small image problem for the senator, who is seen by those on the left—and sometimes those in his own party—as smarmy and selfish. Cruz's reputation was cemented in 2013 when he helped shut down the federal government in an ill-fated attempt to defund Obamacare. Republicans, thanks mostly to Cruz, took the heat for the shutdown. At the Republican National Convention in 2016, Cruz famously refused to endorse Donald Trump, which seemed for a while like a resolute statement of principle until he came around and endorsed Trump after all. John Boehner called Cruz "Lucifer in the flesh" during the presidential campaign. "If you killed Ted Cruz on the floor of the Senate, and the trial was in the Senate, nobody would convict you," Lindsey Graham, the senator from South Carolina, once quipped during a roast.
This image problem haunts him to some extent in his race against Beto O'Rourke, who exudes charisma, has mastered Facebook fund-raising, and exhibits an innate flair for mixing with ordinary Texans. "The most frequent adjective they use is Kennedyesque, usually with his hair blowing back in the wind," Cruz tells me, as he ran his own hand through his decidedly un-Kennedyesque hair. O'Rourke is still an underdog to unseat Cruz, but he is more than a pretty face. Earlier in July, he announced a fund-raising haul of more than $10 million in the past three months—more than double what Cruz brought in. The Cook Political Report has moved the race from "likely Republican" to "lean Republican." "If you would have told me a year ago, O'Rourke would have $10 million in the bank, I would have called you crazy," says James Henson, the director of the Texas Politics Project at the University of Texas at Austin.
Part of the Cruz pushback against the O'Rourke hype machine is basketball. The Tuesday night games in Dirksen began in 2016 after the RNC as a way to build staff camaraderie, long before the basketball charm offensive kicked into high gear or the one-on-one showdown with Kimmel. Soon, Cruz began recruiting colleagues to join the game, a sort of soft diplomacy that earned its own share of derision when Politico first reported the game's existence. Deadspin published a post requesting photos of Cruz's "soup-fueled athletic form." Cruz responded with a joke, tweeting a picture of his doppelgänger, the former Duke star Grayson Allen; Deadspin, through its Twitter account, told the senator to "Go eat —." (It was crude.)
Still, the Dirksen game has picked up steam. Senators Dan Sullivan, Brian Schatz—a Democrat—and Tim Scott have all played, as has Jared Kushner. (When I asked Cruz if Kushner had crashed the boards, he says, "Nah, he's more of a jump shooter.") Jon Tester, a Montana Democrat, was supposed to play one night, but, according to Cruz, he mistakenly showed up to the court at 6 a.m., instead of 6 p.m. More recently, Cruz has been pushing Vice President Mike Pence, who had a basketball rim installed at his residence, to play. Scott described Cruz's game as similar to his politics: aggressive. "He's not afraid to give you an elbow as he drives on you," he says. Sullivan told me that when his staff played against Cruz's staff and won a couple of games, Cruz wouldn't let them leave until his office won a game. "He's a competitor," Sullivan says. "He doesn't like to lose."
As I saw for myself much later. Cruz invited me to play after I told him I wanted to write about his affinity for basketball, which I was, of course, deeply skeptical about. We played two of his aides—Austin Smithson and Bryan Bashur—on a tennis court with a basket affixed to the back wall in the upper reaches of Dirksen. The pickup game was by no means an artful display of basketball—I haven't played regularly since intramurals in college—but it was lively. Cruz is a chirper on the court, his nasally Texas twang punctuating most plays with commentary. "Nice bound!" he likes to say after someone grabs a tough rebound. "Nice take!" after a drive he likes. "Pretty, pretty, pretty," is another favorite line. During our game, he'd occasionally maul the guys who work for him—some of them who are half his age—as they drove by him. "The hand's part of the ball," he says sheepishly after one such foul. The worst habit Cruz has is on defense when he often claps at the man he's guarding when he takes a jump shot. For the uninitiated, this is without question a cheap move—the pickup-basketball equivalent of not tipping the bellhop. Despite that, I found Cruz to be the consummate teammate. He screened when we had the ball; he switched on defense, always calling out which direction the screen was coming from. And he was a willing passer. He and I won a few games together and after one play, in which he drove the lane and scooped up what almost looked like a finger roll, a thought dawned on me: I'd play basketball with Cruz even if I weren't writing about him.
And I guess I'm not the only believer. On the Dirksen elevator, as we headed to the pickup game, Senator Ed Markey of Massachusetts hopped on, looked at Cruz, and asked him what was going to happen with Clint Capela, the Rockets free-agent center. "We shouldn't be nickel-and-diming him," Cruz said in reference to a potential contract. He then looked at me, "Though I don't know how it's nickel-and-diming when we're talking about millions of dollars." (Capela recently resigned with the Rockets.)
Cruz's matchup with Kimmel got tons of local and national coverage and raised $80,000 for an education nonprofit and Texas Children's Hospital. The basketball itself, though, was brutal. The game quickly devolved into a contest between two overweight, middle-aged guys throwing up bricks and groping each other on defense like college kids on the dance floor at a frat party. It was supposed to go to 15, but baskets were so hard to come by, Cruz and Kimmel agreed to play to 11. The crowd at the Texas Southern University gym was mostly pro-Kimmel, and one reporter who covered it told me the game took so long the place had mostly emptied out by the end. Kimmel, never passing up the chance to dunk on Cruz, called it the Blobfish Basketball Classic because of Cruz's perceived resemblance to the fish—big nose, sagging skin, etc. But in the end, the joke was on him. Cruz, improbably, won, 11–9, when he nailed a long jumper from the wing with Kimmel's hand in his face.
Would any of this matter to voters in his narrowing Senate race against O'Rourke, which recent polling has him now leading by only single digits in one of the country's most Republican states? Ari Fleischer, George W. Bush's former press secretary who has also done consulting work for numerous pro-sports teams and leagues, told me basketball—something everyone can relate to—could make a small, but real, difference in the big mix of politician favorability, but only if Cruz is genuine. There was always the risk of a John Kerry windsurfing moment. I waited on the phone while Fleischer called up the video from the Kimmel game. "I'm impressed," Fleischer said. "He looks good!" Glenn Smith, a longtime Democratic operative in Texas who helped elect Ann Richards, the last Democratic governor of the state, was having none of it. He laughed out loud when I asked him about Ted Cruz the basketball player. "He's awkward and not charming and it's too transparent to work," he said, adding, "He's not Barack Obama."
Cruz is smart enough to recognize that much. His basketball charm can only work as a weekend warrior, not as a brand of cool. "There's no doubt Obama spent his time in public office as a hip, Hollywood celebrity hanging out with Hollywood celebrities, NBA stars, movie stars," he told me. "I don't know any NBA stars, that's not who I hang out with on weekends." Given the outspoken progressive politics of many of today's NBA stars, Cruz also knows he couldn't run with that crowd, even if he wanted to. (For what it's worth, I asked Cruz if he could take Obama in a game of one-on-one. His answer: "I would play and I would certainly lose. But I am sure he wouldn't be willing to play with me.")
In his office, Cruz showed me the highlight video his campaign put together—"Buckets and Blocks: Keeping Jimmy Kimmel from Going Left" was the tagline. Cruz leaned back in his swivel chair and put his hands behind his head, as he watched himself drive past Kimmel, pop a jump shot over Kimmel, then scoop in a layup around him. Then came the blocks. Cruz stuffed Kimmel with one hand, then with two hands. Cruz chuckled. "For the next 50 years, Hollywood celebrities are going to give Jimmy grief for losing to Ted Cruz," he said. Then, he added with great satisfaction: "You'll see this on tedcruz.org."
Now that I'd become a begrudging believer, I still had one lingering question: How did it happen? How did Cruz, someone I'm now prepared to acknowledge is a legitimate basketball fan, call the hoop a ring in Indiana? He immediately put his head in his hands when I put the question to him. "Uhhhh," he groaned. "You want to talk about one of the greatest travesties of life?" He paused for several seconds. "I simply misspoke. When you're in a business where you say thousands if not millions of words on camera, every once in a while you stumble over a word. I am a die-hard hoops fan, and, yes, I know what the rim is." As he was lamenting the moment, he suddenly stopped, smiled, and told me he had something to show me. He disappeared for a moment and returned with the trophy Kimmel had made for the event. "Bragging rights," Cruz said. The inscription on the trophy read, "Lord of the Ring."