Even Scott Walker Says He's 'at Risk' in Wisconsin
Polling shows a tight race for governor, and a series of special elections has hinted at Trump fatigue in big swings for Democrats.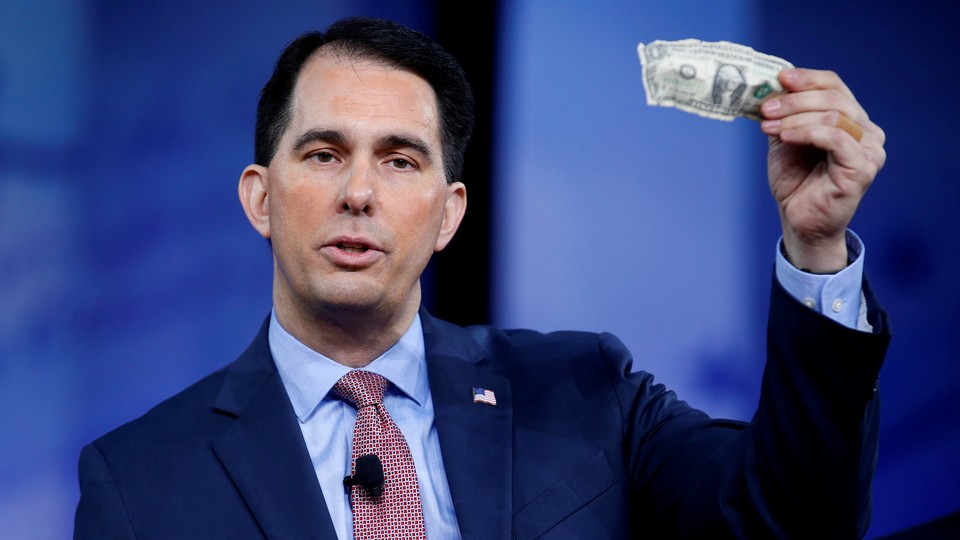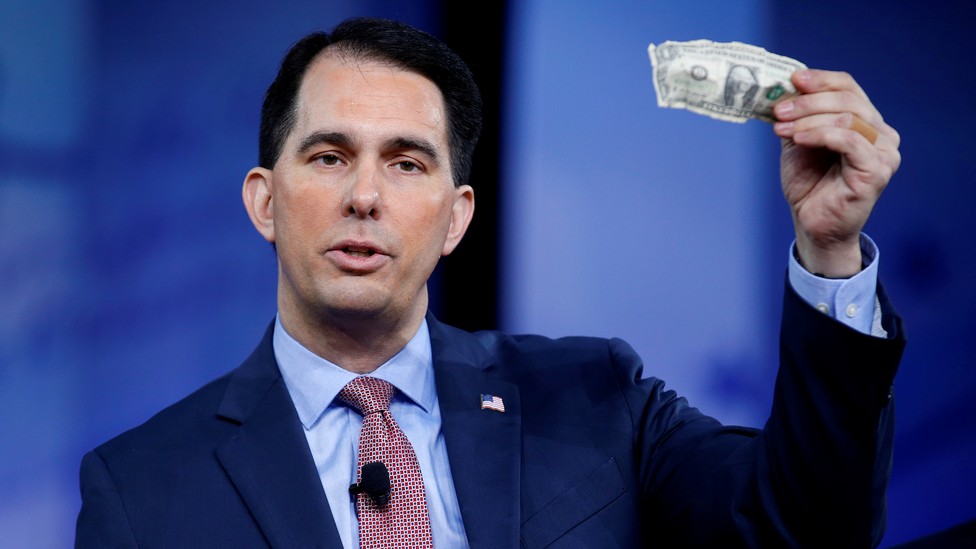 It might seem odd to assess the Wisconsin gubernatorial race by channeling Herman Melville, but consider Ahab's outburst as he prepared one last time to confront his elusive prey: "Towards thee I roll, thou all destroying but unconquering whale; to the last I grapple with thee; from hell's heart I stab at thee; for hate's sake I spit my last breath at thee."
That's basically the Democratic lament about Scott Walker, the Republican governor who these past seven years has snuffed Wisconsin's proud progressive tradition and transformed the state, with generous Koch brothers largesse, into a hotbed of conservatism. Three times the Democrats have tried and failed to harpoon him—in 2010, in 2012 (when they forced him into a recall election), and in 2014. Walker has never drawn more than 53 percent of the vote, but in this competitively polarized climate, 53 percent is solid. And after Walker failed miserably as a national candidate, he fell in line for Donald Trump—and his state tilted red in the presidential tally for the first time since Ronald Reagan.
But this autumn—with Walker on the ballot for a third term—may really, really be different. Or that's what Democrats are telling themselves.
They're happy that one of the national handicappers, Larry Sabato's Crystal Ball, rates the race a "toss-up." They're generally happy with their newly nominated candidate, the state education chief Tony Evers, who at age 66 declares, "I beat cancer and I can beat Scott Walker." They're juiced about their lieutenant gubernatorial candidate, Mandela Barnes (who bills himself on Twitter as "The Other Mandela"), a young black community organizer who can potentially stoke minority turnout. They're monitoring Trump's weighty baggage, and finding ample evidence that grassroots Democrats are strongly bestirred. And they're encouraged by the polls, which suggest that Walker's tempestuous revolution—disempowering labor unions, slashing public-school aid (until this year), cracking down on abortion, allowing the concealed carry of firearms, and much more—might finally be nearing its denouement.
Might is the caveat. Another nonpartisan handicapper, The Cook Political Report, says that nine Republican gubernatorial seats are endangered or vulnerable this fall—but it thinks Walker is safer. He may have been a bad presidential candidate—insisting that his battles with Wisconsin's public unions had prepared him for confronting ISIS; quitting the race four months before the Iowa caucuses—but at home he's a proven survivor. Especially with help from the conservative financial network, which enabled him, during the first six months of 2018, to raise twice as much money as the entire Democratic primary field.
Indeed, the Koch-connected Americans for Prosperity Wisconsin has just announced a $1.8 million ad blitz on his behalf. Walker is so tight with the billionaire Kochs that in 2011, when a prankster called his office and claimed to be David Koch, a duped Walker got on the phone for a 20-minute conversation. Democrats were amused, but not enough to dampen their fury over his anti-union assaults. During his first term, he dramatically curbed collective bargaining for most public employees, including teachers; during his second term, he signed a law that makes the paying of union fees voluntary—which financially weakens unions and potentially curbs their election clout.
All told, if Wisconsin voters tell Walker to take a hike in November, that alone will be evidence that a national blue wave is cresting. But such evidence is scant at the moment. The NBC News/Marist pollsters recently swooped in and put Evers on top by a whopping 13 points. But the new in-state survey by the Marquette University Law School—released Wednesday—says that Walker and Evers are deadlocked among likely voters at 46 percent; two months ago, before Evers won his Democratic primary, Marquette had Evers up by four points. Walker's current approval rating is 50 percent with 47 percent dissenting, which are decent stats for a two-term incumbent who marinates in controversy.
In fact, Wisconsin's registered voters by a wide margin—53 to 41 percent—say the state is moving in the right direction. Which, in Walker's case, is a rightward direction. It's a noteworthy achievement for a conservative politician, given the track record of Wisconsin's progressive forebears, who nurtured public-union collective bargaining (the first state to do so, in 1959), crafted the nation's first workers' compensation law (1911), and drafted the national bills that became the Social Security Act and the Dependents' Medical Care Act, better known as Medicare.
Not surprisingly, John Nichols, the longtime progressive Wisconsin commentator, warns that beating Walker in 2018 "is going to be an all-hands-on-deck project." And Dan Kaufman, the author of the new book The Fall of Wisconsin (tracking Walker's trumping of the progressive tradition), is similarly cautious. He told me that Walker is "potentially vulnerable," but that was the extent of his bullishness. He said Walker's future may hinge on "how fatigued people are. There is fatigue with his divide-and-conquer politics, with the public sector getting hollowed out over six or seven years—in a state that prided itself on its public services … Walker and his conservative allies have tried to change the political culture of the state. The big question is, have they done it?"
Walker himself appears unsure. Four months ago, he freaked out on Twitter, warning his followers that "we are at risk of a #BlueWave in Wisconsin … We need conservatives to take action and stop a #BlueWave." The occasion was an April judicial election to fill an open seat on the state Supreme Court. Walker's candidate, also the National Rifle Association's candidate, was eviscerated by the anti-Trump progressive Rebecca Dallet. She won the statewide race by 12 points; it was the first time in 23 years that a progressive (Wisconsin's preferred synonym for liberal) had captured an open seat on the state's high court. Dallet did it by rolling up huge margins on Trump–Walker turf. Democrats were stoked to vote; Republicans were not. It's possible that Trump is yanking the rug from beneath Walker's feet.
For Walker, that election wasn't the first red flag. Back in January, there was a special state Senate contest in a rural red district. The Republican who vacated the seat to join Walker's administration had previously won it by a margin of 26 points, and had held it for 17 years. Trump in 2016 won the district's presidential vote by 17 points. But when the special election votes were tallied, the Democratic candidate swept it by nearly 10 points. That news also triggered a Walker tweet ("a wake up call for Republicans in Wisconsin"), and it prompted him to try something new: a plan to cancel future special elections.
Faced with the prospect of two more specials in June, to fill a pair of vacant legislative seats, he declared that such contests were "unnecessary" and "a waste of taxpayer resources." Translation: He feared more GOP losses. The state courts swiftly slapped him down. In April, an appeals judge stated the obvious: "Representative government and the election of our representatives are never 'unnecessary,' never 'a waste of taxpayer resources.' [Walker] has an obligation to follow the law." He did. The June specials, in GOP districts, were duly held. One of the seats flipped to the Democrats. Similar red-to-blue flips have been endemic nationwide.
So Trump is the wild card. Kaufman, the author of the new Wisconsin book, said, "You take all those recent races together, and you do see some Trump fatigue"—as evidenced by the unusually high Democratic turnout in normally red enclaves—"and remember that Walker has tied himself closely to Trump." But there are caveats. The new Marquette poll says Trump's statewide approval rating among registered voters is 45 percent; that's higher than the national average, and suggests that Trump may not be a drag on Walker in November. And it's entirely possible that voters with qualms about Trump could stick with Walker. After all, the statewide jobless rate is low, business interests with tax breaks are donating to Walker's war chest, and fewer than 10 percent of Wisconsin workers are unionized anyway.
But the Democrats will wield their harpoon nonetheless—hoping that this time, the fourth time, they can snag their prey in a rising blue wave.