The White House's Striking Equivocation on a Trump N-Word Tape
The president's spokeswoman has risked her credibility for him time and again, but on Tuesday she wouldn't give a direct answer about whether he was recorded using a racist slur.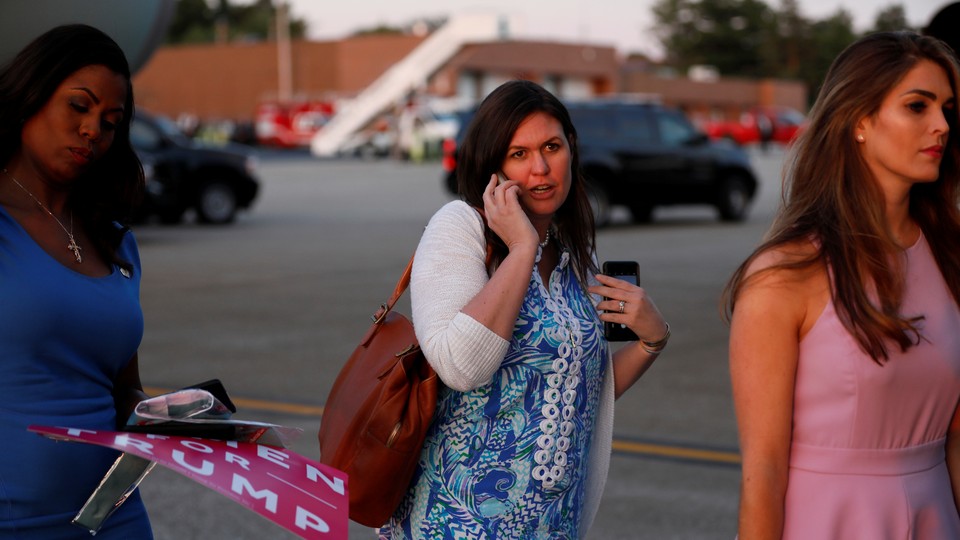 The request didn't seem all that difficult: Could President Donald Trump's spokeswoman say that he didn't use the N word on tape?
Yet time after time during Tuesday's briefing, White House Press Secretary Sarah Huckabee Sanders parried the question, refusing to give a simple "yes" or "no." Rather than answer the question herself, she repeatedly directed reporters to the president's tweet from Monday, in which he said that the Apprentice producer Mark Burnett "called to say that there are NO TAPES of the Apprentice where I used such a terrible and disgusting word as attributed by Wacky and Deranged Omarosa. I don't have that word in my vocabulary, and never have." Here's the exchange:
Reporter: Sarah, have you asked the president if he ever used the N word?

Sanders: The president addressed that question directly via Twitter. I'd refer you back to him. And I can certainly say I've never heard him use that term or anything similar.

Reporter: You asked him directly?

Sanders: I didn't have to, because he addressed it to the American people all at one time.

Reporter: Why haven't you asked him directly?

Sanders: The president answered that question directly on Twitter today.

Reporter: Can you stand at the podium and guarantee the American people that they'll never hear Donald Trump utter the N word in any context?

Sanders: I can't guarantee anything, but I can tell you that the president addressed this question directly. I can tell you that I've never heard it.
Sanders's unwillingness to state straightforwardly that no tape exists is striking. The existence of such a tape has been rumored since before the 2016 election, producing fevered searches by journalists and even the actor Tom Arnold. On the one hand, given Trump's repeated race-baiting comments, it's not impossible to imagine him using the word. On the other, one would expect such a tape, if real, to have emerged by now.
Omarosa Manigault-Newman's new book has revitalized the rumors. In her book, out Tuesday, the former White House aide says she heard discussions about a tape. During her publicity tour, she claimed that she had actually heard the tape itself, after her book went to press. On Monday night, she released a recording in which Trump campaign staffers discuss something embarrassing the president had said.
Sanders's equivocation Tuesday is remarkable because it shows the White House is unwilling to categorically deny the existence of a tape—and might even be concerned that one exists. The president's avid tweeting about Manigault-Newman suggests that the speculation touches a nerve for him, too.
Of course, Sanders could just be speaking cautiously, sticking only to what she knows to be true. But that would be out of character because in the past she has shown little such circumspection. For example, she flatly insisted Trump was unaware of any payments to the adult-film star Stormy Daniels. When it became clear that was false, she limply told reporters, "We give the best information that we have at the time." Sanders can scarcely be acting to preserve her credibility, because she has little left to preserve.
Much of Tuesday's briefing centered around Manigault-Newman, much to Sanders's frustration. She accused the press of granting an unreliable source a platform, even though it was the president who had made her a household name on The Apprentice; hired her with a nearly $180,000 salary; and has been tweeting at length about her for two days. Yet Sanders also implicitly bolstered Manigault-Newman's credibility, saying she had no reason to doubt the authenticity of a recording that Manigault-Newman released of a phone call she had with Trump after her firing.
Sanders portrayed the president as being helpless to resist the gravitational pull of the Omarosa news cycle. "If the media continues to give it wall-to-wall coverage, the administration in some cases will be forced to respond," she said. "But I think that it would be better off for all of us to walk away and focus on some things that matter."
She couldn't avoid the story either, though. Sanders denied charges that Trump's attacks on Manigault-Newman—whom he has called a "lowlife," "dog," and more—were racially tinged, saying the president says vicious things about all people, not minorities. "I think if you did a comparison, he probably has a lot more nasty things out there about some other people," Sanders said.
She also claimed accusations of racism were politically motivated, saying that there had been no such accusations against Trump until he entered politics. In fact, such allegations have dogged Trump throughout his career. His first appearance in The New York Times, in 1973, came when the Department of Justice accused the Trump Organization of discriminating against black tenants. Between then and the start of his political career, there were numerous instances of race baiting, most notably his call for the executions of the Central Park Five. Then he launched his political career on the twin planks of denying Barack Obama's citizenship and warning of Mexican criminal immigration. As my colleague Adam Serwer writes, the nation doesn't need a tape of Trump using a racist slur to discern his view about minorities.
Given Sanders's history of easily debunked falsehoods, including claiming Trump had never been accused of racism before, reporters would not have taken her all that seriously if she had flatly denied the existence of a Trump tape. But her refusal to do so is more telling. Tuesday's press briefing doesn't give the public any more hard information about whether a tape exists, but the fact that someone who works closely with the president isn't willing to rule it out says a great deal about how staffers view him.