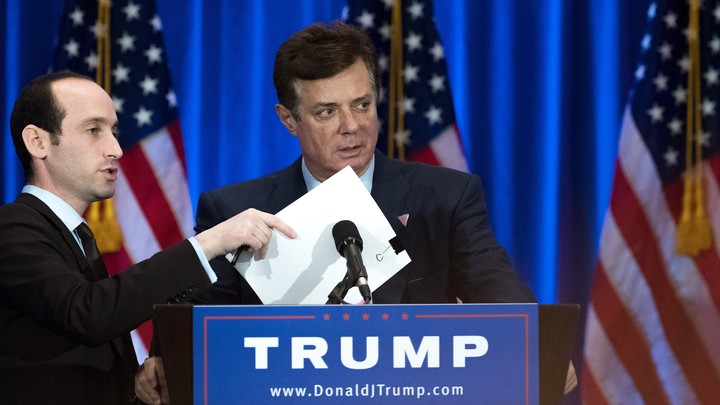 In each of three pardons President Donald Trump has issued since taking office, his justification for doing so has been virtually the same: The convictions were not "fair."
"He was treated very unfairly by our government!" the president said in May after pardoning the far-right commentator Dinesh D'Souza, who was convicted in 2014 for campaign-finance violations. "I have heard that he has been treated very unfairly," Trump said in April after pardoning Scooter Libby, the chief of staff to former Vice President Dick Cheney who was convicted of obstruction of justice and perjury in the Valerie Plame leak investigation. "Sheriff Joe was very unfairly treated by the Obama administration," Trump announced a year ago following his pardon of Arizona Sheriff Joe Arpaio, who had been convicted for violating a 2011 court order to stop traffic patrols aimed at immigrants. Trump has made similar comments about the trial and conviction of his former campaign chief Paul Manafort. "It's a witch hunt and a disgrace," Trump said of Special Counsel Robert Mueller's investigation, which had led to Manafort's conviction on Tuesday. "I feel badly for Paul Manafort, I must tell you."
His comments have raised questions about whether the pardon pattern will hold for Manafort. But there are important differences: Manafort, unlike D'Souza, Libby, and Arpaio, has no clear allies around Trump who have been pushing him to pardon the longtime GOP operative. The White House policy adviser Stephen Miller reportedly pushed hard for an Arpaio pardon, while Republican Senator Ted Cruz personally lobbied Trump on a pardon for D'Souza. The Fox News commentators Joe diGenova and Victoria Toensing—lawyers close to the White House who almost joined Trump's legal team—were early champions for a Libby pardon.
Senate Republicans including Lindsey Graham and John Cornyn have warned against a Manafort pardon, however, saying it could be disastrous politically. Sam Nunberg, an early Trump campaign adviser who supports the president and now works with the former White House adviser Steve Bannon, said he doesn't think there should be "any pardons before the midterm elections."
Perhaps more important are Trump's high personal stakes in pardoning Manafort, whose conviction arose out of an investigation into the president's own campaign. Rudy Giuliani, the president's lawyer, intimated as much in an interview with The Washington Post on Thursday. When Trump complained weeks ago that prosecutors were "beating up" Manafort in court and asked whether he should pardon Manafort, his lawyers advised him to delay a pardon until Mueller's probe is over. Trump said he would hold off, according to Giuliani, raising questions about whether he is dangling a pardon to keep Manafort from incriminating him.
"It would be dramatically different for Trump to pardon someone directly connected to the Russia investigation, as opposed to someone like Arpaio or a friend or an associate," said Seth Waxman, a white-collar criminal-defense attorney who served as a federal prosecutor in the U.S. Attorney's Office for the District of Columbia. "But dangling a pardon—essentially saying, 'A pardon will be available for you at some point down the line,' is tantamount to obstruction of justice and witness tampering." While Trump's stated intent for such a pardon would likely echo his previous comments about Manafort being treated unfairly—rather than a blunt admission that he is trying to prevent Manafort from cooperating with law enforcement—Mueller "will be looking circumstantially to determine whether there was criminal intent," Waxman said. "And the surrounding circumstances certainly suggest, if not probe, that Trump's intent is to prevent or cause a witness not to testify."
Adding to that circumstantial evidence, Waxman noted, is the disparity between Trump's treatment of Manafort, who has not been cooperating with prosecutors, and of Trump's longtime personal lawyer Michael Cohen, who has turned on the president and testified earlier this week that he had broken the law during the election at Trump's direction. Trump tweeted earlier this week that Manafort was "brave" for withstanding prosecutors' pressure, while accusing Cohen of making up "stories" to protect himself. "I feel very badly for Paul Manafort and his wonderful family," Trump wrote. "'Justice' took a 12 year old tax case, among other things, applied tremendous pressure on him and, unlike Michael Cohen, he refused to 'break'—make up stories in order to get a 'deal.' Such respect for a brave man!"
With the dangle of a pardon, Waxman said, "I don't know how much more a person can say besides, 'I'm doing this to stop him from testifying against me.'"
We want to hear what you think about this article. Submit a letter to the editor or write to letters@theatlantic.com.
Natasha Bertrand
is a former staff writer at
The Atlantic,
where she covered national security and the intelligence community.