Oregon's Hard Road for a Moderate Republican
Knute Buehler, a rare GOP moderate, thinks he can knock off Kate Brown, Oregon's not-so-popular Democratic governor. But the Trump winds could make it a hard year for ticket splitting in a blue state.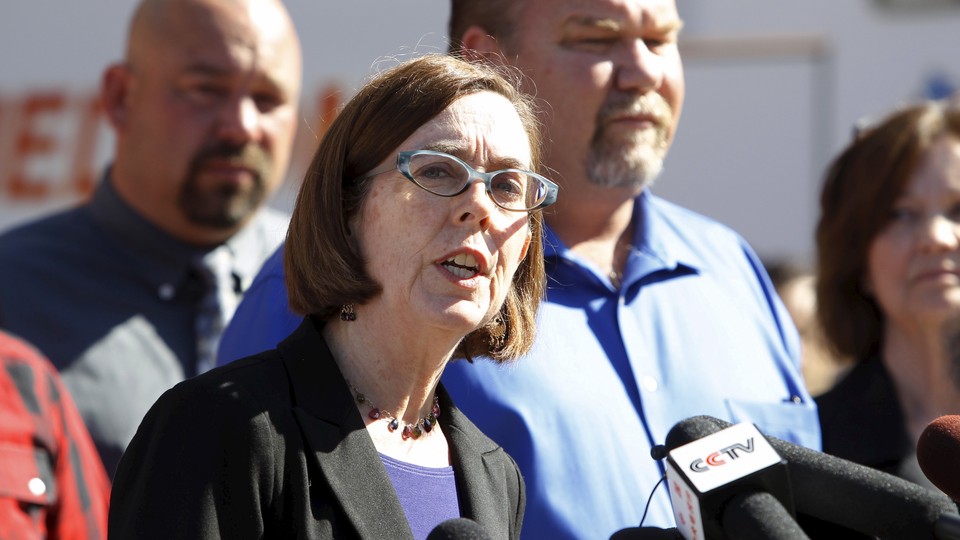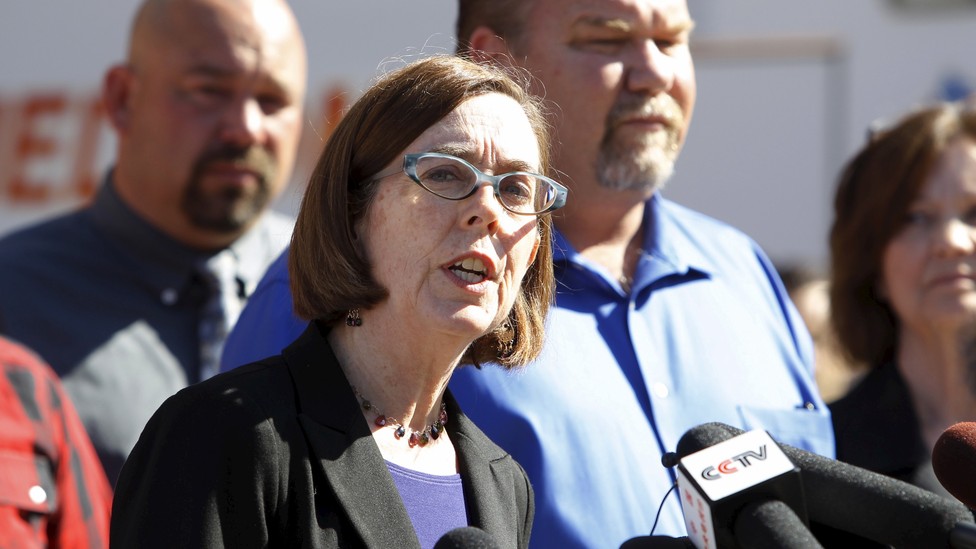 Republicans like Massachusetts Governor Charlie Baker have campaigned as moderates and governed the same way. Others, like Bruce Rauner of Illinois, have campaigned from the center, then governed from the right. The political future of Oregon may hinge on whether state Representative Knute Buehler, the Republican gubernatorial candidate, is more a goateed Baker or another right-winger in centrist's clothing. But Buehler's quest to snatch the governorship from the Democratic incumbent, Kate Brown, in a state Hillary Clinton won by 11 points is a telling case study in the battle by Donald Trump skeptics in the GOP to win cross-party appeal in the face of blistering polarization.
Buehler's campaign has played up his moderate credentials and aimed to go toe-to-toe with Brown on issues such as homelessness, education, health care, and abortion rights that are typically fertile ground for Democrats. Buehler represents Bend—one of those small cities whose Google Image results page is flooded with photos of outdoor sports and picturesque mountains—in the state House. His district went to Clinton by over 20 points and he compiled a moderate, even liberal, voting record in the legislature. That record may help him appeal to independents and centrist Democrats, but it creates a new challenge on his right flank in a state where third-party options are rarely unavailable to disenchanted voters. Buehler has backed a November ballot measure to end Oregon's sanctuary-state status, possibly as an attempt to solidify his support among more hard-line Republicans.
Democrats hope they can portray Buehler as a conservative attempting a late-in-the-game rebrand, noting that he tacked to the right in a relatively competitive primary against two more-conservative candidates. But Buehler is no fan of Trump. In May 2017, he wrote in a lengthy Facebook post: "Being inexperienced, ill-tempered and even incompetent are not crimes, but impeding or obstructing justice is, so we need to fully understand what President Trump has done." Brown's campaign later called Buehler a "Trump … in training" in a fundraising email.
Brown has an extensive record on which to run. She served in the state legislature for 17 years and was secretary of state for another six before becoming governor in 2015 after John Kitzhaber resigned at the onset of his fourth term amid a federal investigation. She easily won a special election the following year. Brown's ascent came "kind of by accident," according to Jeanne Atkins, the chair of Oregon's Democratic Party who briefly replaced Brown as secretary of state, and Brown has struggled to maintain Kitzhaber's pre-scandal popularity.
To many Republican operatives, Brown is a career politician who is too cozy with unions and out of touch with many voters. To Democratic allies, she is a hard-working, no-nonsense administrator. She got $5 million in funding to aid homeless shelters last winter, pushed through a law authorizing automatic voter registration in the state, and campaigned against national Republicans' health-care law last year. She's also the first elected openly LGBTQ governor in the nation. (New Jersey's Jim McGreevey announced he was gay shortly before resigning in 2004.)
Brown is neither incredibly popular nor unpopular—a recent Morning Consult poll found her approval rating at 44 percent and her disapproval rating at 41 percent. Atkins says she "wasn't as focused on promoting herself" as she was on governing for much of her term. Jennifer Duffy, a senior editor at The Cook Political Report who covers gubernatorial races, was less charitable. "She doesn't have a whole lot of charisma, that's for sure," she says. "That's not a statement on her intelligence or anything else, but for a politician she doesn't have a lot of charisma."
Predictably, both campaigns have sought to paint their candidate as an effective problem solver and administrator, usually while portraying their opponent as a showboat. Brown may have the upper hand thanks to almost a decade as secretary of state and governor, but Buehler will seek to use his experience as a business owner and surgeon to his advantage.
And although the candidates have disagreed on many issues—and have had something of a rivalry since Brown defeated Buehler in the 2012 secretary-of-state election—they have worked together in the past. In 2015, Brown signed into law Buehler's bill to allow pharmacies to offer birth control on demand, without a prescription.
Not being the flashiest politician may help Brown in the long run. Jim Moore, a professor and the director of the Tom McCall Center for Policy Innovation at Pacific University in Forest Grove, outside Portland, says that although Brown lacks "strong solutions that fit on a bumper sticker," she does seem to be a "more budget-savvy person" than Buehler, in spite of Oregon's recent budget shortfall.
Polling has shown a competitive race, though questions about the reliability of the surveys remain. A Gravis Marketing poll conducted from July 16 to 17 showed the race tied, while a poll done for the Republican-aligned Leona Consulting by Clout Research in the last two days of July showed Buehler leading by one point, well within the survey's 4.14 percent margin of error. But both Gravis and Clout have mixed track records: Gravis earned a C-plus and Clout a C in FiveThirtyEight's pollster ratings, a respected measure of pollster reliability. Additionally, Moore noted that the Gravis poll oversampled unaffiliated voters and Republicans and undersampled Democrats, relative to the state's electorate.
The veteran Oregon political consultant Kevin Looper, who has advised the last three Democratic governors in the state and is currently working with Brown's campaign, says internal polling he has seen gives Brown a 4 to 7 percent lead over Buehler, which is consistent with the state's typical partisan lean, though internal polls are, on average, 4 or 5 points more favorable to the party that sponsored them than nonpartisan polls.
Gravis's president, Doug Kaplan, believes the race will be closer than many expect, and emphasized his belief in the poll's reliability. Bryan Reed, Buehler's campaign manager, says the poll shows the race is close, though he declined to discuss any internal polls produced by the campaign or outside groups. But questions remain about Buehler's ability to actually win in a state that has not elected a Republican governor since 1982, the second-longest such GOP shutout in the country.
Because of his competitive primary, Buehler has dominated the airwaves. He spent $3 million in the race, while Brown's campaign has done little advertising. "From January to May, I think I saw only negative advertisements about Kate Brown," says Christopher Stout, an assistant professor of political science at Oregon State University.
But Buehler may wish he'd held onto some of that cash. Brown's campaign currently has $4.6 million cash on hand, while Buehler's has a little under $900,000. And although Buehler has spent far more thanks to his competitive primary, the deficit is still a substantial one. Moore believes Buehler has to be almost on par with Brown in fund-raising by the third week of August to remain competitive. Looper painted an even gloomier picture, saying Buehler would need to outraise Brown by as much as 50 percent, but Republicans expressed confidence that their man can raise enough to stay competitive down the stretch.
Following the money could be the key to understanding the race, Duffy says. If national Democrats feel the need to start spending heavily in Oregon, she would likely move Cook's rating of the race to "toss-up" from "likely Democratic," its current designation.
But at the moment, Brown's funding advantage is a substantial one. "Right now, she can just match him and do a little bit better than him, and it's like a big kid holding off a little kid by putting their hand on his forehead," Moore says.
Brown's campaign expressed confidence in their ability to win in November, noting the governor's record in public service, the Democratic-leaning national environment, and a belief that Buehler could be portrayed as a relatively right-wing candidate who is out of touch with the state. Christian Gaston, Brown's communications director, said Brown's no-nonsense public image could help her. "At the end of the day, she's not the sort of person who wants her name in lights or to take credit for stuff; she's just the sort of person who wants to get things done," he says.
Looper believes that Buehler will struggle to create a positive public image. To successfully run as a Republican in a Democratic-leaning state, he says, takes a robust public image focused on being "pissed off that the system isn't working for enough people." And to Looper, "Knute Buehler looks like someone who has always been well fed by the system." To unite the largely rural conservative Republican base in Oregon with moderate suburbanites and small-city dwellers will be difficult, in Looper's estimation. "He would need to fix a fundamental problem of trying to look like a moderate while not losing [the] hardcore anti-choice conservative base, who do have a third-party choice," Looper says. "It would help if he grew another two feet, too."
But Buehler's campaign believes that a contrast of public images does not favor Brown. "People are getting to know Knute Buehler," says the Oregon Republican Party spokesperson Kevin Hoar. "They already know Kate Brown, and that's the reason why, in part, this race is competitive." Hoar believes Brown has sought the national spotlight too much since becoming governor, creating an opening for Buehler.
Reed, Buehler's campaign manager, made a similar case. "She's very well defined, but no one is a really huge Kate Brown fan," he says. "It's very interesting. The reason is, on these very localized issues that are unique to Oregon, she's failing in the eyes of the electorate." So Buehler hopes to run a unique campaign, fighting Brown on issues that are Democrats' home turf. "Is he a conservative in sheep's clothing? No, I believe he's a moderate," says Greg Wooldridge, one of Buehler's former primary opponents.
If former adversaries like Wooldridge are any indication, Buehler may have less of a problem on his right flank than strategists like Looper anticipate. Although he ran hard to Buehler's right in the primary, Wooldridge is now a firm supporter and says he wants to work with Buehler to solidify rural support. Jonathan Lockwood, a conservative political consultant who worked with Buehler from October 2017 to February 2018 and later served on Wooldridge's campaign, believes "a lot of moderates are squishes," but supports Buehler because of his belief that Brown lacks the qualifications to run the state.
But Hoar and Reed argue that Buehler will remain competitive in part due to Brown's approval ratings. "Anytime somebody is an incumbent who they've seen plenty of, and that incumbent is under 50 percent, that's usually when the warning light on the dashboard starts to blink," Hoar says. And to Reed, Buehler is "a nontraditional Republican, a different kind of Republican." The kind of Republican, in short, who can convert independents and Democrats skeptical of both Brown and national Republicans to split their tickets.
Winning Oregon's governorship will require Buehler to convince voters of that. But just being a Republican may cost him in a year that has thus far been favorable to Democrats, according to Duffy. Baker, Maryland Governor Larry Hogan, and Vermont Governor Phil Scott are all expected to prevail in their reelection bids this year, in spite of a Democratic advantage in national polling. Cook, like most forecasters, rates all three as "likely" or "solid" Republican. Buehler's prospects for joining the cohort are less promising.
Becoming the next Baker, Hogan, or Scott is harder to do in 2018 than in 2014, when Hogan and Baker first won their seats, and a year in which Republicans did well. A Republican, no matter how nontraditional, will likely struggle to break through in a Democratic-leaning state when the generic congressional ballot has Democrats up by 8 percent nationally. Even if voters can separate state and federal races—and the experience of other moderate Republicans indicates that, at least sometimes, they can—such an impulse may be tamped down by an electorate seeking to check Trump's power any way they can.