What Omarosa Thinks of Pence, Melania, and the Trump Kids
In her new book, the former senior White House official describes the Trump administration as a "cult" of "worshipful" followers.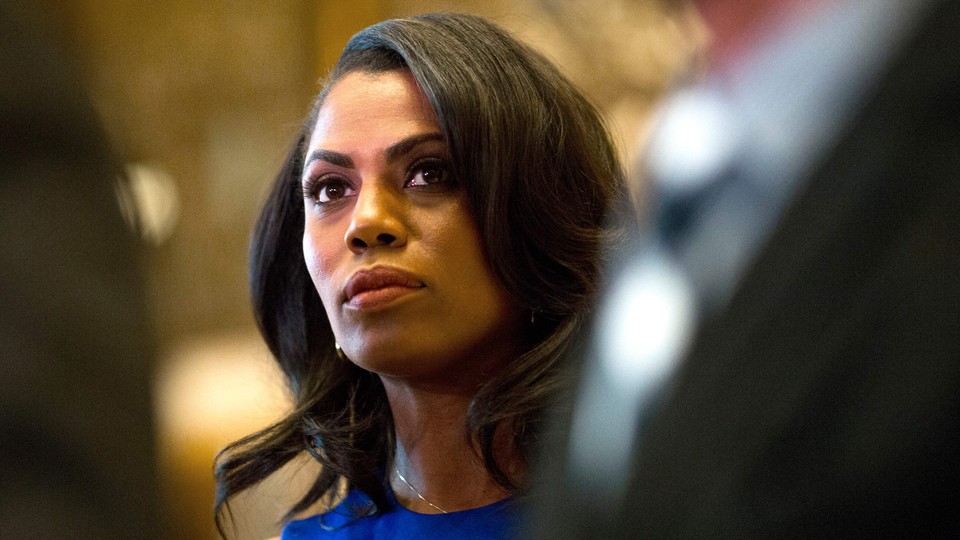 In her new book, Unhinged, set to be released on Tuesday, Omarosa Manigault-Newman charts her 15 years in the "cult" of Trumpworld, from her Apprentice days to the West Wing. She uses the word—cult—often throughout her 330-page memoir, describing its leader as "mentally impaired," his followers as "worshipful."
Manigault-Newman admits to being an unwitting member herself. The former reality-television star writes of knowing that her "friend and mentor," Donald Trump, was "racial" from the start of their relationship, but not necessarily "racist"—a distinction she can't quite define, but one she says kept her enmeshed in the cult for more than a decade. Manigault-Newman's breaking point, in her words, was when chatter about the "N-word tape"—a rumored recording of Trump using the racial slur during his Apprentice days—became "intense again" last fall. Manigault-Newman writes that she has not heard the alleged tape herself, but that she has confirmed through "three sources" that it exists. It is for this reason, she concludes, that she was "brusquely" fired on December 17, 2017, from her post as an assistant to the president, with Chief of Staff John Kelly deep in fear of what she might know, and what she might reveal publicly.
Yet while Manigault-Newman paints herself as a doe-eyed, innocent passenger on the Trump train, unaware of its defects until one bombshell-like moment, she's not so charitable toward her former colleagues. As Manigault-Newman tells it, she was engaged only in a good-faith effort to serve her country, but people such as Vice President Mike Pence, Hope Hicks, and Secretary of Education Betsy DeVos were actively intent on destroying it, all in service of their idol: Trump.
Here is how she describes her former "battle buddies" in the cult of Trumpworld, according to an advance copy of Unhinged obtained by The Atlantic.
Vice President Mike Pence
Manigault-Newman writes that she became suspicious of Pence's ambitions during the Republican National Convention in summer 2016. It was the third night of the festivities when she met Pence and his three brothers, "who looked like his clones," in the Trump family box.
"'We always knew this would happen to Mike. He's always wanted to be president … I mean vice president!' one of his brothers said with a wink," Manigault-Newman writes. "It was a real joking-not-joking look, and I filed it under 'keep an eye on that situation.'"
Having kept an eye on the "situation" in the two years since, Manigault-Newman concludes that Pence's presidential ambitions guide his actions unilaterally. That, she writes, should worry people: "So everyone wishing for impeachment might want to reconsider it. We would be begging for the days of Trump back if Pence became president."
She accuses Pence of a monotonous acquiescence to this White House's every scandal. In senior-staff meetings, she says, Pence would defend Trump by saying, "'God is telling me to support the president. God is telling me I'm here to serve.' He was being directed by a higher deity to agree with Trump no matter what."
His team wasn't so on message, Manigault-Newman writes. "I became troubled about [Pence]. The first thing I noticed was that people on his staff kept slipping up and calling him president—accidentally sometimes. Jokingly, in private, I heard people say things like, 'When we're in charge … ,' or, 'Once you become president … '… I suspected that Pence was just biding his time, looking the part of the perfect VP, until Trump resigned, was impeached, or served his term."
If Trump had caught on to his No. 2's alleged ambitions, he didn't let on. "Perhaps his attraction to Pence was another sign of his loneliness," Manigault-Newman writes. "No one else in his life gazed at him with such adoration, certainly not his wife anymore. (Maybe Ivanka?)"
Hope Hicks
Manigault-Newman writes condescendingly of Hicks, the former Trump campaign spokesperson and White House communications director, describing her as "very nice, capable, sensitive, and out of her depth."
Manigault-Newman argues that Hicks was an infamously silent spokesperson—indeed, she never spoke publicly on the campaign trail—because she was "so painfully aware of her inadequacies." "Hope was terrified to give statements or even entertain the idea of it. She lacked confidence because she knew she wasn't qualified to talk about policy or the political process," Manigault-Newman writes. "She had no insight into or understanding of what was going on."
Manigault-Newman recalls an early conversation with Hicks about encouraging turnout during one of the primaries. "She didn't even know the basic terminology," she writes. "I remember once talking to her about GOTV for one of the primaries. She said, 'What's GOTV?'"
Manigault-Newman writes that she was "surprised" by Hicks's answer, because it was "politics 101." She says she'd then observe Hicks "always Googling terms while we were in meetings, always playing catch-up, always sensitive about what she didn't know."
In Manigault-Newman's view, Hicks's attractiveness kept her around. "Trump has an affinity for pretty women," she writes. "He'd rather have a pretty woman with no experience around than a qualified, less-attractive woman."
Manigault-Newman critically implies that Hicks knew her looks were her armor. She "pushed her fashion choices as far as possible, wearing miniskirts with thigh-high boots or diaphanous summer dresses in the dead of winter, the opposite of traditional Washington conservative style."

Manigault-Newman also suspects Hicks of informing Kelly that she was "this close to getting [her] hands" on the supposed tape. "I'd informed Hope Hicks … that chatter about the N-word tape was heating up," Manigault-Newman writes. "Ever since that meeting, she'd been eager and asking frequently about my progress on the matter." Manigault-Newman offers no evidence that Hicks tipped off Kelly to Manigault-Newman's "progress on the matter," yet still identifies Hicks, in this sense, as the catalyst for her termination.
Reince Priebus
"I liked Reince," Manigault-Newman writes of Priebus, the RNC chairman turned White House chief of staff, "but he and Donald were a very bad fit."
Manigault-Newman says Trump would have preferred David Bossie, Corey Lewandowski, or Jared Kushner as chief of staff, but House speaker Paul Ryan "pressured" the president-elect to appoint Priebus. "From the beginning," she writes, "the GOP was putting up safety guardrails so that Donald wouldn't drive the US government over a cliff."
Why did Trump give in to "pressure" from Ryan? Priebus, after all, had shown "weakness" and "doubt" in Trump in the aftermath of the Access Hollywood tape, as Manigault-Newman puts it. But "if putting in Reincey (as he nicknamed him) would make peace with the Never Trumpers and the GOP," she writes, "then it was worth it."
Yet Manigault-Newman says that Trump "never let Reince—or anyone for that matter, ever—forget that Reince wanted him to drop out. He would demean Reince and mock that moment of weakness."
Manigault-Newman had her own personal problems with Priebus, who she says could be "very slippery." She describes being asked during the transition the top three positions she wanted to be considered for. She only wrote one: the director of the Office of Public Liaison (OPL).
She assumed she was a shoo-in. "But then Reince blindsided me and told me there were a dozen or so people he was considering for the job, including me. He suggested that … I should consider taking a job in" presidential personnel.
She wasn't interested. She also informed him that her "top priority" was to be an "assistant to the president"—one of the highest appointees in the White House other than Cabinet officials.
Manigault-Newman says that she could feel Priebus "stonewalling." And then there was another obstacle: Paula White.
The televangelist and Trump spiritual adviser, according to Manigault-Newman, had "objected" to her running OPL. Manigault-Newman then called Trump's personal lawyer Michael Cohen. "'Yes,'" she writes that he told her. "'She doesn't want you as the head of the OPL because you're not an evangelical.'"
"I was incensed," she writes. The two, she says, had a "heated exchange" by phone, but ultimately it wasn't enough to get her the title she craved. Priebus came back to her with an offer to be an assistant to the president and the "director of communications" for OPL.
Manigault-Newman would never quite abandon her grudge against White. She writes of being "surprised" to hear that White was delivering the invocation at the inauguration. "A Trump family member pulled me aside and told me to back off," she writes. "When I asked why, I was told she and Trump enjoyed a special relationship."
"I was not sure what to make of this … But I could not stop myself from contemplating whether her positions as his spiritual advisor had ever been missionary," she writes, seeming to imply that she wondered whether the televangelist and Trump had had an affair.

After Priebus's firing six months into the administration, Manigault-Newman says White claimed to her in a "come to Jesus conversation" that it was Priebus who hadn't wanted her as OPL director, not she. "She apologized in any event," Manigault-Newman writes. "And I moved on."
Sean Spicer
Manigault-Newman claims that during his short-lived tenure as White House press secretary, Sean Spicer "had difficulty pronouncing certain words, so we would have to go through each one phonetically with him."
"He also stuttered a lot when he got really nervous," she adds, "which could make him appear to be lying when he was not. He was just nervous."
The president could never quite marshal respect for Spicer, she says. Trump was "as usual, highly critical and mocking, to Sean's face and behind his back." She recalls watching a clip of a briefing with Trump when he said of Spicer, "He looks like a spokesman from Men's Warehouse [sic]. Cheap and tacky." He would often refer to him in private, she says, as "Mr. Men's Warehouse [sic]."
Manigault-Newman seems to resent that when Spicer was fired, he was "allowed to stay in the White House for several weeks, to just ramble around and use the office to find a new job. He was given the dignity of a peaceful transition—which was not afforded to me."
When his replacement, Anthony Scaramucci, was fired, Manigault-Newman claims that Scaramucci "started crying."
She writes: "I like to think that somewhere in the West Wing, Sean Spicer was still rambling around in the final days of his grace period, heard Anthony's high-pitched, plaintive wail, and smiled."
The children
Manigault-Newman writes that her "heart went out" to Donald Trump Jr. whenever she saw him interact with his father. He was desperate, she says, for his father's encouragement and support. "Having lost my father very young, I understood Don Jr.'s longing for his father's approval, which was not forthcoming."
She recalls, moreover, sitting in the family box during the RNC convention and observing Don Jr. and Vanessa Trump's marriage "hanging by a thread." "They never held hands or touched. They never even looked at each other. She had a dour expression on her face the entire time," she writes. (Don Jr. and his wife have since divorced. He now reportedly dates the ex–Fox News personality Kimberly Guilfoyle.)
That fall, when Don Jr. infamously compared Syrian refugees to a bowl of Skittles, Manigault-Newman writes that Trump "just shook his head and said, 'Look what he did now. He screwed up again. What a f**kup.'"
He was never so critical of his daughter Ivanka.
Manigault-Newman writes again of the RNC convention, when Trump walked on stage and placed his hands on his daughter's "bare upper arms and kissed her" following her speech. "Then he placed his hands low on her hips while appraising her, and then patted her on her hip. The placement of his hands made everyone uncomfortable."
"But I was used to the sickening feeling I had whenever they touched or kissed or he openly admired her form," Manigault-Newman continues. She recalls a meeting preconvention, when Ivanka strode into a meeting wearing a fitted skirt. "The entire meeting had to stop so he could gush about her body. 'You look great! I like the way that skirt fits. Doesn't Ivanka look great?' He insisted that we all agree that his daughter's tight skirt was very flattering."
Once in the White House, Ivanka had among the tougher times enduring criticism from the press, Manigault-Newman claims. Ivanka, she says, "would not stop talking about being ribbed" by a Saturday Night Live skit that featured Scarlett Johansson as Ivanka "selling a fragrance called 'Complicit.'" "Like her father," Manigault-Newman says, "Ivanka was thin-skinned and could not seem to take a joke."
Trump took his daughter's skewering in the press to heart, she writes. "He wanted Jared and Ivanka out of the White House. It hurt him when people attacked her." But Manigault-Newman writes that she was one of the few who wanted Ivanka to stick around, and was thrilled when she was promoted to a senior-staff position. "His forgetfulness and frustration were getting worse. Any time somebody new came in to brief him, he'd get angry and say, 'Who's that guy? What's he want?' … I thought Ivanka's promotion from adviser to assistant would give him a measure of emotional comfort and support he needed."
She devotes very little copy to Eric and Tiffany Trump.
Interestingly, the same goes for Kushner. Manigault-Newman does write, however, that when Ivanka first started dating Jared Kushner, she asked her father what he thought of Kushner. "'He seems a little sweet to me,'" she writes Trump said, "using his phrasing for 'gay.'"
Of all the children, Manigault-Newman seemed to grow closest to Lara Trump, Eric's wife. The two often worked side by side on the campaign trail. She writes that Lara was the first person she tried to confide in with her concerns about what she calls the president's "mental decline." When Trump seemed to admit to Lester Holt in an interview that he had fired FBI Director James Comey because of the Russia investigation, Manigault-Newman "realized that something real and serious was going on in Donald's brain," she writes.
"But what could I do? Declare a state of mental emergency for Donald J. Trump? Should I report this insight to … to whom exactly?"
She writes that she texted Lara and asked to get together. "I'm really concerned about him," Manigault-Newman claims she said to Lara.
"She said, 'I know. The whole situation is really messed up.'"
"'No, I mean his language is incoherent,'" Manigault-Newman responded. "'This is more than just a—'"
"'No,'" Lara apparently said, "like she didn't want to hear it."
Melania Trump
Manigault-Newman has a theory about the first lady: Her every sartorial choice is deliberate and meaningful. She points to the Gucci "pussy bow" blouse Melania wore to the presidential debate following the Access Hollywood tape. The white pantsuit to Trump's first joint address to Congress. The I DON'T REALLY CARE. DO U? Zara jacket to a Texas border facility. "Taken as a whole, all of her style rebellions have served the same purpose, and not only misdirection and distraction—strategies her husband knows all too well," Manigault-Newman writes. "I believe Melania uses style to punish her husband."
Manigault-Newman claims that "it was often discussed among Trumpworld intimates" that Trump had pulled strings to help Melania obtain an EB-1 visa, which gives immigrants with "extraordinary ability" U.S. citizenship. "I have speculated that Trump was able to use his networks and resources to secure it or expedite it."
She implies that this may be part of what keeps Melania by Trump's side today. "Since Donald is fully aware of however she acquired her permanent citizenship, he could … expose the methods and somehow invalidate it," she writes. "He is a vindictive man … If Melania were to try to pull the ultimate humiliation and leave him while he's in office, he would find a way to punish her."
"In my opinion," she concludes, "Melania is counting every minute until he is out of office and she can divorce him."
All the same, Manigault-Newman writes that rumors that Melania spent Election Day "sobbing" when Trump won are "inaccurate." On Election Day, "I remember thinking, 'She's smiling!' Melania rarely smiles … Melania was as upbeat as I'd ever seen her in thirteen years of our acquaintance, and very engaged by what was going on. She, like everyone, wanted to win, desperately."
---
Manigault-Newman casts herself as a victim in her story. Her argument is that for years, she talked herself out of seeing Trump for who he was: a "racist," "bigot," and "misogynist." She provides plenty of examples of Trump's display of such traits, whether during his Apprentice days, on the campaign trail, or even in the White House. It didn't matter: Manigault-Newman continues to sketch herself as the innocent bystander until she wasn't, like a child who suddenly realizes that not all people are good.
And that's the problem with Manigault-Newman's version of events. She tries to use the "Unite the Right" rally in Charlottesville as the climax of her story, the moment she decides she wants out of the cult of Trumpworld. But it's hard to take her assessment—that her "blind spot" vis-à-vis Trump was "shattered," that she refused to go on TV following the event because she would not "defend the indefensible"—seriously. Because she doesn't leave the White House immediately after. As with so many moments throughout the book, when she charts her "unease" and "worry" and "fear" about Trump the man and Trump the president, she never acts. Indeed, even after the peak disgust she says she felt after Charlottesville, she says she still resolved not to leave until January, when she could claim a "work anniversary" exit that's typical among White House staffers. Yet if her stance against Trump was in fact so principled, as she claims time after time throughout her book, why would she not leave in outspoken defense of those principles? Why would she leave the public any room for doubt about her values, especially when she claims they are the values she holds dearest?
It amounts to a portrait of a woman who likely did have nagging qualms about the president throughout her tenure, but valued her plum title and sense of power so much more. Accordingly, her exit from the White House was not a personal decision; rather, she was fired.
Weighted concerns about Charlottesville and a supposed N-word tape read as ham-fisted attempts to save face and squeeze a final 15 minutes of fame out of her proximity to the leader of the free world. It's no wonder that Manigault-Newman has contradicted herself multiple times with regard to the tape—whether she has in fact heard it, whether it was in fact the reason behind her termination. It is, after all, the most troubling hypothetical her book has to offer. What's unfortunate is that rather than spark a serious discussion about such a tape and its deep, moral implications, Manigault-Newman has promoted it only, it seems, as an extension of herself. As a way to drum up more attention and prolong her star power.
It's a tactic you're bound to embrace and master should you hang around Trumpworld long enough. Consider Manigault-Newman, then, its most accomplished cult member yet.