What Michael Cohen's Guilty Plea Means for Trump
The president's former fixer on Tuesday said he broke campaign laws at Trump's behest, paying off two women who alleged extramarital affairs.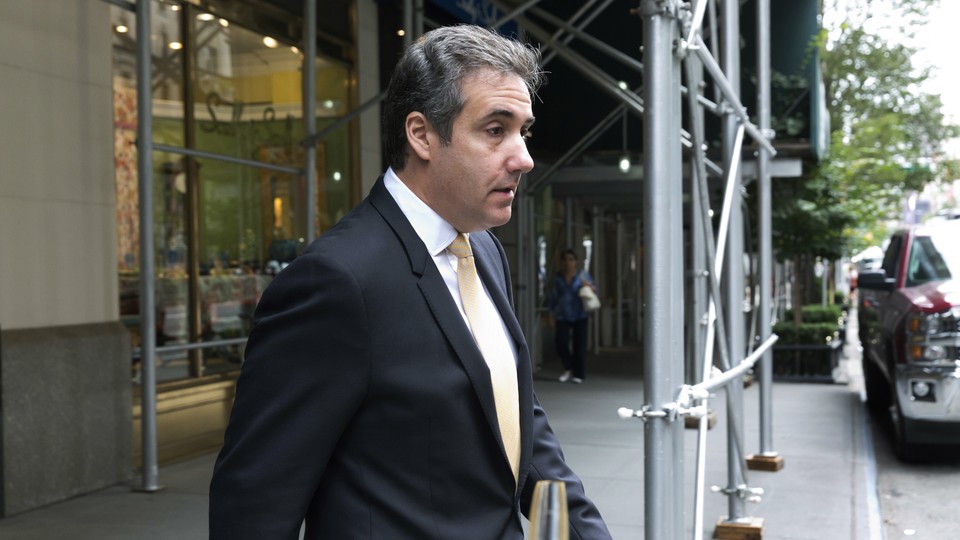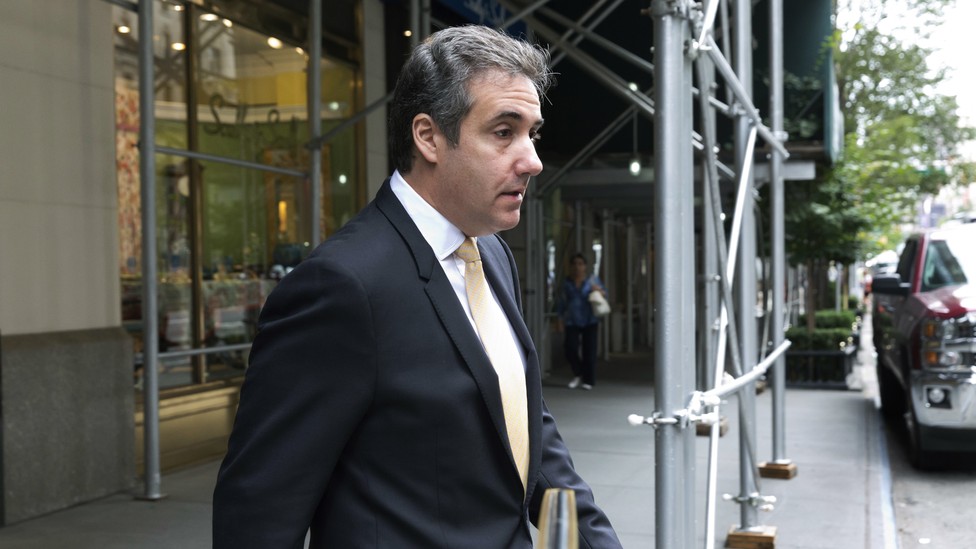 In a sudden development Tuesday, Michael Cohen, Donald Trump's longtime attorney and fixer, pleaded guilty to bank fraud and tax fraud and said he broke campaign-finance laws at the president's behest, with the goal of quieting allegations of sexual affairs.
The plea on eight felony counts, entered Tuesday afternoon in federal court in Manhattan, is the culmination of an investigation by the U.S. attorney for the Southern District of New York that became public in April, when the FBI raided Cohen's office, home, and a hotel room where he was staying. In reality, the story runs back even further, to payments that Cohen arranged in 2016 to Stormy Daniels and Karen McDougal, the two women who alleged affairs with Trump. Cohen has not agreed to cooperate with prosecutors, but reportedly decided to enter a plea to save himself public exposure and the cost of defending himself.
If not for Cohen's connection to Trump, Tuesday's plea would barely crack the news consciousness—just another small-time white-collar criminal. But because Cohen was close to the president and worked at the Trump Organization from 2006 until after the election, the case has been closely watched as a possible augur of Trump's various legal troubles. The most important takeaway Tuesday is that the president's own former personal attorney pleaded guilty to breaking campaign-finance laws at his alleged direction.
The news probably could have been even worse for the president. Cohen's decision to plead guilty without cooperation may be a relief for Trump. It could mean that Cohen decided he didn't want to try to give prosecutors damaging information about the president, or that they determined he didn't have any useful information to offer. (Former acting Solicitor General Neal Katyal notes that Cohen could still cooperate at later stages.) Either way, the plea deal means there won't be a public trial where evidence about Trump's payments to Daniels and McDougal would be revealed.
Yet what Cohen did say is plenty damaging to the president. While the bank- and tax-fraud charges do not involve the president, the campaign-finance charges indisputably do. Cohen made the payments—$130,000 to Daniels and $150,000 to McDougal—through shell companies. He said Tuesday that the payments were intended to influence the election, making them a violation of campaign-finance laws, and that he had done so at the direction of the candidate.
That exposes several lies that the president made about the hush money. The White House initially denied that Trump had any knowledge of the payments. "You'll have to ask Michael Cohen," the president said in April. Later, Trump's attorney Rudy Giuliani said Trump had repaid Cohen as part of a retainer. In May, Trump disclosed the reimbursements on an ethics form. In July, Cohen released a recording in which he is heard discussing the payments with Trump during the campaign.
Federal law limits donations to campaigns to $2,700 per election. Cohen's payments to the women qualify as in-kind donations, and far exceed those limits. As Bob Bauer has written, there's a chance that Trump himself might escape criminal liability due to gaps in the law. (Rick Hasen provides more context on the law here.) However, it's highly unlikely he'd face charges anytime soon even if he did break the law, because longstanding Justice Department guidance says sitting presidents cannot be indicted.
Cohen is also reportedly still of interest to Special Counsel Robert Mueller, whose investigation into Russian interference in the 2016 election is separate from the SDNY case. (However, the Cohen investigation began when Mueller turned over evidence to prosecutors in New York that the Justice Department determined was outside his purview.) There's no clear indication what effect, if any, Cohen's plea in New York has on his involvement in the Mueller probe.
Cohen's plea Tuesday, and especially the apparent lack of cooperation with prosecutors, comes as a surprise, in part because Cohen had offered a series of public signs that he was willing and even eager to turn on the president in return for leniency.
That was itself a surprise, because Cohen had a reputation for fierce loyalty to Trump. He joined the Trump Organization in 2006, reportedly coming to Trump's attention for his bare-knuckle tactics during a condo board dispute at one of Trump's properties, where Cohen lived. Though he is an attorney, Cohen seemed to be more of a troubleshooter and fixer than a brief-slinger. He was deeply involved in failed attempts to build a Trump Tower in Moscow, a dubious construction project in Azerbaijan, and other deals.
Cohen achieved notoriety in 2015 when he threatened Daily Beast reporters over an article about Trump's divorce from Ivana Trump. As recently as April, Cohen reportedly said he'd rather jump off a building than turn on Trump. The president tweeted that he didn't think Cohen would ever flip.
Yet as Cohen's legal troubles deepened, he seemed to be having a change of heart. "My wife, my daughter, and my son have my first loyalty and always will," Cohen told ABC's George Stephanopoulos. "I put family and country first." He spoke out against Russian meddling and reportedly said the president was aware of a controversial June 2016 meeting at Trump Tower between campaign officials and Russians. (On Tuesday afternoon, the top Democrat and Republican on the Senate Intelligence Committee announced that Cohen had reaffirmed earlier testimony saying he personally was unaware of the meeting before it happened.) Cohen hired Lanny Davis, the former confidant to the Clintons, as his lawyer, and Davis in turn invoked John Dean, the White House counsel who testified against Richard Nixon and helped end his presidency.
Was Cohen simply bluffing? Was it a method of grabbing attention? Is Cohen hoping for a pardon from the president? Was he trying to pressure the White House? Or did he just not have the goods to convince prosecutors to offer him a deal for cooperation? The answers to these questions aren't yet clear.
In addition to the campaign-finance violations, prosecutors said Cohen lied to a bank when applying for a home-equity line of credit, and evaded taxes between 2012 and 2016, depriving the federal government of $1.4 million he owed it.
Under the terms of the deal, Cohen could reportedly serve three to five years in prison. That's a substantial sentence for a man who just two years ago had dreams of running for New York City mayor or snagging a coveted job in his mentor's White House. In 2015, he taunted Hillary Clinton on Twitter, tweeting, "when you go to prison for defrauding America and perjury, your room and board will be free!" Clinton lost the election, but she walks free, while Cohen appears to be headed for the penitentiary.
The harsh treatment for Cohen points to the bleak big picture for Trump. His former trusted lieutenant is headed to prison. At the same time that Cohen was in court in Manhattan, a jury in Alexandria, Virginia, delivered guilty verdicts on several of the 18 criminal counts against Trump's former campaign chairman, Paul Manafort. (Jurors deadlocked on others.) One of the witnesses in that trial was Trump's former deputy campaign manager, Rick Gates, who also pleaded guilty to federal crimes. Trump's first national-security adviser, Michael Flynn, and a campaign aide, George Papadopoulos, have both pleaded guilty to lying to federal agents. It has become banal to point out that almost any of these would have constituted a monumental scandal under any other president, but it remains true and important.
Nor are these troubles likely to dissipate any time soon. No matter how many times Giuliani calls for it, there's little indication that Mueller will wrap up his investigation by September 1. The Senate Intelligence Committee continues its work as well. The Cohen plea could have been much worse for Trump, but there's little relief for the president in sight.