The Trump-McCain Feud Never Ended
As a candidate, the president disparaged his military service. The Arizona senator killed Trump's first major legislative push. They never forgave each other.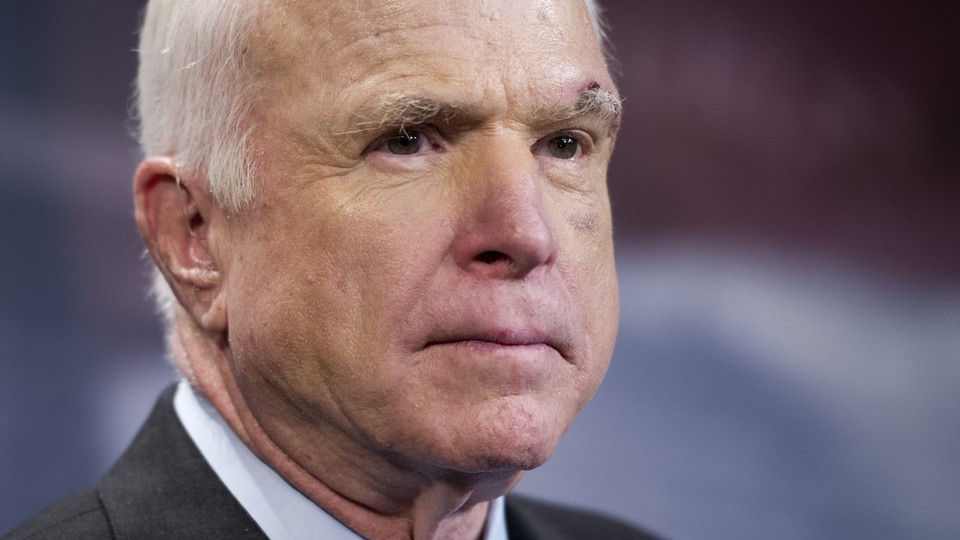 Updated on August 27 at 10:19 a.m. ET
The tweet from President Donald Trump came about a half hour after John McCain's death had been announced on Saturday night. It was 21 words long, and despite a respectful tone, the president mustered exactly zero words of praise for the late Republican senator.
"My deepest sympathies and respect go out to the family of Senator John McCain," Trump wrote. "Our hearts and prayers are with you!"
One can imagine the president typing the tweet—or signing off on it—through gritted teeth. The Republican Party whose standard McCain once carried had become the party of Trump, but the Arizona senator, through his final days, had never been truly willing to hand it over. Trump had long since won the adoration, or at least the grudging acceptance, of most of the Republicans who had fought his ascendance in the party—including each of the GOP senators he had trounced in the 2016 nomination fight. Even McCain's best friend in the chamber, Senator Lindsey Graham, had become golfing buddies and a stalwart ally of the president's.
Not McCain.
He had thwarted Trump in his final major act as a senator, providing the dramatic and decisive vote that killed a repeal of the Affordable Care Act, the president's first big legislative push. Then, as he underwent treatment for brain cancer over the next year, McCain battered the president rhetorically from afar. Without naming Trump during an October speech accepting the National Constitution Center's Liberty Medal in Philadelphia, he assailed the president's worldview as "some half-baked spurious nationalism cooked up by people who would rather find scapegoats than solve problems." It was, McCain continued, "as unpatriotic as an attachment to any other tired dogma of the past that Americans consigned to the ash heap of history."
When Trump stood alongside Russian President Vladimir Putin at a press conference in Helsinki five weeks before McCain's death, the ailing senator issued a written statement calling it "one of the most disgraceful performances by an American president in memory."
Like most of Trump's feuds, this was one that he started. Shortly after launching his presidential campaign in 2015, Trump disparaged McCain's military service during a question-and-answer session with the GOP pollster Frank Luntz. As a Navy pilot in Vietnam, McCain's plane was shot down in 1967, and he was captured by the North Vietnamese. He spent more than five years as a prisoner of war in Hanoi, where he was repeatedly beaten and tortured.
"He's not a war hero," Trump scoffed. "He's a war hero because he was captured. I like people that weren't captured."
The comments drew overwhelming condemnation from lawmakers and elder statesmen in both parties, but like all of Trump's politically indecorous remarks during the campaign, they did not stop his candidacy.
McCain would later say that while he did not take personal offense at Trump's jab, he was angered at his insult of the thousands of U.S. soldiers who have been captured by the enemy while fighting overseas. The president, he told 60 Minutes last year, never apologized for the remark.
Like many Republicans, McCain withdrew his endorsement of Trump after the October 2016 release of the Access Hollywood video in which the businessman jokes about sexually assaulting women. And a year later, it appeared to many that McCain was referring to the president when he criticized wealthy men who secured draft deferments during Vietnam by claiming they had bone spurs—exactly the ailment that Trump bragged had allowed him to escape military service. "One aspect of the conflict, by the way, that I will never ever countenance is that we drafted the lowest-income level of America, and the highest-income level found a doctor that would say that they had a bone spur," McCain said in an interview with C-SPAN. "That is wrong. That is wrong. If we are going to ask every American to serve, every American should serve." (He later said he did not consider the president "a draft dodger."
Yet it was not McCain's words, but his vote, that mattered most—both substantively on policy, and personally to the president. His surprising, late-night opposition to the Senate health-care bill ended a months-long effort to roll back the Affordable Care Act. And though GOP Senators Susan Collins of Maine and Lisa Murkowski of Alaska also went against the measure, it was McCain's vote that Trump could not forgive. He criticized him repeatedly—at rallies, press conferences, on Twitter—sometimes by name and other times simply with a knowing reference to the Arizona senator that would draw boos from a Trump-friendly crowd.
In the immediate aftermath of McCain's death on Saturday, word leaked out in The New York Times that his funeral plans called for eulogies by former Presidents George W. Bush and Barack Obama—the two men who had, eight years apart, defeated McCain and blocked his path to the presidency. The current president would not be invited. On Sunday night, The Washington Post reported that Trump had nixed a lengthier statement praising McCain in his name that would have called the late senator a "hero." By the next day, White House flags that had flown at half staff for slightly more than 24 hours were raised back up, earlier than expected and while flags at the Capitol remained lowered in McCain's honor.
Trump had reportedly stewed over McCain to the end, and he issued his own final snub of the dying senator. Earlier this month, the president held a bill signing for the annual National Defense Authorization Act, which this year was named in honor of McCain, the chairman of the Senate Armed Services Committee. Trump lauded the bill and spoke for a total of 28 minutes. He didn't utter McCain's name once.