The 22-Year-Old Who Wrote Barack Obama's Letters
One young White House staffer wrote letters to thousands of citizens on behalf of the president.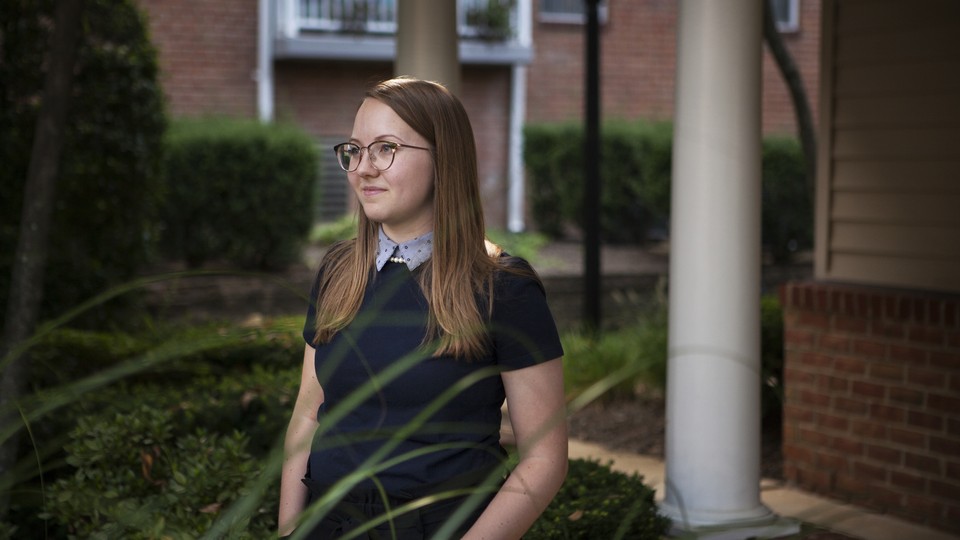 In a small office on the top floor of the Eisenhower Executive Office Building, a young woman sat at a desk covered with letters to the president of the United States. There were hundreds, each stamped with Back from the OVAL and crowned at the top with "Reply" in Barack Obama's handwriting.
Most White House staff members didn't even know of this tiny office, accessible primarily by staircase and home to the writing team for the Office of Presidential Correspondence (OPC). Composed of nine staff members—a very small portion of the overall OPC—the writing team was in charge of answering the 10,000 letters and messages that arrived each day for the president.
While the majority of these letter writers received personalized form letters, 10 of them were chosen for Obama's daily reading and, depending on the president's wishes, required a personal reply, a process Jeanne Marie Laskas describes in a new book, to be published next month, To Obama: With Love, Joy, Anger, and Hope. Laskas pulls back the curtain on this impressive letter-writing machine to reveal not a wizard but a would-be Dorothy, Kolbie Blume. In her first job out of college, swamped at her desk with letters to the president in need of reply, Blume served as the president's voice.
Her job, as Blume explained to me in a recent interview, was to understand not only the letter writer, but also how the president must have felt reading the letter, which she often gathered from punctuation he added or sentences he underlined. She didn't consider herself "the voice of the president," but rather someone who pulled together Obama's language from his books, speeches, letters, and other material, trying to achieve a tone, not unlike her own, that combined the president's idealism and humility. Her official bureaucratic title, from August 2015 to the end of Obama's second term, in January 2017: director of writing for sampled correspondence. In other words, Blume wrote personal letters to citizens on behalf of the president, responding to the sacred 10 letters a day, or 10LADs, in the parlance of the OPC, that Obama read religiously each night.
On a warm day in September 2015, with the country gearing up for the second Republican presidential-primary debate and the pope's visit to Washington, one of the letters on Blume's desk had come from a woman named Sheryl. "Dear President Obama," began the letter, which is featured in Laskas's book. "The year was 2000, we had a small apple orchard in Eastern WA, a bright eyed 4 year old came into my house … I fell in love with that little 4 year old and have followed her life since that day … Yesterday she called me sobbing that her dad had been taken away."
Sheryl explained that the girl's father was an undocumented immigrant. "I feel such sadness, like I have lost one of my sons, but the grief this family, mom, sister, brother are feeling is immeasurable. I ask that you could please do anything in your power to assist the people of our country who are here undocumented who are just looking to make a better life and work become legal citizens."
Blume would often look out her window after reading a letter, gathering her thoughts. The Renwick Gallery, armed in renovation scaffolding three years ago, filled the narrow frame. The White House was on the other side of the building. It had taken nearly six months for Sheryl's letter to reach the top of Blume's pile, considering the quantity of letters received and the time it took for all of them to wind their way through the correspondence labyrinth. Averaging about 10 letters a day, Blume would read each letter several times before opening a Word document on her computer to begin drafting. Though she had never met Obama, his voice reeled through her mind. What would the president say?
---
Each president has had a different relationship with mail, as Laskas details in her book. George Washington handled his five letters a day by himself; William McKinley felt the need to create the original OPC with the arrival of his 100 letters a day, a mammoth quantity thanks to the steamboat, railroad, and postal systems. Franklin D. Roosevelt opened the floodgates for half a million letters in the first week he spoke on the radio. The letter writers thanked "Frank" for his transparency or condemned his "latest piece of glorified propaganda—miscalled fireside chats."
Mail fluctuations were less dramatic from then on, but presidents still approached replies in their own way: Richard Nixon refused to read anything negative, Ronald Reagan wrote replies on weekends, George W. Bush read already answered letters. Obama, however, was the first president to establish such a large OPC staff and to prioritize reading 10 constituent voices each night. (The OPC's process under the current administration remains undisclosed.)
Staff members, volunteers, and interns followed an intricate process for choosing these 10 letters. They categorized the 10,000 letters and messages Obama received each day, nominating about 2 percent, or 200, for potential 10LAD status. Some of the letters referenced specific federal agencies and were forwarded along. Others were reviewed by various teams—letters from children went to the "kid" team, those about personal loss to a "sensitive" team, those suggesting someone might be in danger to the "red dot" team, entreaties for birthday or other celebratory greetings went to the "greetings" team, and gifts to the "gifts" team. Most letter writers received one of the 100-plus form letters the writing team had in rotation, continuously tweaked to remain up-to-date and individualized.
The 200 letters nominated for consideration as 10LADs were passed on to Blume's boss, Fiona Reeves. She would then choose the 10 most representative of "America's mood," according to Laskas. From there, the lucky ones were placed in a purple folder and added to Obama's homework binder, which he read in the Treaty Room each night after dinner once he got through briefings and reports. In some cases, he would respond by hand. But most of the time he wrote "Reply" and directed the letter back to the OPC. Other writing-team members occasionally took on a 10LAD reply (particularly near the end of the Obama administration when the OPC was trying to respond to as many people as possible). But Blume was responsible for the majority of the replies—and the stakes that came with them.
---
Sheryl's letter about a family torn apart by a deportation didn't require too much additional research. When crafting replies, Blume often searched Obama's prose and was fastidious about citing sources in colored comments along the margins of her drafts, particularly when using phrases in new contexts. Sometimes, Obama would write notes on the letters ("We're working on it"), highlight paragraphs, underline sentences, or add exclamation marks. In those cases, Blume would build an entire reply off of the president's cues. But most of the time, particularly for letters such as Sheryl's, on popular topics like immigration, the structure and content of Obama's words already ran easily through Blume's mind.
Most of those who wrote letters to the president weren't looking for policy but emotion, and Blume was the one to make them feel heard. "Thank you for taking the time to write me a letter. This country's immigration system has been broken for a very long time, and stories like yours underscore the hardships created by this system. It's clear you care deeply about fixing it," Obama's reply to Sheryl read. (Blume rarely referred to replies as something she directly wrote, but rather "the response from the president" or "the president's voice.")
In her letter, Sheryl had written: "Please understand that I have known this family of 4 plus their extended family since 2000. All I can tell you about them is they came to work from Mexico. Her father said, I came to make a better life for my children." In the second paragraph, Obama's reply went on to talk more broadly about the issue of immigration, reinforcing Sheryl's reference to the future. "America is not a nation that kicks out hardworking people who strive to earn a piece of the American dream," his letter continued. "We're a nation that finds a way to welcome them and to harness their talents so we can make the future brighter for everybody."
Blume reread the original letters over and over as she drafted responses, intent on capturing what the president would want to say, and how he'd say it. She knew it took courage for ordinary citizens to share their stories with the president. Once, the entire OPC had written their own letters to the president as a practice in vulnerability.
Blume's practice letter to the president had reflected on her own unexpected relationship with politics. Growing up in Salt Lake City, Blume never imagined her love of language would propel her to a job in the White House. Words mattered to her—the Harry Potter books she read as a kid, the theater and music she practiced in high school, the literature she studied in college—but it wasn't until she heard one of Obama's 2008 presidential-campaign speeches on television that she became interested in politics. She was moved by the way Obama's words motivated people. She was thrilled when she was old enough to vote, one of relatively few Democrats in her home state. And when she earned a position as an associate (and later a staffer) at the OPC at the beginning of 2014, Blume finished her last 15 credits and honors thesis at Utah State University from Washington, D.C., where she was already working 40-hour-plus weeks. Her courage, smarts, and heart paid off: A little over a year later, after drafting some 10LAD replies as a staffer, Blume was promoted to director, a job created for her in that she now not only wrote (as another staffer had done before her) but also edited and managed letters.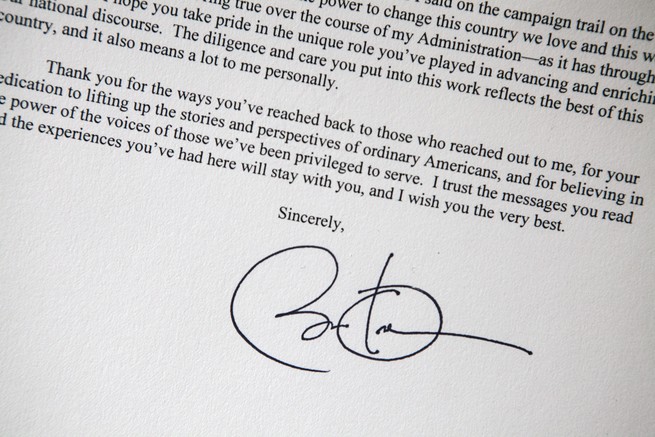 This type of responsibility for someone so young wasn't unusual in Obama's White House. "Obama brought in the youngsters, and they wanted to do good for him," Laskas told me. "That was a phenomenon. If you were a cynical person, you could say, What is this creepy cult?"
In the wake of Obama's departure, the idealism of this fan base has borne an Obama-nostalgia market. While former employees produce biographies, photo books, films, and podcasts, the Millennial staffers turn to memoirs. In his aptly titled 2017 release, Thanks, Obama: My Hopey, Changey White House Years, the former speechwriter (and then 24-year-old) David Litt "wrestles with larger ideas of optimism in the face of cynicism," as The New York Times writes. Meanwhile, this past April a fellow staffer, Pat Cunnane, a senior writer and former deputy director of messaging, released his own book, West Winging It: An Unpresidential Memoir, which is already set up for a potential television show.
Blume has no plans to write a memoir, and she's a minor character at best in Laskas's chronicle, appearing in fewer than 10 pages, despite her important role. Since leaving the White House, she now works full-time in communications at an educational nonprofit in D.C. She also spends more than 20 hours of her week on her calligraphy-and-watercolor-illustration business, a craft she began practicing while at the OPC. True to form, she answers all of the questions from her nearly 80 thousand Instagram followers, sometimes holding Instagram story Q&A sessions. She is, however, essentially anonymous in these videos, her mild fame tied only to her art—sweet, colorful cards with messages like "You're one in a melon" and "Try a little harder to be a little better." "Nobody who received letters from the correspondence office knew who I was and I didn't want that," Blume said.
The final reply to Sheryl was thoughtful, measured—presidential. "In the months ahead, I will keep your letter in mind as I continue to do everything in my power to ensure America remains a place where all of us have the chance to live up to our fullest potential, and where we celebrate the diverse contributions of immigrants across our great Nation," the president's response had concluded. Blume often let replies sit for a few days to meditate on their appropriateness, particularly for some of the more heartbreaking pieces. She read them over and over to herself, sometimes aloud.
Once Sheryl's reply was ready, it went back to Blume's boss, Reeves, for editing. Then it was sent to the printers, back to Reeves for a final proof, and then to Obama to sign, who on occasion also added a personal note at the bottom. He didn't need to write much, for his words had already been written.
---
Near the end of Obama's second term, the OPC was surprised to learn that the president had requested to take departure photos with everyone on staff. David Litt, the speechwriter, once noted that the president didn't know his name until his second term. But Obama didn't know Kolbie Blume's name until one of the very last days. When the time assigned for her photo finally came, Blume joined the line with her mother, stepdad, husband, and in-laws in tow. She waited, then the doors opened, she walked forward into the yellow Oval Office, someone announced her name—"Kolbie Blume, Office of Presidential Correspondence"—and she shook the president's soft hand. She wore a white high-necked blouse, a pencil skirt with blue sketch roses, and red lipstick; her light brown hair tapered at the chin. She looked grown up. In the seconds between photographs, Obama told Blume's mother she must be so proud. Blume had meant to say something meaningful to the president, to let him know what she had done—"It was an honor to respond to the American people on behalf of you"—but she couldn't find the words.
---
Quotations from the letter to President Obama are excerpted from To Obama by Jeanne Marie Laskas. Copyright 2018 by Jeanne Marie Laskas. Excerpted by permission of Random House. All rights reserved. No part of this excerpt may be reproduced or reprinted without permission in writing from the publisher.