John McCain's Anachronistic Memorial
Friday's ceremony on Capitol Hill felt plucked from a different chapter of the nation's history, and offered a rare reprieve from presidential drama.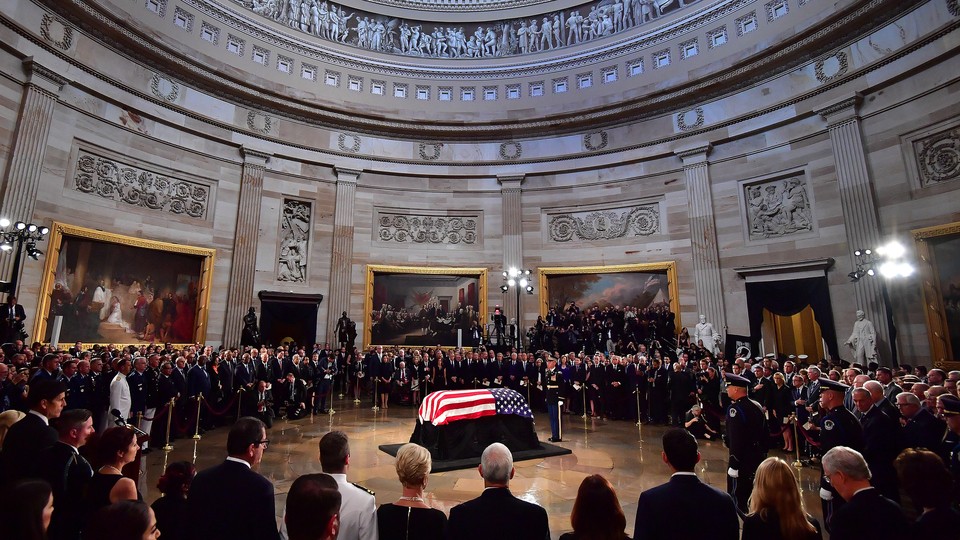 It becomes easier with each day to slip into a sort of numbness toward the new American reality. A Twitter rant from the commander in chief about a "Rigged Russian Witch Hunt" is just another Thursday. Breaking news about Stormy Daniels—you know, the porn star paid to keep silent about her alleged affair with Donald Trump—is worth, at most, a brief pause during one's morning Twitter scroll. Continued chants to "Lock her up," two years postelection, now register as background music.
Yet there are some moments that manage to jostle us from this dreamlike state. On Friday, Senator John McCain's memorial service was one of them.
The late Arizona senator, who died last week after a year-long battle with brain cancer, had been planning his funeral services for months. According to multiple reports, he specifically requested that Trump not attend. The two had a strained relationship, to put it lightly, beginning on the campaign trail in 2015, when Trump said McCain—a prisoner of war in Vietnam—was "not a war hero." Trump's antipathy, pettiness—whatever noun you prefer—toward McCain was crystallized after his death, when an American flag fluttered high and alone above the White House, as Capitol Hill officials lowered their own to half-staff.
McCain's memorial service in the Capitol Rotunda offered official Washington a rare reprieve from the presidential drama. The result was a scene that felt plucked from another time, when politics was secondary to the personal, and partisan affiliations were more formality than battle cry. No era in American history has been quite so idyllic, of course. Yet for a brief hour in Washington, sans the specter of Trump, the idea of such a polity didn't feel so laughable.
You'd be forgiven for wanting to linger as long as possible.
People began filing into the Rotunda well before the program's start time at 11 a.m. ET. Secret Service populated much of Capitol Hill. The room filled with McCain's former Senate colleagues, current and former House members, and the ambassadorial corps. Representing the administration were Vice President Mike Pence, White House Chief of Staff John Kelly, and assorted members of the Cabinet and White House staff. McCain's widow, Cindy McCain, sat alongside Pence and his wife, Karen. McCain's family, including his 106-year-old mother, Roberta, was in attendance as well.
A military honor guard carried McCain's body into the Capitol for the 81-year-old Republican's final visit, where he'd lie in state at the center of the Rotunda. Flanked by rose-dotted wreaths, his casket was draped with an American flag. Fellow Senator Jeff Flake of Arizona placed his hand over his heart as the honor guard processed in. He struggled to hold back tears.
In prepared remarks, Senate Majority Leader Mitch McConnell and House Speaker Paul Ryan lauded McCain as a war hero, patriot, and principled leader. "Generations of Americans will continue to marvel at the man who lies before us," McConnell said. "The cocky, handsome naval aviator who barely scraped through school, and then fought for freedom in the skies. Who witnessed to our highest values even through terrible torture, and who became a generational leader in the United States Senate, where our nation airs its great debates."
"We share your anguish in losing this great man. Rarely does this glorious Rotunda fall silent at this hour," Ryan said, addressing McCain's family. "But in this quiet hour, we are left to ponder how his life speaks to us." McCain, he said, "is one of the bravest souls our nation has ever produced."
The air seemed to thicken slightly when Pence stood to deliver his remarks, as though the mere prospect of Trump's name being uttered threatened the moment of solace. Pence kept his remembrance warm. But he quoted his boss's own words about McCain: "As President Trump said yesterday, we respect his service to the country." Missing was the quote's full context; Trump had told Bloomberg he "disagreed with many of the things I assume [McCain] believed in." It was the morning's only attempt to invoke Trump.
After the vice president finished speaking, much of the room stood to pay its respects to McCain, walking over to his casket one or two at a time. Cindy bent over the casket, her hands folded in prayer and eyes closed. McCain's close friend and former colleague, Senator Lindsey Graham of South Carolina, whispered a quick message. So did Kelly Ayotte, the former senator from New Hampshire who, along with Graham and McCain, were considered the "Three Amigos" of the upper chamber. And then there was former Democratic Senator Joe Lieberman of Connecticut, Ayotte's predecessor as an "Amigo."
Another special presence came by way of Sam Johnson, the representative from Texas who was McCain's cellmate at the Hanoi Hilton during the Vietnam War. House Minority Leader Nancy Pelosi stood next to Johnson, who was sitting in a wheelchair, throughout the entire ceremony, her arm around his shoulders. When it came time for Johnson to approach the casket, Pelosi helped him stand.
She walked her 87-year-old colleague to McCain's side, holding his hand and matching his careful pace. They returned to the periphery of the Rotunda, and she eased him back into his wheelchair.
Many eyes followed the tender scene. In the cramped, roped-off section for press, I heard one reporter turn to another. "I thought he was a Republican?" she whispered.
"He is," the reporter whispered back. And, with a coda befitting the ceremony's spirit, added, "I think they just respect each other."