Inside Trump's Voter-Fraud Crusade
New documents reveal how Trump's election-integrity commission engaged in a political, self-promotional battle against noncitizen voting—without ever establishing that it happens.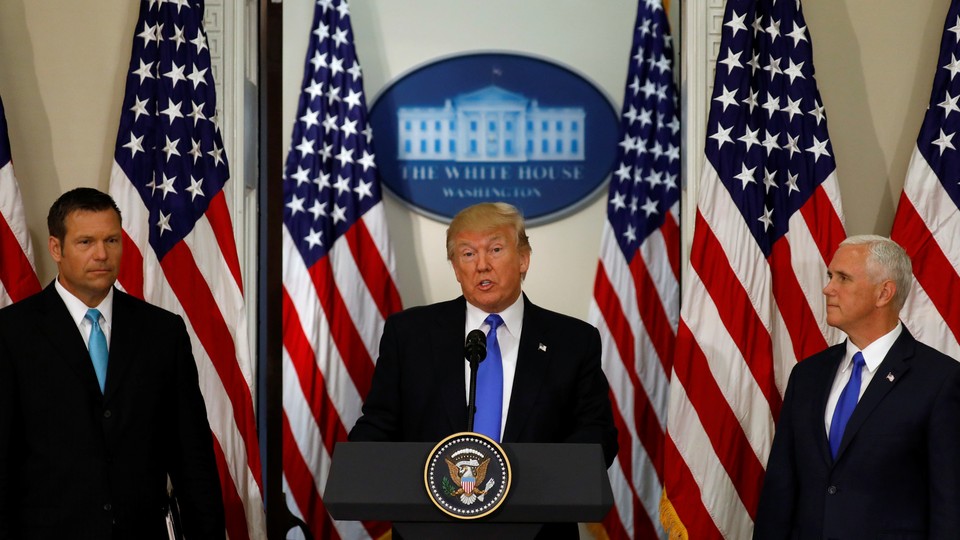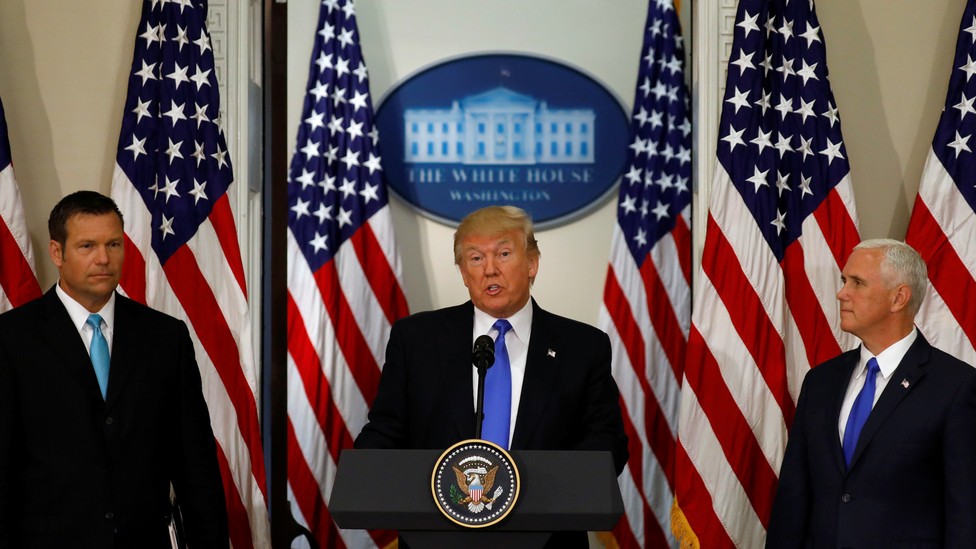 Donald Trump doesn't like witch hunts. He's made that abundantly clear on Twitter and in press conferences, thundering against a Russia investigation that he claims is based on nothing but hot air. Let the president tell it, and the entire endeavor is a product of cooperation between partisan elements and biased media designed to undermine him, all without any evidence.
Of course, until early this year President Trump was busy running his own witch hunt. The Presidential Advisory Commission on Election Integrity, which was disbanded in January 2018, was originally chartered to uncover "those laws, rules, policies, activities, strategies, and practices that undermine the American people's confidence in the integrity of voting processes used in Federal elections"; and "those vulnerabilities in voting systems and practices used for Federal elections that could lead to improper voter registrations and improper voting." But, in its beleaguered and brief history, the commission faced numerous allegations that it was little more than a partisan inquiry hyper-focused on potential voter fraud by noncitizens—even as it struggled to establish that such fraud happens on a wide scale.
Months after the group's dissolution, a newly released slate of reports, emails, and meeting materials from the commission confirms the skeptical view. The cache of documents, obtained by the commission member and Maine Secretary of State Matt Dunlap after he sued to have a court release them, highlights that much of the commission's correspondence and activities were part of efforts by a tight circle of Republican officials, activists, researchers, and journalists to identify noncitizen voters. Their efforts seem to have focused less on a number of other serious issues around election integrity than on a broader anti-immigration agenda. The documents reveal that the commission, far from the vigilant and neutral defender of American democracy that White House leadership pretended to have chartered, conducted an inquisition during its seven-month existence.
Commission Vice Chairman Kris Kobach, the Kansas secretary of state who is currently deadlocked in the GOP primary for the state's gubernatorial nomination, tethered the commission's work tightly to his own crusade in Kansas, where he's unsuccessfully lobbied for a proof-of-citizenship requirement for voting, and has only successfully prosecuted a couple of individuals for fraud despite claiming that there are more than 100 noncitizen voters in the state. The documents reveal just how closely his work and his own political biases steered the commission.
In a letter to Vice President Mike Pence, the commission's chairman, written after reviewing the collection of documents, Dunlap expressed concern that Kobach's assertions, and the conduct of the commission more generally, "appeared aimed at the pre-ordained objective: ratifying the President's statements that millions of illegal votes were cast during the 2016 elections." Dunlap decried the extreme partisanship of the commission, and also claimed that he had been essentially frozen out of the proceedings. In terms of the commission's official duties and actions, he describes the actions of a few individuals—likely including Kobach, along with Mark Paoletta and Andrew Kossack, then-aides to Pence—who essentially ran the show.
That trio sought to strike a balance between the commission's necessary appearance as a bipartisan election-reform project and Kobach's own designs. In a series of emails documenting the crafting of the bylaws of the commission, the trio reviewed deleted text that required that "the membership of the Commission shall be fairly balanced in its membership in terms of the points of view represented," and Kobach specifically requested that the word diverse be omitted from a passage stating that the commission should "represent a bipartisan and diverse set of perspectives and experience." None of the stricken text made its way into the final bylaws, and in the end the commission itself was a thoroughly Republican-dominated affair.
Emails released in this collection also suggest that the trio was intentionally unclear about the intended use of a massive set of voter data it attempted to compile—a request that led to multiple lawsuits and the eventual disintegration of the commission. When Kobach and the commission requested all "publicly available" election information from every state, including voters' Social Security numbers, voting history, and party affiliation, even several Republican election officials balked at what voting-rights activists thought was a clear attempt at creating a voter-suppression data warehouse. Mississippi Secretary of State Delbert Hosemann famously told the commission to "go jump in the Gulf."
In public statements and in letters to state election officials, the commission indicated that the dataset would be used "for the Commission to fully analyze vulnerabilities and issues related to voter registration and voting." Those statements were unclear as to how that analysis would proceed—although based on Kobach's own previous statements, most assumed he would match the database against highly sensitive data in the Crosscheck system to search for people who'd voted in more than one state and the SAVE database to check for noncitizen voters. But original drafts of the follow-up letters sent to recalcitrant officials were more specific on that front, specifying that "for example, the Commission may compare voter rolls to federal databases of known noncitizens residing in the United States to identify ineligible noncitizens." That language, and further language about comparing the database to federal databases, was dropped in successive drafts as scrutiny on the commission intensified, and as court orders blocked the original request.
The drafted letters in question also specify that "the Commission will approach its work without preconceived notions or prejudgments," a guidance that—as further communications indicate—was clearly never followed. A cadre of leaders within the commission overlapped heavily with a group of advocates and activists who clearly sought to implement policies aimed at restricting a wave of noncitizen voting that they vehemently claimed already existed. The commission member Hans von Spakovsky regularly shared op-eds on conservative-leaning sites in favor of voter-ID laws with other commissioners. Kobach served as a paid contributor to Breitbart News and wrote a column on July 3, 2017, defending his work with the commission. Paoletta and Kossack helped edit that particular column, encouraging Kobach to change a line originally asserting that "the Commission's chief goal is to measure the amount of voter fraud in that country," since the charter and executive order establishing the commission say no such thing.
The coziness between the voter-fraud commission and conservative media didn't just extend to commissioners publishing columns—edited by then-staff of the vice president—in defense of their own work. ProPublica's Jessica Huseman reported Monday on Twitter that in July of last year, the Newsmax white house correspondent John Gizzi had emailed a whole article on the commission to Kobach for review. Gizzi confirmed that he had also sent the article to von Spakovsky.
In his brief review of the documents, Dunlap criticizes a number of other potential conflicts of interest and issues with the commission, including the fact that the former White House adviser (and former Breitbart chairman) Steve Bannon emailed Kobach about the commission's legal woes in August, with a single email saying, "WTF?" Dunlap's final criticism is that the commission didn't even establish that voter fraud is a major problem, despite the expenditure of most of its time and resources on identifying and stopping fraudsters. This criticism doesn't seem to account for the fact that the commission was shut down amid growing pressure and legal trouble in the middle of its mission, but it does get to a critical point: More than a year after President Trump created the high-profile Presidential Advisory Commission on Election Integrity, elections aren't any less vulnerable at all.
Electronic election infrastructure is still incredibly exploitable by foreign actors, and barriers to the ballot still reduce turnout. Based on its charter, Kobach's commission was in a promising position to fix all of that, and to usher in one of the first meaningful overhauls of a creaky and leaky national-voting apparatus. But, as the documents produced by the commissioners illustrate, that kind of overhaul was never really a primary goal. Rather, a group of people who've worked for decades against voting protections for minorities and in service of an anti-immigration agenda was gifted the power to pursue its aims at a national level. The commission itself may now be defunct, but partly because of the work of its former leaders, its real agenda is still rising.