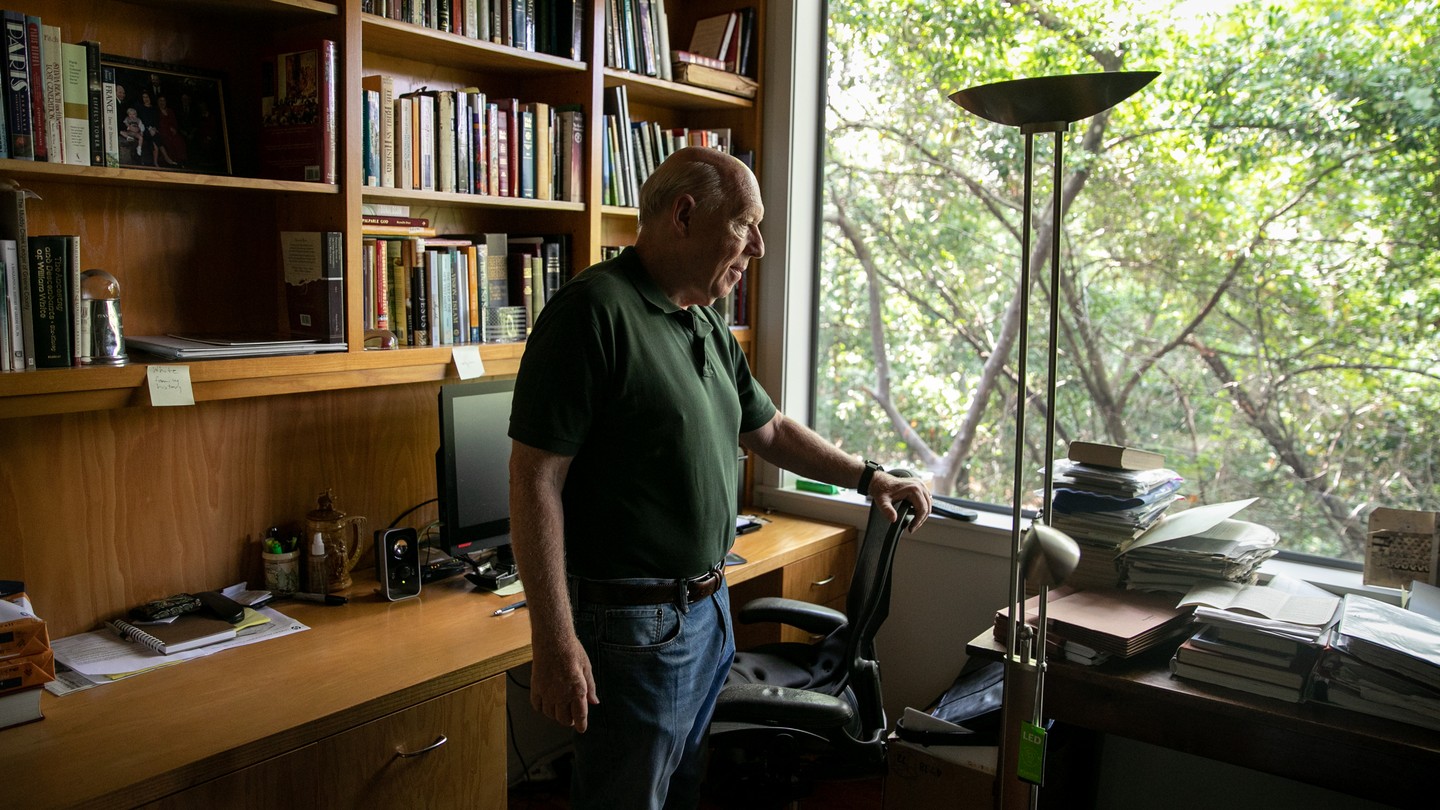 Hurricane Harvey Is Houston's Unending Nightmare
A year after flood waters devastated the nation's fourth-largest city, Houston remains trapped in an existential moment, struggling to find the funds to rebuild and reengineer and keep another such catastrophe at bay.
HOUSTON—It's a hypermodern skill, the ability to spot a viral moment in the face of strife. As Hurricane Harvey beat down on Houston, there was former Mayor Bill White, inching his way through waist-deep water, hiking staff in his right hand and laptop-stuffed briefcase tucked like a football in his left. And there was his neighbor, who, while waiting for White at the water's edge, couldn't resist a snapshot.
The photo—a prominent Houstonian weathering the storm, his gated home behind him—came to symbolize the equal-opportunity devastation of Harvey. It was a year ago this weekend that Harvey gutted hundreds of neighborhoods across the city, from upscale Kellywood to working-class Homestead. The blistering post-2016 news cycle ensured the storm would shrink from headlines after a few weeks. But to visit Houston is to absorb that, for an untold number of residents, the biggest rainstorm in the history of the continental U.S. continues to replay like a nightmare on loop.
For White, Hurricane Harvey began on Friday, August 25, 2017. Houston is no stranger to heavy rains, and neither is White: As mayor from 2004 to 2010, he governed the city through Hurricanes Katrina, Rita, and Ike. No small storms, yet as White monitored the news that day, and early rainfall projections began to rise from 20 inches, to 25, to 30, he realized this one was different. "When the estimates of the rainfall amount … went out of the range of anything that had been projected to me, had ever been viable when I was mayor," he told me, "I realized that it was going to be pretty bad."
White's home sits just above the 100-year floodplain on Buffalo Bayou. It's built up on stilts so flood water can flow underneath. Yet in White's 19 years of living there, the bayou had never swelled to such an extreme point.
That changed Sunday morning, when White awoke to a "murmuring sound," like a river. It was water rushing beneath the house. He spent the next few hours moving what furniture he could upstairs, keepsakes and family photos into the attic. A recent tennis partner called, distraught: A close friend had died the night before, she told him, when she'd taken an off-ramp on the interstate and gone underwater. "I knew then that there was going to be lot of human tragedy," he told me.
The water continued to rise. By noon, it had made the 10-foot climb to the deck. Touching the bottom layers of the house, the current had shifted from the almost pleasant rhythm of a river to a "rumbling sound, like a train." "It was an eerie sound," White recalled. "I was surrounded by moving water on all sides. It was like being on a boat."
Within 15 minutes, the water found its way inside and began creeping up the walls. It began "popping" and "pooling" out of the floor sockets, like tiny geysers.
It was time to go.
He threw on wool socks, hiking boots, a backpack, and put his iPad, laptop, and some papers in his briefcase. The neighbors had called to urge him along. He found his hiking staff, waded ankle deep to his front door, and began his trek into the coffee-colored river outside.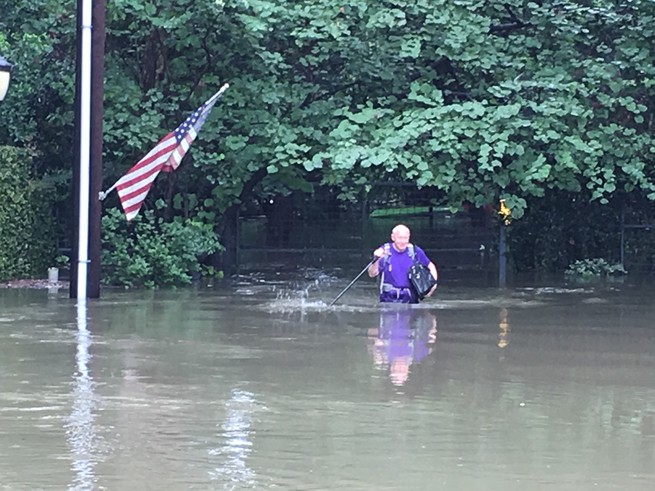 Thus White—formerly the one to call the shots, to monitor the rescue efforts, to communicate with Washington—experienced his city's most defining tragedy as a citizen. The thoughts roaming the mind of a flood victim are plenty: Is my family okay? (Yes, White's wife, Andrea, was out of town.) Did I forget to move something valuable upstairs? (Yes, Andrea's collection of cookbooks.) Where am I going to stay? (With a neighbor.)
For a flood victim who happens to be a former public official, however, there is one question that reverberates above the others: How the hell did we get here?
In two days, Hurricane Harvey dumped 51 inches of rain on greater Houston. More than 75 people died in Texas. Of Houston's 50 victims, most died by drowning.
The catastrophic event has prompted an existential crisis of sorts in Houston. Almost every recent administration, including White's, has made flood mitigation and relief a top priority. With each year comes newer technology, more sophisticated takes on infrastructure, and a deeper understanding of the threats posed by global warming. Yet Harvey has brought the question of Houston's flood preparedness into sharp relief. For a city looking to outpace Chicago as the third-largest city in the country, it's an unenviable position to be in. In the past year, Houston officials have thus scrambled to probe what went wrong, and what went right, in the lead up to Harvey, all the while attempting to rebuild the homes and lives of those displaced.
The City of Houston and Harris County have responded aggressively in the past year. Houston has already amended its building code to require higher structure elevations in the floodplain, while Harris County has placed a $2.5 billion flood-mitigation referendum on the ballot. Saturday was the special election. But the more the city and county take on, the clearer it becomes that federal intervention is needed to shore up the sprawling metropolis, home to the largest medical center in the world and a significant concentration of the nation's oil refineries. And with record federal deficits, along with a never-ending stream of stopgap funding bills in Congress, the kind of help Houston needs is almost certainly not on the way.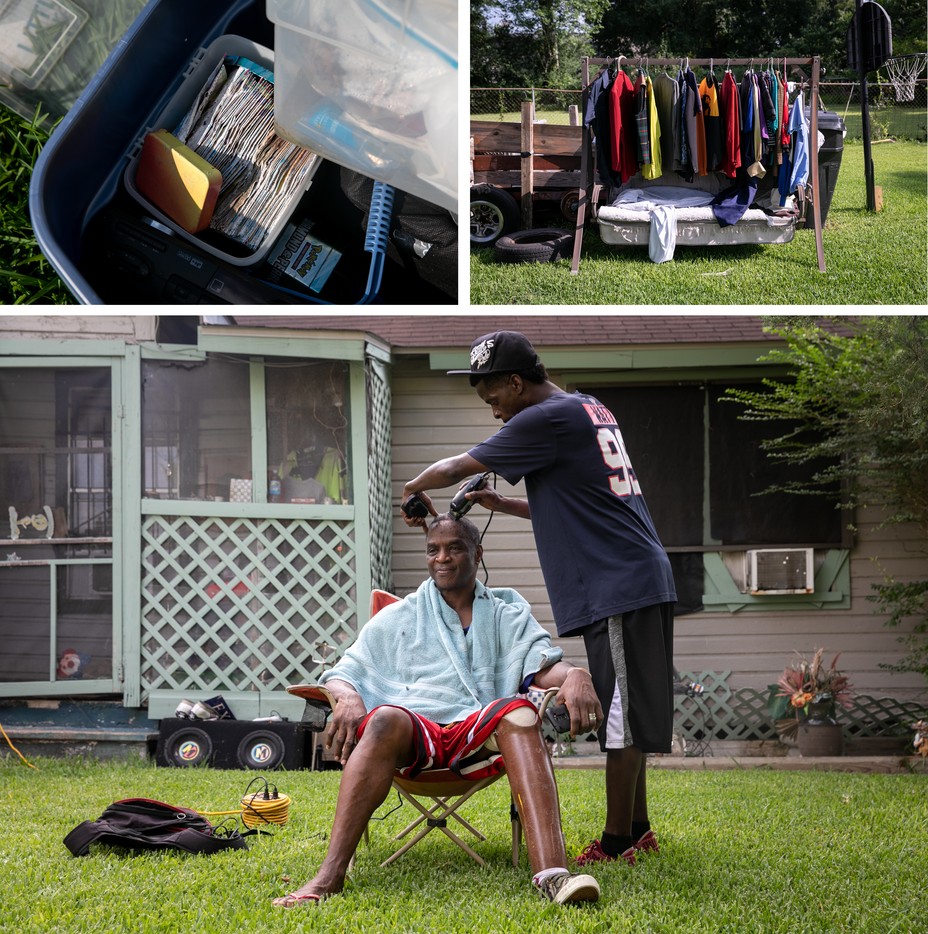 "There was, to my shocking surprise, no money appropriated for flood mitigation for months where there was continuing resolutions in Congress last year," White told me. "After Katrina hit, the Louisiana delegation, amongst senators, would not permit there to be a continuing resolution without not only city money that could be used for rebuilding, but also Army Corps mitigation funding."
Only earlier this year did Congress at last include mitigation funding in its spending bills. Yet it remains to be determined how those funds will be allocated among Texas and other hurricane-devastated states such as Florida. So large-scale projects, such as building a third reservoir and creating more surface detention, have yet to get underway.
This is not to say that Harvey caught Houston entirely off guard. Devastating as it was, Harvey's impact could have been far worse—if such a thing is even fathomable—had the two current reservoirs, as well as surface-detention ponds created during White's administration, not been in place. But as Houston's population continues to skyrocket, the incentive to prioritize flood mitigation over development could prove less and less convincing.
Which means that with every storm, lower-income neighborhoods in floodplains could be left further and further behind. Harvey was equal opportunity in its destruction, perhaps, but not in its aftermath.
"Let me say this: Certain areas of Houston have been taken care of," said Herb Mitchell, the district manager for state Representative Senfronia Thompson. "And certain others have not."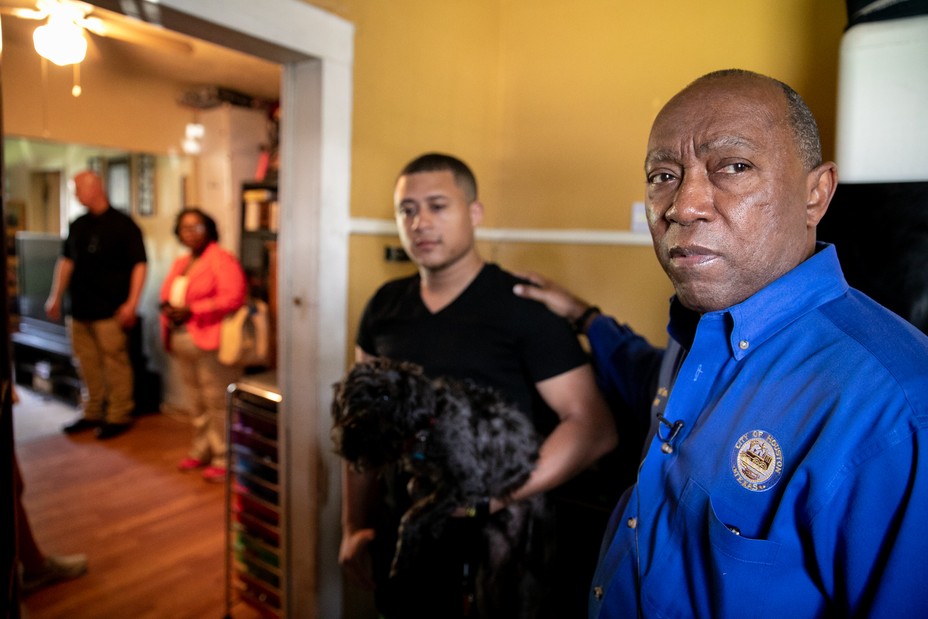 Those fault lines were evident on Saturday morning, when Mayor Sylvester Turner toured low-income neighborhoods hurt by Harvey as part of the storm's anniversary.
Around 9 a.m., Turner's shiny black SUV slowed to a stop in Kashmere Gardens, a historically African American community and one of the poorest neighborhoods in Houston. The city has been criticized for its seeming abandonment of Kashmere Gardens while resources to wealthier areas such as Meyerland appear to be plenty. Turner was here, he told residents, to remind them that they hadn't been "left behind."
It wasn't a bad instinct. Recent studies have shown how Harris County residents have endured "unprecedented psychological distress" in the months since Harvey. A University of Texas Health Science Center at Houston study found that, of those who lost their homes, nearly 50 percent reported feeling nervous, hopeless, restless, worthless, and depressed.
So for people like 73-year-old Joyce Follie who, one year removed, have still not been able to move back into their homes, it was tough to take Turner at his word. Turner approached her in her home's overgrown front yard, where she sat in a fold-out chair surrounded by her daughter, granddaughter, and two great grandchildren. All generations had grown up in this home. "I wanted to come around and let you know," he told her, "that we haven't forgotten about you."
"I hope not," she said with a weary laugh. "I hope not."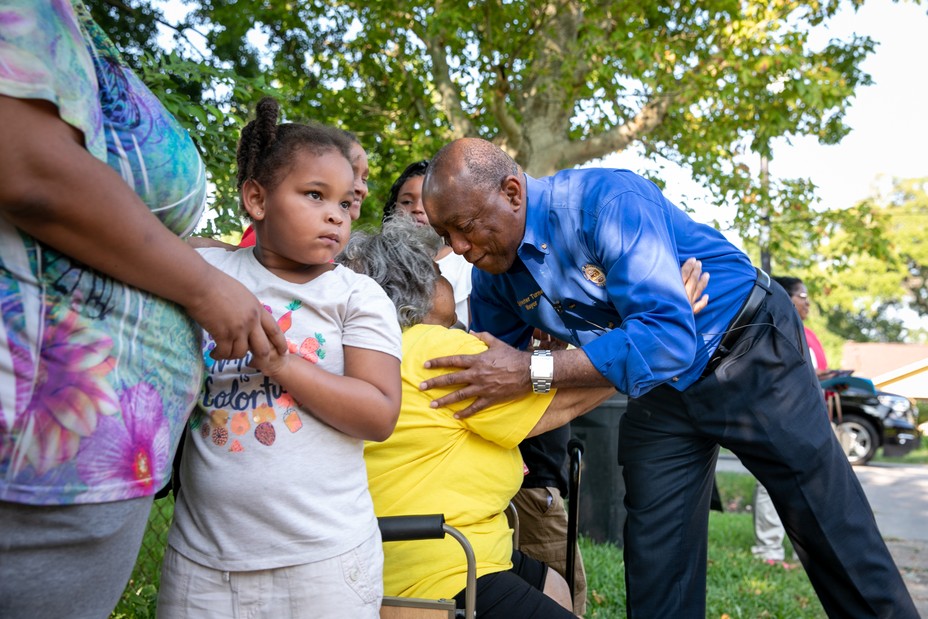 Across the street, Dorothy Rainey had only moved back in one week before. Sixty-eight years old and wheelchair bound, Rainey spoke to Turner in her living room, empty save for paint-sheet curtains and a clock. Four feet of water had destroyed her home. She didn't have flood insurance. A nonprofit had done most of the repairs.
"Look, I wanted to come by and let you know that we have not forgotten anybody, okay?" Turner said.
"Okay," Rainey responded. "Because we thought you had."
Bill White's living room is pristine—contemporary furniture framed by orchids, hardwood floors that gleam beside floor-to-ceiling windows. That it was ravaged by floodwater just one year ago is almost inconceivable.
Of course, such is the difference between White and someone like, say, Dorothy Rainey. A gutted first floor means months in a friend's guesthouse while private contractors restore it. It does not mean year-long displacement, or clinging to the hope that a visit from the mayor may yield more than a photo-op.
For White, it's yet another strange—if not disembodying—element of experiencing city-wide tragedy as a private citizen, rather than as an official. "In Northeast Houston I've seen drywall torn down, piles of stuff out front waiting for pickup, even in houses where people have moved back in," he told me. "And I'm most concerned about the health consequences in places where there hasn't been sufficient mold remediation."
We talk about projects the city could take on. Expensive solutions, such as drainage. More cost-effective ones like surface-detention pools that can double as "lakes" for parks. Regular sediment removal from bayous, such as the one behind his own home. He's optimistic that as the city waits for federal money to come through, the county's $2.5 billion bond, if it passes, will help fund the kinds of projects that, next time, keep families like his and Rainey's alike on safer ground.
Because there will be a next time. It's an anxiety-provoking statement, especially now, as the flood's one-year anniversary reopens old wounds, deepens the ones that remain unhealed. But White told me that, in the years since his time as mayor, he's found a perverse sense of peace in knowing there's only so much a city can do.
He recalled preparing for Hurricane Katrina by reading The Control of Nature, by John McPhee. "Part of the book is a story about the hubris of human beings trying to control the course of the Mississippi River," he said. You can build levees. You can maintain them. But someday, inevitably, water will breach them. "The point is that there are some forces of nature that are too big to try to control. You're going to have to adapt."
"And I believe Houston has done that, will continue to do that," he said. "We're resilient."