How a 'Race-Class Narrative' Can Work for Democrats
New research suggests talking overtly about race can help progressives sell their message to persuadable voters.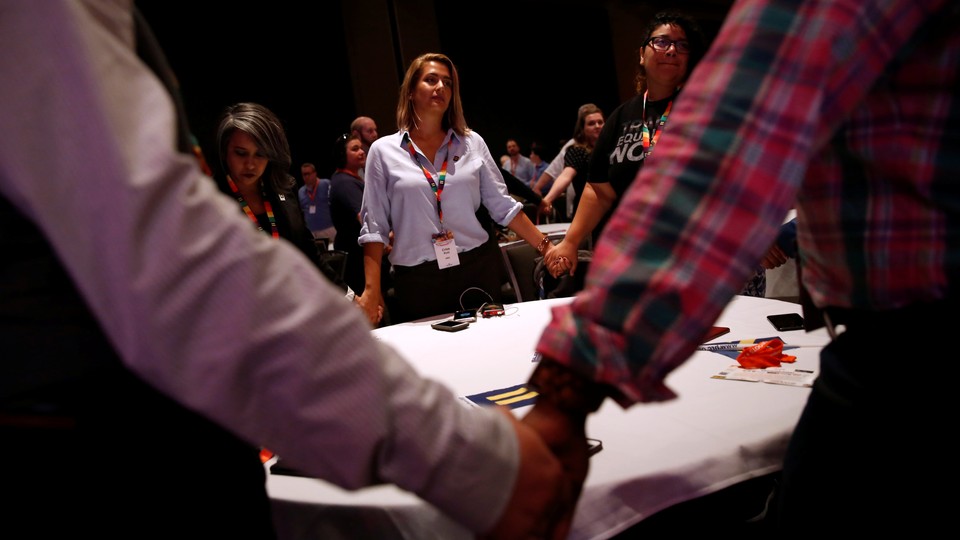 Updated at 11:37 a.m. ET on August 14
Talking about race is bad, and campaigning on it makes voters feel bad. Or so the conventional wisdom has been in past election years.
One progressive organization, though, says specifically invoking racial identity actually increases the efficacy of the Democrats' message—if it's done the right way. Demos, a liberal think tank that focuses on voting rights and civic engagement, presented new research on how to effectively use a "race-class narrative" last weekend at the annual Netroots Nation gathering of progressive activists in New Orleans. "A significant number of people in the Democratic establishment … think we should talk about economic populism only," said Ian Haney López, a law professor at UC Berkeley and a senior fellow at Demos, at the packed panel on August 3. They're wrong, he says. "Naming race works."
The research, part of the Race-Class Narrative Project and managed, in part, by Demos, offers a potential answer to the questions swirling within the Democratic Party about the role race should play in their messaging: How can they appeal to people of color, who make up nearly 40 percent of their base, without alienating white voters—and vice versa? To win in November and beyond, progressives say, they need a multiracial coalition. To build that coalition, they need to answer this question.
The survey, which was conducted by Lake Research Partners in collaboration with ASO Communications and Brilliant Corners Research & Strategies, tested a set of 11 "race-class narratives" with 1,500 American adults nationwide, plus oversamples of 100 African Americans, 100 Latinos, 100 millennials, 100 drop-off voters, and 100 unlikely voters. They also did separate testing in Indiana, California, Minnesota, and Ohio. In an 18-minute online survey, respondents listened to each of the narratives and used a slider to indicate how they felt about it: If they liked what was being said, they moved the slider to the right, for a rating higher than 50. They dragged it left when they didn't, for a rating lower than 50.
Before the test, people were asked a series of attitudinal questions, which sorted them into groups—base voters, persuadables, and opposition—based on their responses. Base voters generally believe that too little attention is paid to racial issues and that government should create opportunities for advancement, while opposition mostly thinks there is too much attention paid to race and that government should get out of the way. The study defined persuadables as people who seemed to hold competing views on race: A majority of those people said that "focusing on race doesn't fix anything" while also saying "focusing on race is necessary to move forward." Basically, they're people who could be motivated by a progressive message.
In one question, the team tested three short messages against one another: First, the "opposition" message: "To make life better for working people we need to cut taxes, reduce regulations, and get government out of the way of business." Second, a "colorblind" message that didn't explicitly mention race: "To make life better for working people we need to invest in education, create better paying jobs, and make healthcare more affordable for people struggling to make ends meet." The third message replicated the second one, but replaced people with "white, Black and brown people."
The third message, with its explicit language, did best, earning a net-positive slider rating of 83 from the base, and 41 from persuadables. The "colorblind" message, on the other hand, received a net rating of 80 from the base, and 33 from persuadables.
For many activists, this is just what they wanted to hear. Camille Rivera, the national political and legislative director for the Retail, Wholesale, and Department Store International Union, said she's seen this in action as a progressive organizer. Black, Latino, and white people are all united by class and economic issues, she told me, and in her experience, stressing that they're all "suffering under the same kind of economic instability" moves voters.
Lanae Erickson Hatalsky, the vice president for social policy and politics at Third Way, a think tank advocating for center-left ideas, found the study helpful for her own work. "I love the addition of white, black, and brown into different messages," she said, because "one of the things we're struggling with is, how do you have a message that's universal without making it sound like you're going back to just old white guys?"
Two of the 11 narratives that tested best among the base group—"Working People" and "America's Strength"—received high ratings from a significant number of persuadable voters, too. Both performed better than the "Colorblind Economic Populism" message, which looked like this:
"We live in the richest country in the history of the world, but that means little because much of that wealth is controlled by a tiny handful of individuals. Despite advancements in technology and productivity, millions of Americans are working longer hours for lower wages. Wall Street and the billionaire class have rigged the rules to redistribute wealth and income to the wealthiest and most powerful people of this country. We must send the message to these greedy billionaires that you cannot take advantage of all the benefits of America, if you refuse to accept your responsibilities as Americans."
The color-blind message scored lowest among the base, and did less well among persuadables than both "Working People" and "America's Strength." The "Working People" narrative:
"No matter where we come from or what our color, most of us work hard for our families. But today, certain politicians and their greedy lobbyists hurt everyone by handing kickbacks to the rich, defunding our schools, and threatening our seniors with cuts to Medicare and Social Security. Then they turn around and point the finger for our hard times at poor families, Black people and new immigrants. We need to join together with people from all walks of life to fight for our future, just like we won better wages, safer workplaces, and civil rights in our past. By joining together, we can elect new leaders who work for all of us, not just the wealthy few."
This narrative was most successful among members of the base (73 mean slider rating), but it also carried a significant number of persuadables (67). It performed better than the color-blind message in both categories. The second-most successful narrative was "America's Strength":
"America's strength comes from our ability to work together—to knit together a landscape of people from different places and of different races into one nation. For this to be a place of freedom for all, we cannot let the greedy few and the politicians they pay for divide us against each other based on what someone looks like, where they come from or how much money they have. It's time to stand up for each other and come together. It is time for us to pick leaders who reflect the very best of every kind of American. Together, we can make this a place where freedom is for everyone, no exceptions."
That narrative scored high among members of the base (74), and did even better than "Working People" among persuadables (70). It also earned a significantly higher rating than the color-blind message among both groups. Notably, it was also the highest-rated narrative among both white people (67) and African Americans (71).
From the study, researchers concluded that a successful progressive message must have five components: First, it must discuss race overtly. Second, it should name "racial scapegoating as a weapon that economically harms all of us." Third, it will emphasize unity to solve the problem. Fourth, it "invokes previous cross-racial solidarity wins to combat cynicism." And last, it "connects working together to government for all."
"We best reach the white working class and we best reach communities of color through the same message,"said Haney López, "that racism is a divide-and-distract weapon, and that we can move forward when we join across racial lines with all groups to demand a government and economy that works for all of us."
Calling out racism, though, is something some on the right say they would actually welcome. In 2017, the former White House adviser Steve Bannon told The American Prospect that "if the left is focused on race and identity, and we go with economic nationalism, we can crush the Democrats." Countless think pieces have been written about the left's focus on so-called identity politics—some by liberals themselves. And studies have shown that white Americans can clam up or become immediately defensive when accusations of racism are made.
Ryan Williams, a Washington, D.C.-based Republican strategist and the former deputy national press secretary for Governor Mitt Romney's campaign for president, was taken aback by the idea that Democrats would blame Republicans for inciting racial division. "That would be offensive to many voters, to flat-out call their opponent a racist just because you disagree with them," he said. "That's a divisive approach to things, and when you're running like a Conor Lamb or a Danny O'Connor, that type of messaging would sink a candidate like that."
Pointing fingers does carry the risk for progressives that they'll alienate potentially gettable voters. In one of the survey questions, a message accusing the other side of "dividing us against each other by blaming black and brown people" received high scores among base voters, but didn't do well at all among persuadables. "People just hate everyone in Washington right now," said Erickson Hatalsky. "I'm not sure you can get a whole lot of credibility just off of attacking the other side as divisive because they think everyone's divisive."
Some experts found the language used in the narratives to be too sweeping. "Politics is not electrical engineering … There is emotion," said Mike Cornfield, an associate professor of political management at George Washington University. "This is bloodless … This is cookie cutter. You've got to get some McCoy along with some Spock." The success of using a race-class narrative like this would necessarily depend on what kind of candidate is using them, who their opponent is, and about a thousand other factors. "If you're gonna tell me Doug Jones beat Roy Moore because of a race-class message, I'm going to tell you you're wrong," Cornfield said. Would Lamb have won? "I doubt it."
According to Demos, many groups have already expressed interest in learning more about its research and incorporating a race-class narrative as part of their own messaging. Project leaders told me that they've already presented their findings to members of the Democratic National Committee and the Democratic Congressional Campaign Committee. They said they've also presented to several lawmakers on Capitol Hill and that some, like Senator Elizabeth Warren of Massachusetts, are already using the right framework.
"According to Trump, the problem is other working people … black and brown, people who were born elsewhere, people who do not worship the same … or talk the same as Trump and his buddies," Warren told the crowd at Netroots in her keynote address on August 3. "It is time to say no to the politics of division … We're bringing the voices of working Americans—all working Americans—right along with us."
That "politics of division" played a huge role in the Democratic Party's many recent losses, Haney López said, so progressive candidates need to be ready with a countermessage this time around. Republicans are "talking about sanctuary cities, illegal immigrants, Muslim terrorists, a Muslim ban," he said. "A conversation about race is happening all the time … The question is whether it's one-sided or two-sided."